Just a few of my Favorite Fall Finds that I'm sharing with you today!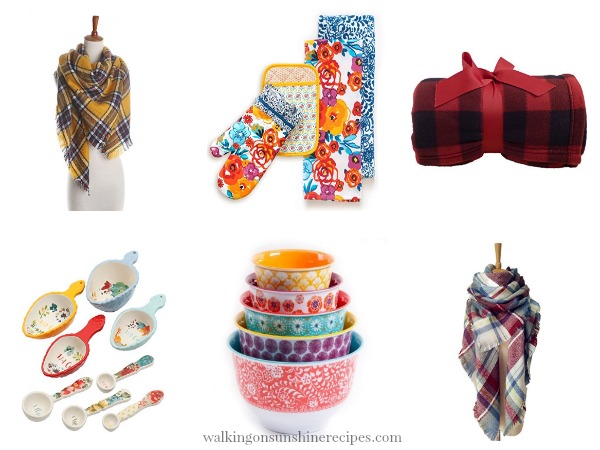 Today I'm sharing with you a few of my Favorite Fall Finds!  These can either be gifts you purchase for someone else or maybe put on your own gift wish list.
So after you get a jump on your holiday shopping, go ahead and put a few of these items on your Gift Wish List.  You do have one, right?
I do!  I keep a wish list on Amazon.  I'm not sure if my hubby or my son know about it, but it's there and I add to it regularly.  Sometimes I go in and remove items and sometimes I go ahead and just order something for me…just because!  That's always a good reason, right?
So today I'm giving you permission to go shopping!  Or at least go put a few of these great finds in your wish list.
Pioneer Woman Napkins – My Favorite Find
I think out of everything I'm sharing with you today my absolute favorite are the Pioneer Woman Napkins.  I recently purchased some and they are so nice.  They look great on the table and they wash up amazingly.  No need to iron either! I love the mix and match look that she created.
And they're not just being used as napkins!  People are using them as kitchen curtains or making them into pillows and table runners.  My favorite idea is from
Debbie Doo's kitchen window
curtains.  They're so cute!  The ideas are endless!
My Favorite Fall Finds Shopping List
I set this list up a little differently and I hope you like the option of clicking on the "Buy Now" buttons.  I think it makes things so much easier.  Would love if you could leave me a comment and let me know if you like this new way of sharing my favorites with you.
This post contains affiliate links. Your cost is the same, but I earn a commission when you shop through them.  Your purchase helps support this site and the fun things I share. For more information, click 
here
.

These are my favorite Blanket Scarves!  I have a few and enjoy wearing them over a sweater or even over my jean jacket.  I try to keep one in the car to use on long car rides in case I get a little chilly.
They work great and are very affordable. They make great gifts as well!
There's nothing as nice as watching a movie with one of these blanket throws.  It's cozy, comfortable and you better be careful you don't start to drift off to sleep before the movie is done!

There seems to be no stopping what The Pioneer Woman can do!  My collection of The Pioneer Woman collections is growing…due to the kindness of my family who seem to think I need these beautiful pieces in my life…and they're right!
I have the napkins and love them!  I used them recently for a family gathering and ordered another two sets so I have enough for a larger family gathering.  I love the different colors and patterns.  They looked great with my white every day plates on top of a woven place mat.  I used some of the dishes that have also for the meal and everything matched really nicely.