A picnic is a great way to spend quality time with your entire family. It's also an inexpensive way to enjoy a meal and time in a setting that you don't normally frequent. Kids can explore and have fun while getting fresh air and sunshine. Planning the perfect picnic is easy if you follow these easy tips I'm sharing with you today!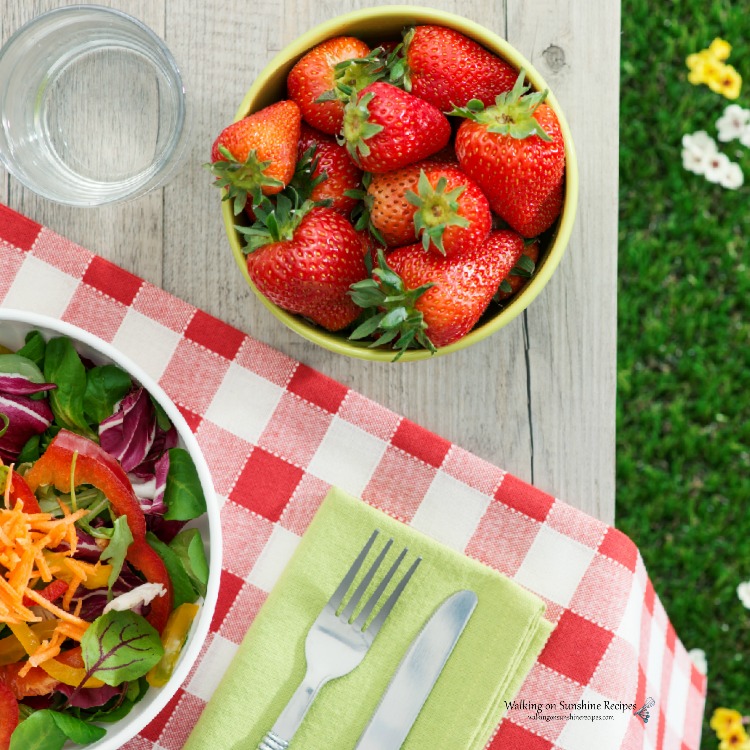 Tips for Planning the Perfect Picnic
Warmer weather means spending more time outdoors, and what better way to do that than with a fun family picnic! Entertaining outside does present a few challenges, but it's worth it to be out in nature and experiencing the beautiful scenery and fresh air.
If you have parks in your area, spring and summer are a great time to visit them for a picnic. Incidentally, enjoying some outdoor down time is a great way for the adults to relax and playtime for the kids.
For the most part all you need to do to plan the perfect picnic is pick a location, pack a picnic basket and get ready to make memories this summer!
This post contains affiliate links. Your cost is the same, but I earn a commission when you shop through them. For more information, click here.
What To Pack For A Picnic
Depending on the age range of your family members, make sure you take in to consideration their needs.
For young kids, you may need to pack a change of clothing, wet wipes, sunblock, and a first aid kit. I love this first aid kit for the car!
Don't forget about weather related issues.
Always plan for rain, just in case. Have rain ponchos and contingency plans for quick weather changes.
It's always a good idea to make of list of special needs for each family member just to ensure that everyone has the best possible experience.
Most importantly, don't forget to pack a picnic blanket!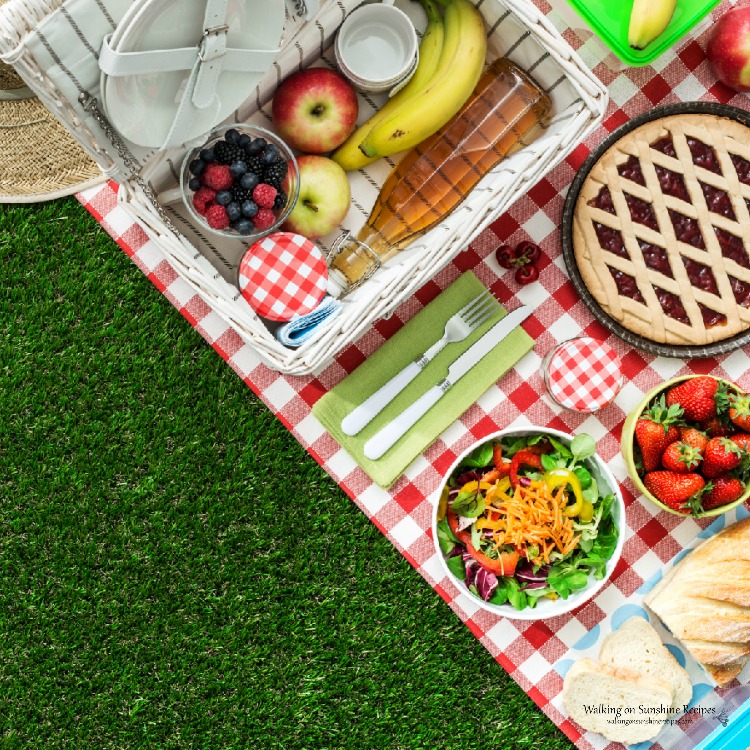 Planning the Perfect Picnic Games
While the adults might like to relax with a good book and just enjoy nature and some downtime, the kids will probably want to play.
Make sure you've chosen a location that is kid-friendly and even pet-friendly if you're taking your fur-kids, too.
Energetic games such as frisbee, hula hoops, scavenger hunts, and games that don't require a lot of gear are easier to manage.
Choose activities that you know will keep the kids busy.
While kite flying does require gear, it is always a fun activity if the weather and wind is cooperative.
When my kids were younger, they loved these huge flying discs. So much easier for younger kids to catch than a traditional frisbee.
What To Wear


For the most part, you need to make sure you are dressed appropriately for the weather and activities you plan to do.
It's always a sound idea to bring an extra set of clothing to change into before leaving the picnic area so that the kids can get as dirty as they want to or to deal with unexpected spills or accidents.

Don't forget sunscreen, sunglasses and hats to protect your skin.

Did you know, you can get sunburn even on cloudy days? So plan accordingly even if the sun isn't shining.
Simple Picnic Food Ideas
No need to complicate picnic food; just a little planning ahead will ensure that the food is delicious and easily packable with little to no fuss involved. If you're looking for easy recipes for a picnic, make sure you check out my post on 15 Summer Picnic Recipes.
Cold salads, sandwiches, wraps, cold meats, simple fruits and desserts are the way to go.
Choosing foods that work well in warm weather should be your focus.
Don't forget the paper plates, cups, utensils, and napkins.
Have plenty of water or refreshing beverages on hand to stay hydrated.
While it's tempting to just pack a lovely wicker picnic basket you should probably think more in terms of a cooler with ice or frozen ice packs.
Here's a great tip: try packing frozen water bottles in resealable plastic bags. You'll have delicious cold water to drink as they defrost!
Planning the perfect picnic is a great way to spend quality time with your entire family. Why not make a few phone calls and get together with your family and friends this weekend?