Happy Tuesday!

The sun is shining today here in PA and all the snow that fell on Saturday is almost gone. A little sad about that, but glad the sun is shining. For this week's Tuesday Question, I'm asking something that I've thought about a lot.
"What is the one thing you would grab if your house was on fire?
Everyone is out of the house, you can go in and grab ONE thing.
What would it be?"

Growing up we lived in a very old parsonage that was right next to the church that my dad pastored for over 30 years in Queens, NY.

When we moved into the parsonage I was in second grade and at that time it was over 100 years old. It was a beautiful Victorian house that had 3 floors, a scary basement, a laundry chute and even one of those old-fashioned doors that opened from the floor in the back porch leading down into the basement. We never, ever opened that door!
Here's a picture of the house that I took when we went for a visit last year.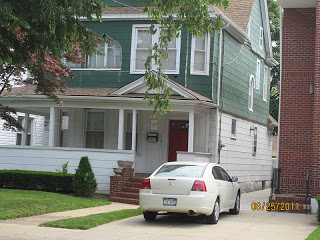 When we moved into the house I shared a bedroom with my sister, Liz, and then when I turned 13, the playroom became my room. I was thrilled!
But it was on the third floor, right next to the attic.
I remembering asking my dad if the house was on fire, how would I get out if the stairs were blocked. He didn't pause one minute and told me to climb out on the ledge outside my window and wait for the firemen or my dad to come get me.

Now, don't worry, the ledge was big enough to be considered a little balcony, it just wasn't a balcony...there were no railings or anything like that. But, being the fearful girl I was, I always thought what I would bring with me on that little "balcony" while I waited to be rescued.

My one item has changed throughout the years, naturally, but if I could only grab ONE item NOW this is what I would grab.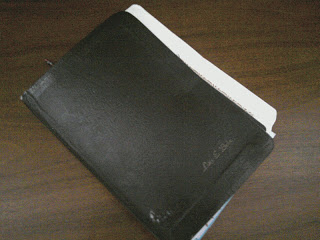 My Bible. My parents gave it to me in 1977. It's the Bible I've been using ever since. And, yes it's falling apart. It's not even attached to the leather anymore.
I have it in a nice pink Bible carrier, but no longer carry it to church. I use it only for my devotions every morning. Here's a picture of the inside.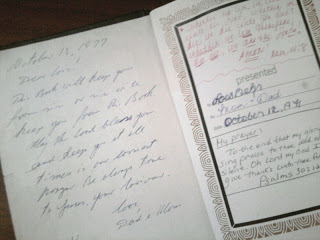 My dad wrote what he wrote in every Bible he gave to anyone, and as a pastor of a large church he gave a lot of Bibles as gifts to people...

"This book will keep you from sin or sin will keep you from this book."

THIS is what I would grab if my house was on fire.

Thankfully, I no longer would have to sit on a ledge outside my bedroom window waiting for the firemen to arrive. Leave me a comment and let me know YOUR answer! And if you want to leave me a comment on Facebook, that would be great also!