I love eggplant. FRIED eggplant. But, the calories and all the grease I really can do without. For years now I have been making eggplant in the oven, not fried but baked, and it comes out AMAZING!
Un-Fried Eggplant…

This is an EASY recipe and you won't miss standing over a frying pan filled with hot oil in order to enjoy this amazing vegetable.

Ingredients
One medium-sized eggplant
One cup breadcrumbs (I use unseasoned)
Three eggs
Directions
Peel and slice the eggplant.
In a bowl, or plastic container, crack and beat the eggs.
Place the one cup of breadcrumbs in a separate bowl or plastic container.
Dip the eggplant slices into the eggs and then into the breadcrumbs; place on a parchment lined baking sheet.
Just before baking, spray each eggplant slice with non-stick cooking spray.
Bake in a HOT 435 degree oven for 10 minutes. Then remove tray from the oven and flip each eggplant slice and spray again with non-stick cooking spray.
Return the trays to the oven and cook for another 5 minutes, or until done.
Remove from cooking tray and let cool slightly on a cooling rack before eating.
Note: You can also sprinkle any seasonings, salt, pepper, Italian seasoning, that you enjoy on top of the eggplant before placing them in the oven.
AND…you may need to use more eggs or breadcrumbs depending on the size of your eggplant. You can see how many slices my medium-sized eggplant gave me in the photo below. For this amount, I used 3 eggs and 1 cup of breadcrumbs. If you run out, just add more!
Peeled and sliced eggplant…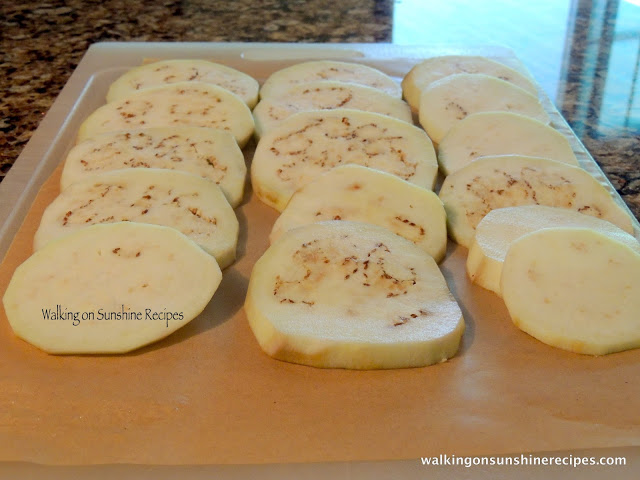 Ready to be dipped in beaten eggs and breadcrumbs…
Ready for the oven…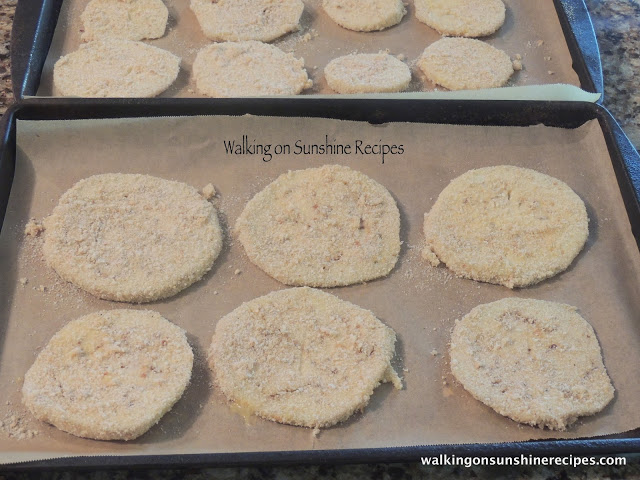 Delicious. Perfect for a snack or a sandwich…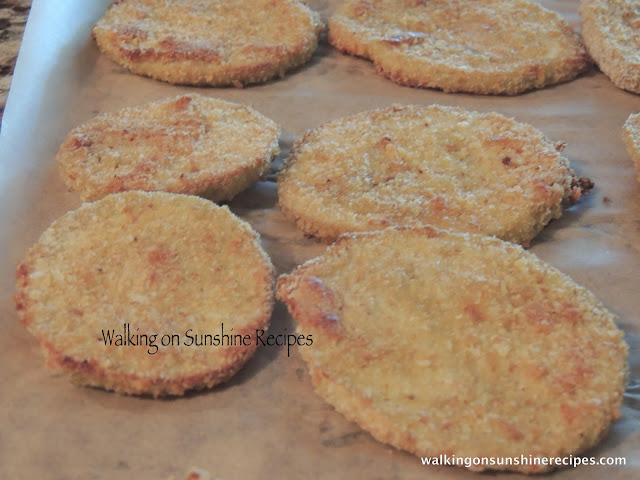 Or turn into Eggplant Parmigiana, if there's any leftover! Just layer the eggplant slices with tomato sauce, mozzarella cheese and bake in a 375 degree oven for 30 minutes.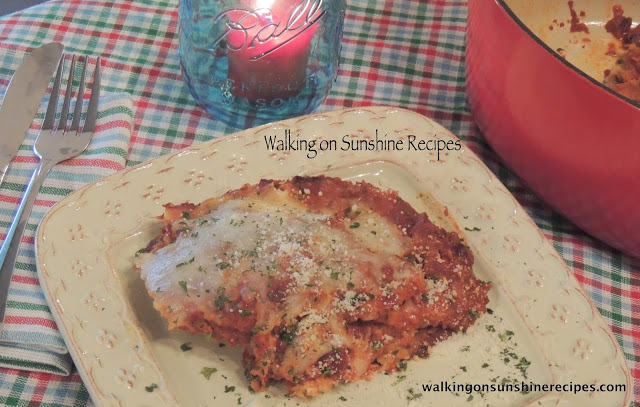 Enjoy your day!