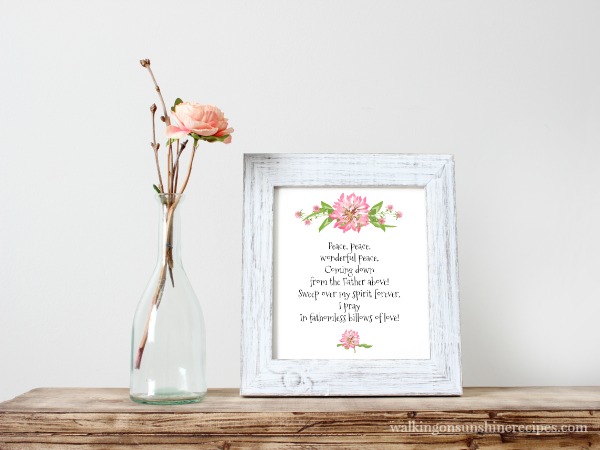 Yesterday when I was getting ready a favorite old hymn kept playing over and over in my mind. I finally grabbed my phone and started listening to it on You Tube.
The words to the song, Wonderful Peace just touched me. There is nothing like the peace that only God can give you!
I listened to the song a few times but throughout the day I found myself humming and singing the song over and over again. I finally sat down at my computer late in the afternoon and created this FREE printable for you.
Wonderful Peace
Far away in the depths of my spirit tonight
Rolls a melody sweeter than psalm;
In celestial-like strains it unceasingly falls
O'er my soul like an infinite calm.
Refrain:
Peace, peace, wonderful peace,
Coming down from the Father above!
Sweep over my spirit forever, I pray
In fathomless billows of love!
What a treasure I have in this wonderful peace,
Buried deep in the heart of my soul,
So secure that no power can mine it away,
While the years of eternity roll!
I am resting tonight in this wonderful peace,
Resting sweetly in Jesus' control;
For I'm kept from all danger by night and by day,
And His glory is flooding my soul!
And I think when I rise to that city of peace,
Where the Author of peace I shall see,
That one strain of the song which the ransomed will sing
In that heavenly kingdom will be:
Ah soul, are you here without comfort and rest,
Marching down the rough pathway of time?
Make Jesus your friend ere the shadows grow dark;
Oh, accept this sweet peace so sublime!
Once you click on the photo below, you will be taken to Box.com where you can download the printable. Once the printable is downloaded, you'll be able to print it out using whichever print program you have for your computer.