Welcome to the world of homemade cinnamon rolls! With this collection of bread machine cinnamon rolls, you can enjoy fresh, warm cinnamon rolls in the comfort of your own kitchen.
There's nothing like waking up to the smell of fresh cinnamon rolls baking in the oven. And with a bread machine, they're easier to make than ever! Just add the ingredients, set the timer, and enjoy the delicious aroma as your bread machine does all the work.
Check out my list of all my Best Cinnamon Roll Recipes as well!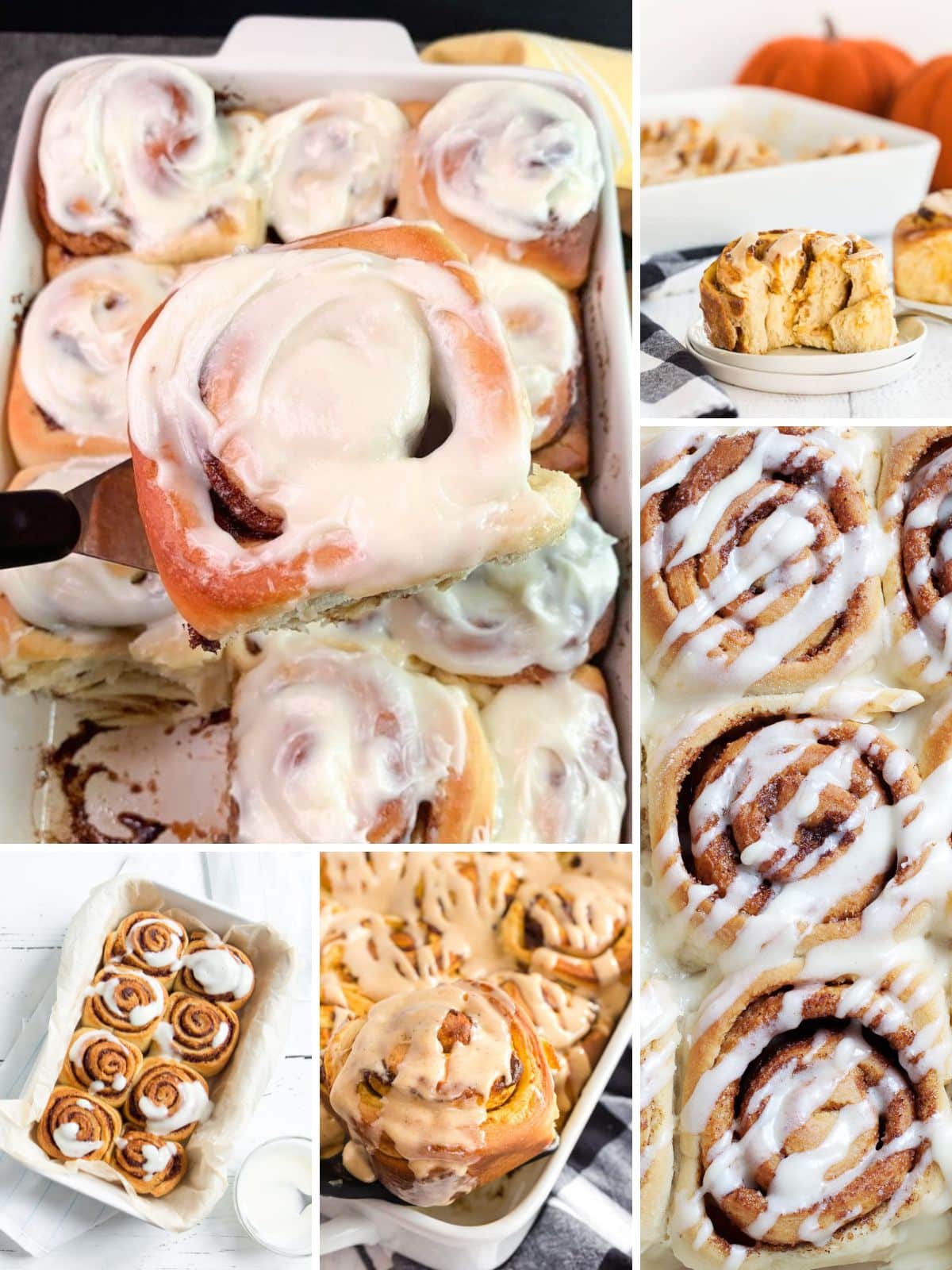 A bread machine is a convenient appliance for anyone who enjoys fresh, homemade bread but doesn't have the time or interest in making it by hand. With a bread machine, all you need to do is add the ingredients, select the cycle you want, and let the machine do the work.
There are a variety of bread machines on the market that can accommodate different budgets and baking needs. Some even have features like delay timers and crust color controls!
But, did you know that you can just make the dough only in a bread machine?
Looking for more Breakfast Ideas and Recipes? Try my Easy Cinnamon Roll Bread or my French Toast Cinnamon Rolls.
Table of Contents
Can you use a bread machine to just knead dough?
Many people enjoy the convenience of a bread machine, but may not be aware that they can also be used to prepare dough for baking.One of the bread machine's most useful features is the dough only setting. This setting allows you to make dough in advance, so that it's ready to bake when you are.
The bread machine will turn off and stop once the dough has mixed and risen one time. Then all you need to do is remove it from the bread machine and shape it into the desired shape.
This is perfect for busy weeknights when you want fresh bread but don't have time to wait for the dough to rise. Additionally, the dough only setting is also useful if you want to experiment with different bread recipes; like pizza dough or cinnamon rolls.The dough only setting can also be used to thaw frozen dough or to proof yeast.
If you have an older bread machine or yours doesn't have the dough only setting, it is important to keep an eye on the dough and to stop the cycle once it has doubled in size. Otherwise, the dough may become overworked and tough.
I use my bread machine to make the dough for my Bread Machine Easter Bread recipe and my own version of Bread Machine Overnight Cinnamon Rolls.
Tips for using a bread machine:
A bread machine can be a great addition to any kitchen, but there are a few things to keep in mind in order to get the best results. By following these tips, you can ensure that your bread comes out perfect every time:
First, always use the proper type and amount of yeast for your recipe. If you use too much yeast, the bread will rise too quickly and be dense and dry; too little yeast will result in a flatter loaf.
Second, make sure the ingredients are properly measured. One cup of flour in a recipe might not be the same as another cup of flour, so be precise in your measuring.
Third, don't overload the bread pan. Most recipes are designed for a specific size bread machine, so adding too much dough will cause problems with rising and baking.
Finally, pay attention to the nuances of your particular machine. Every bread machine is different, so take note of how long it takes to knead the dough and how long the baking cycle takes.
Can you leave bread in the bread machine overnight?
Bread machines are a convenient way to make delicious homemade bread, but can you leave bread in the bread machine overnight? The answer is yes, but there are a few things you need to consider before doing so.
First, check the recipe to make sure it doesn't call for a specific baking time. If it does, leaving the bread in the machine overnight could result in over-baked or even burnt bread.
Second, use a recipe that specifically states it is safe to leave the dough in the machine overnight.
Third, consider the temperature of your kitchen. If it's warm, the dough may rise too much and produce a dense loaf.
Finally, be sure to check the yeast before adding it to the ingredients. If it's expired or past its prime, it could cause problems with the dough rising correctly. With these precautions in mind, you can safely leave your bread machine on overnight and enjoy fresh, homemade bread in the morning.
Baking Tip: Measure the flour properly by first whisking it lightly and then level off each measuring cup with the back of a knife.
Helpful Kitchen Tools
This post contains affiliate links. That means that if you make a purchase after clicking on a link I may earn a small commission at no extra cost to you. For more information, click here.
More Information
More Information
More Information
More Information
More Information
⭐Before You Begin! If you make this recipe, please leave a review and star rating. This helps my business thrive and continue providing FREE recipes.
Bread Machine Cinnamon Rolls
With this collection of bread machine cinnamon rolls, you can enjoy fresh, warm cinnamon rolls in the comfort of your own kitchen.