Are you planning a spooky and fun Halloween party for children? This collection of Children's Halloween Punch Recipes are sure to thrill and delight!
From bubbling cauldron concoctions to googly eye punches, these drinks are sure to be a hit! Not only are they kid-friendly, but there's something that both adults and kids alike can enjoy.
Prepare to mix up some wickedly delicious drinks and make lasting memories this Halloween.
Check out all the other Halloween Themed Recipes for even more fun ideas!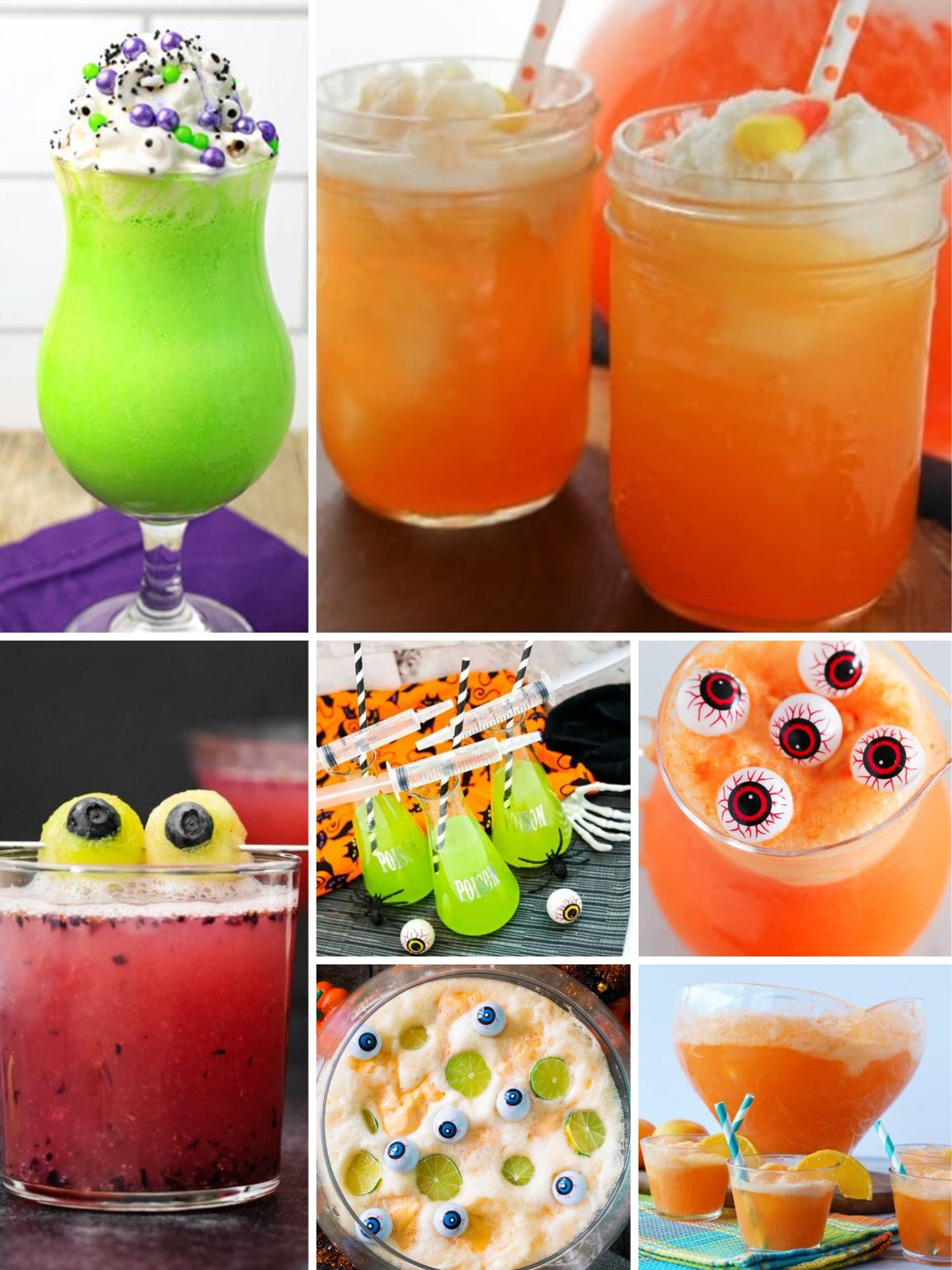 Why not add some kid-friendly spook-tacular punch recipes to the mix this Halloween season? Punch isn't just for adults-- it can make a great addition to any kids' party too.
And with these deliciously easy Halloween punch recipes, you'll have all the little ghouls and goblins asking for "just one more glass" of their favorite creepy concoctions.
Looking for Easy Dessert Recipes that are perfect for Halloween? Try my Monster Eye Cookies, Homemade Halloween Cookies with Sprinkles or my easy no-bake recipe for Halloween Pretzel Rods.
Table of Contents
👩‍🍳What's the Best Container for Serving Punch?
When planning to serve punch at your Halloween party, selecting the appropriate container is crucial to set the mood for the party!
Choosing a container the fits the theme of your Halloween party adds to the festive spirit! Here are a few ideas beside the traditional punch bowl:
Try a large plastic pumpkin Jack-O-Lantern.
A large cauldron punch bowl would work nicely.
You might even want adding the punch to a clean, carved out pumpkin!
Check out your local thrift stores for old punch bowl sets. Children will love pretending to be grownups serving themselves something to drink from one!
📌Quick Tip: While it might look spooky, you should never add dry ice to a punch bowl that's filled with punch. If you choose to use dry ice on your beverage table, take extreme caution, handle it properly, and follow guidelines from reliable sources.
🌟Tip for Serving Punch
A fun way to serve drinks for your Halloween party would be to set up a "punch serving station" or bar. You can decorate the area with fun Halloween items.
🛒Helpful Kitchen Tools
More Boos Please Pumpkin Orange 11 x 11 Glossy Ceramic Halloween Drink Dispenser
Pacific Giftware Witches Broth Cauldron Ceramic Bowl with Broom Spoon
Halloween Witch Cauldron Candy Serving Bowl Hocus Pocus Decorations, Set of 3 Black Plastic Cauldron Bowls with Iron Rack, Spooky Candy Bucket Punch Bowls for Table Home Outdoor Indoor Party Decor
200 Pieces Halloween Treat Snack Cups Jack O Lantern Disposable Paper Cup Pumpkin Bowls Ice Cream Bowls Snack Cups Bowls for Food, Soup Hot Cold Drink Halloween Party Dessert Supply (Halloween)
Rae Dunn by Magenta, Unique with Perfect Imperfections. PUMPKIN SPICE Pumpkin Shaped Beverage Dispenser. Ceramic, Orange, Black LL. 8in x 9in x 9in
Uiifan Pumpkin 2 Gallon Drink Dispenser Halloween Glass Beverage Dispenser with Spigot Clear Pumpkin Shaped Beverage Dispenser for Outdoors Kitchen Table Parties Bars Water Milk Tea
💡Recipe FAQ
Simply click the plus sign to read more about the questions you see below.
If YOU have a question regarding this recipe, please let me know in the comment section!
Can you use dry ice in punch?
According to Dry Ice Corp, adding dry ice directly to a drink is unsafe for human consumption. There are other ways to use dry ice to achieve the same spooky affect. You can add the dry ice to another bowl and place it behind the punch bowl!
How do you keep punch cold?
The most common method is to use ice. Fill your punch bowl with a generous amount of ice cubes or large ice blocks. The ice will help chill the punch and keep it cold as it melts slowly. You can also make an ice ring or mold by freezing water in a Bundt pan or other decorative mold.
How long does dry ice last?
The smoking effect from dry ice typically lasts for about 10-15 minutes.
📇Recipe Collection
⭐Before You Begin! If you make any of these recipes, please leave a review and star rating. This helps my business thrive and continue providing FREE recipes.
Children's Halloween Punch Recipes
From bubbling cauldron concoctions to googly eye punches, these Children's Halloween Punch Recipes and drinks are sure to be a hit!