This post on How to Create an Inviting Comfortable Guest Room is sponsored by Live and Sleep® Mattress. I received a mattress to try in return for my honest review. I fully stand behind this product, and the opinions are 100% my own. This post contains affiliate links. Your cost is the same, but I earn a commission when you shop through them. For more information, click here.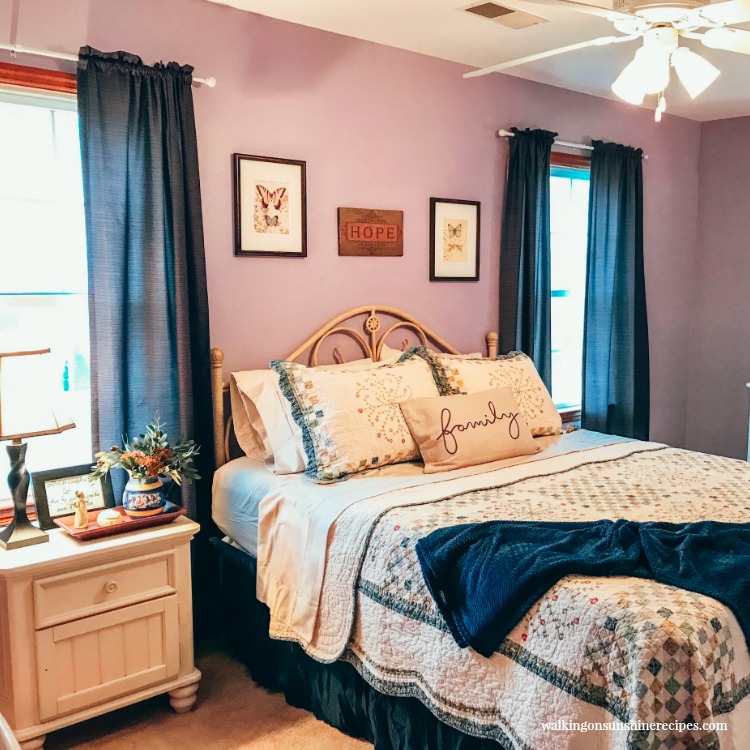 What do you do with your daughter's (or son's) room when they are no longer living at home? Our daughter, Olivia, is coming up on her four year wedding anniversary this spring. I haven't done much with her room after she married and moved out except paint it...and trust me it needed painting! I think she must have had 20 different posters covering the walls of her bedroom!
Create an Inviting Comfortable Guest Room
A few months after Olivia moved out, we painted the bedroom a pretty shade of lilac. I purchased a new comforter set and curtains but the room really needed help. There was nothing on the walls or on the dresser and nightstand except for one lamp!
Which is why I'm so excited to share with you about this new Live and Sleep® Mattress and how it helped motivate me turn her old bedroom into a beautiful guest room.
Online Mattress Shopping
Did you know that you spend ⅓ of your lifetime sleeping? Thankfully for us, you can shop online for a new mattress and have one in your home fast! Purchasing a mattress online is a new fun, EASY way to get a good night's sleep.
So many people I know are now turning to the internet to order their mattresses. And for the most part, everyone is loving them. Which is how we feel about our new Live and Sleep® Mattress.
Tips for Choosing a Live and Sleep® Mattress
We love our new mattress and find that it's incredibly comfortable. I mean, really comfortable. It's almost as if it's hugging your body as you sleep!
The mattress arrives compressed and vacuum-sealed in a box. As a result, the mattress may take a few days to fully expand to its full shape and be comfortable to sleep on.
You may need help getting the box upstairs into the bedroom, so if you live alone, invite a friend over to help you.
Set up is incredibly easy. You really just open, unwrap and let it expand.
The mattress is not as heavy as a traditional mattress, but be prepared where you want to put it just to make life easy.
Conforming memory foam envelops your body and it gives you cradling comfort for a better night sleep.
The High Density Support Core (HD) gives your body the right support so you awaken refreshed.
How do you get the Smell out of a New Mattress?
There may be a smell after you open up the mattress, however, we didn't experience ANY SMELL at all with our mattress. However, some people notice a new mattress smell when opening the bag, but it goes away quickly.
Live and Sleep® mattresses have the lowest level of new mattress smell compared to any mattress company. If you notice a smell, it comes from the new foam being packaged with plastic during transit and not from any harmful chemicals.
Here are a few tips if you find there is a smell to your mattress:
Live and Sleep® suggests letting the memory foam mattress air out before putting sheets and comforter sets on top.
If you have a ceiling fan in the room, put it on and open the windows.
Place several bowls of white vinegar around the room. These will absorb and neutralize the odor that off-gassing leaves behind.
You can also place several bowls of baking soda around the room.
How to Set up a Bed in a Box Mattress
Our Live and Sleep® mattress was delivered to our house rolled up tightly and compressed in a plastic wrap. We chose to order a smart base from Amazon. We are using this same exact bed frame with the mattress in our master bedroom and love it.

It eliminates the need for a traditional box spring and bed frame while providing extra storage underneath.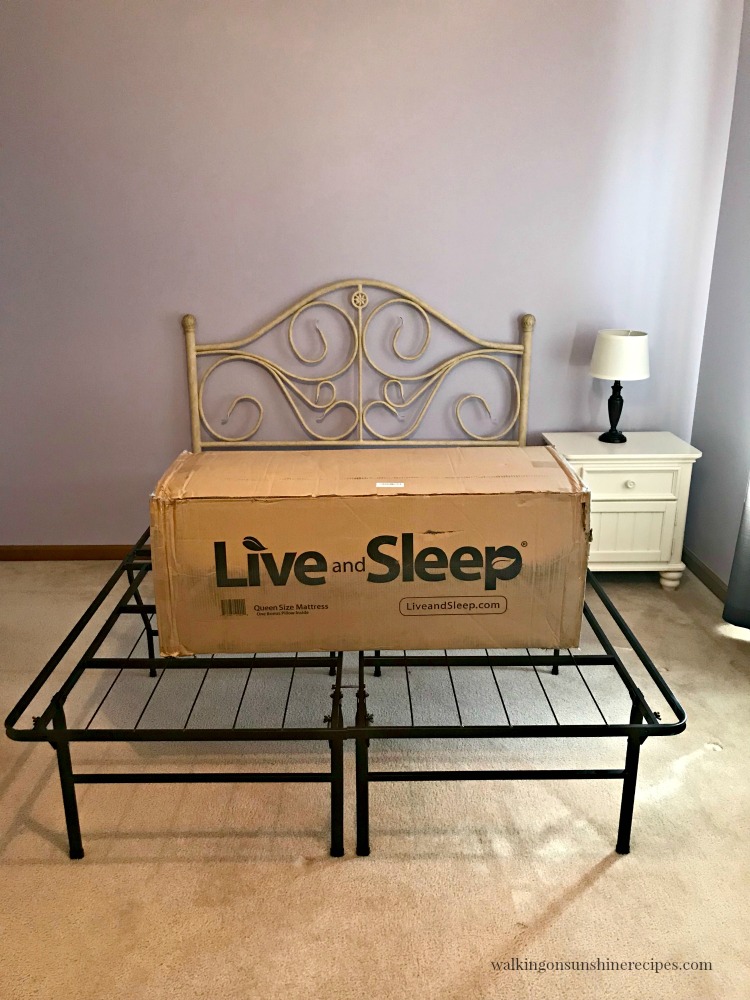 There was no assembly needed, we just removed the plastic and the mattress sprung out into its full size.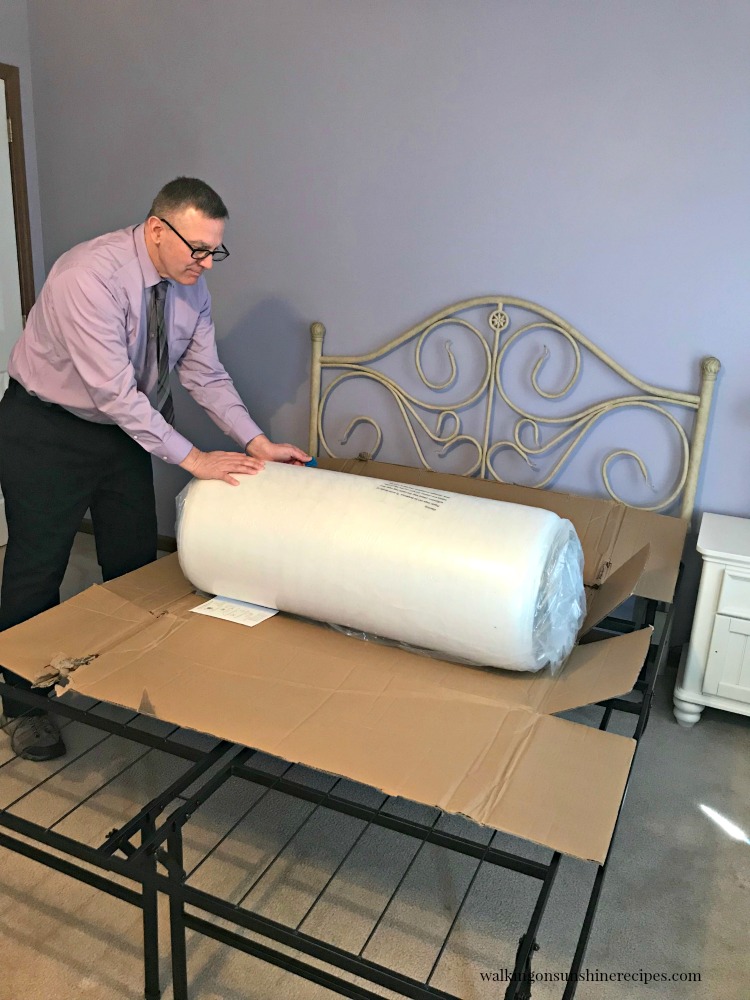 Within about 30 minutes the mattress was full and looking perfect! I still don't quite understand how a mattress can arrive rolled up in a box and be so incredibly comfortable!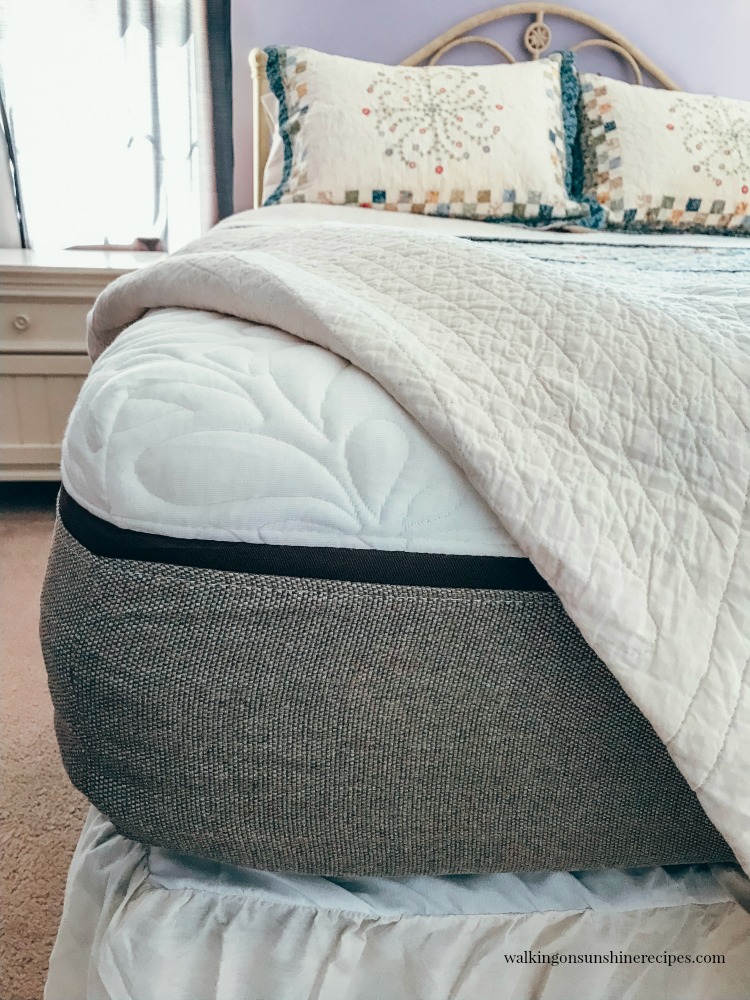 100 Night Risk Free Trial
Live and Sleep® has a SIMPLE and NO HASSLE mattress return policy. It is simple, fair, and demonstrates their confidence in their mattress. You get a 100% refund on your memory foam mattress if you are unhappy.
They are confident that you'll love your Live and Sleep® mattress that they'll deliver it to your home and give you 100 nights to try it out.
Throughout this trial, if you at any time decide that our mattress isn't worth the price, simply contact us and we'll pick up your mattress at no extra charge, and give you a full refund.
Tips for Creating an Inviting Comfortable Guest Room
Here are a few other things I did to help create an inviting comfortable guest room for friends and family:
New sheets - I love these new sheets from California Design Den. Thank you California Design Den for helping me with this guest room makeover! They're 400 thread count, 100 percent cotton sheet set. I chose a pretty off-white color to compliment the quilt I had packed away for a few years. I love the 18 inch deep pockets that help make a beautiful bed. You definitely want sheets with deep pockets for the Live and Sleep® Mattress.
Pretty Art Work - Shop your house first before purchasing anything new. That's what I did here. The pictures on the wall were sitting in our storage room waiting for our next garage sale. I think they work great in our new guest room.
Fresh Flowers - An inexpensive arrangement from the grocery store will look perfect in the pitcher on the lamp table. Again, the pitcher was in my storage room waiting for our summer garage sale.
Extra Blankets - I have this pretty navy blue throw at the end of the bed that ties everything together. There's also another blanket or two in the closet.
Cute Throw Pillow - I love this Family pillow cover I found online. Perfect for a guest room!
Empty Closet - this is really important. You want your guests to be able to hang up their clothes and have room to relax. Try to have at least half the closet empty and plenty of hangars for them to use.
Here's a closeup of the new sheets from California Design Den we put on the bed. I was a little skeptical at first getting sheets online, but let me tell you these are the softest and prettiest sheets we've ever had. I almost wish they would fit on our bed!
These sheets are very luxurious and they looked amazing right out of the package. I know guests who stay in this room will definitely get a great night's sleep from not only this new mattress but these sheets as well.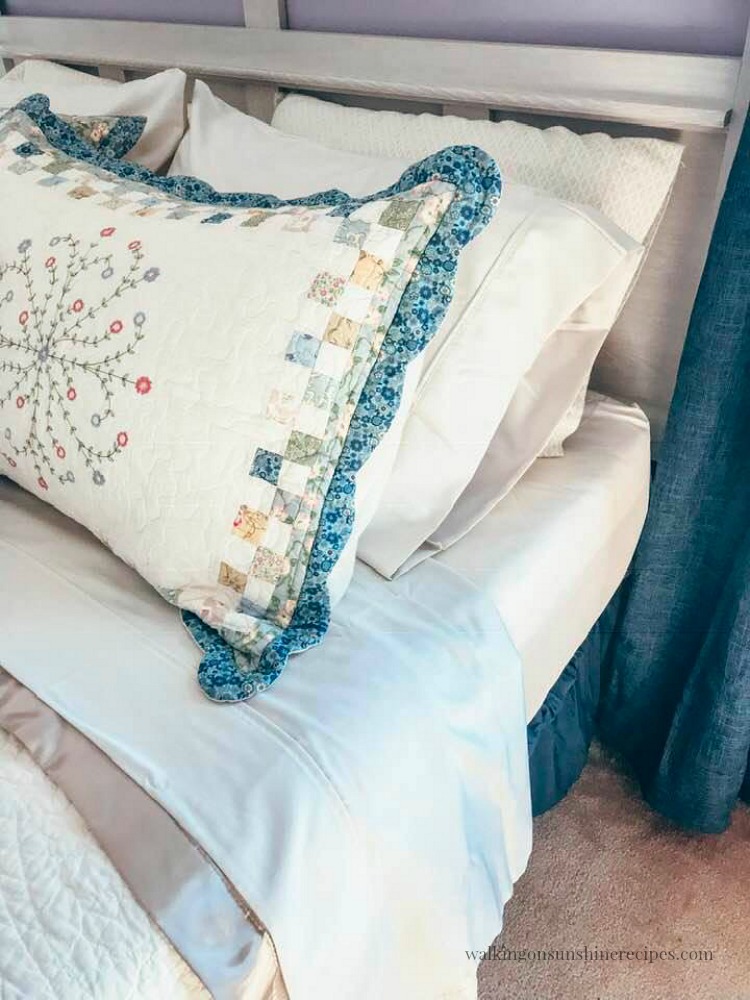 The real test will be when our daughter and son-in-law come home for a visit in May. I'm so glad we now have an updated grown-up room for them to sleep in when visiting. I'm also glad we've created an inviting comfortable guest room for out of town family and friends!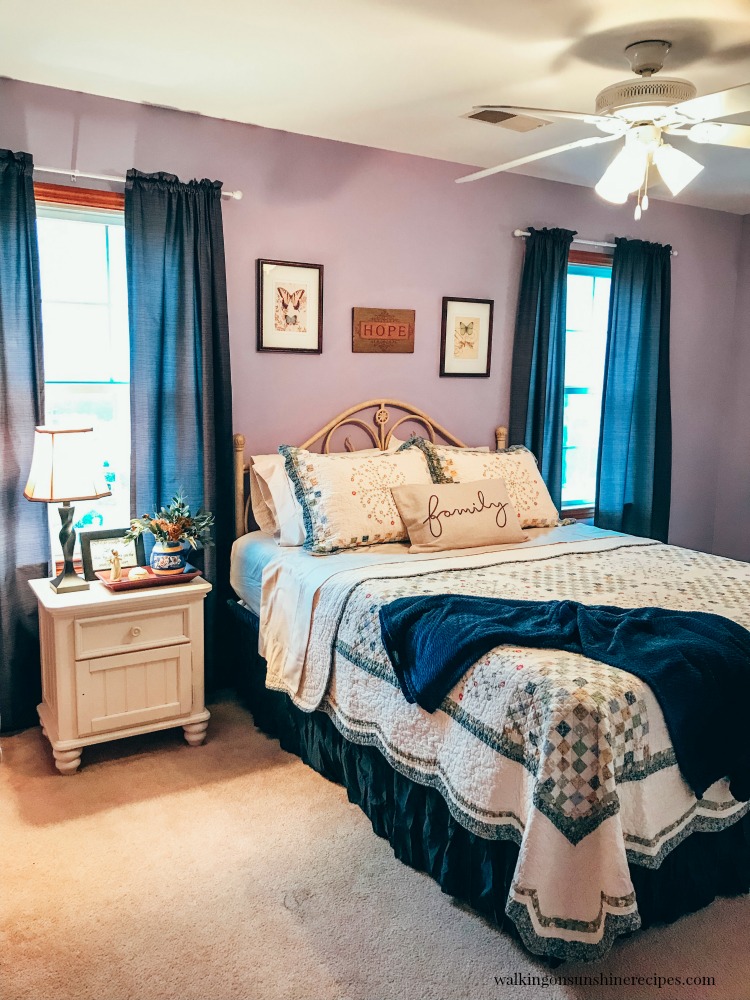 For more information on the mattress we have in our guest room, click on the photo below or HERE.
More Information