I found some photos the other day of these lovely little
Tea Sandwiches I make and realized I've never shared them with you!
These sandwiches are BEAUTIFUL and DELICIOUS.
Cucumber Tea Sandwiches…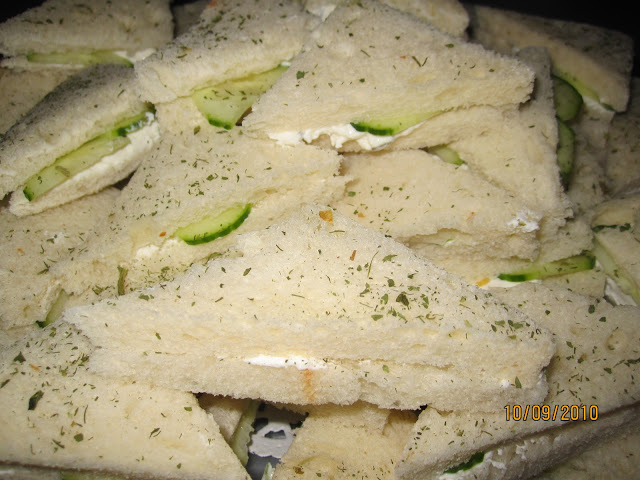 As you can see from the date in the bottom corner these photos
are almost 2 years old and NOT the best quality.
I apologize, but they're so delicious and an easy addition
to any party, baby shower or tea party.
Ingredients:
Cucumbers
Good quality bread
This is important…spend the money and get a loaf of Pepperidge Farm Bread…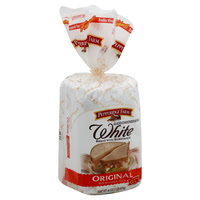 Flavored Cream Cheese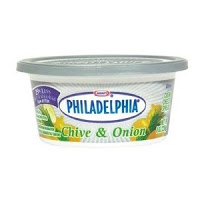 Begin by slicing your cucumbers THIN and layering them
in a colander, sprinkling the cucumbers with salt.
The salt helps draw out the water that is in the cucumbers.
Do not skip this step…you will have soggy sandwiches.
Place the colander over a bowl and let sit for about an hour.
You will be surprised at how much WATER is in the cucumbers.
Squeeze the cucumbers DRY and set aside while you get the bread ready…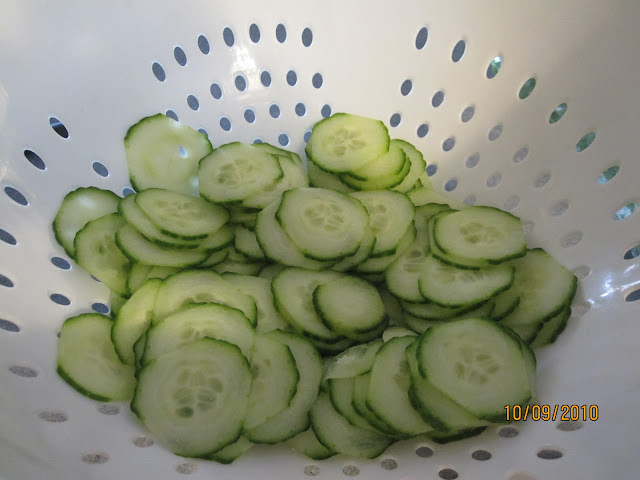 Cut the crusts off the bread.
I use my electric knife, but a regular knife works fine…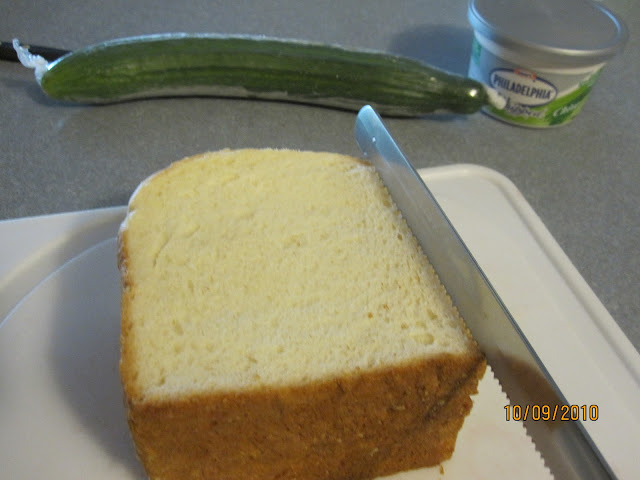 Crustless bread.
You can use the crusts to make breadcrumbs or snack
on while you're preparing the sandwiches…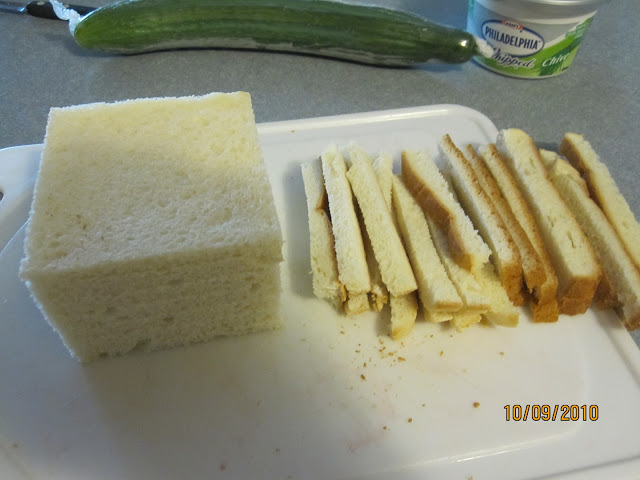 Spread the cream cheese on the slices of bread…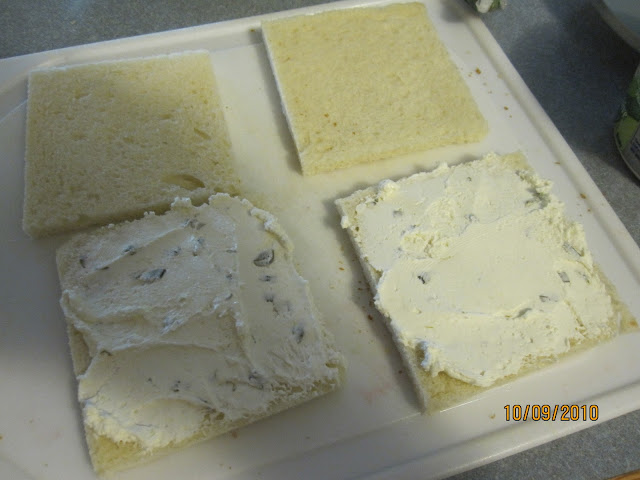 Now, add the cucumber slices…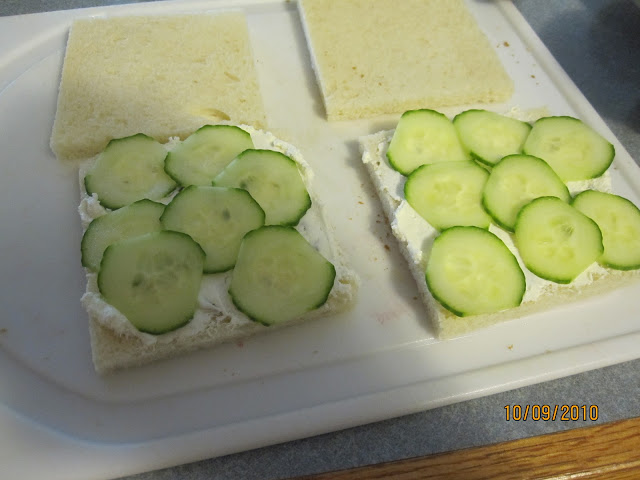 Cut into TRIANGLES.
Please do not cut the sandwiches into squares…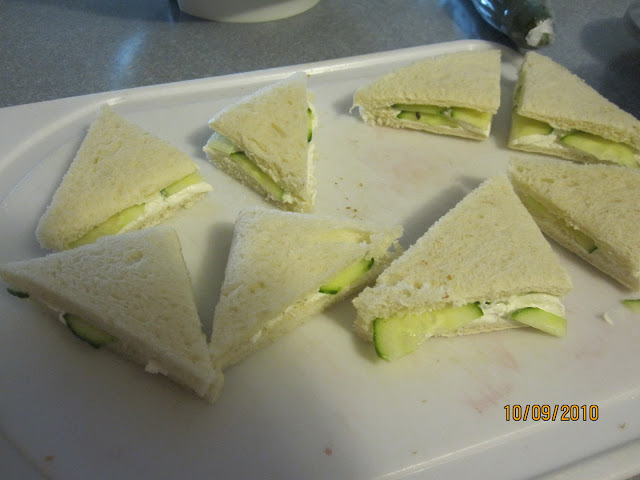 Arrange on a pretty platter and sprinkle with some parsley for added prettiness…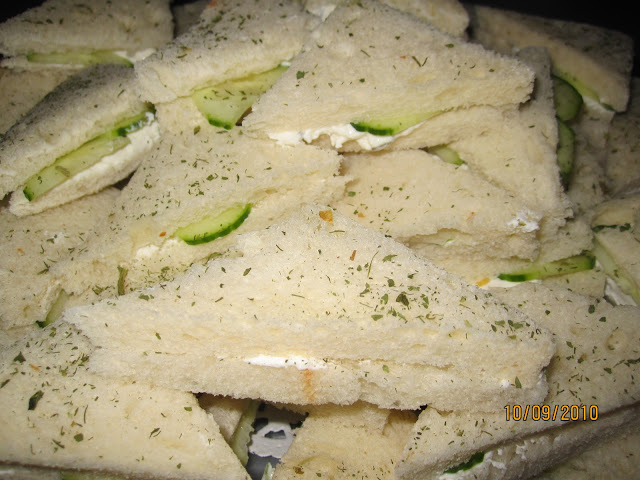 The first time I had a cucumber sandwich I didn't expect
to enjoy it as much as I did!
And these sandwiches go FAST on a buffet table!
I made the cucumber sandwiches for a baby shower at church
and also brought along a platter of Strawberry Tea Sandwiches…
I have a bread mold from Pampered Chef that you place a loaf of frozen bread
or a tube of Pillsbury bread inside and bake until done.
As you slice the loaf, you get pretty "flower" shaped slices.
Really cute!
You can also use a cookie cutter in any shape with
the Pepperidge Farm bread…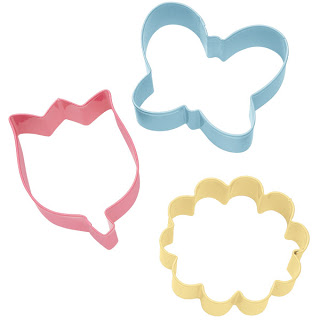 For the above sandwiches, I spread flavored
strawberry cream cheese on the bread…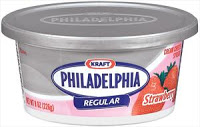 Then added thinly sliced strawberries on top of the
cream cheese and then decorated with a few more strawberries on top.
THESE were gone before anything else on the buffet table.
So, what do you think?
Would you eat a CUCUMBER SANDWICH?
Or a Strawberry Sandwich?
I know I would…and might make some just for myself this week.
Enjoy your day!