Elegant Cucumber Tea Sandwiches are perfect for bridal showers, baby showers or tea parties.  These can be made with a variety of different flavored cream cheeses.  They make a beautiful presentation on any buffet table.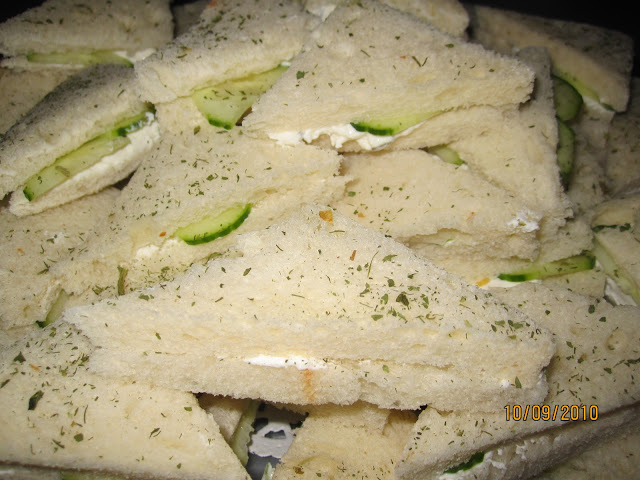 Cucumber Tea Sandwiches
Cucumber Tea Sandwiches are something I have been making for years for Mother and Daughter Teas at our church.  And then I made them for a few baby showers and finally I made them for my daughter's bridal shower a few years ago.
Each time I make these, taking photos is never on my mind, so I do apologize that these photos are not the best.  But the recipe is so incredibly easy I know you're going to enjoy making these for your family and friends.
As you can see from the date in the bottom corner these photos are very old and NOT the best quality. I apologize, but they are a beautiful addition to any party, baby shower or Mother Daughter Tea Party.
Every time I have made these, they disappear from the buffet table FAST.  Incredibly fast.  You'd be surprised how much people really enjoy an old fashioned cucumber tea sandwich!
Tips for Making Cucumber Tea Sandwiches
There are a few tips for making delicious cucumber tea sandwiches.  And believe me, I've had a few that weren't made like this and they just weren't that good.
Make sure you use good quality bread.  This is so important.  Do not buy the dollar loaf of bread from the grocery store.
I like to use Pepperidge Farm White Bread.  I also like to use Pepperidge Farm Wheat Bread.
Make sure you slice the cucumbers really thin.  I have had a cucumber sandwich with a thick slice of cucumber.  It was like biting into a pickle.
You can use a knife but I really recommend using a mandoline slicer.  You want almost paper thin cucumbers.
Make sure the cream cheese is at room temperature before you start spreading.
Cut the crust off the bread.  Don't worry...you can freeze the crust and make bread crumbs at a later date.
Let's Make Tea Sandwiches!
Begin by slicing your cucumbers THIN and layering them in a colander, sprinkling the cucumbers with salt.
The salt helps draw out the water that is in the cucumbers. Do not skip this step...you will have soggy sandwiches.
Place the colander over a bowl and let sit for about an hour. You will be surprised at how much WATER is in the cucumbers.
Squeeze the cucumbers DRY and set aside while you get the bread ready.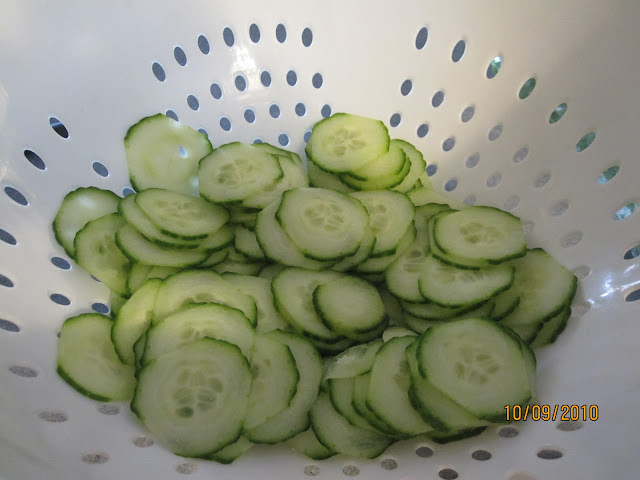 Cut the crusts off the bread. I use my electric knife, but a regular knife works fine.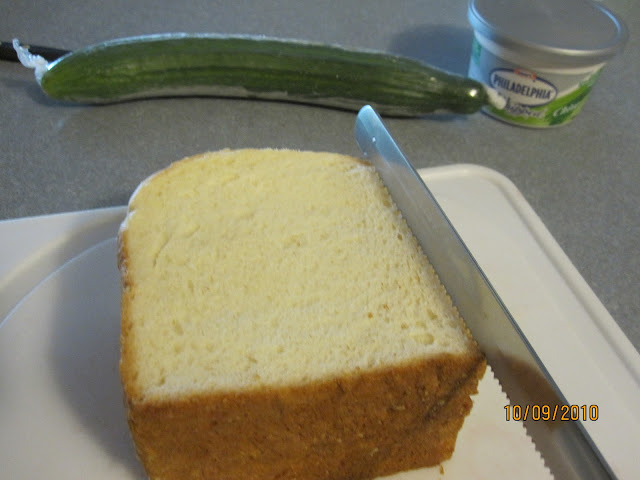 Crustless bread. You can use the crusts to make breadcrumbs or snack on while you're preparing the sandwiches.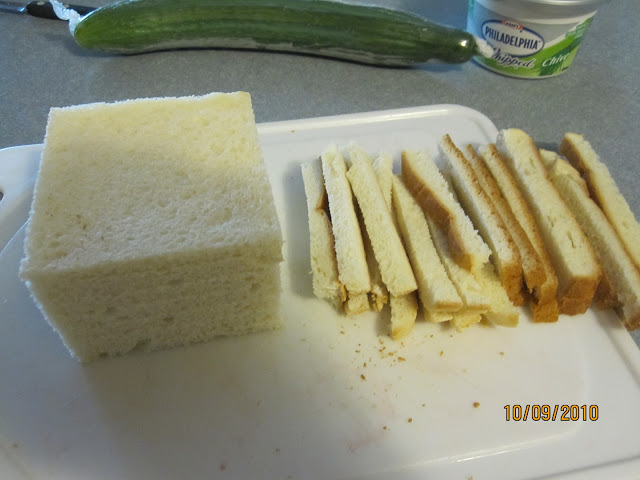 Spread the cream cheese on the slices of bread.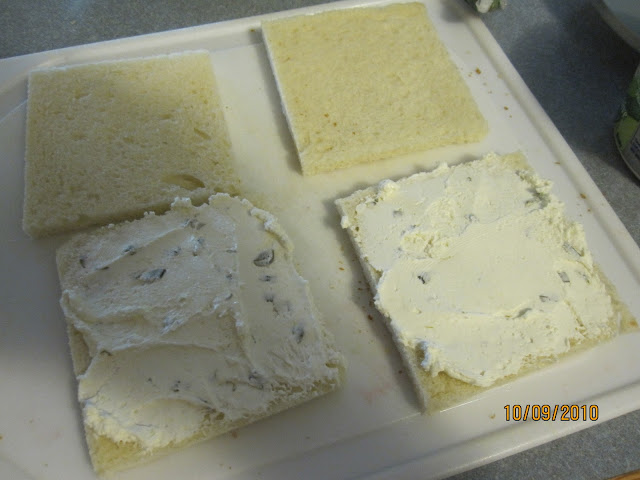 Now, add the cucumber slices.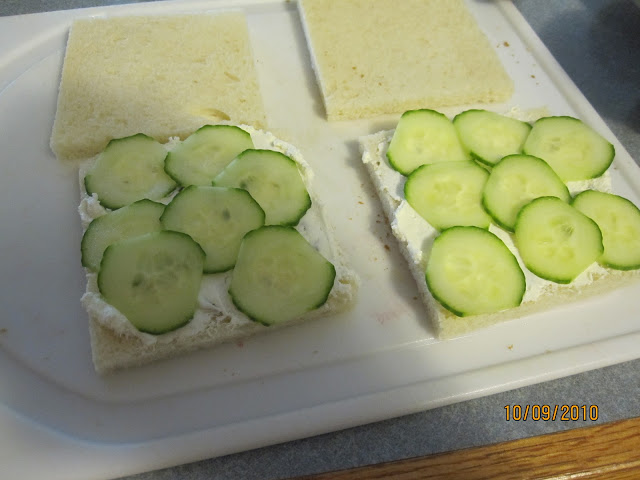 Cut into TRIANGLES. Please do not cut the sandwiches into squares.  Remember, we want fancy, elegant cucumber sandwiches.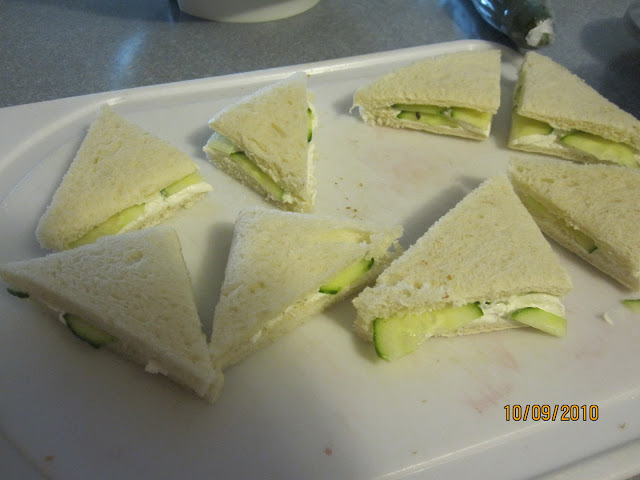 Arrange on a pretty platter and sprinkle with some parsley for added prettiness...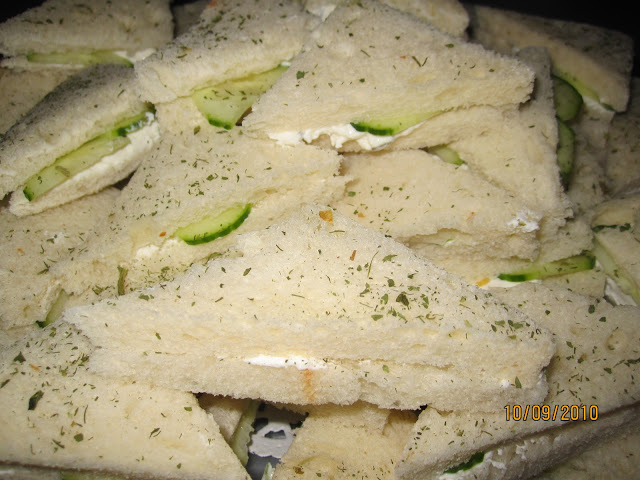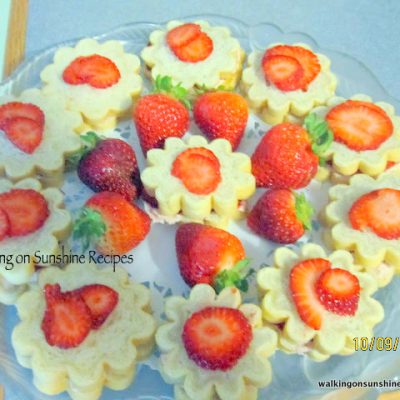 Cucumber Tea Sandwiches
Elegant Cucumber Tea Sandwiches are perfect for bridal showers, baby showers or tea parties. These can be made with a variety of different flavored cream cheeses. They make a beautiful presentation on any buffet table.
Ingredients
1

cucumber

2

8 ounce

packages cream cheese chive and onion flavored, softened

1

loaf

good quality white bread
Instructions
Peel the cucumber and slice it very thin.

Place the cucumber slices in a colander and sprinkle with a little salt. Cover with paper towel and let sit for at least 30 minutes to allow the salt to pull the water from the cucumbers. Squeeze the cucumbers to remove all the water from them as possible. You want the cucumbers to be very dry before adding them to the sandwiches.

Using a very sharp knife or an electric knife, cut off the crusts from the bread.

Spread cream cheese evenly on one side of the sandwich bread.

Top with a few cucumbers.

Add another slice of bread on top to form the sandwiches.

Cut into triangle slices.

Arrange onto serving platters.
Recipe Notes
You can any flavored cream cheese you prefer. I like the chive and onion flavor.
Strawberry cream cheese is really nice with thinly sliced strawberries in place of the thinly sliced cucumbers.
You can use cookie cutters to get fun shapes for the sandwiches too!
The first time I had a cucumber sandwich I didn't expect to enjoy it as much as I did!
And these sandwiches go FAST on a buffet table!
 
I made the cucumber sandwiches for a baby shower at church and also brought along a platter of Strawberry Tea Sandwiches.
I have a bread mold that you place a loaf of frozen bread or a tube of Pillsbury bread inside and bake until done.  As you slice the loaf, you get pretty "flower" shaped slices.
Really cute, right? If you don't have the bread tube or mold, you can use flower shaped cookie cutters.
Check the Shop my Kitchen items below for where you can purchase these.
To make these sandwiches, I spread strawberry cream cheese on the bread and then added very thinly sliced strawberries followed by another piece of the flower bread.
It was very easy and very delicious.  I added a few slices of strawberries to the top of the bread so people knew these were strawberry sandwiches.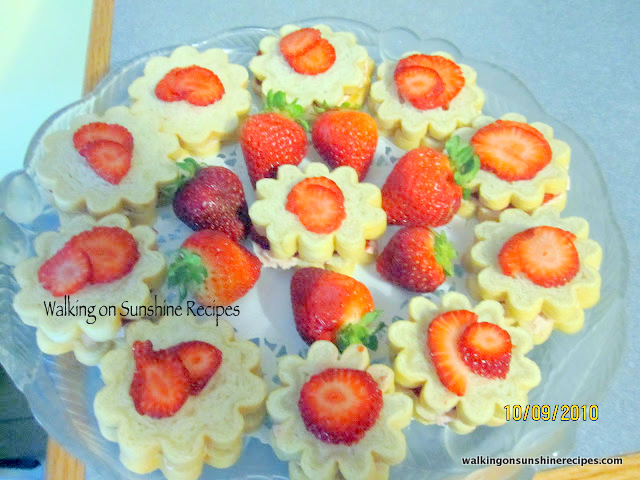 This post contains affiliate links. Your cost is the same, but I earn a commission when you shop through them.  For more information, click here.
More Information
More Information
More Information
More Information

Bridal Shower Cupcakes in the shape of a Wedding Dress.