Bridal Shower Cupcakes in the shape of a Wedding Dress are the perfect alternative to a cake for bridal showers and even birthday parties for little girls. Easy to make and oh so delicious too!
Make sure you check out my special gift to Olivia which was a family recipe album with all her favorite recipes.
Bridal Shower Cupcakes
What do you serve for dessert for a bridal shower? You could get a sheet cake from a local bakery or you could do something really special for the bride-to-be and make Bridal Shower Cupcakes in the shape of a wedding dress like we did for our daughter's shower.
I shared with you a few weeks ago some photos of the shower we had for our daughter, Olivia. And today I'm going to share with you the beautiful bridal shower cupcakes we had for dessert.
They were in the shape of a wedding dress and were perfect for our daughter's bridal shower.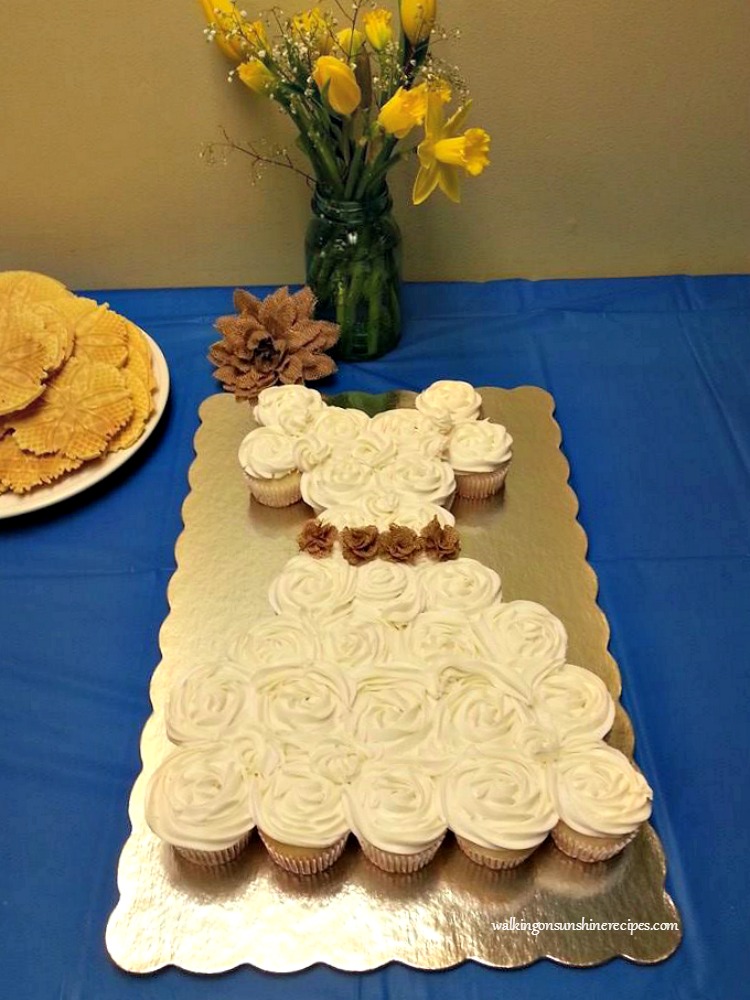 When I first started planning Olivia's bridal shower, I asked my friend Lisa if she could help by making cupcakes and arranging them into the shape of a wedding dress. She did such an AMAZING job! Everyone at the shower was impressed with the end result.
How to Assemble Bridal Shower Cupcakes
Here's Lisa arranging the cupcakes into the shape of the wedding dress.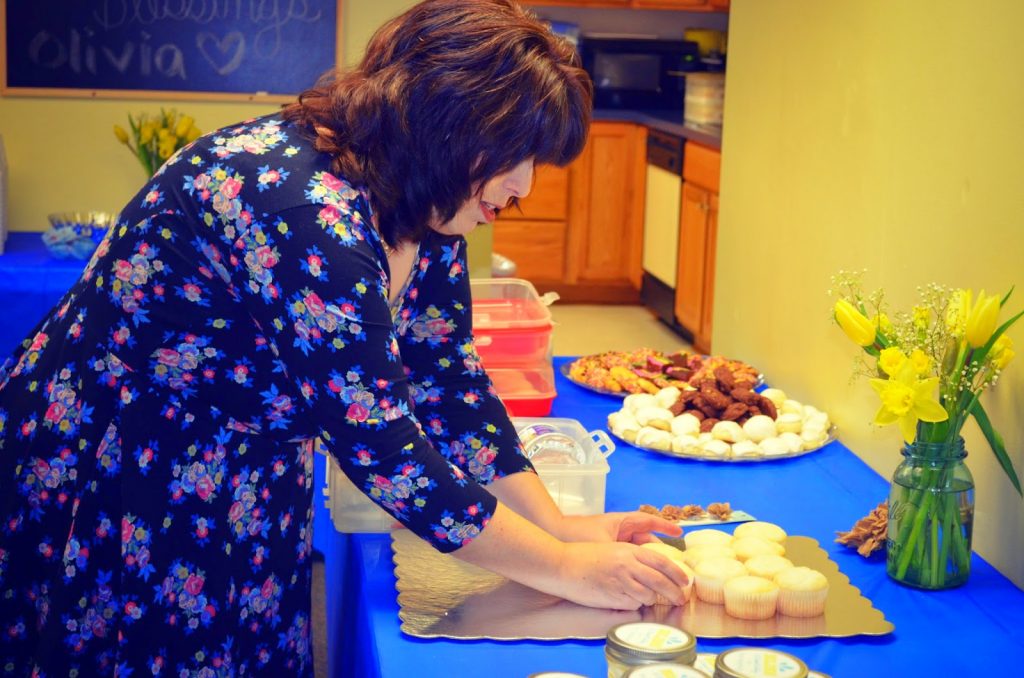 Lisa decided it was best to ice the cupcakes and then put them together at the church where we held the bridal showers.  This way there was no chance of anything being ruined while she transported the cupcakes to the church.
She put the cake together and added the frosting with the finishing touches all while our guests were arriving and "watching" her! That would have made me crazy, but Lisa just kept working not at all distracted by the crowd gathering around her.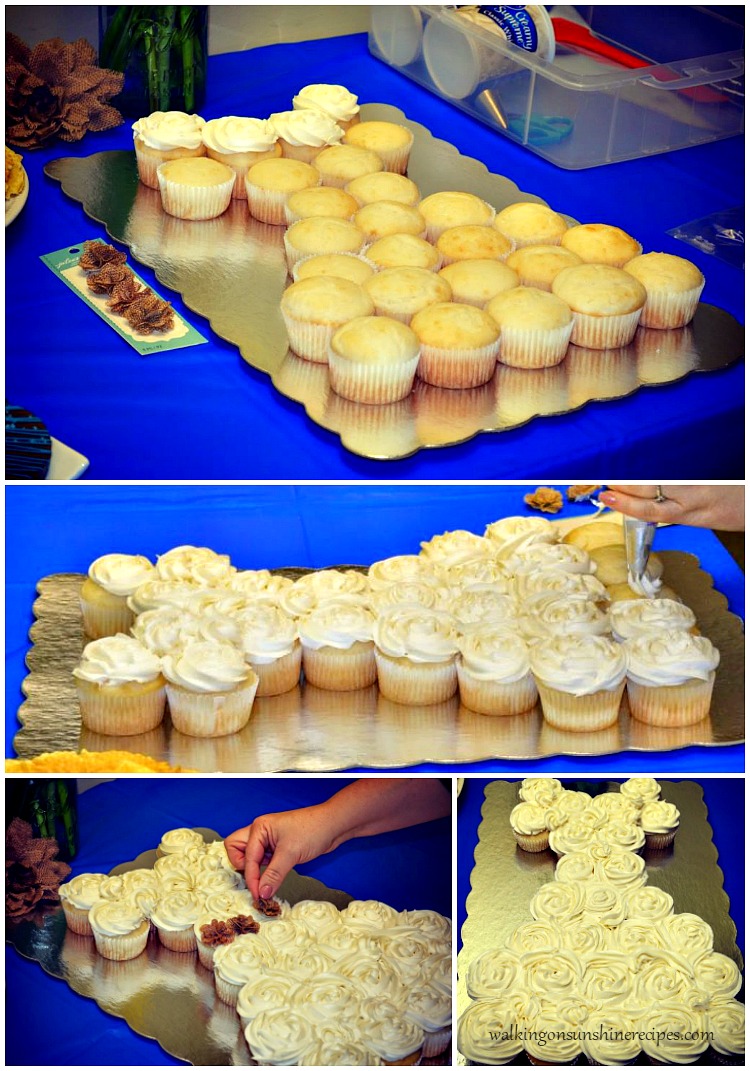 How to Decorate Bridal Shower Cupcakes
When we were discussing the wedding dress cupcakes, I decided to have Lisa add only a few small burlap flowers that I found online.
As you can see from some of the photos here, our theme for the bridal shower was mason jars and burlap flowers. Which was perfect because Olivia's wedding reception was held in a barn!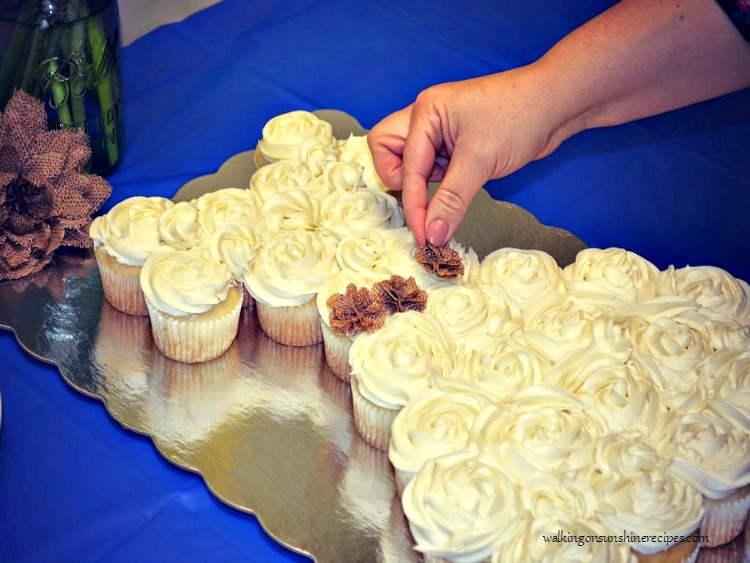 Here's how the cupcakes looked on the dessert table. My sister made our family's recipe for Italian Pizzelle Cookies. She made them in the traditional anise flavor and also Chocolate Pizzelle Cookies.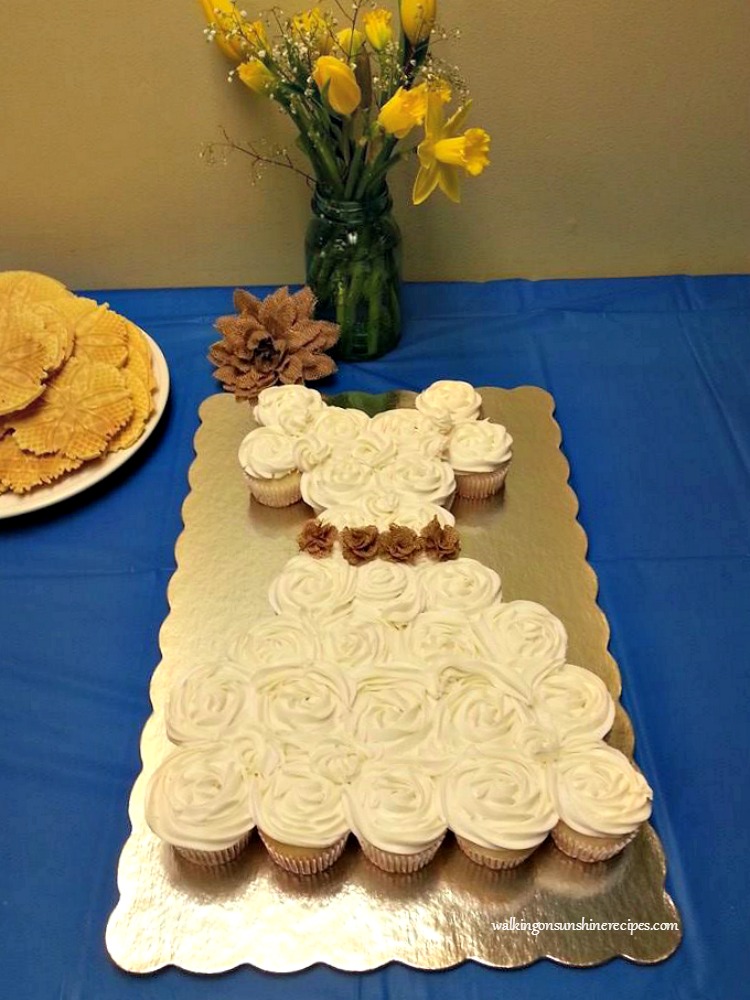 My daughter, Olivia and I in front of the cupcake dress.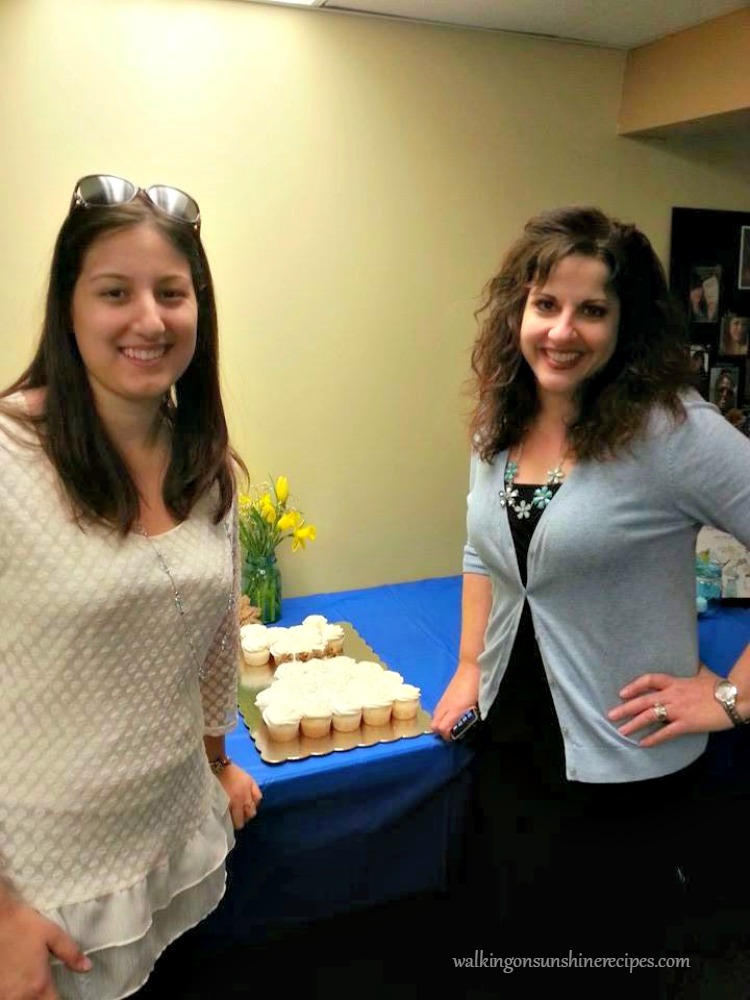 I'm so thankful that Lisa was able to create such a beautiful cupcake dress for Olivia's shower.  She is so talented and makes beautiful cakes for her family.
As you can see from some of the photos, we used a lot of ball jars for the decor at the bridal shower. I have a pretty large collection of antique ones that we used, but we also purchased new blue mason jars.
They're very affordable and there was no fear of anyone accidentally breaking my antique ball jars.  Check out my Shopping List below for resources!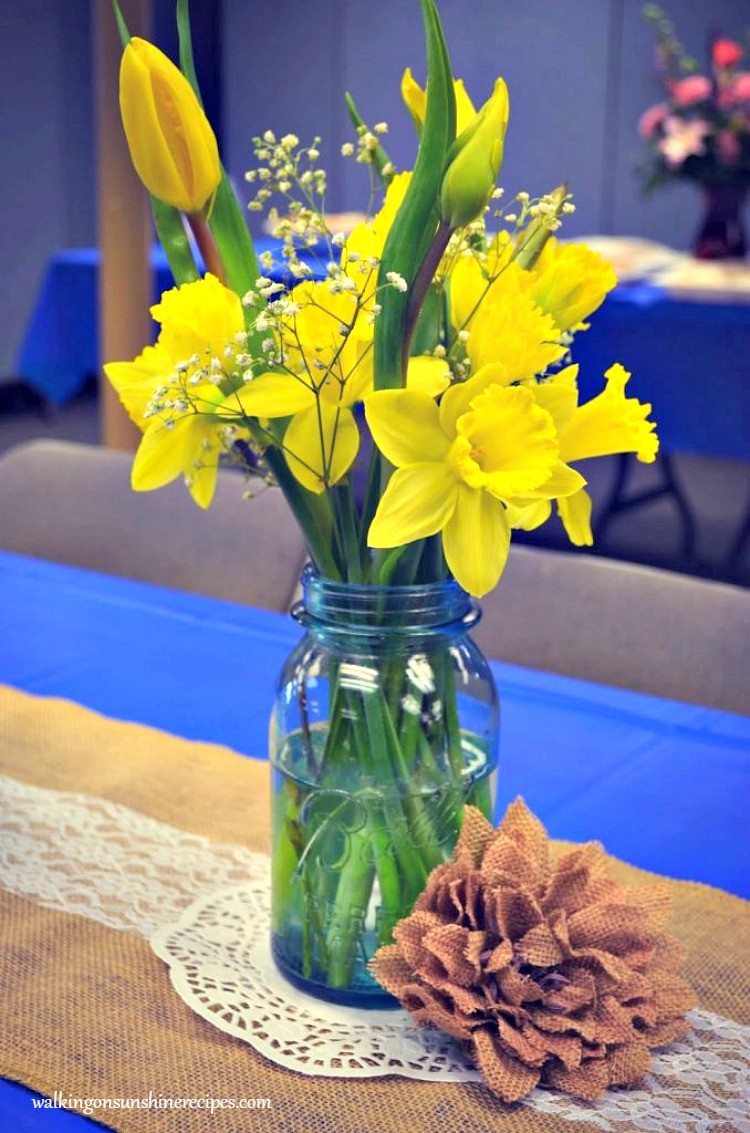 More Delicious Recipes perfect for a Bridal Shower: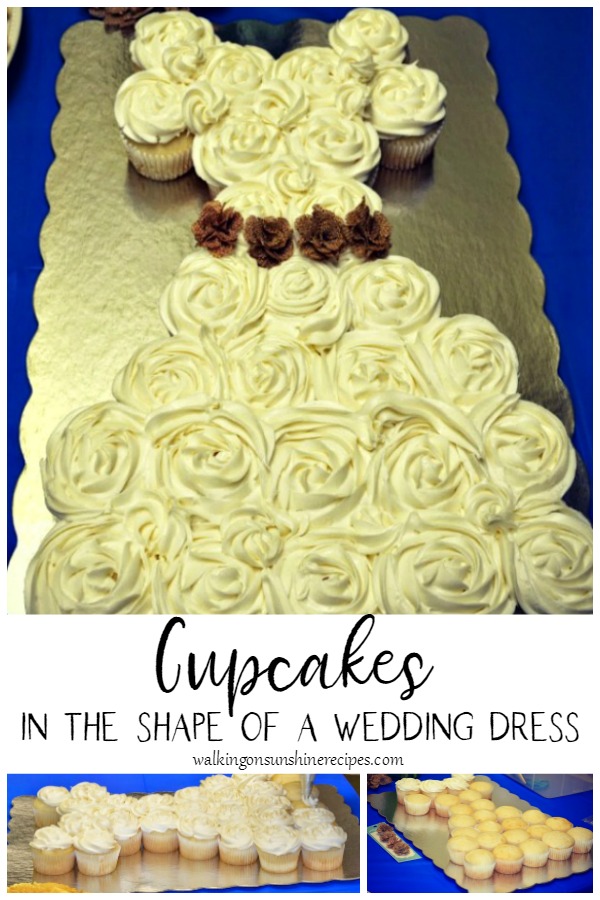 This post contains affiliate links. Your cost is the same, but I earn a commission when you shop through them.  For more information, click 
here
.
More Information
More Information
More Information
More Information
More Information
More Information
More Information
More Information
More Information