An Italian Family Tradition is to make Homemade Easter Bread to celebrate the Easter holiday.  It's not that difficult to make and the kids always enjoy the colored eggs in the center of the bread.  Enjoy some fresh from the oven or the day after toasted with a little butter…it's such an amazing bread recipe!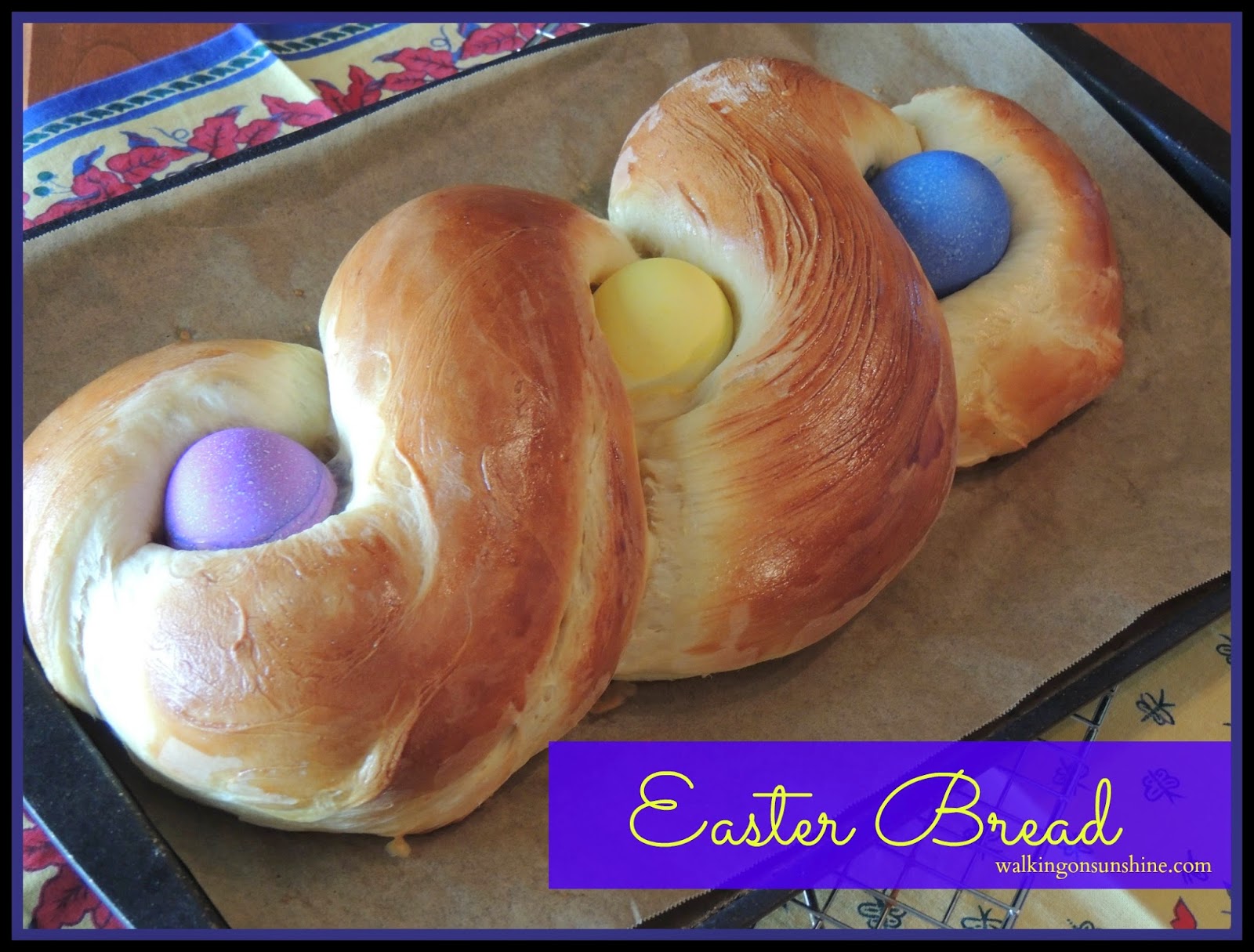 Do you have a family tradition for Easter? For years my sister has been making Easter Bread for her family and always shares a small loaf with us to enjoy. I love Easter Bread.  It's so festive and makes such a pretty presentation and lovely gift to bring to the hostess for Easter Sunday dinner.
Last year was the first year I made it for my family and I definitely plan on making it again this year.
I'm going to try to make smaller round loaves shaped like a wreath this year with one egg in the center of each wreath.  I'll be sure to take photos and update this post soon!
The recipe I'm sharing with you is my sister's recipe.  There are quite a few recipes out there that use a sweet glaze or icing to spread over the Easter bread, but that makes it more like a dessert and not bread.
It's really important that you use RAW colored eggs with this recipe.  The eggs will cook in the oven while the bread bakes.  Do not use already hard-boiled eggs.  You will have a huge mess to clean up.
Easter Bread
An Italian Family Tradition
After the dough has risen once, divide into two balls.
Work the dough into two long strips or ropes or as the kids like to call them, "snakes" and begin to braid.
Insert the RAW colored eggs into sections of the braided dough.
Delicious and beautiful.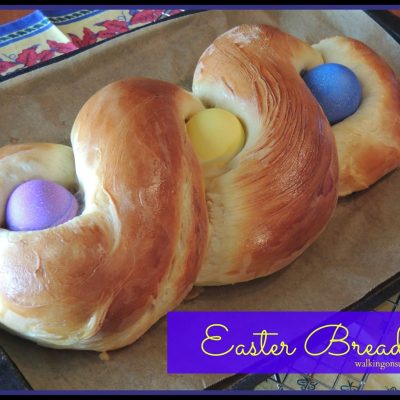 Easter Bread
A family tradition to celebrate Easter with this delicious bread that has colored eggs braided through the dough.
Ingredients
1

cup

warm milk

105 - 115 degrees

1

pkg active dry yeast

2

tbsp

Sugar

5

cups

flour; more if needed

1

cup

butter melted COOLED butter

4

eggs

1/2

cup

sugar

2

tsp

grated Lemon Zest

1

tsp

salt

1/2

tsp

almond extract
Instructions
In a small bowl, combine the heated milk with the package of dry yeast and 2 TBS. sugar. Set aside until the mixture is foamy.

In a mixing bowl with the dough hook attached, add 4 cups of the flour along with the remaining ingredients.

Once the yeast mixture has "proofed" add it to the mixing bowl as well and begin to combine everything together.

If the dough becomes too sticky or wet, add more of the remaining flour.

Once the dough begins to pull away from the sides of the bowl and come together, set your kitchen timer for 8 minutes and let the machine "knead" the dough for you.

Remove the dough from the mixing bowl to a floured surfaced and knead by hand for a few minutes.

Place the dough in another clean mixing bowl that has a little bit of oil rubbed over the entire bowl.

Cover the bowl with plastic wrap or a kitchen towel...set aside to rise until doubled in size.

While the dough is rising, dye 3 to 4 eggs...keeping them RAW.

After the dough has doubled, punch it down and transfer to a floured surface.

Divide the dough into two balls and slowly work them into long "loaves."

Braid the two loaves into one loaf and place on a baking tray that is lined with parchment paper.

Insert the RAW eggs into sections of the braided loaf of bread.

Cover with plastic wrap and set aside to double again.

Carefully brush with an egg wash of 1 egg yolk and 1 tbsp. water.

Bake in a 350 degree oven for 20 minutes or until the bread is golden brown.
Recipe Notes
You must use RAW eggs.  They will cook in the oven while the bread is cooking