How to start seeds indoors to help you save money and get a jump start on your garden this spring!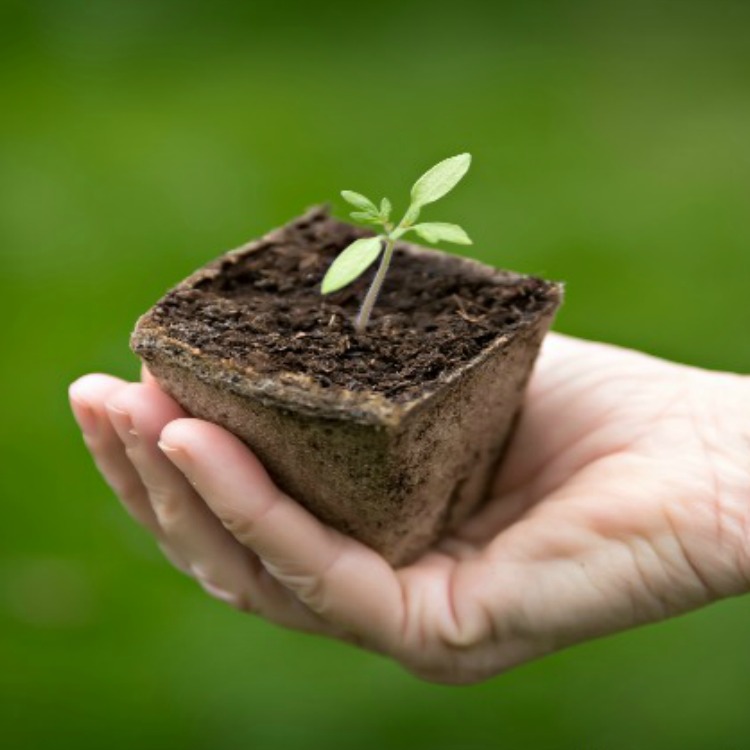 Affiliate Disclosure: This post may contain affiliate links. As an Amazon Associate I earn from qualifying purchases. For more information, click here.
Do you plant a garden?  Do you usually purchase your plants from a nursery or home improvement store? Did you know that it's easier and will save you money if you start your seeds indoors for a great garden?  
Today I'm going to share with you a few tips on how to save money by planting your own seeds and when to start the seeds indoors. I'm also going to share different ways to start your seeds using seed starting kits, egg cartons and even plastic cups.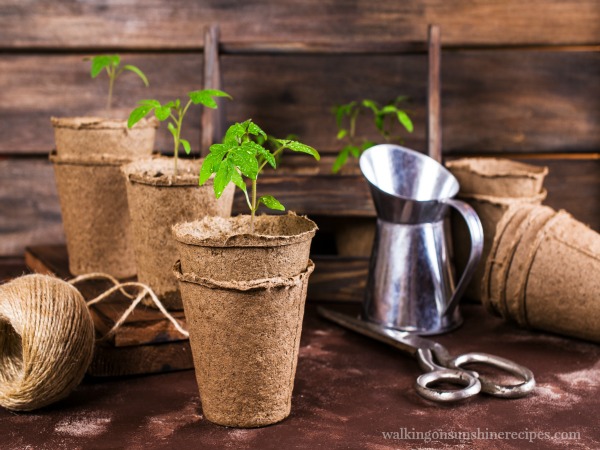 Like many people, my husband and I usually make the trip to a neighborhood nursery or home improvement store to pick out flat after flat after flat of seedlings to plant in our garden.
For years I've been posting about our garden on the blog.  I love spending time in our garden and being able to enjoy the vegetables and herbs that we grow.  Our back porch is filled with many flowers that I plant. They make everything look pretty after a long cold winter.
Make sure you check out my post on How to Start your First Garden if this is something you really want to do for your home. Trust me, all the hard work will bring you a ton of joy...and vegetables and flowers!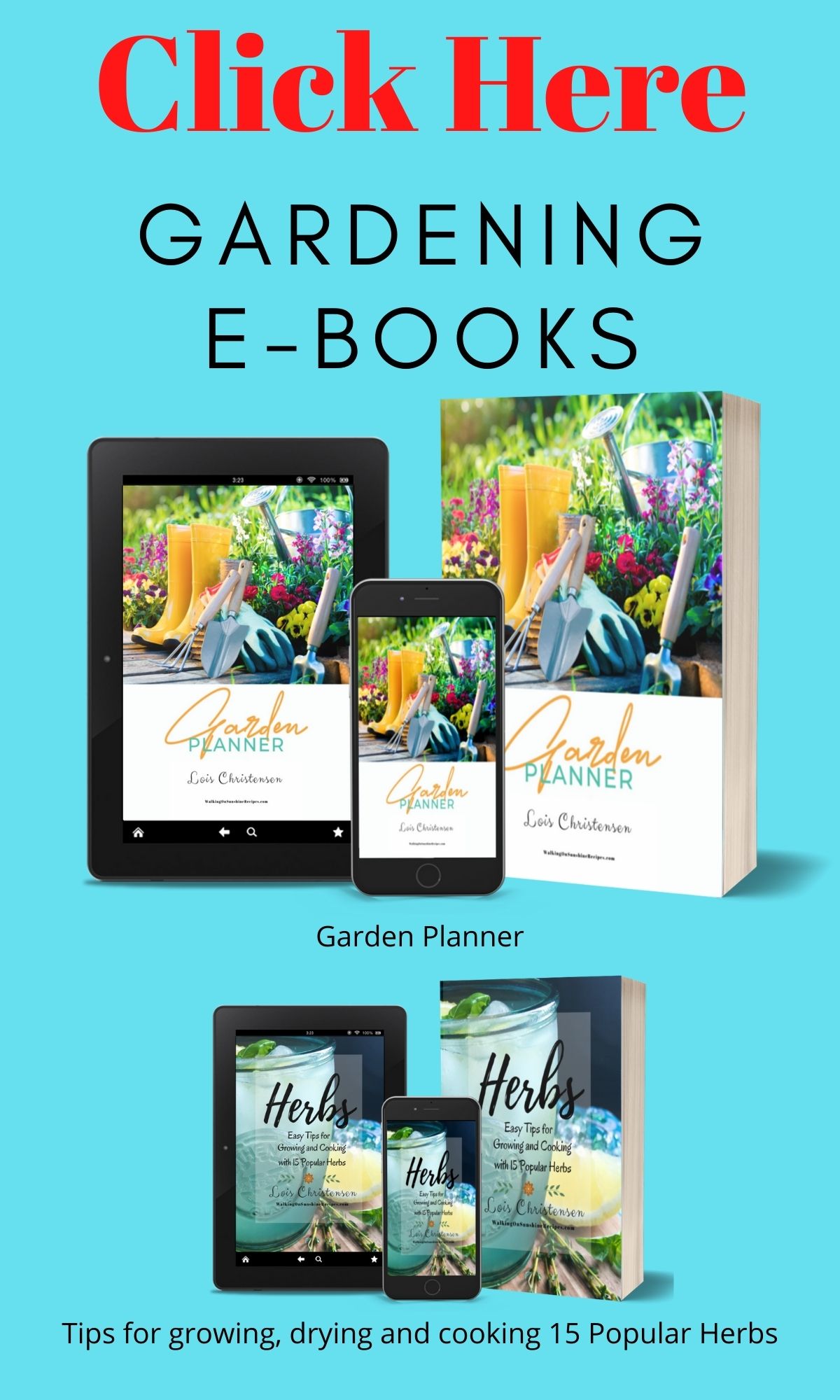 Tips on How to Start Seeds Indoors
Whichever containers you decide to use, use a seeding mix. Do not use potting soil.
Fill the containers with the seeding mix to just below the rim.
Follow the instructions on the back of the seed packets.
Gently press the seeds into the mixture using the tip of an eraser.
Cover the containers. You can use plastic covers purchased at a local nursery or online. You can also use plastic wrap. Make sure you poke holes in the plastic wrap for proper ventilation.
Water newly started seeds carefully. Do not use a pitcher of water! I like to use a spray bottle and gently mist the seeds every morning.
Find a place in your house where there is natural heat. Some people like to put their seeds on top of a refrigerator. I like to set up a table in a warm area of our house. They don't need direct sunlight while the seeds are germinating. Seeds sprout best in temperatures of 65 to 75 degrees.
When seedlings appear, remove the plastic and move containers into bright light.
When the seedlings get their second pair of leaves, start putting them outside for a few hours every day; but not in the direct sun, making sure you bring the plants in at night.
Be careful not to plant the seedlings in the ground too soon. Check your local planting zone for proper guidelines. We like to wait until the end of May to plant our vegetable garden. Where we live it is not uncommon to have cold nights into May.
Here are a Few Ways to Start your Seeds
Egg Cartons - yes, you can use empty egg cartons to start your seeds!
Plastic Cups - we have used plastic cups as well to start our seeds.
Jiffy Peat Pots - are always a great way to go. They allow you to transplant your seedlings to the outdoors and plant them while still in the pots.
Plastic Planting Trays - place the peat pots inside one of these plastic planting trays so you don't have a mess on your hands. I would also put a plastic garbage bag on the table that you have the trays...just in case. You never know and I like to be safe rather than sorry.
Seed Starter Kit - I love how easy it is to plant the seeds right in these little pods.
Plastic Plant Stakes - don't forget to label what you've planted! I forgot one year and had no clue what was growing until the vegetables actually started appearing. We will not be making that mistake again! Use a permanent marker so water doesn't wash the words away.
Popsicle Sticks - are another great way to label your seeds. You can purchase them online as well or at your local craft store.
More Information
More Information
More Information
More Information
More Information
More Information
More Information
More Information
How to Decide what to Plant
Choose the vegetables and herbs that your family enjoys!
If this is your first vegetable garden, start with the popular tomatoes, peppers, cucumbers your first year. Then next year try a few other types of vegetables. We planted broccoli two years ago for the first time and it was so easy!
Seed Packets - you can always purchase seeds on line!
Don't forget you can start your favorite summer flowers by seeds as well indoors. Marigolds are a great flowering plant to try.
Here are a few great products to help you start plants indoors:
Back to the Roots Kitchen Herb Garden, Complete Herb GrowMore Information
Window Garden Rustic Charm Herb Trio Kit with Planter Pots,More Information
Windowsill Herb Pots by Saratoga Home - Set of 3More Information
10 Variety Culinary Herb Collection and 96 Page Growing GuideMore Information
Thoughtfully Gifts, Two Positively Punny Planters, Grow Your Own HerbMore Information
Thoughtfully Gifts, Mason Jar Garden, Grow Your Own Herbs GiftMore Information
Indoor Herb Garden Starter Kit - Organic, Non GMO HerbMore Information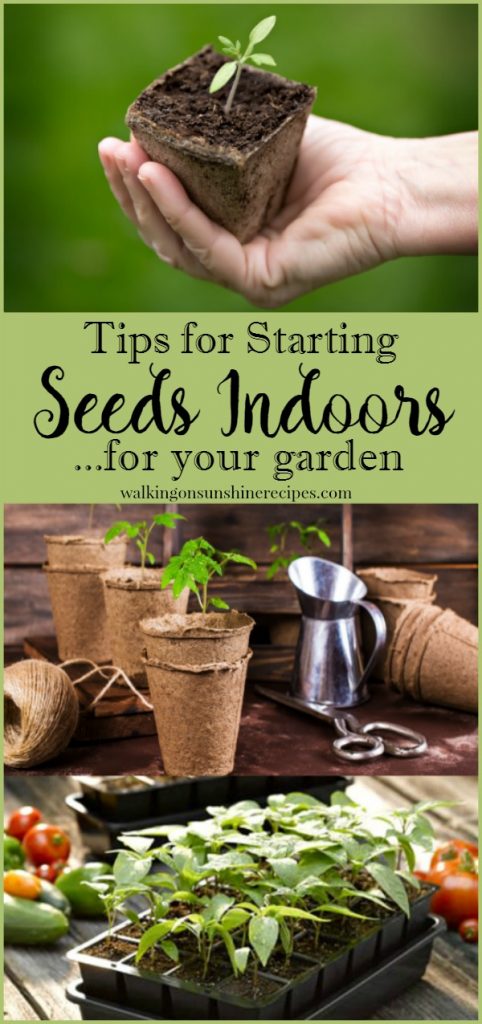 This post has been updated since it first appeared in 2017 with new updated tips for growing vegetables by starting seeds indoors. I hope you enjoy the updates and put them to use planting a garden this year!