How to Make Pre-Made Mason Jar Recipes that are perfect for the kids for back-to-school lunches or to take with you to work or out running errands! Try this new way and fun way for your lunch today.

This post has been updated since it first appeared on this site in 2016 with an easier way to access the recipes being featured. Affiliate Disclosure: This post may contain affiliate links. As an Amazon Associate I earn from qualifying purchases. For more information, click here.
Pre-Made Mason Jar Recipes
I thought I would share something with you that's really popular right now on Pinterest with pre-made mason jar recipes that are the perfect way to pack lunches for school or work. They're everywhere!
Have your kids started back-to-school yet? I know in some areas of the country most kids started last week. Here in our corner of the world, school starts next week. Our son leaves for college this week and my hubby starts with the ROTC cadets at the end of the month.
If you've been following my blog for any amount of time, then you know that I love mason jars. I have for years and I love to blog about them and share great ideas using mason jars.
I really do use them for a lot of my pantry storage here at home AND I use mason jars to pack snacks for myself when I'm out and about during the week. Some of my favorite snacks to pack are grapes or sliced cucumbers.
Back-to-School Lunch Ideas
I put together a great list of ideas on how to use mason jars for back-to-school lunches or even to make pre-made meals for you to take to work. Most of the time these recipes work great with keeping the dry ingredients separate from the wet or having layered salads with the dressing on the bottom of the jar.
Of course I would NOT use glass jars to pack lunches for younger children. These ideas are great for older school-aged children. And you know your child, some of these ideas might not even work for a teenager in high school. Use your best judgment, please, and check with the school your child attends. They may not allow glass containers.
Helpful Kitchen Tools Needed to use with Mason Jars:
This post contains affiliate links.
Check out the full list of Helpful Kitchen Tools at the bottom of this post so you can prepare easy, delicious lunches for your family as we head into back-to-school time.
All you need to do is layer all the ingredients, with the dressing on the bottom of a pint-sized mason jar. Pack the jar in a lunch bag along with an ice pack if the food you're preparing needs refrigeration.
When you or your child are ready for lunch all they have to do is shake the jar to mix everything and lunch is ready!
How to Make Pre-Made Lunch Recipes for Mason Jars
Let me help you save money this school year by showing you how easy it is to prepare pre-made lunches using my favorite mason jars.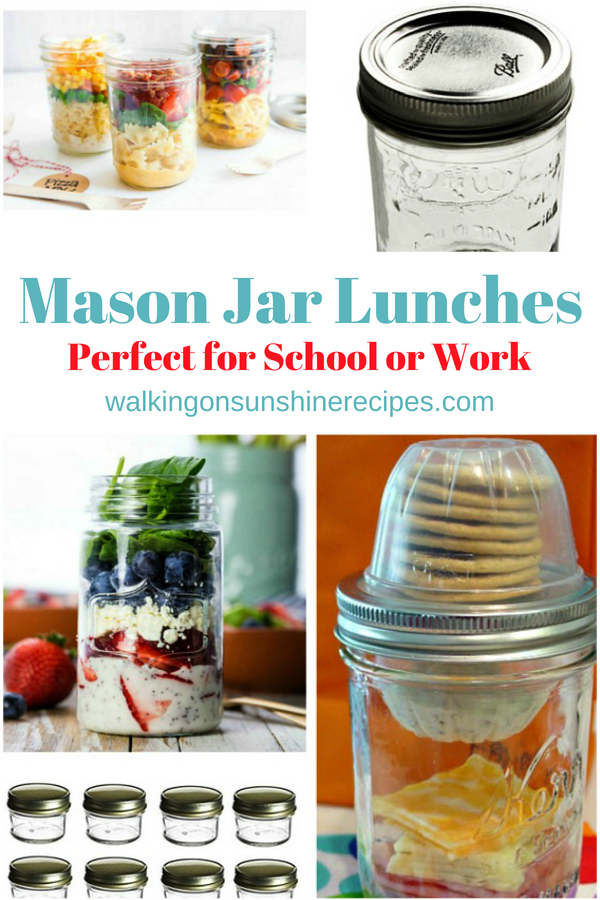 This post contains affiliate links. Your cost is the same, but I earn a commission when you shop through them. For more information, click HERE.
More Information
More Information
More Information
More Information
More Information
More Information
More Information
More Information
More Information