Get ready to indulge in the perfect summer treat! These Mason Jar Pudding Desserts are packed with creamy pudding, irresistible cookies, and juicy fruit.
These easy desserts will be the star of any buffet table. And the best part? They're no-bake pudding recipes that are quick and easy to whip up.
Check out all the other cheesecake pudding recipes for even more ideas!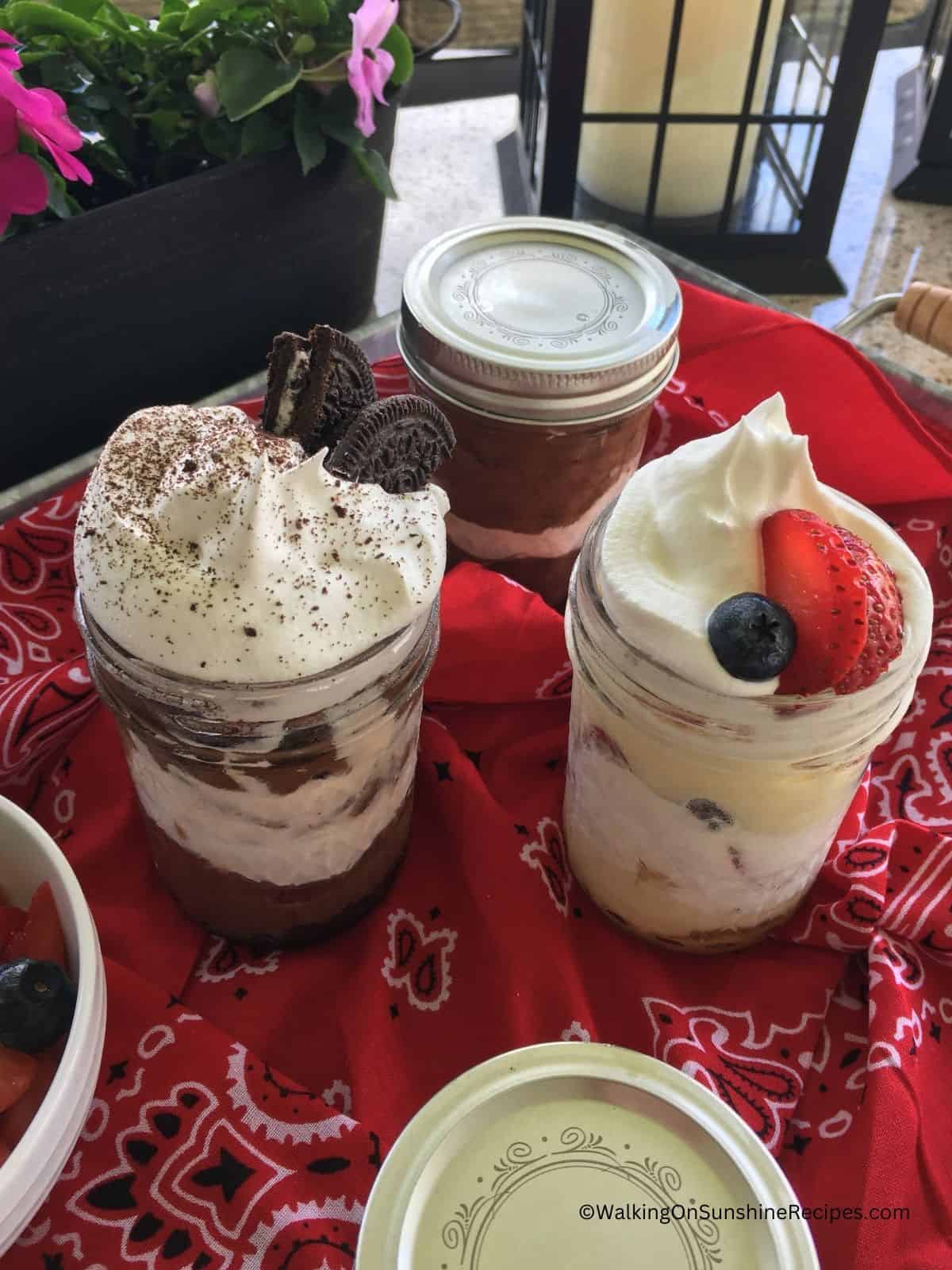 Mason jar pudding trifles are a versatile dessert that are perfect for serving at parties, events, picnics, baby showers, bridal showers or even an fun after dinner snack for your family. or just as a single serving dessert.
By making these desserts in mason jars, you can easily transport them, and they make great gifts or even party favors!
Whether you're looking for a simple dessert that's easy to make or a creative way to serve dessert at your next event, mason jar pudding trifles are sure to be a hit.
Looking for more easy dessert recipes? Try my Chocolate Pudding Parfaits, Weight Watchers Graham Cracker Cool Whip Sandwich or my Easy Chocolate Mousse.
Table of Contents
👩‍🍳Recipe Notes
Here are a few tips to help you prepare instant pudding trifle recipes:
Make sure you use a clear mason jars so the layers of the dessert are seen.
Select toppings that go with the flavors of the pudding mix your choose.
Allow the pudding to set in the refrigerator for at least 30 minutes before assembling the mason jar desserts.
Once the mason jars are assembled, chill the desserts for at least an hour before serving.
Right before serving, add the whipped cream and extra fruit or cookie for toppings.
Mason Jar Gifts for the HolidaysClick HERE for More Information
🛒Helpful Kitchen Tools
Mason Jars 4 OZ.More Information
Mason Jars 8 OZ,More Information
Rectangular Basket Lined with GinghamMore Information
Serving Tray with HandlesMore Information
BandanasMore Information
📋Ingredients
This is an overview of the ingredients and instructions. Be sure to see the recipe card below for exact quantities, detailed instructions and special notes.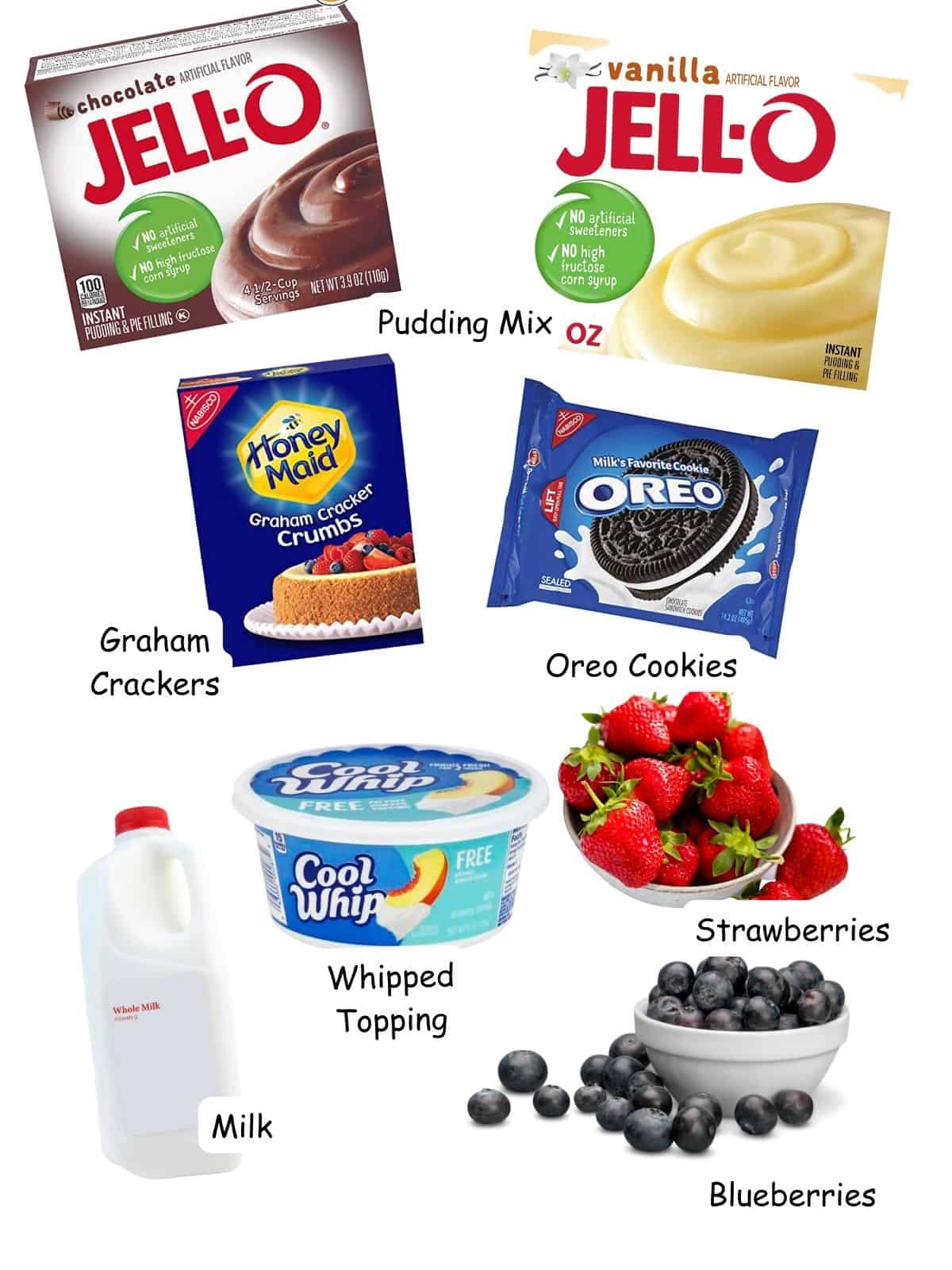 💡 Substitutions and Variations
Use your favorite flavor of pudding. Try banana or cheesecake flavored pudding!
Add a layer of pound cake or angel food cake in place of the cookies and graham crackers.
Layer in chopped nuts or granola!
Top each trifle with chocolate shavings, or caramel sauce instead of fresh fruit.
Step-by-Step Instructions
1️⃣Combine the Ingredients
Prepare both pudding mixes according to the package directions.
Chill the pudding for about an hour before putting the easy desserts together in the mason jars.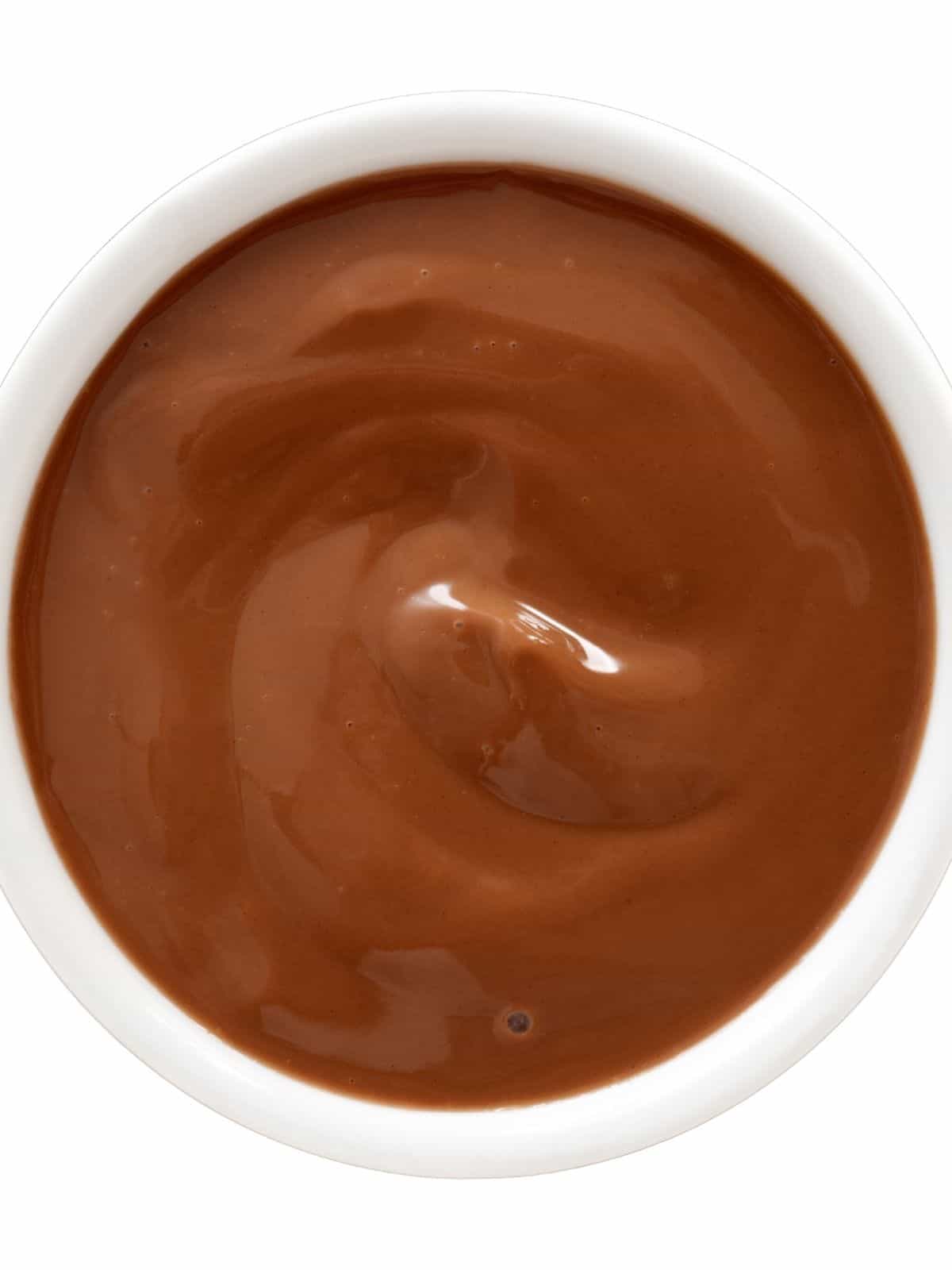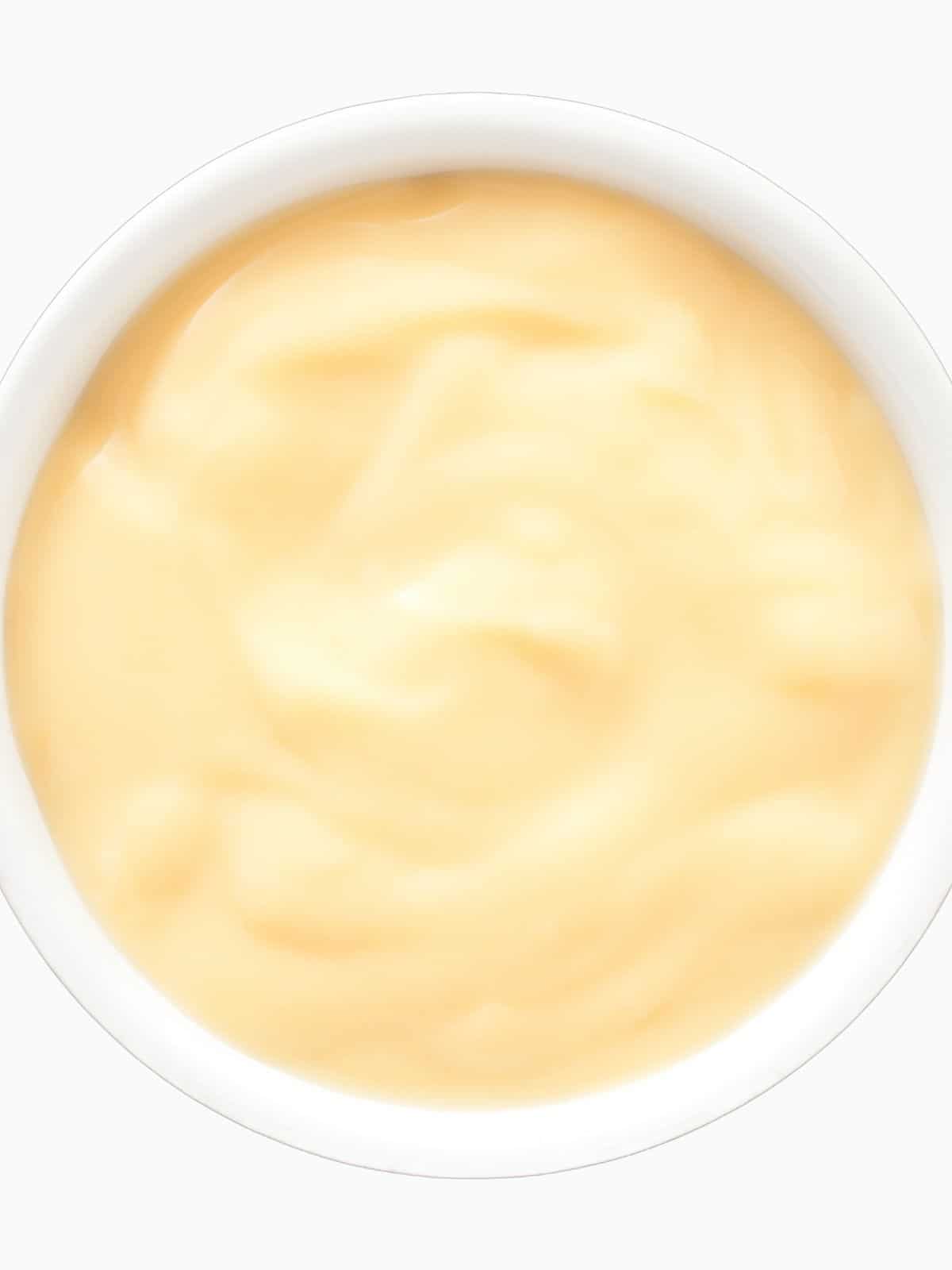 📌Quick Tip: Since these recipes are best prepared a few hours or even a day before serving, I find it easier to use Cool Whip Whipped Topping instead of homemade whipped cream.
2️⃣Put the Mason Jar Desserts Together
Add either the cookie or graham cracker crumbs to the bottom of a mason jar.
Then add a spoonful of pudding, followed by some of the whipped cream or whipped topping.
If you are adding fruit to the cheesecake pudding desserts, add your fruit to each layer.
Top off each mason jar with the whipped topping.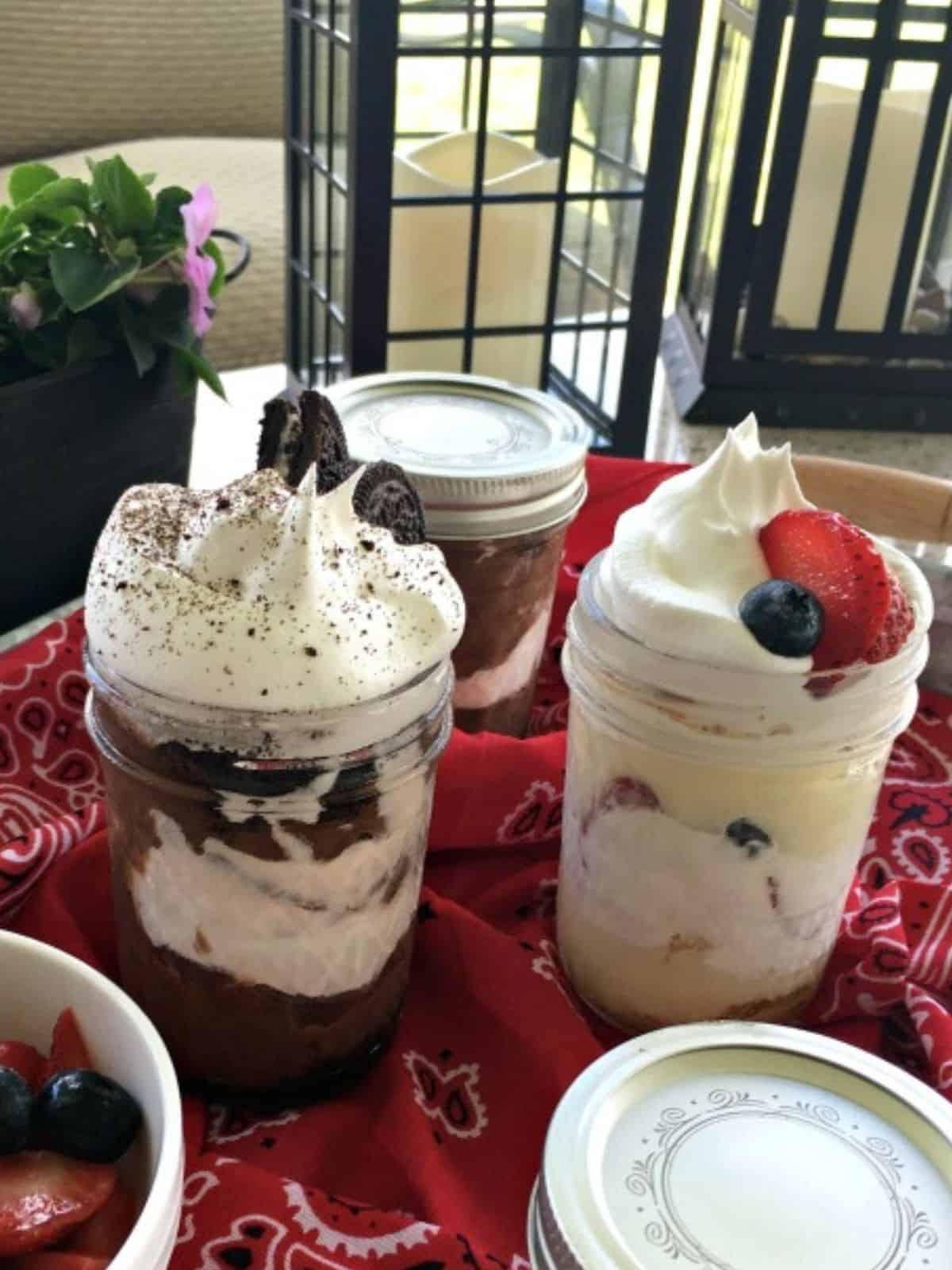 🥣Serving Tips
To make things even more convenient, you could set up a trifle bar where guests can assemble their own mason jar trifles with their favorite flavors and toppings.
Everyone loves a little treat after a big meal and these no bake desserts in a mason jar are delicious and look adorable on the buffet.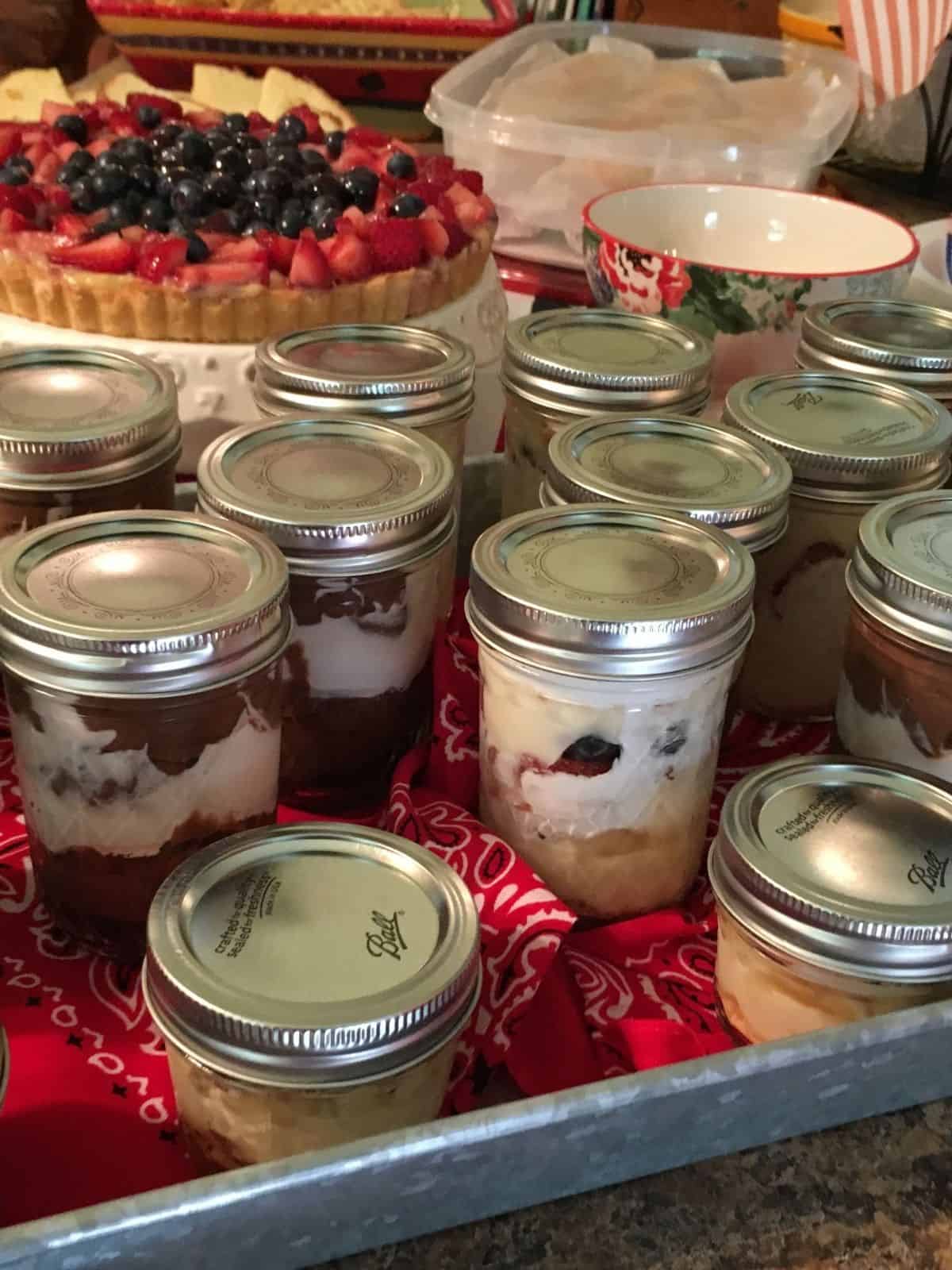 ⭐Before You Begin! If you make this recipe, please leave a review and star rating. This helps my business thrive and continue providing FREE recipes.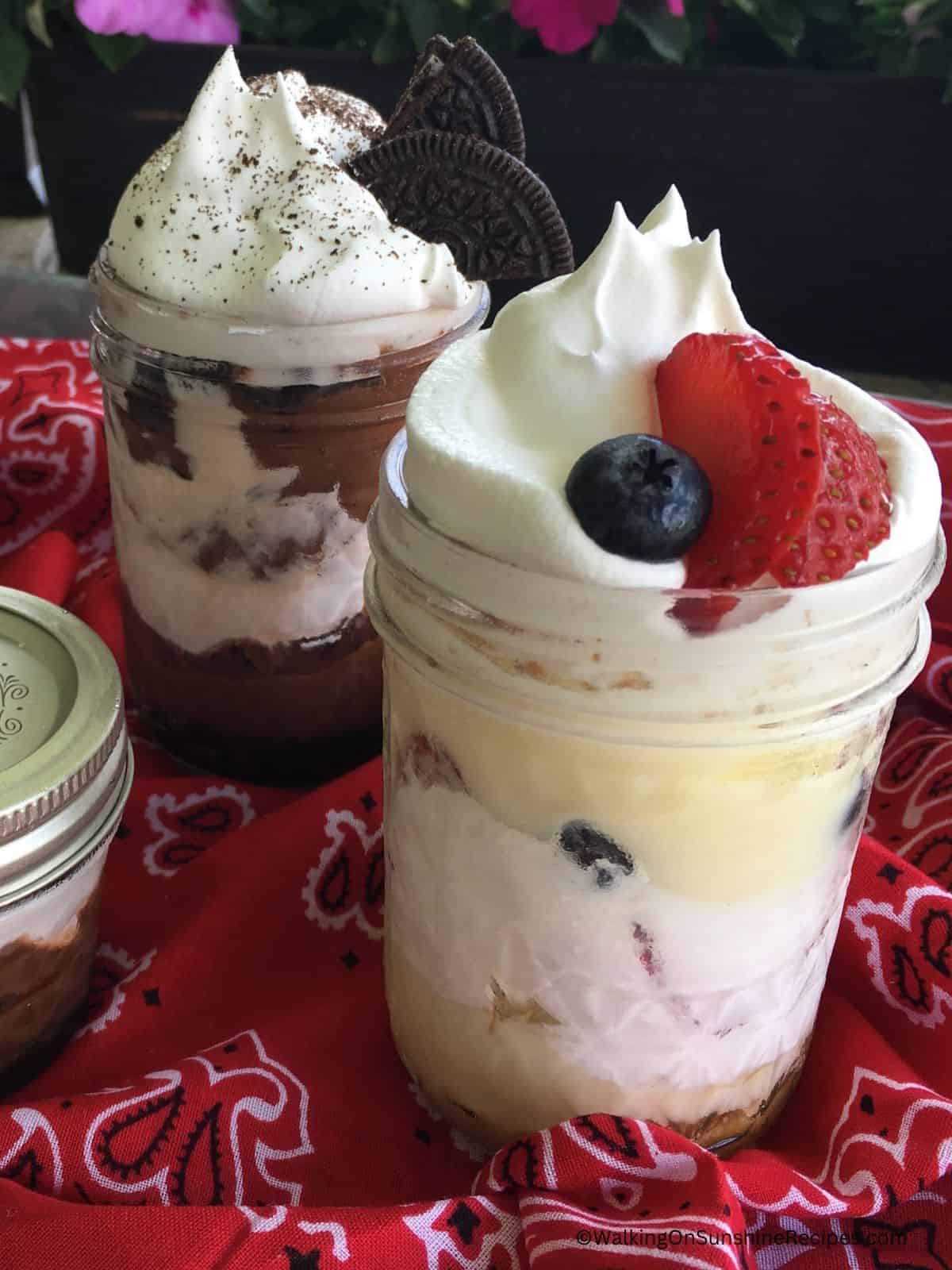 🍶Storage Tips
Store the jars upright in the refrigerator, making sure they're not leaning or laying on their side.
Make sure to screw the lids on the jars tightly to prevent air from getting in and spoiling the dessert.
Mason jar pudding desserts can be stored in the refrigerator for up to 3-4 days if properly stored.
❄️Freezing Tips
Because of the milk and whipped cream, I do not recommend freezing these pudding desserts.
The texture and flavor of the ingredients may change once they're frozen and thawed.
The pudding, cookies, and fruit may become soft and mushy, and the whipped cream or whipped topping may lose their texture and color.
➡️Top Recipe Tip
Mason jar pudding desserts are best served chilled, so take them out of the fridge about 10-15 minutes before serving to let them come to room temperature slightly.
💡Recipe FAQ
Simply click the plus sign to read more about the questions you see below. If YOU have a question regarding this recipe, please let me know in the comment section.
What size should the mason jars be?
The best size mason jars to use for pudding desserts are the 4 ounce and 8 ounce size jars.
Can I make the pudding ahead of time?
Yes, you can make the pudding ahead of time when preparing a pudding trifle. In fact, it's often recommended to make the pudding at least a few hours in advance so that it has enough time to set properly before you begin assembling your trifle.
How do I assemble the layers in the jar so that it looks nice and neat?
To make sure your layers look neat and even, you can use a piping bag or a large zip-top bag with a corner snipped off to add the pudding or whipped cream layers. This will help you control the amount of filling you add to the jars and make sure the layers stay separate and distinct.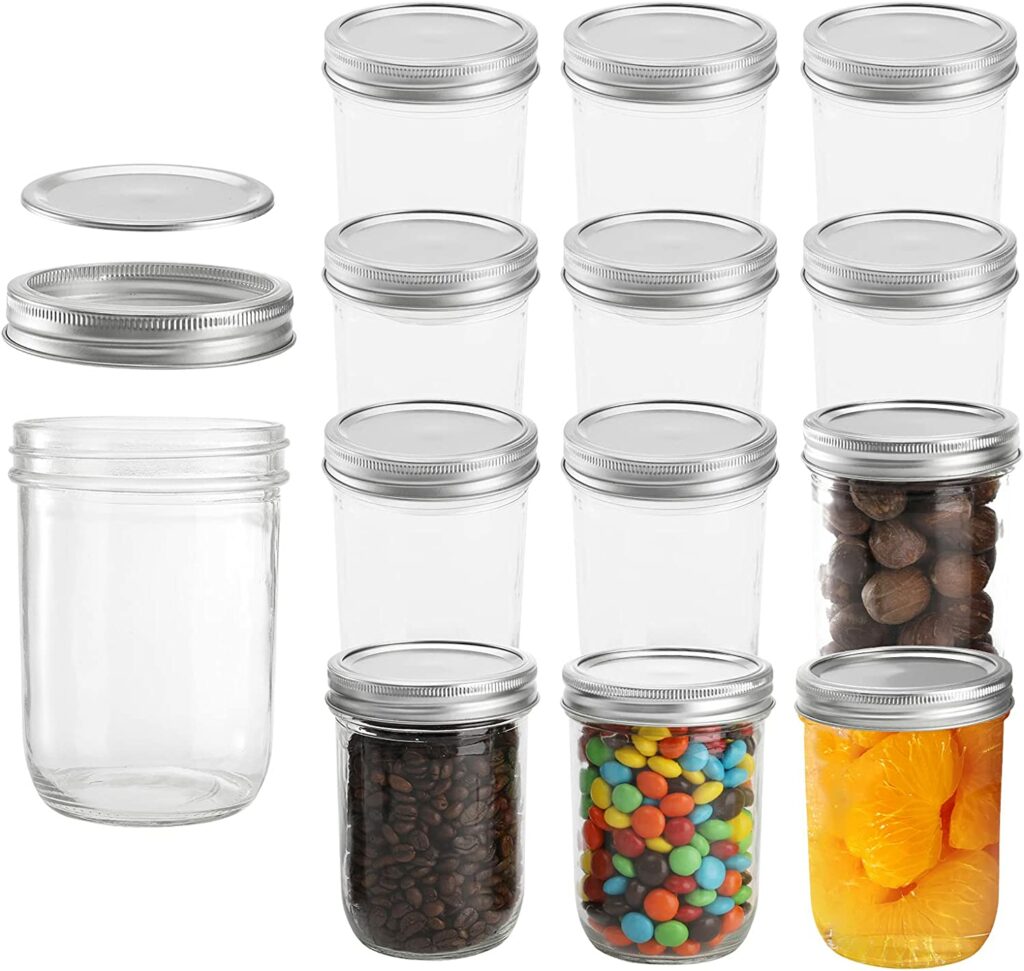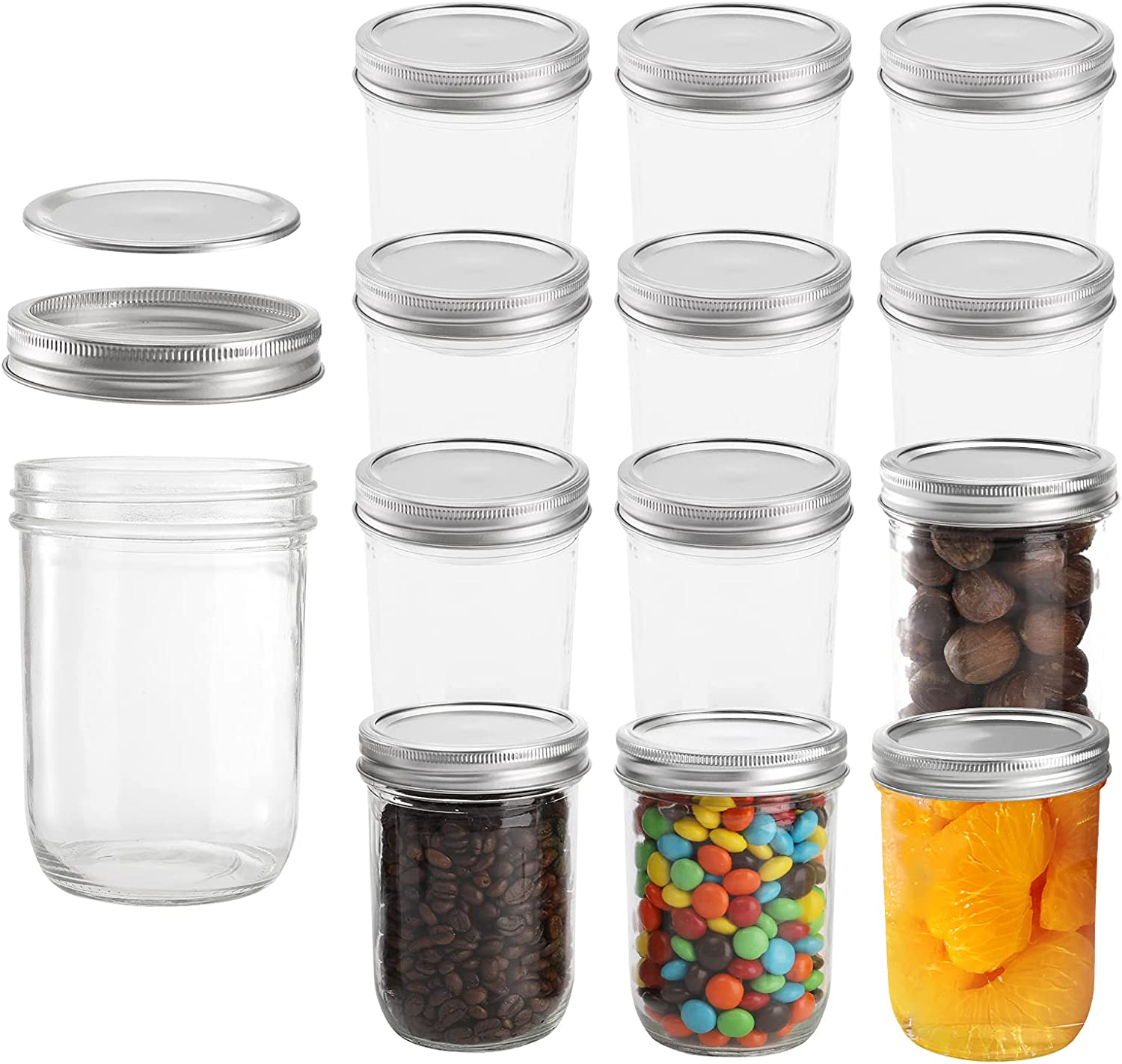 My Favorite Mason Jars: Perfect for pudding desserts! Ideal for sliced fruits and vegetables, pickles, tomato-based juices, and sauces. BPA-free, dishwasher safe, reusable. New and improved sure tight lids.
🌟Try these recipes next...
📇Recipe Card
Yield: 16 servings
No Bake Pudding Desserts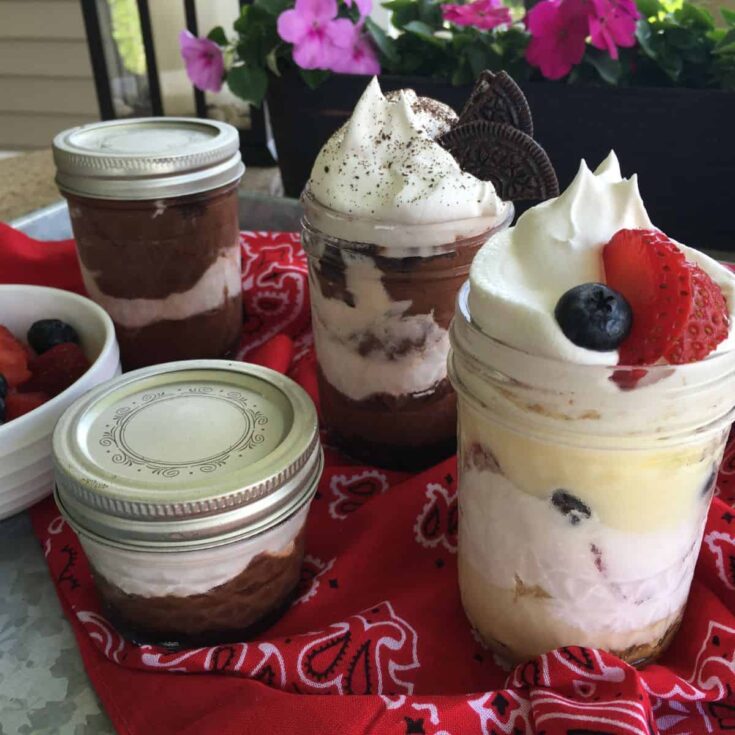 These Mason Jar Pudding Desserts are packed with creamy chocolate and vanilla pudding, cookies, fruit and whipped cream!
Total Time
2 hours
20 minutes
Ingredients
Chocolate Oreo Cookie Pudding
2 boxes chocolate pudding mix; 3.5 ounce size each; prepared according to directions on box.
12 to 16 Oreo cookies; crushed
4 cups Cool Whip Whipped Topping
Vanilla Pudding
2 boxes vanilla pudding mix; 3.5 ounce size each; prepared according to directions on box.
1 cup Graham cracker crumbs
4 cups Cool Whip Whipped Topping
Sliced strawberries bananas and blueberries
Instructions
Prepare the pudding mixes according to the directions on the back of each box.
Next, add either the Oreo cookie crumbs or graham cracker crumbs to the bottom of a mason jar.
Add a spoonful of pudding, followed by a spoonful of Cool Whip; repeat.
If you are adding fruit to the cheesecake pudding desserts, add your fruit to each layer.
Top off each mason jar with the Cool Whip.
You can also decorate each mason jar with either part of an Oreo cookie or a few pieces of fruit.
Refrigerate at least 2 hours before serving.
Notes
You will need at least 16 - 8 ounce sized mason jars for this dessert. You can also mix it up by using a combination of 4 ounce and 8 ounce mason jars.
Recommended Products
As an Amazon Associate and member of other affiliate programs, I earn from qualifying purchases.
Nutrition Information:
Yield:
16
Serving Size:
1
Amount Per Serving:
Calories:

256
Total Fat:

13g
Saturated Fat:

9g
Trans Fat:

0g
Unsaturated Fat:

3g
Cholesterol:

0mg
Sodium:

280mg
Carbohydrates:

35g
Fiber:

1g
Sugar:

26g
Protein:

2g
The nutrition information is calculated automatically. I cannot guarantee its accuracy. If this data is important to you, please verify with your trusted nutrition calculator.
This recipe has been updated since it first appeared in 2016 with new instructions and a new printable recipe card that includes nutritional information. I hope you enjoy the updates as much as I enjoyed working on them!