Italian Tomato Soup with Pizza-Grilled Cheese Croutons takes the classic combo of grilled cheese and tomato soup to a whole new level of deliciousness! You can even serve this soup in bread bowls as a fun presentation. Let me show you how to make another one of my favorite Best Fall Soup Recipes.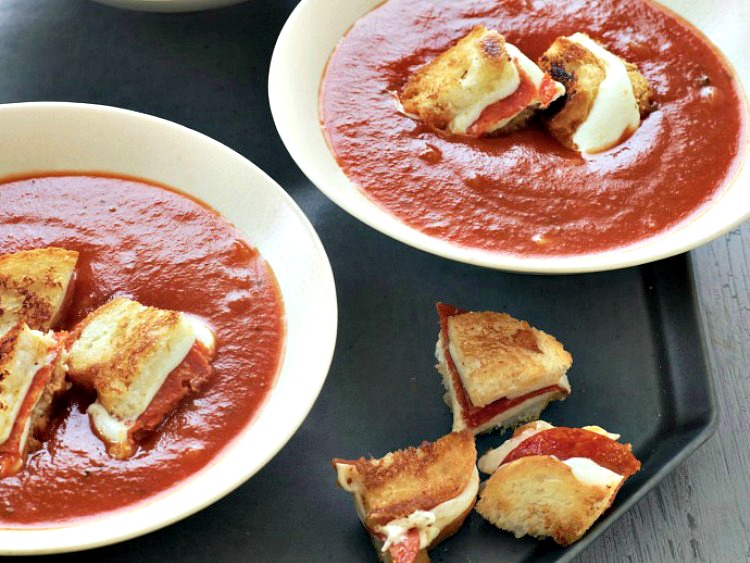 This post contains affiliate links. Your cost is the same, but I earn a commission when you shop through them. For more information, click here.
Italian Tomato Soup with Pizza Grilled Cheese Croutons
Today I'm sharing with you this delicious recipe for Italian Tomato Soup with Pizza Grilled Cheese Croutons from the Eat at Home Tonight Cookbook that I was pleased to review for Tiffany King.
Our garden did pretty well this summer and I'm happy to report that I've been able to make homemade sauce using tomatoes fresh from the garden. 
If you'd like to read more about our Late Summer Garden, head on over to my husband's blog for an update.  He has TONS of photos too and a few tips on gardening.
Eat at Home Tonight is designed for the everyday parent who has a family to feed, while juggling all the other activities of a typical week. Each chapter solves a different issue surrounding dinner.
The cookbook offers so many great ideas to help us all get dinner on the table for our families. Here are just a few of the chapters included in the cookbook:
I Only Have 15 Minutes Tonight
My Refrigerator is Empty Tonight
We Can't Sit Down to a Meal Tonight
I Don't Have Time for Dishes Tonight
More Information on the Cookbook
Make sure you scroll down to the bottom of this post for the Italian Tomato Soup with Pizza Grilled Cheese Croutons recipe card and if you would like to download a few more of the recipes from the book, head over here to the Eat at Home Cookbook website.
Eat at Home Weekly Meal Planning
If you like this recipe as much as I know you will, you're going to want to sign up for the Eat at Home Menu Plans are on sale, also from Tiffany, this week! If you've been struggling with getting dinner on the table for your family, this is the plan for YOU!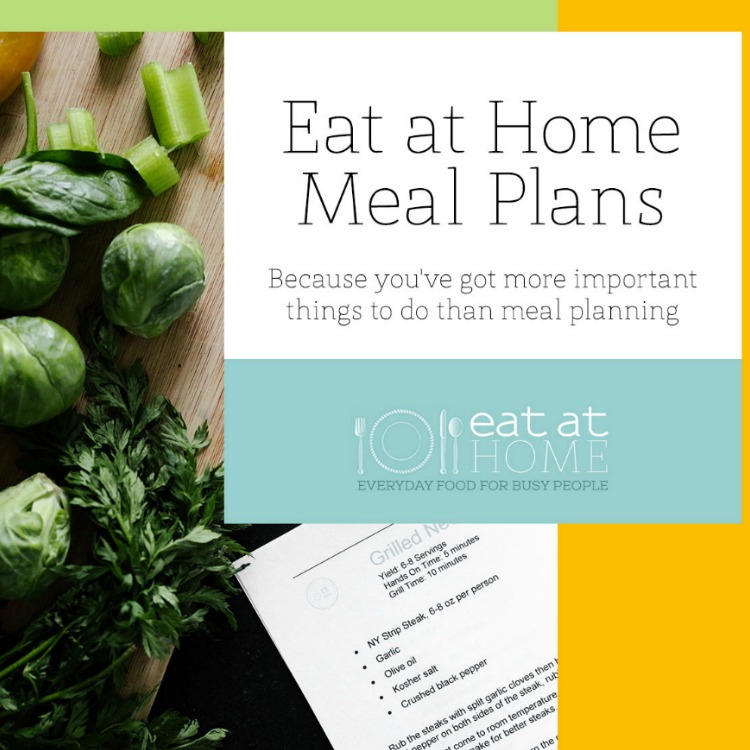 Menu Plans and Grocery Lists Made for YOU!More Information
How Menu Planning Works:
This system is very easy because all the work is done for you. All you need to do is choose which menu plan you want to use, print the grocery list, go shopping and then start cooking!
You have four different menu plans to choose from:
Traditional
Wholesome Traditional
Slow Cooker
No Flour, No Sugar
How to Order the Menu Planning:
Start HERE
Use the code FALL at checkout
Sign up for a 1-month, 3-month, or 1 year subscription (you can cancel anytime – the best price is definitely on the annual plan, but try it out for just a month and see what you think if you're unsure! Cost is as little as $1.13 per week and I PROMISE you will save more than that when you start using it.)
Once you've signed up, you'll have access to ALL of the menu plans including the new No Flour, No Sugar Plan, her Slow Cooker Plan, her Traditional Plan AND her Wholesome Traditional Plan (that's the one I'm using next week.)
Pay as little as $1.13 per week ~ I promise this will change dinnertime in your home!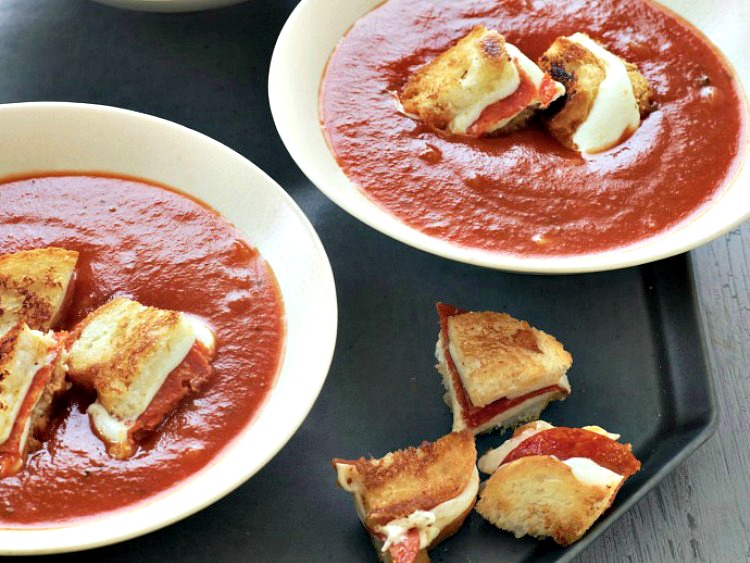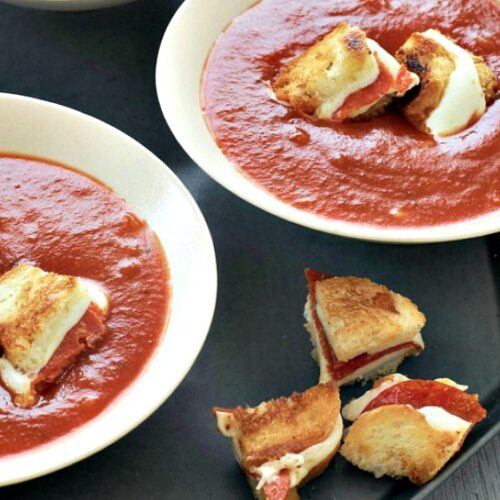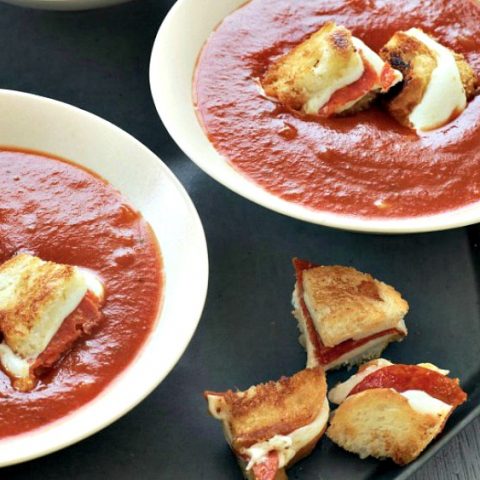 Italian Tomato Soup with Pizza-Grilled Cheese Croutons
This recipe is from the Eat at Home Tonight Cookbook. Shared with permission from Tiffany King as part of the cookbook review.
Keyword:
Tomato Soup, Grilled Cheese Sandwiches
Ingredients
For the Soup
6

tbsp

salted butter

1

small

onion, diced

2

garlic cloves, crushed

2

tbsp

all-purpose flour

2

15 ounce

cans tomato sauce

1

14.5 ounce

can beef broth

1

tsp

dried basil

1

tsp

dried oregano

½

tsp

sugar

salt and pepper
For the Pizza-Grilled Cheese Croutons
1

loaf

Italian bread, sliced about ½ inch thick

8

ounces

mozzarella cheese, sliced

6

ounces

pepperoni
Instructions
For the Soup
Melt 2 tablespoons of the butter in a large stock pot over medium heat.

Add onion and garlic and cook over medium heat till soft.

Whisk in flour and cook 1 minute.

Gradually add the tomato sauce and beef broth whisking to blend.

Stir in the basil, oregano and sugar and season with salt and pepper.

Reduce the heat to low and let the soup simmer while you make the sandwiches.
for the Sandwiches
Use the remaining 4 tablespoons of butter to butter 2 slices of bread per sandwich.

Place half the bread slices buttered-side down on a baking sheet.

On each slice of bread, layer a slice of cheese, a few pepperoni followed by another slice of cheese.

Top each with a second slice of bread, buttered-side up.

Broil until the bread is toasty.

Flip the sandwiches and broil until the second side is toasty too.

Remove from the oven and cut the sandwiches in bit-size cubes.
To Serve the Soup
Serve the soup in bowls topped with the sandwich crotons.