Best Soup Recipes are perfect now that the weather is cooler. What makes soup even more delicious is if you use a semi-homemade bread bowls instead of a soup bowl. These recipes shared today are so hearty they could really be a meal for dinner any night of the week. Grab a spoon because we're serving up soup for dinner tonight.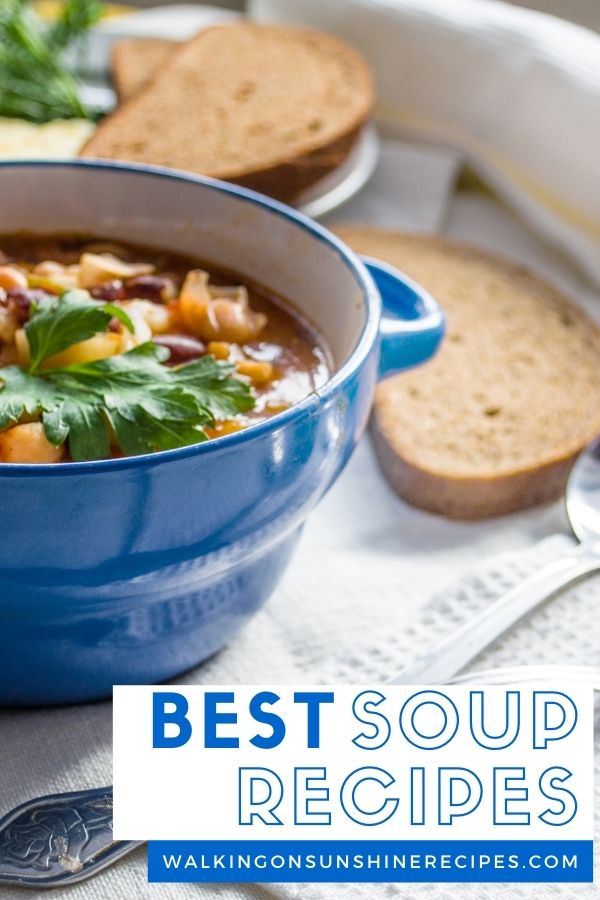 This post contains affiliate links. That means that if you make a purchase after clicking on a link I may earn a small commission at no extra cost to you. For more information, click here.
I'm so fortunate that my family loves soup. Growing up we had soup at least once a week for dinner. My father was from Germany and he loved a good bowl of thick, hearty soup and my Italian mom quickly learned how to make delicious soup for our family.
However, my husband did not have such a delicious experience growing up. In fact, when we were first married I didn't make soup for dinner for quite a few years. That all changed after I slowly started introducing homemade a few best soup recipes for him and our children.
Is it Healthy to have Soup for Dinner?
For many people soup brings an image of a cozy comfort food that just has to be good for you...especially during the colder Fall and Winter months. Enjoying soup for dinner can give you a feeling of fullness and satisfaction. Which will make it easier to not overeat after the meal.
Stoneware Soup BowlsMore Information
Le Creuset Enameled Cast IronMore Information
Cook N Home 16 Quart StockpotMore Information
12oz Mini Cocotte, Set of 4More Information
Set of 4 French Onion SoupMore Information
What Goes with Soup for Dinner?
Most people love to serve homemade bread alongside a bowl of soup. But have you ever tried making your own bread bowls to serve soup? Here are a few other ideas:
Knorr Bouillon Cube BeefMore Information
Knorr Cube Bouillon, ChickenMore Information
Taste of Home Soups, Stews andMore Information
The Ultimate Soup Cookbook: Over 900More Information
Best Soup Recipes
Here is a great collection of soups that are perfect any time of year. These are great for dinner and leftovers are perfect for lunch the next day.