Everything you need to put together the perfect Antipasto Platter to serve to your family and friends.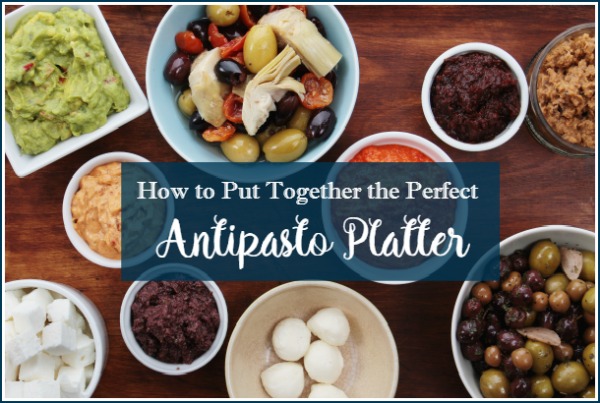 Antipasto Platter
My husband and I have a little tradition of putting together an antipasto platter along with a few other appetizers and watching a movie while we enjoy the deliciousness of our special treat.  When the kids were younger we would wait until they were in bed before we put our "party perfect antipasto platter" together to enjoy.
Even though the party was just for the two of us, we still made it fun with the movie and then watching the ball drop from Times Square.  I thought today I would share how to put together the perfect antipasto platter for your New Year's Eve celebration or really for any party you're planning.
What is an Antipasto Platter?
Antipasto means "before the meal."  Antipasto is small bites of food to get you ready for the main meal. And when put together properly, an antipasto platter can be almost like a work of art.
My sister makes a beautiful antipasto salad for family gatherings that is delicious.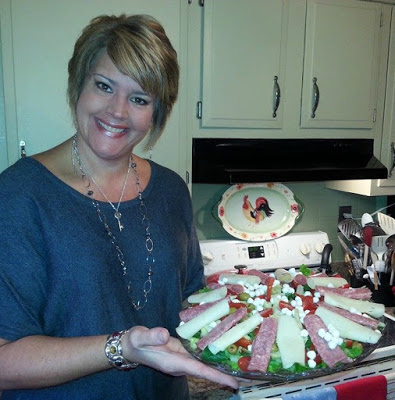 Cheese with salami and pepperoni held together with green olives.
What to include on an Antipasto Platter:
Antipasto platters are simply colorful offerings of marinated vegetables, artichoke hearts, roasted red peppers, olives, deli meats and a variety of different cheeses.
With antipasto, it's always best to keep things simple. Narrow your choices down to two or three items,  Try a few of the items listed below for your party platter…
Cheese – mozzarella, provolone, Parmesan, cheddar are a few of our favorites. We love to use fresh mozzarella that's been marinated as well.
Thinly sliced ham, Genoa salami or pepperoni.
Canned marinated artichokes.
Olives – look for an assortment.  Our local supermarket has an olive bar that I love to use when putting together an antipasto platter or salad.
Peppers – marinated or just freshly sliced.  Look for an assortment of colored peppers as well.
Fruit – keep it simple.  Seedless grapes are usually the best.
Bread or Crackers – try not to have too much if you're serving your antipasto platter before the main meal.  You don't want your guests filling up too much so they're no longer hunger for the main meal.
If you are serving bread, you can also offer a fruit or olive spread to use.
Don't forget to keep your platter pretty.  Use fresh basil leaves or rosemary to help bring the colors together for a beautiful platter.
There is no "correct" way of putting an antipasto platter together.  Just remember to select what you and your family enjoy and make it pretty.  Lay everything out on a large cutting board or serving platter.  You can place the marinated items in small bowls directly on the cutting board or platter. Try to have small forks and plates for your guests to use as well.