Zucchini Pizza Bites are a yummy and low carb way to use up all the zucchini growing in your garden or in your neighbor's garden!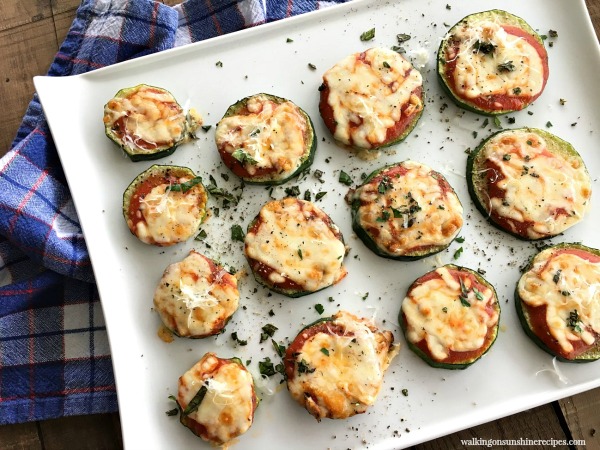 I made these Zucchini Pizza Bites last week as a low-carb side dish and let me tell you, they were AMAZING.
We accidentally planted two extra zucchini plants this summer.  We started our plants by seed in April and two plants were accidentally labeled "pumpkins" only they turned out to be zucchini plants.
With that being said, we have had an abundance of zucchini from our garden and I needed to find a new way to enjoy this summer vegetable.
Zucchini Pizza Bites is a perfect way to use up all the zucchini that maybe got a little too big in your garden while satisfying your need for pizza without all the calories or carbs.  They're great for lunch too or as a side dish to grilled chicken.
Zucchini Pizza Bites Recipe
Yes, I did go searching for the perfect zucchini for this photo.
Slice the zucchini into 1/4 inch rounds. Brush each zucchini round with a little olive oil.
I love to sprinkle them with my Salt, Pepper and Garlic House Seasoning.
Bake them in the oven for a few minutes and then flip them and brush with a little more olive oil and another sprinkle of salt and pepper.
Let's turn these zucchini slices into pizza!
Add a little marinara sauce to the tops of each zucchini round.
Add the mozzarella.
Place under the broiler this time until the cheese is melted and bubbly.
Transfer to a serving platter and sprinkle fresh chopped parsley for a garnish.
A great way to enjoy pizza without all the carbs!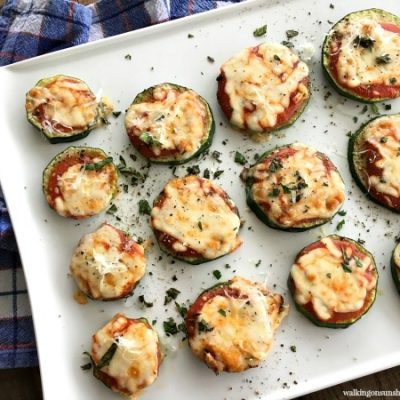 Zucchini Pizza Bites
A low carb way to enjoy zucchini and pizza.
Ingredients
I large zucchini

1/4

cup

olive oil

1/2

cup

marinara sauce

1/2

cup

mozzarella cheese

1/4

cup

Parmesan cheese

salt and pepper
Instructions
Preheat the oven to 425 degrees.

Slice the zucchini into 1/4" rounds and place on a baking tray that has been lined with either parchment paper or aluminum foil. If you use aluminum foil, make sure you spray it with non-stick cooking spray.

Brush the top side of each zucchini with olive oil and season with salt and pepper.

Bake for 2 minutes and then flip each zucchini slice and brush with a little more olive oil, season with salt and pepper. Return to the oven for 1 to 2 more minutes.

Add a spoonful of marinara sauce to the top of each zucchini slice.

Add the mozzarella cheese.

Sprinkle Parmesan cheese on top.

Turn the oven up to broil and place the baking tray under the boiler for 1 to 2 minutes or until the cheese is hot and bubbly.

Let cool slightly before serving.

This post contains affiliate links. Your cost is the same, but I earn a commission when you shop through them. For more information, click here.
More Information
More Information
More Information
More Information
More Information
More Information

Another delicious way to use up zucchini with these Zucchini Puffs