This year I am participating in A Crafty Christmas party along with a great group of bloggers, hosted by Nap-Time Creations. We will be sharing some amazing recipes and crafts over the next few weeks.
I'm sharing my Grandmother's recipe for Italian Pizzelle Cookies. A family favorite Christmas cookie for many, many years!
This post contains affiliate links. Your cost is the same, but I earn a commission when you shop through them. Your purchase helps support this site and the fun things I share. For more information, click here.
When I was a little girl, my grandmother would send us a box about a week before Christmas, every year. This box would be filled with the most delicious and beautiful cookies; all hand-made by my grandmother.
One of my favorite cookies that she would send were these pizzelle cookies. They're an Italian cookie, not very sweet, more like a thin waffle cookie, but oh so delicious.
One year, as my mother was opening the box of goodies, at the very bottom of the box was a brand new pizzelle iron with a note informing my mother that she would now be making pizzelles for her own family and my mother began making pizzelles the next year and has been making them every since.
Over the years I've helped her and even borrowed her iron to make my own but this year I decided to go ahead and purchase my very own pizzelle iron.
Here is my mother's original pizzelle iron that my grandmother sent to her many years ago…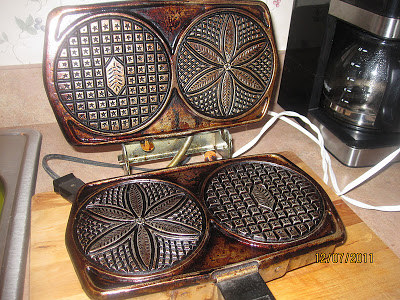 Here's my NEW Pizzelle Iron! I purchased it on Amazon and it works great.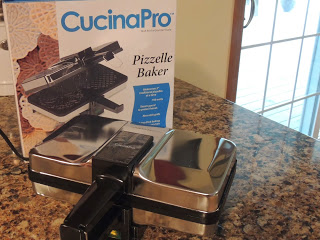 Here is the original recipe that came with my mother's iron…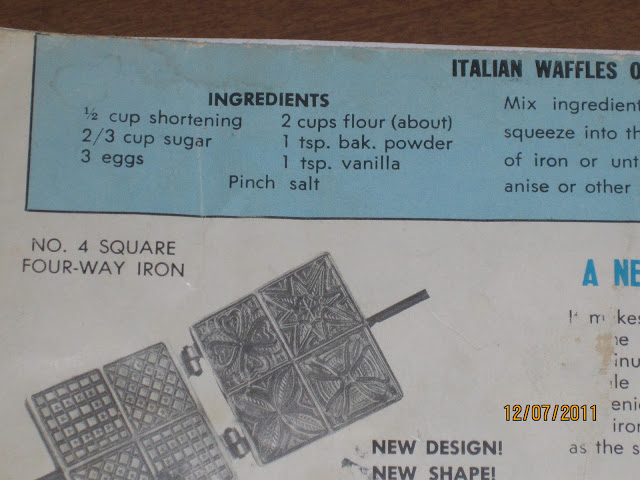 Pizzelle Cookies
Ingredients:
1/2 cup butter, softened
2/3 cup sugar
3 eggs
2 cups flour
1 tsp. baking powder
1 tsp. vanilla extract
***Note: My mother and grandmother always substituted the vanilla with 1 tsp. anise "seeds" OR you can use 1 tsp. of anise flavoring.
Directions:
Cream the butter and sugar together.
Add the eggs and the flavoring (anise or vanilla) OR add the anise seeds.
Combine the baking powder with the flour and slowly add to the egg and butter mixture.
Once your iron is hot, spoon about a tablespoon of batter onto the iron.
Close the iron and let cook for just a few minutes…do NOT walk away.
Remove the cookies using a spatula or a fork.
Place on a sheet of parchment paper to cool.
***Note: You should follow the directions that came with your particular iron for actually cooking the pizzelle cookies.
First batch of cookies done. Remove them gently using a spatula or a fork and let cool on a sheet of parchment paper…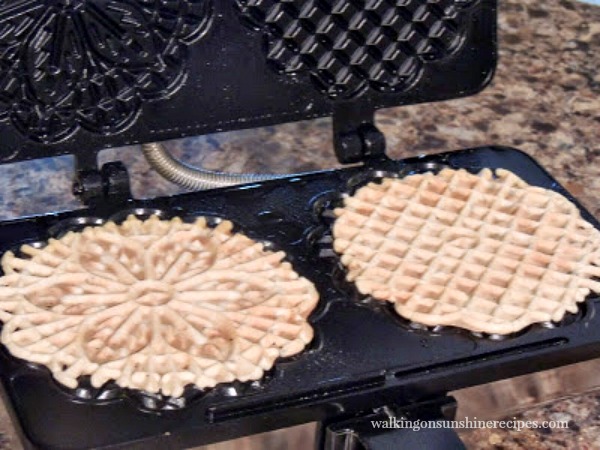 Pizzelle cookies cooling…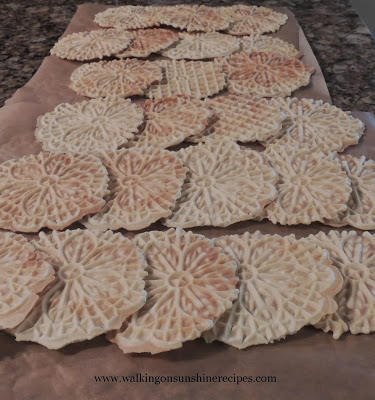 Look how pretty and delicate…
These really are a delicious cookie…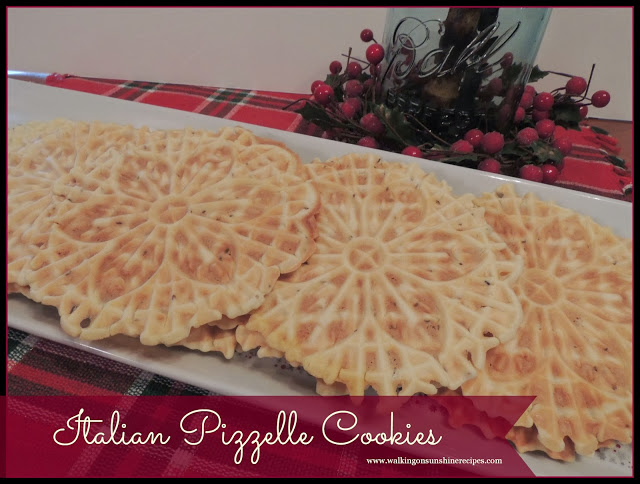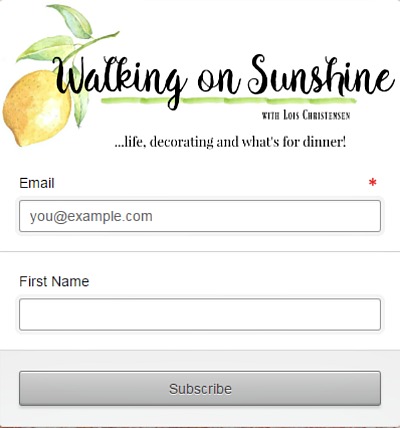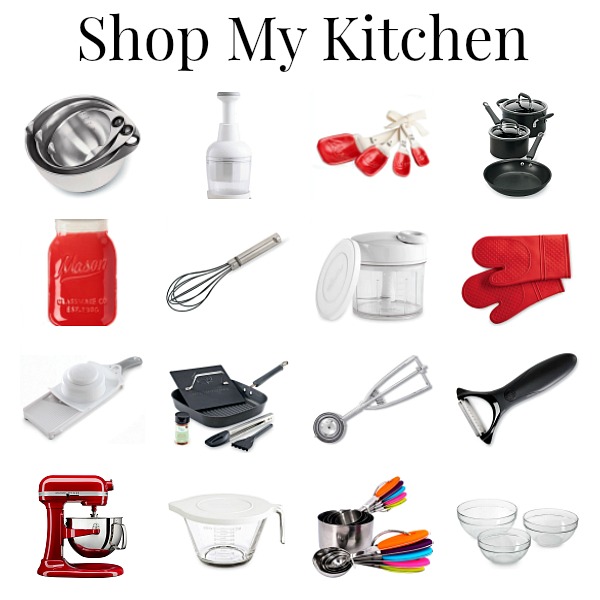 Find What You Need at Amazon!
amzn_assoc_placement = "adunit0";
amzn_assoc_search_bar = "true";
amzn_assoc_tracking_id = "walkonsunsrec-20";
amzn_assoc_ad_mode = "manual";
amzn_assoc_ad_type = "smart";
amzn_assoc_marketplace = "amazon";
amzn_assoc_region = "US";
amzn_assoc_title = "My Amazon Picks";
amzn_assoc_linkid = "02403fb6df41cbd6b86e3ad8b146c262";
amzn_assoc_asins = "B009VUHLHA,B00MM80ZLW,B0018DYW84,B004CYELOQ";
Don't forget to check out my hubby's blog, Manning the Wall.