Bridal Shower Luncheon Menu consisting of cucumber sandwiches, mason jar pudding desserts and cookies all made by myself and my family for my daughter Olivia's bridal shower.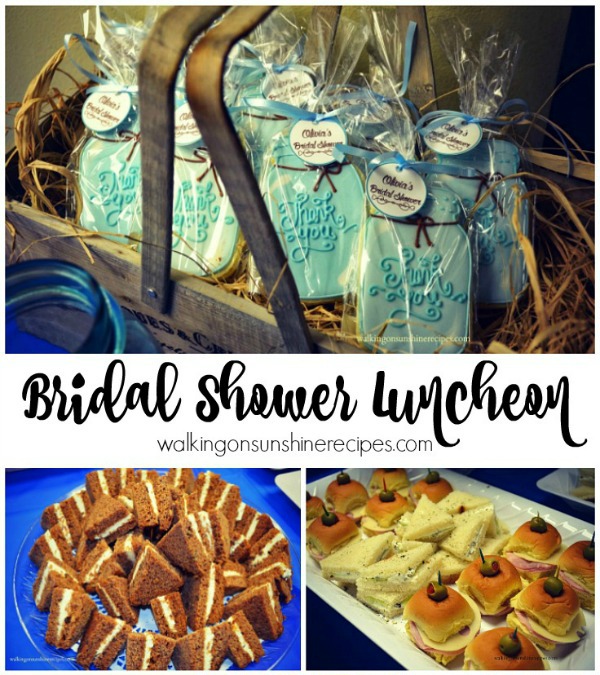 Bridal Shower Luncheon
What do you serve for a bridal shower luncheon?
I've been sharing with you our daughter, Olivia's, bridal shower for the past few weeks.  So far I've shared the memory jar, decorations and wedding dress cupcakes, but today, it's all about the FOOD the we served for her bridal shower luncheon.
Bridal Shower Luncheon Menu
When I first started planning Olivia's bridal shower, I thought "Italian."  We all love Italian food and it really is easy!  I was going to make a few trays of baked ziti along with sausage and peppers, etc.
But the more I thought about the shower, I knew I wanted to do something different.  The menu came together really quickly with a variety of "tea" or mini sandwiches, quiche, pasta salad and fruit.
Cucumber Tea Sandwiches
In the middle of this tray are cucumber and cream cheese sandwiches cut in triangles. You can find the recipe and directions for these sandwiches HERE.  I warn you, the photos on that older post are not the greatest, but these sandwiches are amazing and disappear quickly from a buffet table.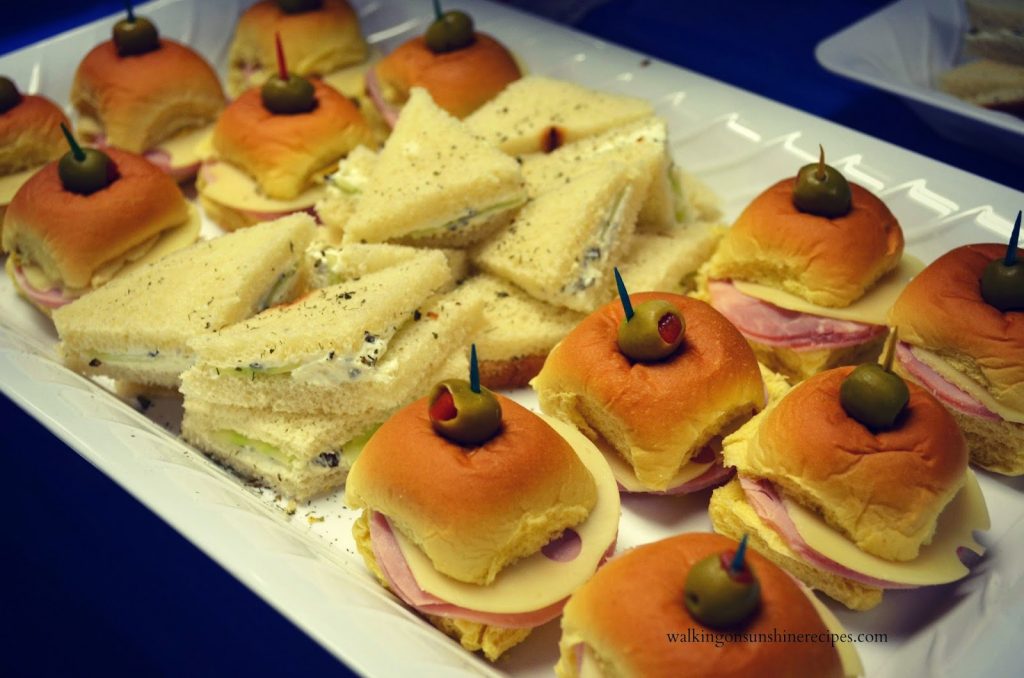 Date Nut Cream Cheese Sandwiches
These sandwiches are so easy and delicious!  Cream cheese spread on date/nut bread. My mother made these sandwiches.  Date/nut bread is usually sold in the dairy aisle at our local grocery store. It comes in a round shape small loaf or pre-sliced.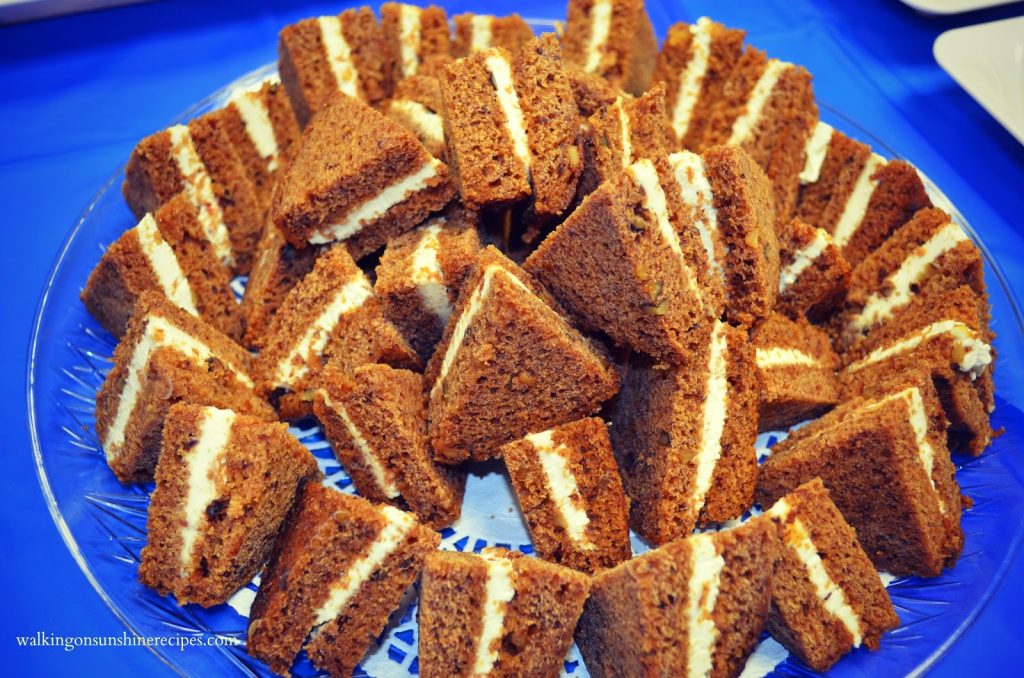 I also used my Pampered Chef sandwich form to make bread that when sliced is in the shape of flowers.  I spread fruit flavored cream cheese on this bread and layered thinly sliced strawberries on top.  Decorated them with a slice of strawberry held in place with a toothpick.  I have further directions HERE for these sandwiches.
There's also turkey, cheese and lettuce sandwiches on this tray.  The turkey and cheese were cut out with a small round biscuit cutter so the slices fit nicely on the small soft rolls.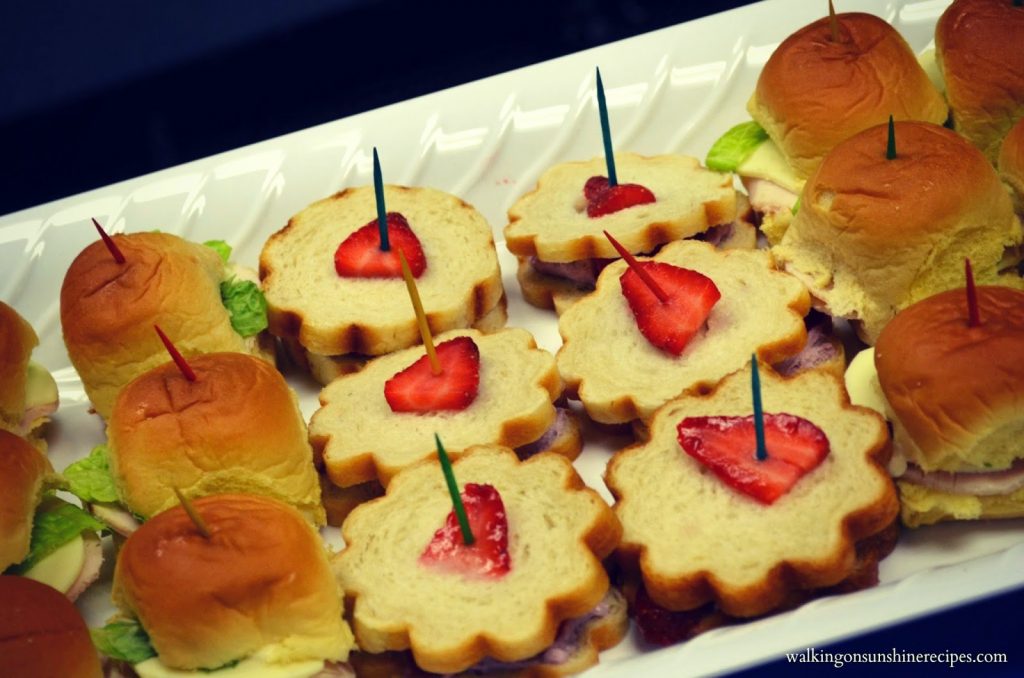 Ham and cheese sandwiches with olives on top.  Again, I used a small round biscuit cutter so the slices of turkey and cheese fit nicely on the soft rolls.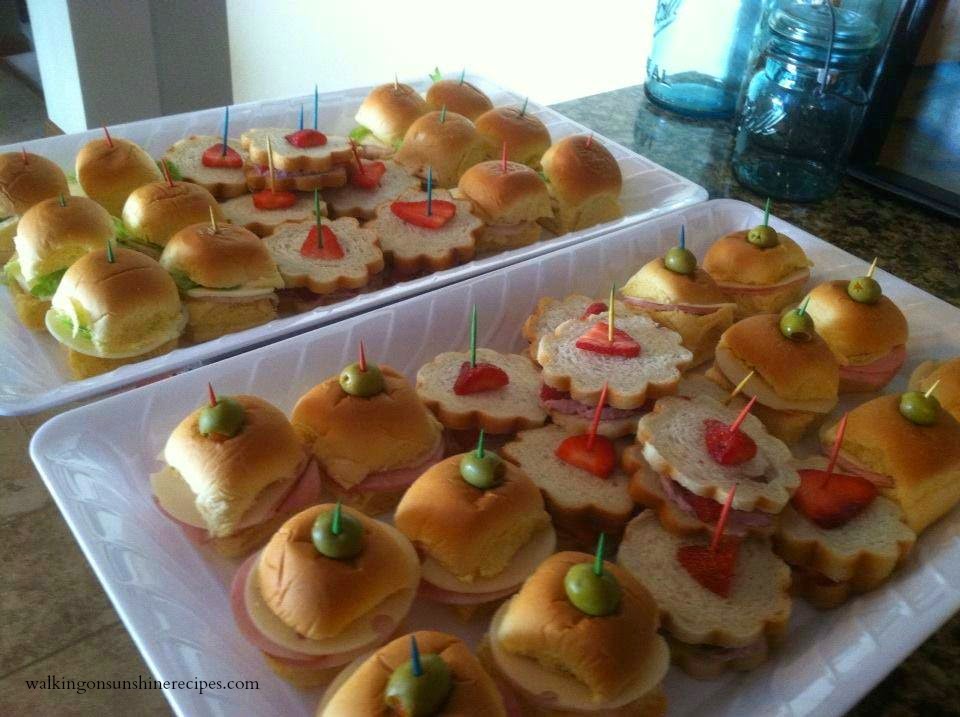 I made ten quiche also for the bridal shower.  You can find the recipe for my quiche HERE. I've been using this recipe for almost 25 years and it never fails me.
I made spinach with bacon, chopped broccoli with ham and then just plain quiche. Some of the quiche had cheddar cheese, Monterey jack cheese or white cheddar cheese. I made them the day before the shower, then sliced them the morning of the shower and placed on trays to reheat at the church right before the shower began.
I purchased deep dish pie crust already in pie tins to make life easier.  I highly suggest doing the same if you decide to make homemade quiche for any large gathering.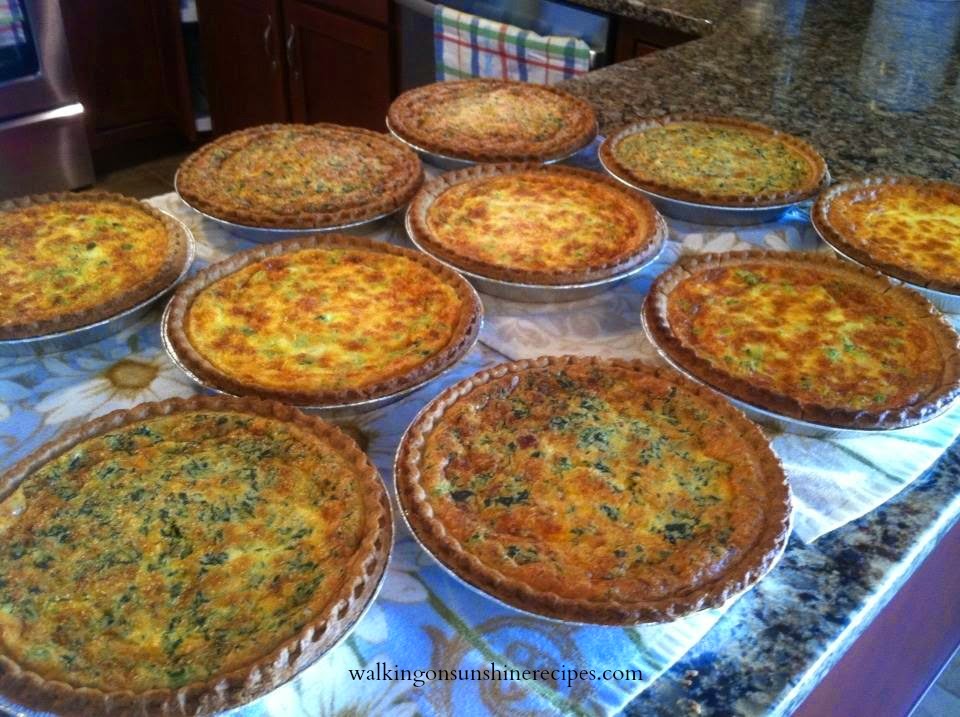 Here are some photos of the buffet table.  I ordered the "Soon to be Mrs. Wilson" sign from Etsy and my daughter's fiance's parents and grandparents sent her the beautiful flowers that we used as the centerpiece.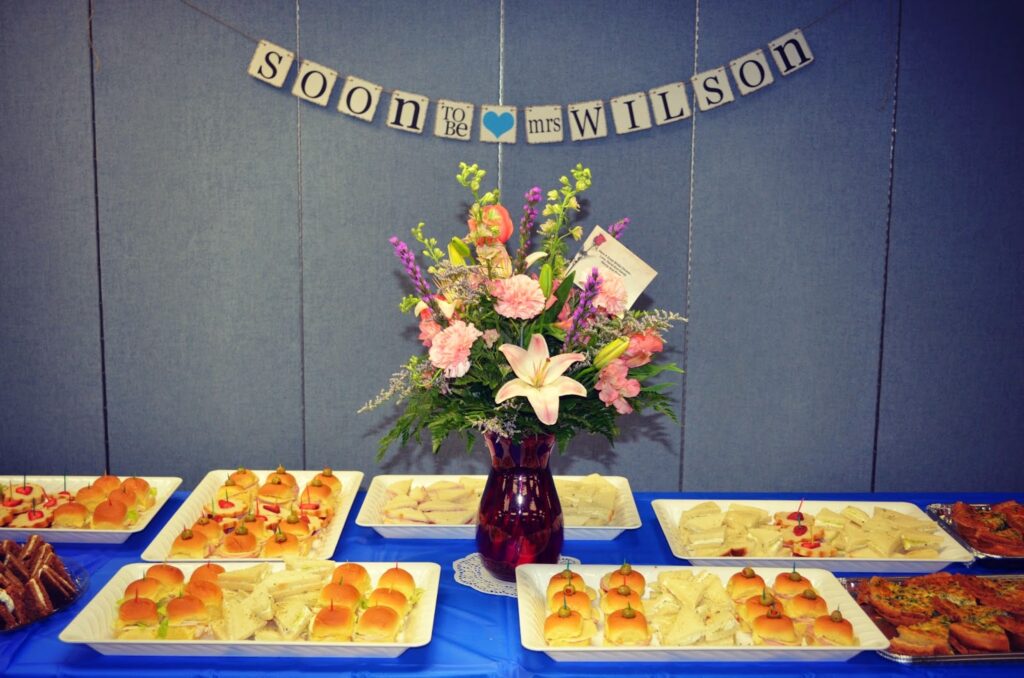 Fruit and pasta salad completed our Bridal Shower Luncheon.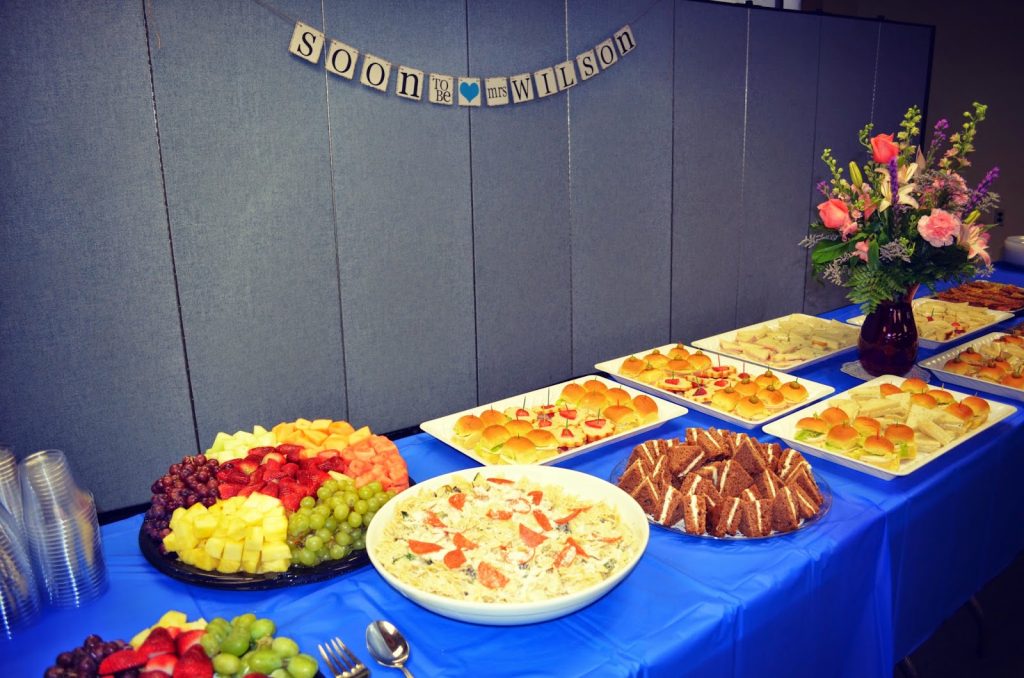 We had a beautiful time at my daughter's bridal shower and we had delicious food that really wasn't hard to put together.  My mother came to my house the morning of the shower and we worked on putting the sandwiches together quickly.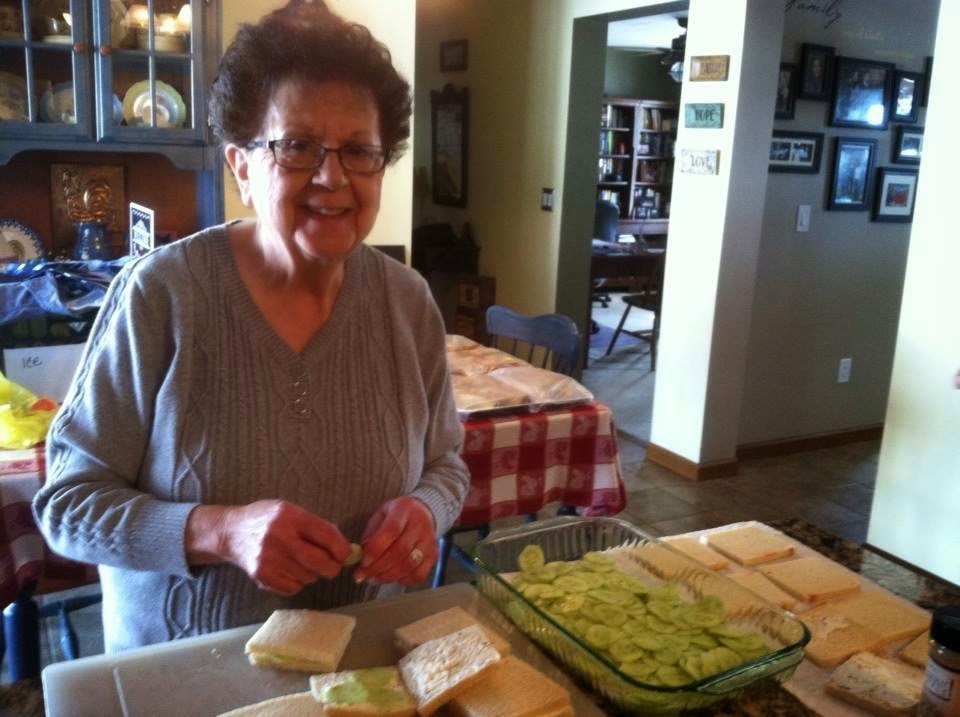 Dessert for a Bridal Shower Luncheon
I shared the Mason Jar Pudding Desserts here on the blog recently.  We made two different kinds, chocolate pudding with crushed Oreo cookies and banana pudding with graham crackers and sliced bananas.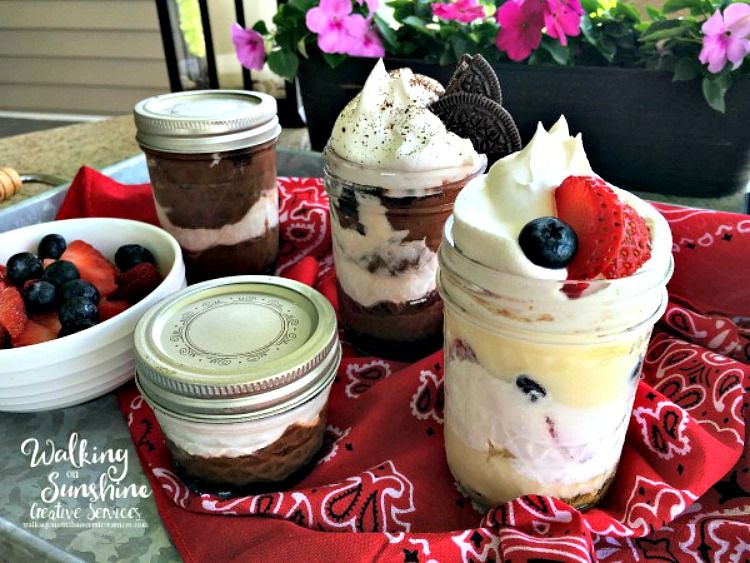 Olivia and her maid of honor, Saige, helped put the desserts together the night before the shower.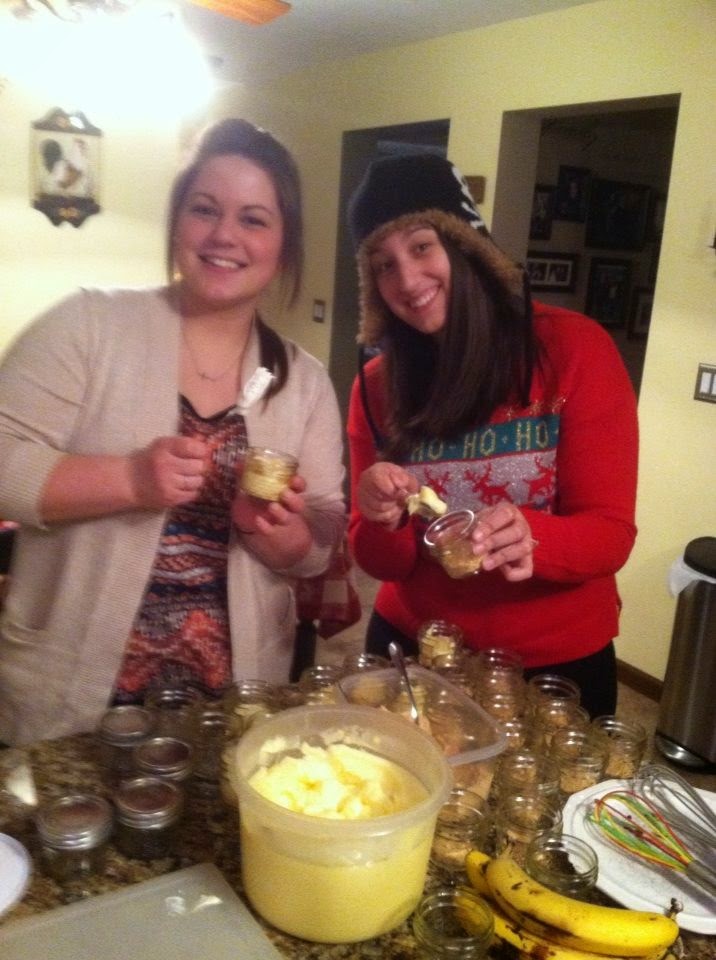 Mason Jar Pudding Treats all ready for the shower.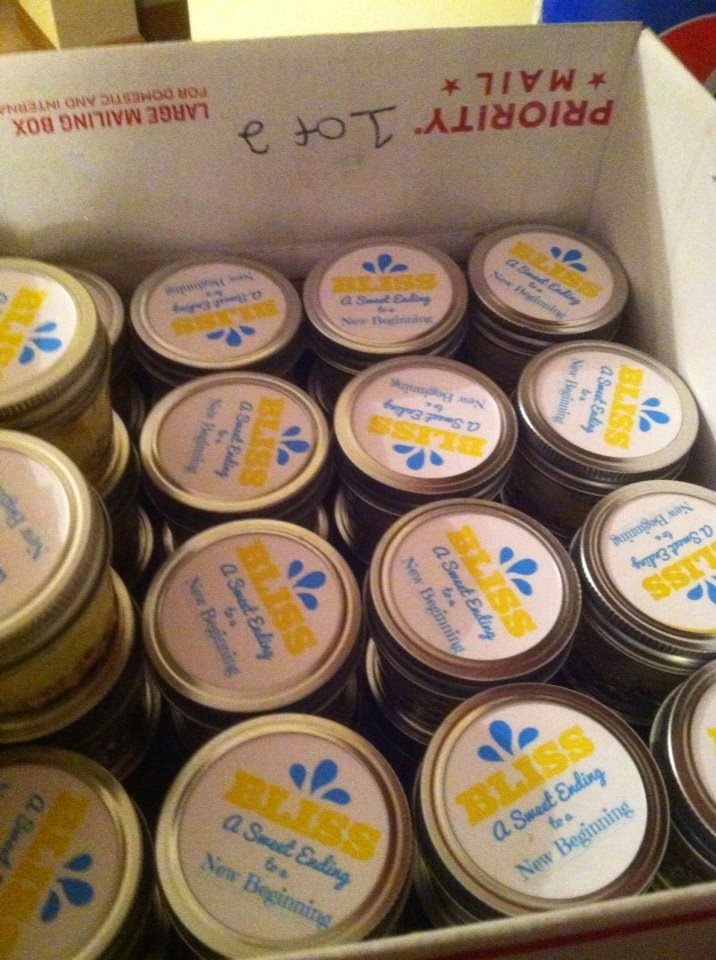 They looked pretty on the dessert table.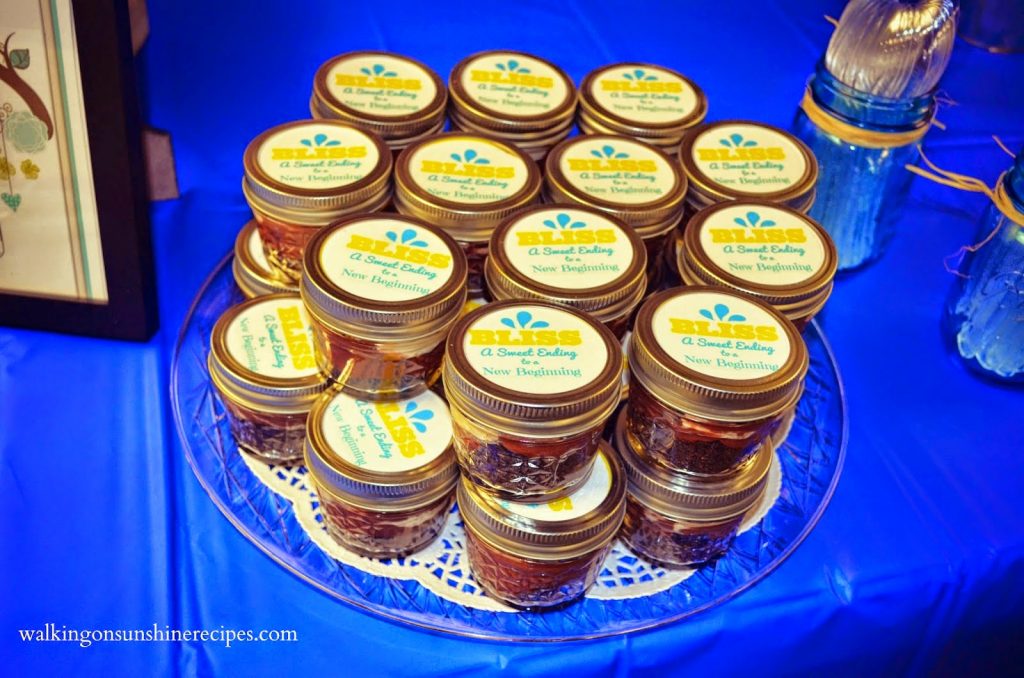 We also had a few trays of cookies that my mother and sister made.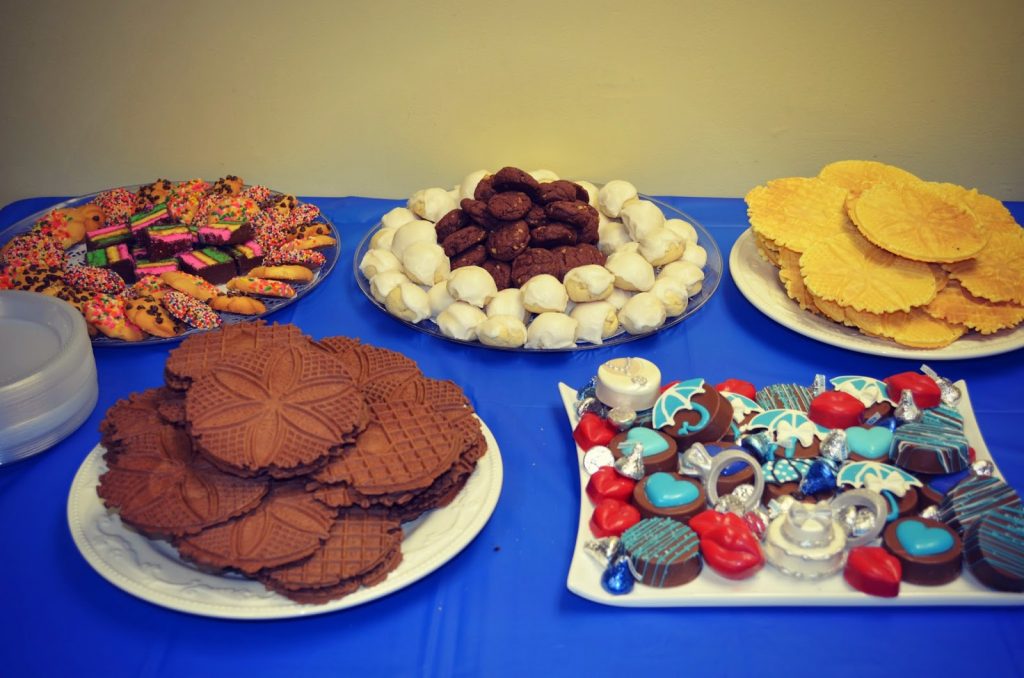 And CAKE POPS from my sister-in-law. She has an amazing cake pop business and yes, those are all edible.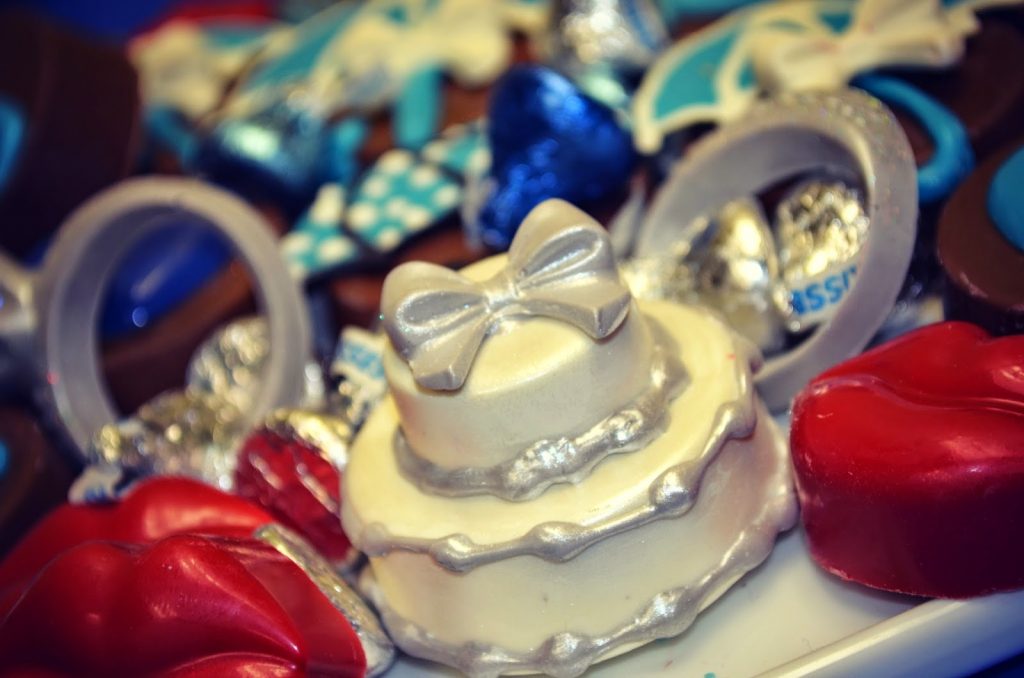 This post contains affiliate links. Your cost is the same, but I earn a commission when you shop through them.   For more information, click HERE.
More Information
More Information
More Information
More Information
More Information
More Information

Wedding Dress Cupcakes we had that I shared with you last week HERE.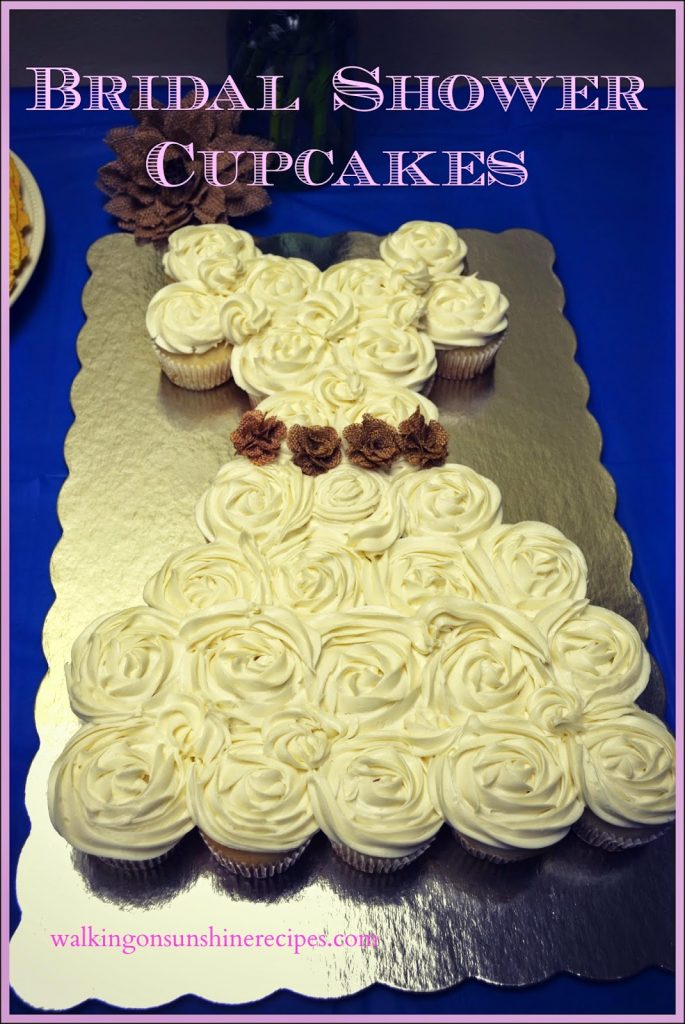 One last photo of my daughter with a few of her bridesmaids.