These Pumpkin Desserts are a great way to use up leftover pumpkin puree or to make a delicious treat to share with someone special. Included in these easy pumpkin desserts are recipes that are all made smaller in size and quantity but definitely not taste!
Let's take a look at these recipes perfect for autumn and the holidays.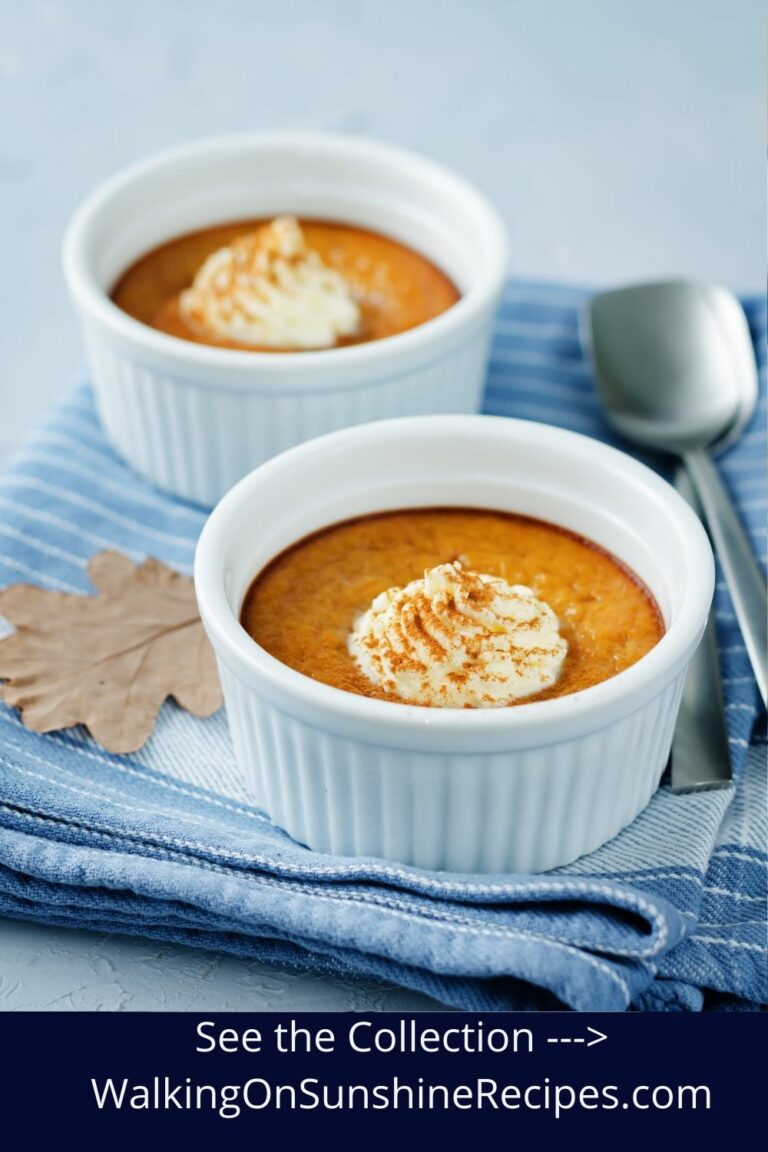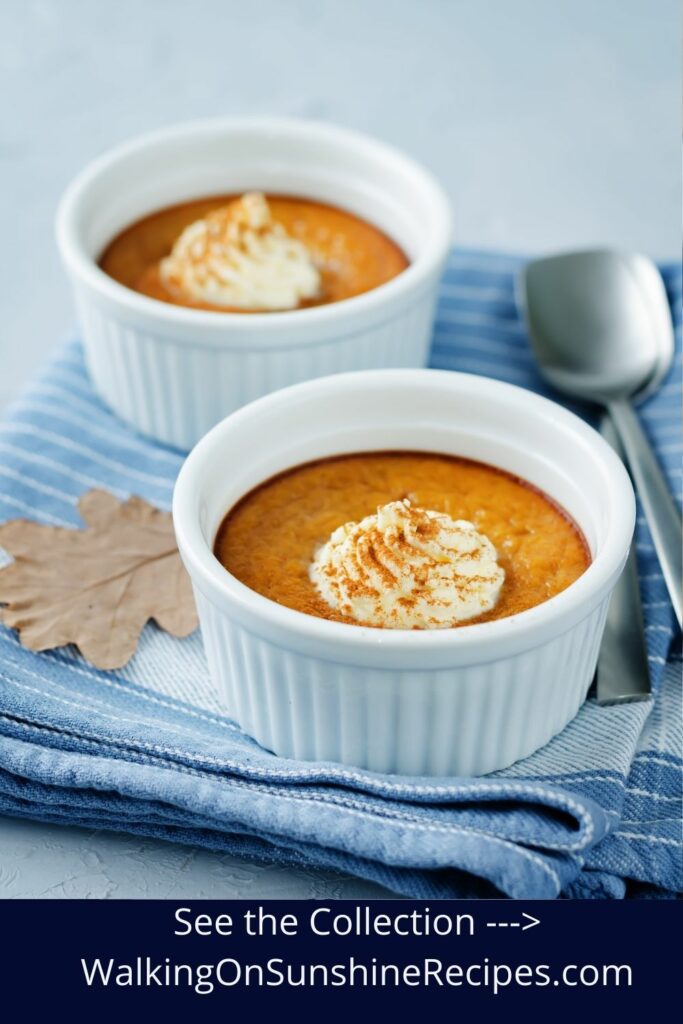 This post was inspired by YOU, my readers. Quite a few of you have emailed over the years asking for recipes that are perfect for just two people. And while I've often included dinners for two in my Weekly Meal Plans, I haven't done too well with featuring desserts that can be made for just two.
Not everyone has a huge family. Or maybe you're an empty-nest couple with children living far away. Or maybe you love desserts, but having all the leftovers hanging around tempting you to eat more than you should.
These recipes would also work great if you have leftover pumpkin puree!
Table of Contents
Baking with Pumpkin
Follow these easy tips when baking with pumpkin:
Pumpkin is a great way to add moisture to a recipe, so be careful when measuring it out for a specific recipe. If a recipe calls for ¾ of a cup, don't think the recipe will taste better by adding a full cup. The recipe will probably fail because you've added too much moisture to the batter.
Be careful not to under-bake recipes. Going by "feel" can sometimes cause you to take a loaf of pumpkin bread out of the oven too soon with the middle under-baked. Instead purchase a probe digital thermometer. Breads and muffins are baked completely when they reach 200°F and pies are done when they reach 175°F.
Don't substitute pumpkin pie filling in place of pumpkin puree. They are two different things!
Pumpkin puree is just as the can says, it's cooked, pureed pumpkin. There's no sugar added.
Canned pumpkin pie filling has sugar and spices added.
Storing Leftover Pumpkin Puree
Now that you've made one of these Pumpkin Desserts for Two, what do you do with the leftover pumpkin puree?
Refrigerator: Store leftover canned pumpkin puree in an air-tight container. It will last for about a week when stored in the refrigerator.
Freezer: Spoon the leftover canned pumpkin into an ice cube tray. Once frozen, remove from the ice cube trays and store in a freezer-safe plastic bag.
Plastic Storage Bag: You could also spoon the leftovers into a plastic bag, flatten it out and store the bag either in the refrigerator or the freezer.
Helpful Kitchen Tools
This post contains affiliate links. That means that if you make a purchase after clicking on a link I may earn a small commission at no extra cost to you. For more information, click here.
More Information
More Information
More Information
More Information
Tried any of my recipes? Let me know in the comments!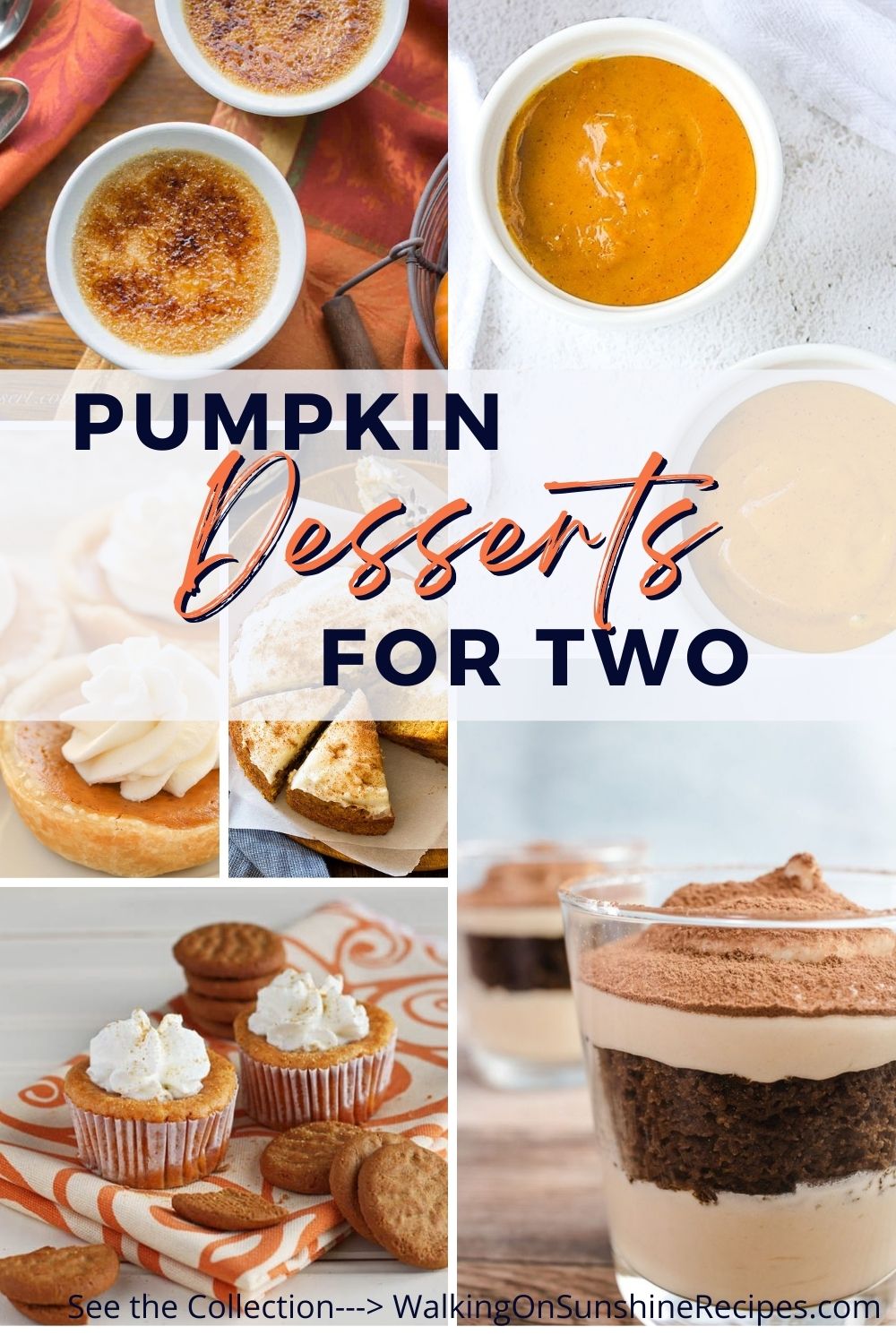 Pumpkin Desserts for Two
These Pumpkin Desserts are a great way to use up leftover pumpkin puree or to make a special treat to share with someone special.