You are going to love how easy and cheesy this cheesy chili pasta casserole recipe is!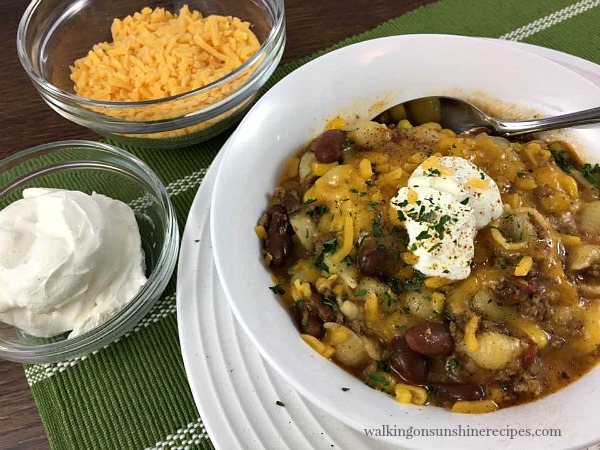 As a food blogger, I take a lot of photos. Really. And most of them come out pretty good for someone who really doesn't know too much about photography.But every once in awhile the photos just don't show how delicious the recipe really is. This recipe and the photos are an example. The good news is we have an amazing video that shows how delicious this recipe for Cheesy Chili Pasta is!
And the best news is it's a one pot casserole recipe that's easy to put together and if you're lucky enough, you'll have leftovers to reheat for lunch the next day.
Cheesy Chili Pasta One Pot Casserole Recipe
A combination of chili with mac and cheese all combined in one delicious casserole!
INGREDIENTS:
1/2 pound of ground beef
4 cups chicken broth
1 can diced tomatoes
1 can kidney beans; drained and rinsed
1 can Mexicorn; drained
1 TBS oil
1 small onion; chopped
2 teaspoons garlic powder
2 teaspoons chili powder; more if desired
2 teaspoons cumin
salt and pepper; to taste
8 ounces small shaped pasta; I used mini shells
1 cup shredded cheddar cheese
sour cream, parsley for garnish
INSTRUCTIONS:
In a heavy Dutch oven or large skillet, heat the oil over medium to high heat.
Add the ground beef and begin to break it up. Add the garlic and onion and cook until the beef is browned. Drain off the excess fat if necessary
Stir in the chicken broth, tomatoes, kidney beans, Mexicorn.
Add the chili powder, cumin and season with salt and pepper.
Bring to a simmer and then add the dry pasta.
Bring to a boil; cover and reduce heat and simmer until the pasta is cooked through. Depending on the shape of pasta you're using, this could take 12 to 15 minutes.
Remove from heat and top with cheddar cheese. Put the lid back on for the cheese to melt or I put it under the broiler for a few minutes; which I highly recommend!