Here are my tips on thawing a turkey safely using either the refrigerator or water bath method. Free turkey thawing chart to help as well!
Thanksgiving is just around the corner and that means we need to start planning our menu. And if you're like 99 percent of the country, the turkey is going to be the star of the show.
Follow these guidelines below and you'll will have a delicious celebration with family and friends.
Check out all the other Easy Recipes for Thanksgiving to create the perfect holiday meal for your family.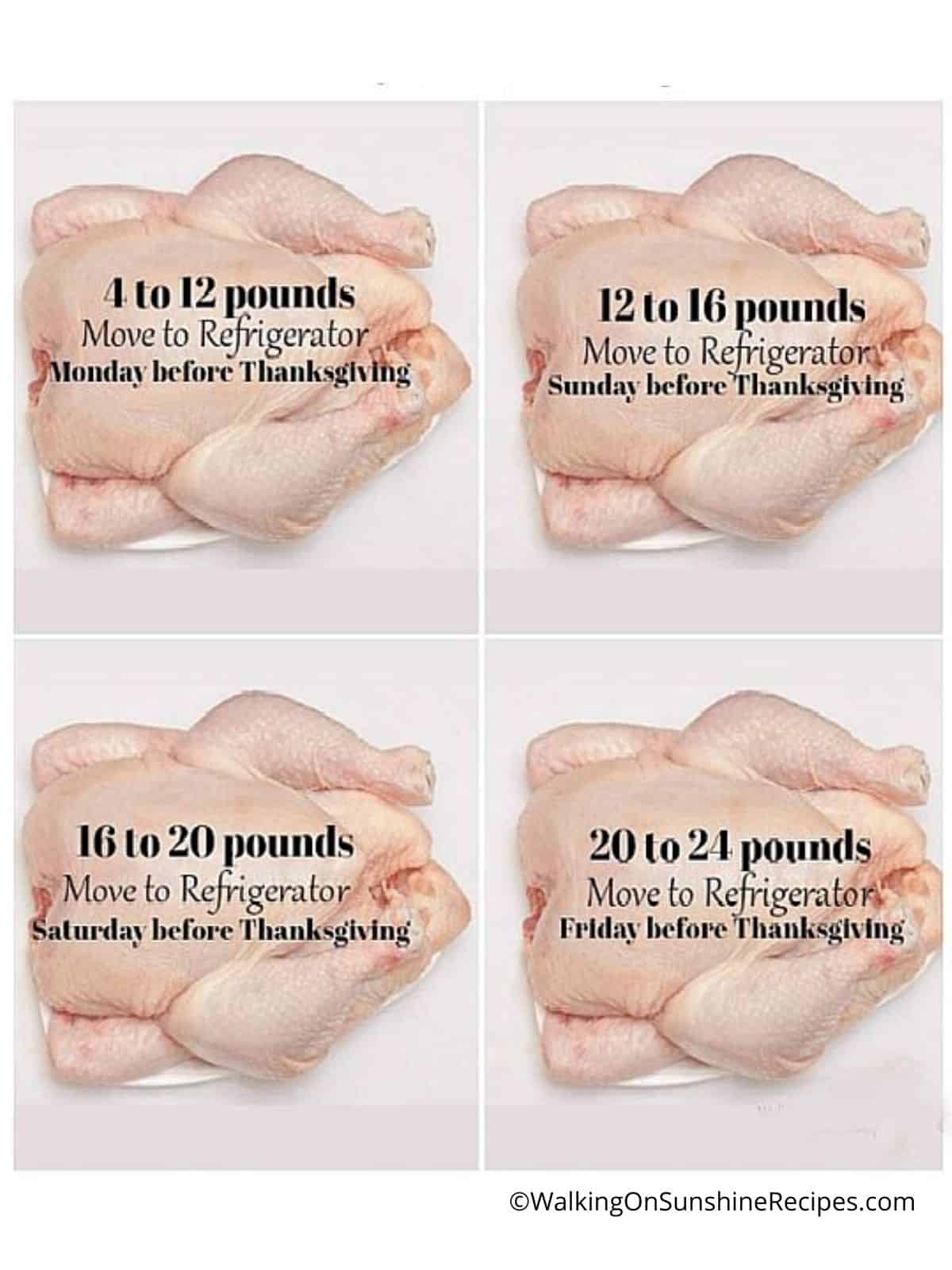 Have you ever thawed a turkey before? It can be tricky, especially if you don't know what you're doing. That's why I'm here to help. In this blog post, I'm going to teach you how to thaw a turkey safely and efficiently.
Before we go any further into this recipe, make sure you check out the Thanksgiving Planner available here to help you have the best Thanksgiving ever. It's filled with printables, checklist, menu and recipes.
After you've read this post, please read my post on How to Roast a Turkey.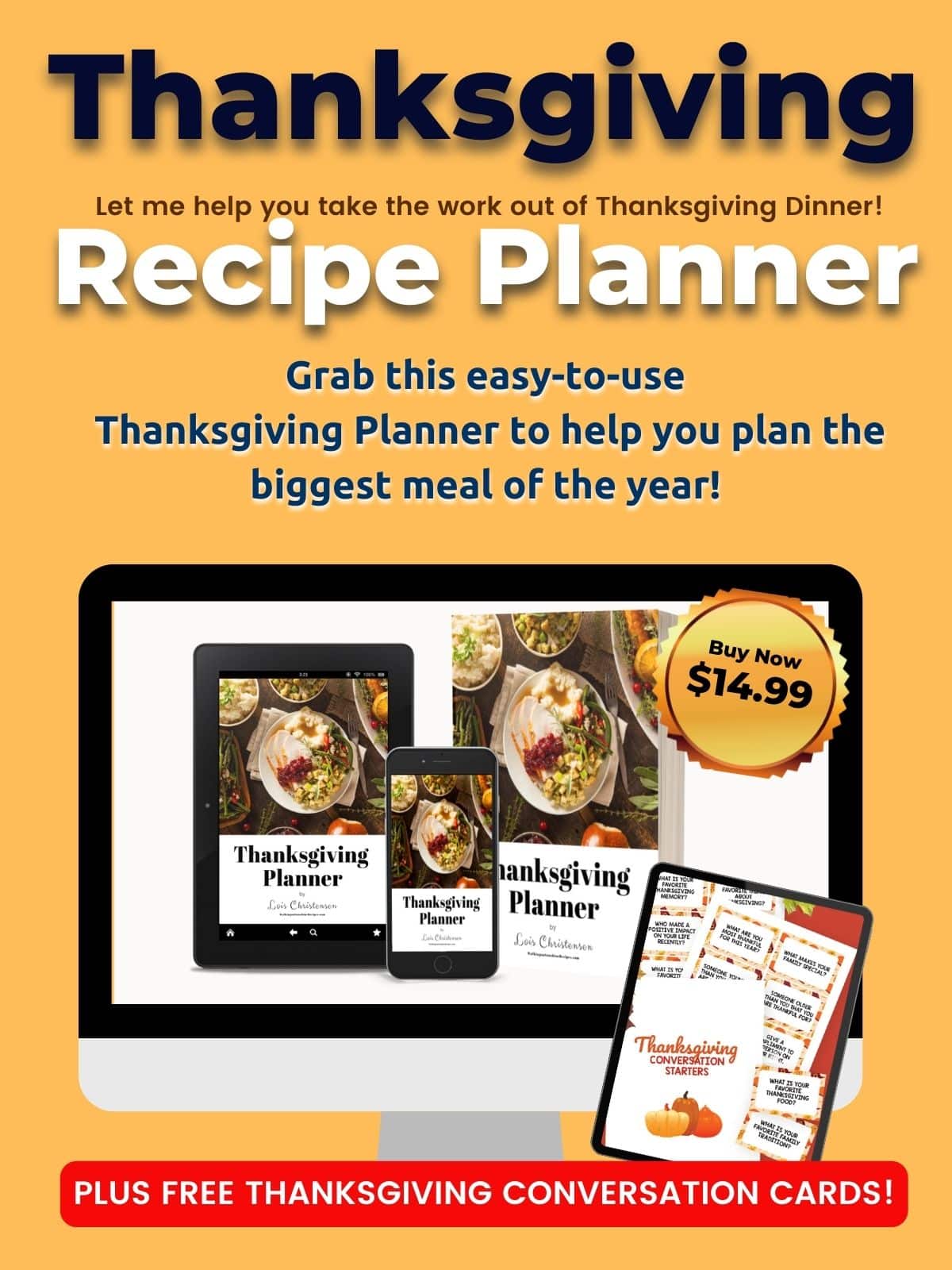 Table of Contents
💭Turkey Thawing Chart
I made two great charts that you can print out and keep in the kitchen while you put together your Thanksgiving menu. The first one is the Turkey Thawing Chart and the second is the Turkey Roasting Chart.
Simply fill out the form below. Then check your email to confirm, and you'll able to download both charts.
💭How to safely defrost a turkey
Before you can even cook the turkey, you need to defrost it. More importantly, you need to defrost it safely.
Once the turkey is defrosted, you can keep it safely in the refrigerator for up to two days before it has to be cooked.
Take a look at the easy steps I follow every year to defrost a turkey safely.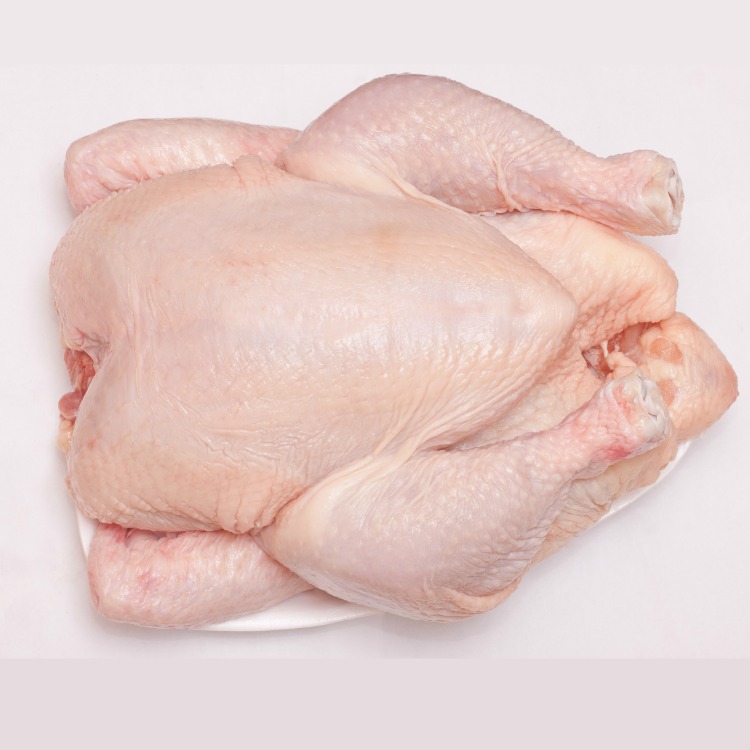 💭Thawing a turkey in the in the refrigerator
The refrigerator method is the recommended way to defrost a turkey. But you do need to allow for enough time. Defrosting a 20 pound turkey is going to require a little more time than a 12 pound turkey.
You need to allow approximately 24 hours for every 5 pounds of turkey.
Make sure you keep the turkey in the original wrapping. Place it on top of a baking tray to catch any drippings or juices that may leak out.
I like to defrost my turkey in a disposable aluminum roasting pan that I can just throw away once I start to prepare the turkey for roasting:
4 to 12 pound turkey - place the turkey in the refrigerator the Monday before Thanksgiving.
12 to 16 pound turkey - place in the refrigerator the Sunday before Thanksgiving.
16 to 20 pound turkey - place in the refrigerator the Saturday before Thanksgiving.
20 to 24 pound turkey - place in the refrigerator the Friday before Thanksgiving.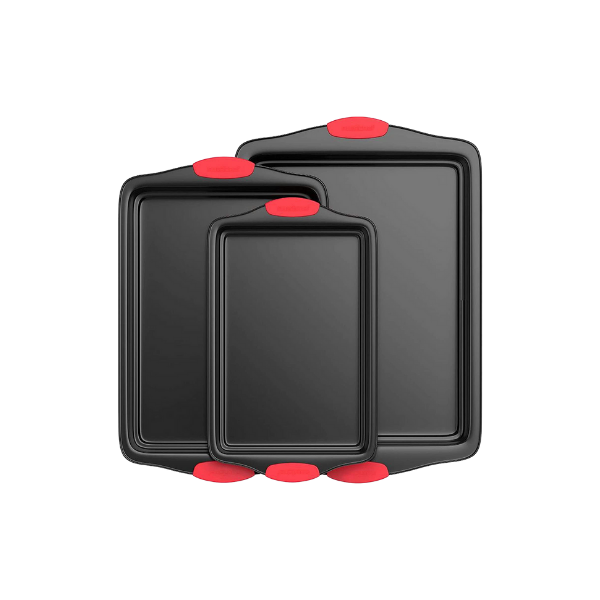 My Favorite Baking Trays: 3-piece nonstick cookware set includes the small, medium, and large size.These are non-stick carbon steel bakeware set with red silicone handles.
💭Defrosting turkey in water
Another way is defrosting a turkey in water or using a "water bath" with these easy steps:
Again, you need to keep the turkey in its original wrapping.
Find a bucket or tub large enough so the turkey fits and will be completely covered with the water.
If your turkey is small enough, and you have a deep enough sink, you might be able to do it in the kitchen sink. But you need to make sure the entire turkey is submerged.
I use a large storage container and place it in the shower stall of our downstairs bathroom.
Fill the container with cold water.
Add the turkey. Most likely you are going to need to place something on top of the turkey to keep it fully submerged under the water...because turkey's float! A large baking tray helps tremendously. Just make sure you put some water on top of the tray to keep it weighted down. Or you can place a few cans of soup on top as well.
Change the water every 30 minutes. I always set a timer on my phone to help remind me. Preparing for Thanksgiving can be extremely time-consuming and you don't want to forget to change the water.
You need to make sure the water stays cold. Use a Digital Meat Thermometer to make sure the water is at 40 degrees. You may need to add ice to get the water that cold as well.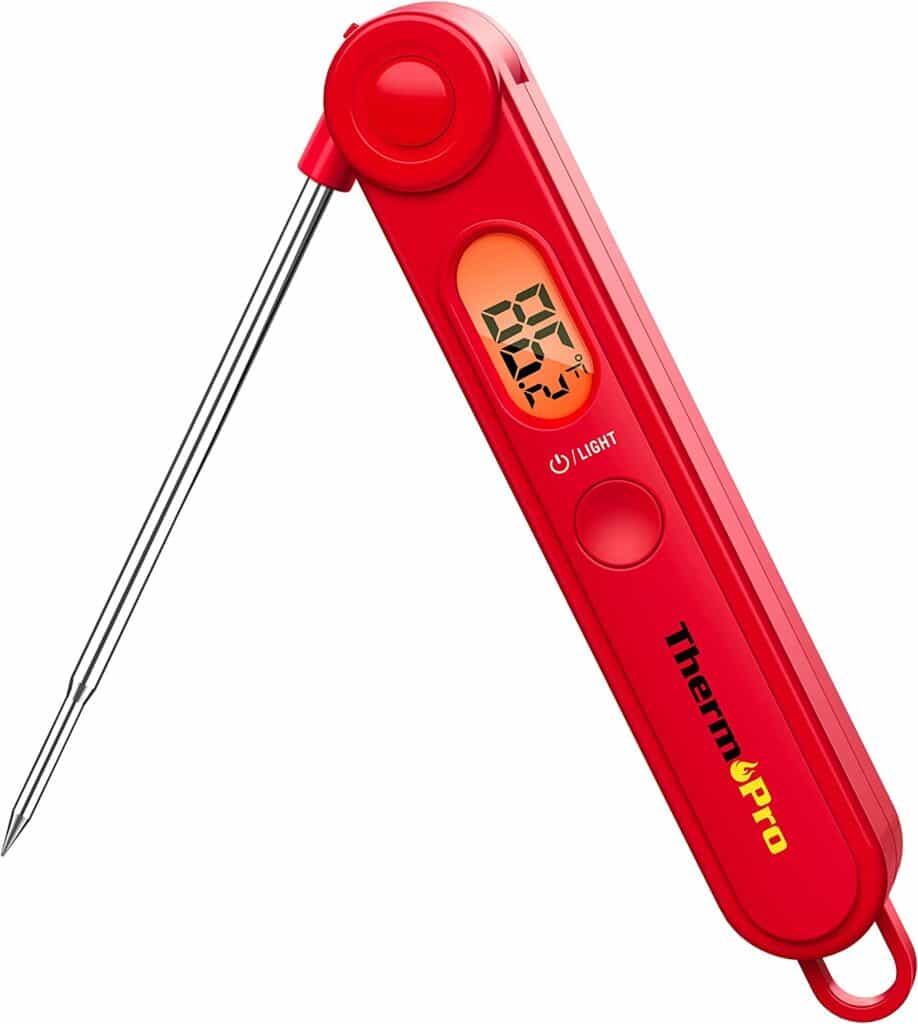 Digital Instant Read Meat Thermometer: Fast Reading system, Battery power saving design, Safe foldaway probe, Ultra-clear screen LCD display, Celsius/Fahrenheit selector
💭Thawing turkey in sink
Another method is to thaw the turkey in your sink. Thawing in this manner can take several hours, so be sure to plan ahead:
First, make sure that your sink is clean and large enough to accommodate the turkey.
Then, place the turkey in the sink and let cold water run over it, being careful not to let the water get warm...or hot.
Change the water every 30 minutes. Again, set a timer to remind yourself.
You need to make sure the water stays cold. Use a Digital Meat Thermometer to make sure the water is at 40 degrees. You may need to add ice to get the water that cold as well.
Once the turkey is thawed, it's ready to be roasted.
💭How long can you keep a thawed turkey in the refrigerator?
The USDA recommends that you cook a turkey within three to four days of thawing it in the refrigerator. If you're not planning to cook it within that timeframe, you can keep it frozen.
A whole turkey will stay fresh in the freezer for up to one year, while Thanksgiving dinner leftovers can be stored in the freezer for up to four months.
If you have a larger bird or plan to feed a lot of people, you may want to consider buying two turkeys and cooking one ahead of time. That way, you can have the second turkey ready to go in the freezer for next year.
No matter how you choose to store your turkey, be sure to follow food safety guidelines to avoid making your guests sick.
💭How to Roast a Turkey
That's right, the best thing to do is plan ahead. Pay attention to the Free Printable Chart to safely defrost the turkey.
Check out my step-by-step instructions for How to Roast a Turkey here.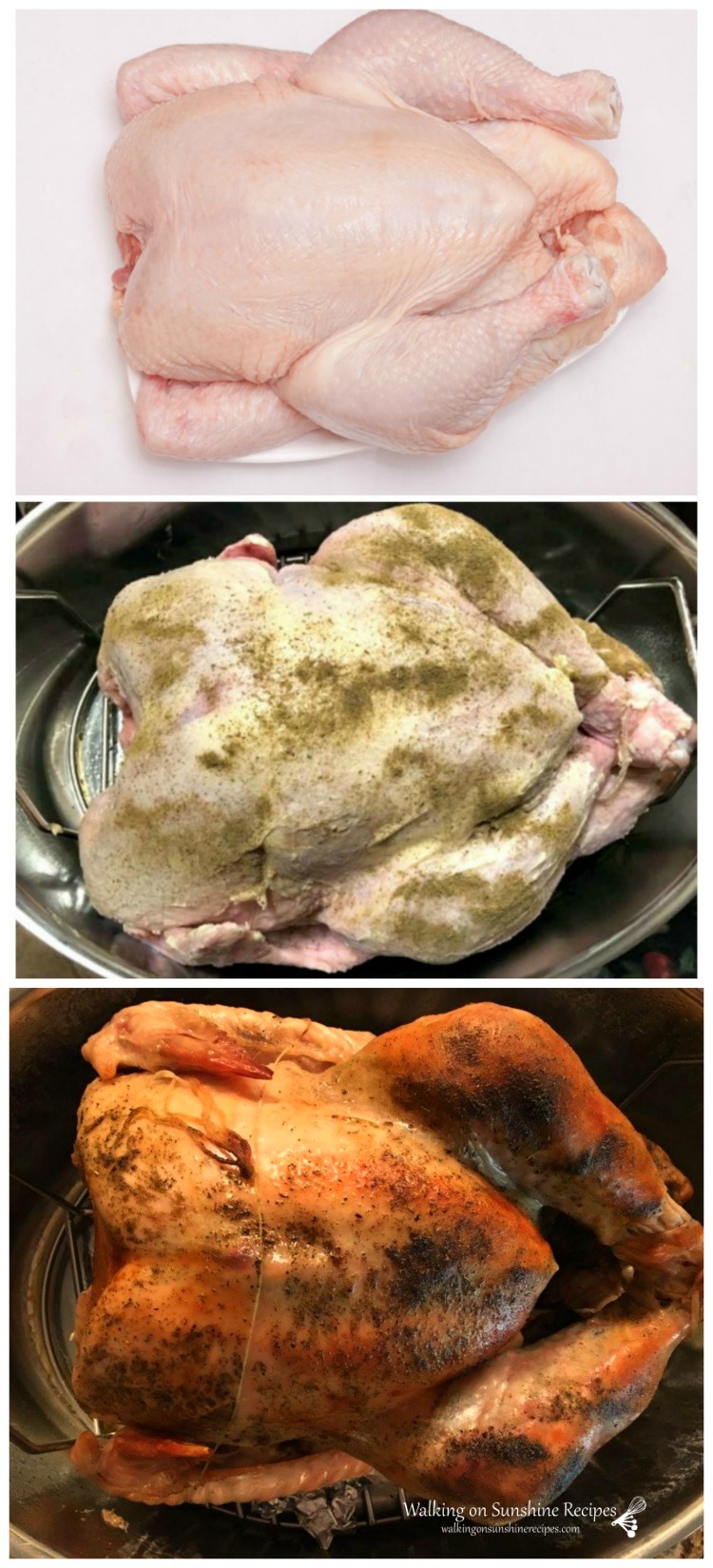 ⭐Before You Begin! If you make this recipe, please leave a review and star rating. This helps my business thrive and continue providing FREE recipes.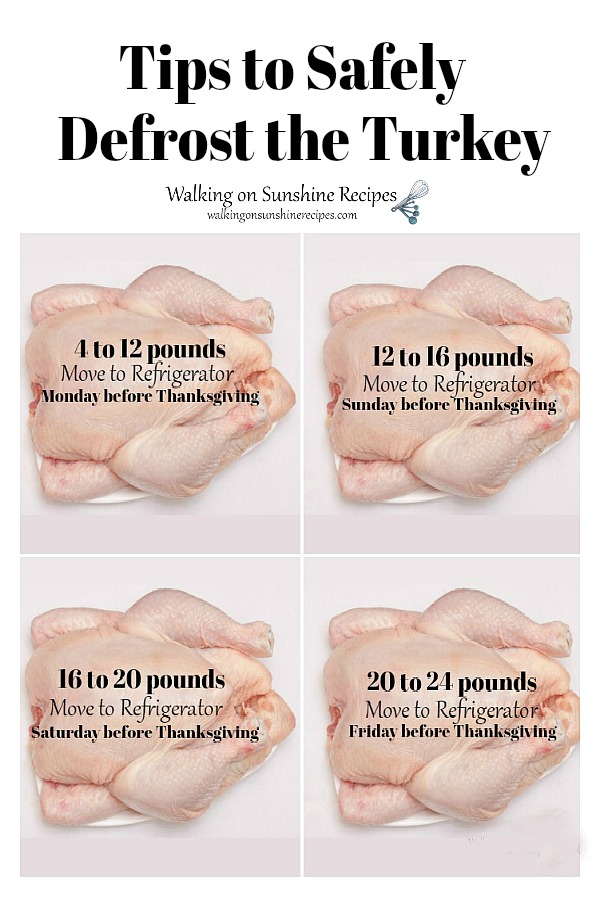 FAQ's
Can you leave a turkey out to thaw overnight?
No, you should never thaw a frozen turkey on the counter at room temperature. You risk the chance of the outer layer of the turkey being exposed to bacteria for far too long to be safe to cook and consume. 
What if my turkey isn't fully thawed?
It's perfectly safe to cook a partially frozen turkey in the oven. You need to adjust the cooking time because it will take longer for a partially frozen turkey to cook than a fully defrosted one.

More Thanksgiving Recipes: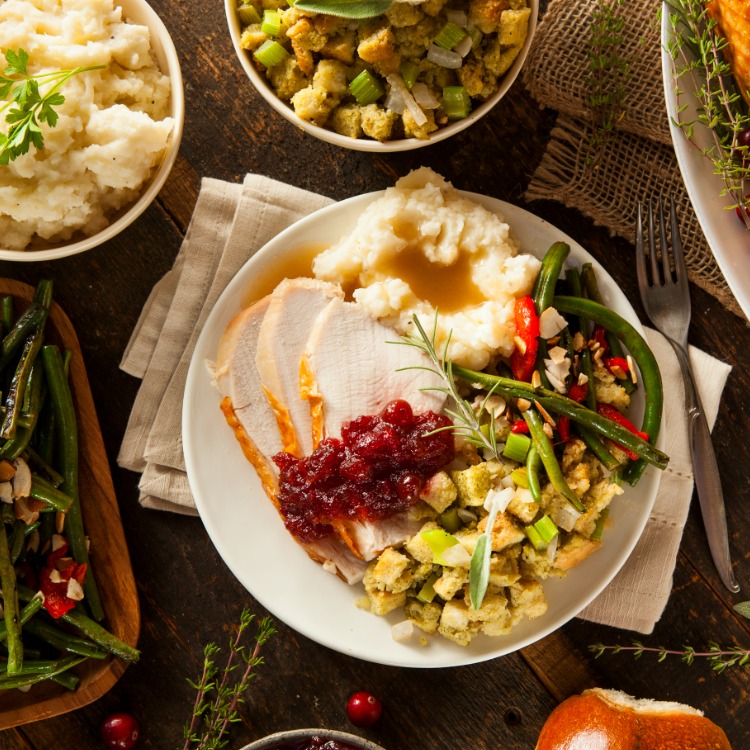 This recipe has been updated since it first appeared in 2019 with new photos and information. I hope you enjoy the updates as much as I enjoyed working on them!