Before you can prepare any of my easy recipes for Thanksgiving, you need to make sure the turkey is defrosted. Because without the turkey there is no Thanksgiving! Here are a few tips on thawing a turkey safely. No matter how much planning we do, thawing the turkey can be a challenge. Follow these guidelines and you will have a wonderful and delicious celebration.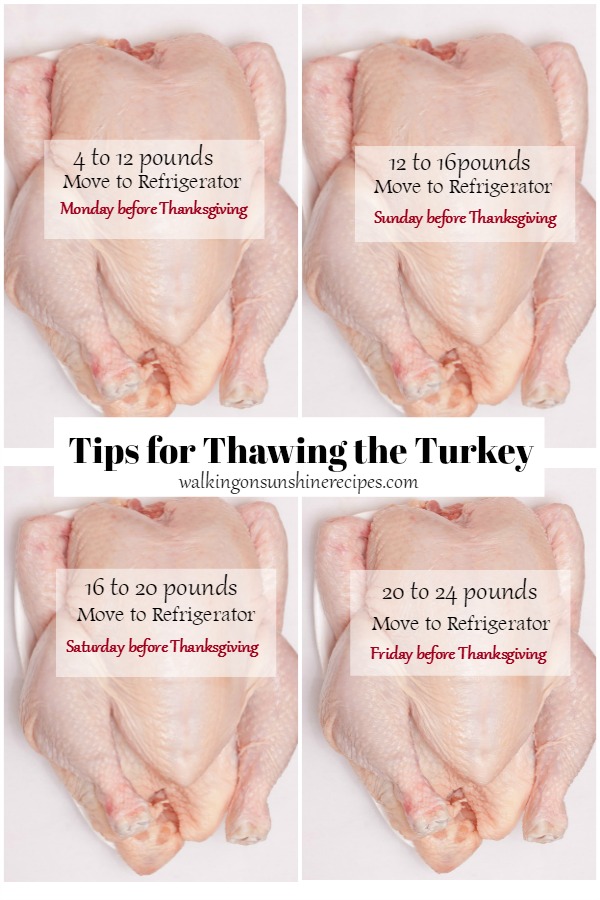 Before we go any further into this recipe, make sure you check out the Thanksgiving Planner available here to help you have the best Thanksgiving ever. It's filled with printables, a checklist, menu and recipes. 
After you've read this post, please read my post on How to Roast a Turkey.
Most people purchase a frozen turkey every year for their Thanksgiving or Christmas holiday celebration. Yes, there are a few people that cook a turkey for Christmas as well as Thanksgiving.
If you're fortunate like me, your local grocery store gives away a FREE turkey as long as you spend a specific amount of money in the store a few weeks leading up to Thanksgiving. Which is what we usually do every year.
Affiliate Disclosure: This post may contain affiliate links. As an Amazon Associate I earn from qualifying purchases. For more information, click here.
Easy Tips on Thawing a Turkey Safely
You want your family and friends to "ooh and awe" when they see the cooked turkey on Thanksgiving Day. However, before you can even cook the turkey, you need to defrost it. More importantly, you need to defrost it safely.
And remember, once the turkey is defrosted, you can keep it safely in the refrigerator for up to two days before it has to be cooked.
Take a look at these easy tips I follow every year to defrost a turkey safely.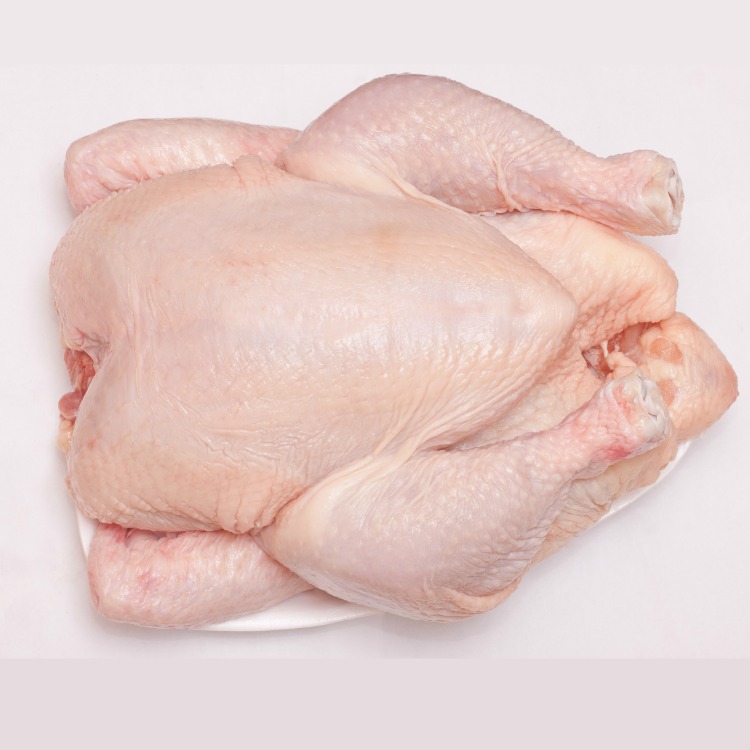 How to Defrost a Turkey Safely in the Refrigerator
The refrigerator method is the recommended way to defrost a turkey. But you do need to allow for enough time. Defrosting a 20 pound turkey is going to require a little more time than a 12 pound turkey.
You need to allow approximately 24 hours for every 5 pounds of turkey.
Make sure you keep the turkey in the original wrapping. Place it on top of a baking tray to catch any drippings or juices that may leak out.
I like to defrost my turkey in a disposable aluminum roasting pan that I can just throw away once I start to prepare the turkey for roasting.
4 to 12 pound turkey - place the turkey in the refrigerator the Monday before Thanksgiving.
12 to 16 pound turkey - place in the refrigerator the Sunday before Thanksgiving.
16 to 20 pound turkey - place in the refrigerator the Saturday before Thanksgiving.
20 to 24 pound turkey - place in the refrigerator the Friday before Thanksgiving.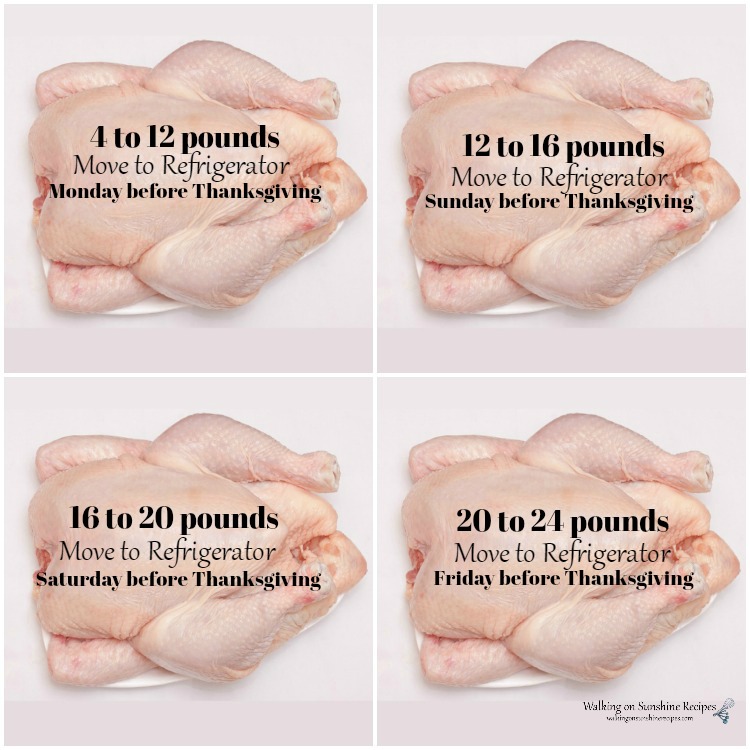 How to Safely Defrost a Turkey in a Water Bath
I always defrost our turkey in the extra refrigerator we have in the garage. A few years ago it was so cold outside that items in the refrigerator section were actually beginning to freeze. The turkey wasn't defrosting. I used this water bath method and it worked great.
Again, you need to keep the turkey in its original wrapping.
Find a bucket or tub large enough so the turkey fits and will be completely covered with the water.
If your turkey is small enough, and you have a deep enough sink, you might be able to do it in the kitchen sink. But you need to make sure the entire turkey is submerged.
I use a large storage container and place it in the shower stall of our downstairs bathroom.
Fill the container with cold water.
Add the turkey. Most likely you are going to need to place something on top of the turkey to keep it fully submerged under the water...because turkey's float! A large baking tray helps tremendously. Just make sure you put some water on top of the tray to keep it weighted down. Or you can place a few cans of soup on top as well.
Change the water every 30 minutes. I always set a timer on my phone to help remind me. Preparing for Thanksgiving can be extremely time-consuming and you don't want to forget to change the water.
You need to make sure the water stays cold. Use a Digital Meat Thermometer to make sure the water is at 40 degrees. You may need to add ice to get the water that cold as well.
Best Thing to Do - Plan Ahead
That's right, the best thing to do is plan ahead. Pay attention to the chart above and safely defrost the turkey in the refrigerator.
And if you need help with how to perfectly roast a turkey, check out my very popular post with step-by-step instructions for How to Roast a Turkey here.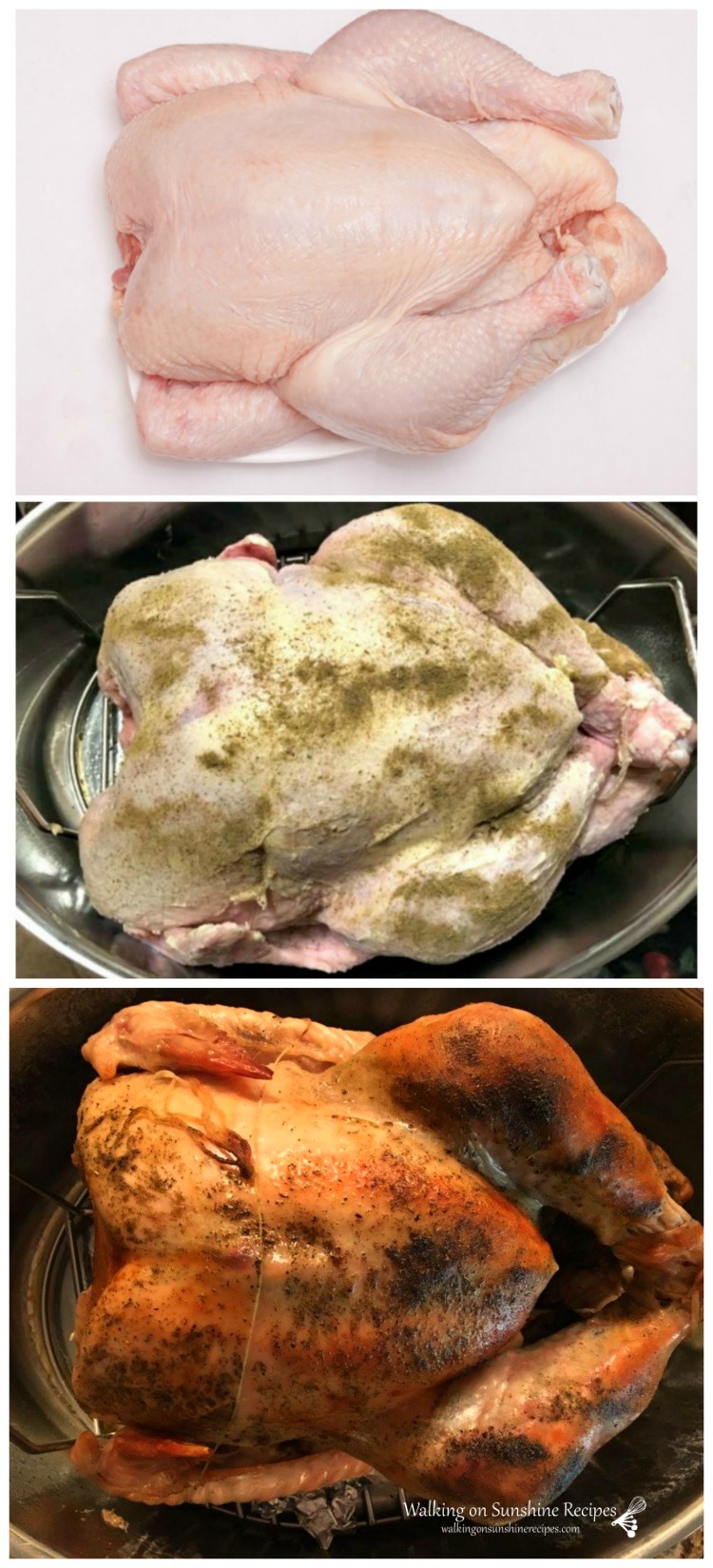 Tried any of my recipes? Let me know in the comments!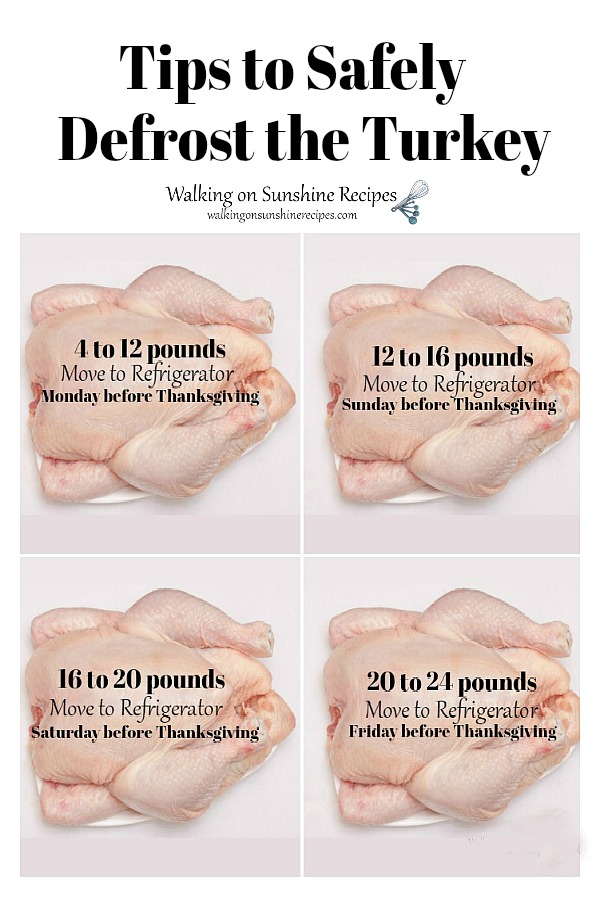 FAQ's
Can you leave a turkey out to thaw overnight?
The answer to this question is no. You should never thaw a frozen turkey on the counter at room temperature. The problem with allowing a turkey to thaw at room temperature is that you risk the chance of the outer layer of the turkey being exposed to bacteria for far too long to be safe to cook and consume. 
What if my turkey isn't fully thawed?
Don't worry! It's perfectly safe to cook a partially frozen turkey in the oven. You just need to adjust the cooking time because it will take longer for a partially frozen turkey to cook than a fully defrosted one.

Now, I have never, ever cooked a frozen or partially frozen turkey, so please do not email me complaining that it's been 24 hours and your turkey is still not cooked. 

Just know in the research I did putting this post together, I read that it is possible to cook a frozen turkey. 
More Thanksgiving Recipes: