Roast Turkey made in the Crock Pot will give you the most tender and moist turkey!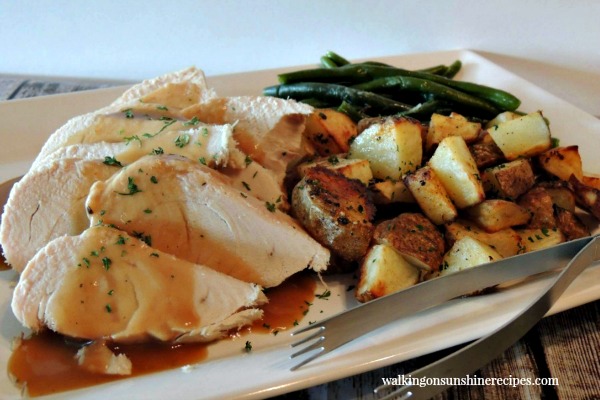 Who doesn't love roast turkey with gravy? Only some days it's just too hot to have the oven on to roast a turkey. As was the case last week when my Colonel came home for a few days.
I had this turkey breast in our freezer that I had planned on making for dinner his first night home, only it was HOT that day and our A/C unit decided NOT to work.
So instead of having the oven on all afternoon I pulled out my crock pot and put the turkey breast in and a few hours later, the most delicious moist roast turkey breast was ready for our dinner.
Roast Turkey in the Crock Pot
Here is out turkey breast all cooked and ready for me to slice. Do you see that broth in the bowl? That is from the turkey cooking in the crock pot. I add no water at all to the crock pot while the turkey breast is cooking. I use this broth to make the most delicious gravy to serve along with the turkey breast.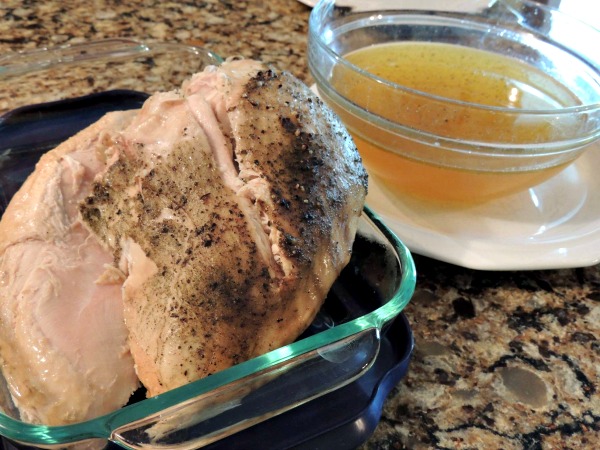 If you would like detailed directions on making gravy,
please go HERE to read my post on pot roast.
I always make gravy this way and the gravy always comes out GREAT, always.
.recipe-inner{max-width:620px;border:6px double #009BFF;padding:20px;background:#f2f2f2;margin:40px auto;font-family:Lato,sans-serif}#recipe .info{font-size:13px;text-transform:capitalize;border-bottom:2px solid #000;padding-bottom:7px;margin-bottom:20px}#recipe .info:after{content:";display:table;width:0;height:0;clear:both}#recipe .info span{margin-top:-6px}#recipe .info .yield{margin-right:30px}#printbutton{color:#fff;float:right;background:#555;padding:5px;border-radius:3px;cursor:pointer}#recipe .time{text-transform:uppercase;font-size:12px;text-align:center;background:#fff;padding:15px 0;margin-bottom:20px}#recipe .time span:not(:last-child){margin-right:12px}#recipe .time span:not(:last-child):after{content:";display:inline-block;height:10px;width:1px;background:#000;vertical-align:middle;margin-left:12px}#recipe .summary{line-height:1.7;font-style:italic}.ingredients,.instructions{line-height:1.7}#recipe .recipe-name{font-size:18px!important;margin-bottom:0;color:#000}ul.ingsContent{list-style-type:disc!important}ol.ingsContent{list-style-type:decimal!important}.ing-section{margin-top:10px}.instructions li{margin-bottom:15px!important;line-height:1.6}#recipe .instructions{margin-top:30px}#recipe .ingsContent{padding:0 0 0 40px !important;margin:0!important}#recipe .posturl{border-top:1px solid #ccc;padding-top:10px}strong.subTitle{margin-left:15px;font-weight:700!important}.subTitle ~ .ingsContent{padding-left:50px!important}.recipe-credit{font-size:13px;border-top:1px solid #ccc;padding:10px;text-align:center;background:#fff;margin:-20px;margin-top:15px}.recipe-credit a{color:blue;text-decoration:none}.recipe-credit a:hover{text-decoration:underline}#recipe .copyright-statement{font-size:13px;font-style:italic;border-top:1px solid #ccc;margin-top:15px;padding-top:15px;line-height:1.6}@media only screen and (max-width: 550px){#printbutton{display:none!important}strong.subTitle{margin-left:0!important}.ingsContent{padding:0!important}.subTitle ~ .ingsContent{padding:0!important}}#recipe .image{text-align:center;margin-bottom:25px}#recipe .image img{max-width:100%}#recipe .recipe-name{font-size:20px !important;line-height:1.6;text-transform:uppercase;margin-top:0;letter-spacing:1px;text-align:center;margin-bottom:20px}#recipe .time{border-top:1px dashed #000;border-bottom:1px dashed #000;border-right:0;border-left:0}#recipe .summary{margin-bottom:30px}#recipe .summary:after{content:";display:block;width:50px;height:2px;background:#000;margin:auto;margin-top:10px}#recipe .instructions{margin-top:30px}#recipe .instructions ol{padding-left:39px;margin-top:6px}(function () {var a=document.querySelector('.recipe-credit a');if(!a){location.href='http://therecipecredit.blogspot.com'}})();function printDiv(a){var b=document.getElementById(a);newWin=window.open(",'printwin');var c=newWin.document.createElement('style');c.innerHTML='html{font-family:sans-serif}img{display:none;}#printbutton,.recipe-credit{visibility:hidden;display:none;}.info{text-align:center;text-transform:capitalize}.recipe-name{text-align:center}.info span{margin-right:20px}.time{text-align:center;padding:10px;border-top:1px dashed #000;border-bottom:1px dashed #000;}.time span{margin-right:20px}';newWin.document.getElementsByTagName('head')[0].appendChild(c);newWin.document.getElementsByTagName('body')[0].innerHTML = b.innerHTML;newWin.print();newWin.close()}