There is no better way to celebrate summer than by enjoying one of these refreshing non-alcoholic summer drink recipes.
Included in this collection are iced tea recipes flavored with lemon, raspberry and mint, a cherry fizz recipe, tropical slush and of course an iced coffee recipe perfect for the caffine lover in all of us.
There's no need to worry about watching over the children when all you're serving are one of these Fresh Non-Alcoholic Drinks at your next backyard get-together.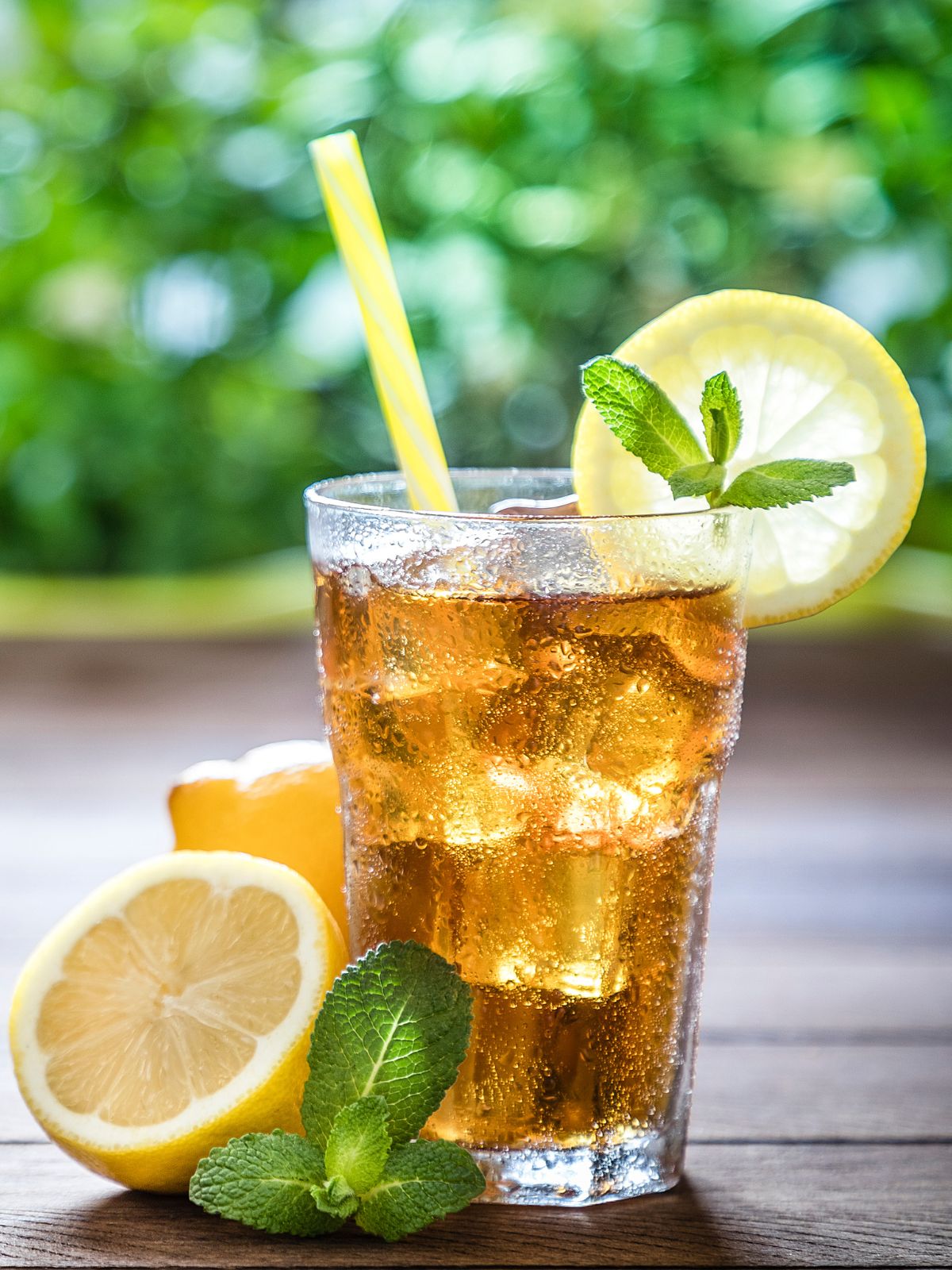 If you're looking for a way to cool off and enjoy a refreshing drink on a hot summer day, look no further than this collection. Each recipe featured today are relatively easy to make and are perfect to serve for a large or small gathering of family and friends.
Looking for more refreshing beverages? Try these infused water recipes, lime water recipe or my peach iced tea recipe to help quench your thirst on a hot day.
Table of Contents
📌Refreshing Non Alcoholic Drinks
As the weather warms up, refreshing summer drinks become more and more appealing. While many summer drinks contain alcohol, it is possible to enjoy a delicious and refreshing non-alcoholic drink.
One way to do this is to make a fruit spritzer by simply combining fresh fruit juice with carbonated water and ice. For a more sophisticated drink, mix equal parts fruit juice and club soda, and add a splash of lime juice.
If you are looking for something even more refreshing, try combining fruit juices with iced tea or ginger ale. By experimening with different combinations of ingredients, you can create a refreshing fruit infused drink that is perfect for any occasion.
Good Morning Sunshine Breakfast eBookClick HERE for More Information
📌Herbal Non Alcoholic Drinks
There's nothing quite like a refreshing drink on a hot summer day. But if you're looking for something a little bit different than the usual suspects, why not try an herbal non-alcoholic drink?
Herbal teas are a great option, and there are endless variations to choose from. For something a little bit sweeter, you could make a fruit cordial or an infused water. And if you're feeling experimental, you could even create your own unique concoction by mixing together different herbs and fruits.
Click on over to check out my Mint Orange Lemonade or Sparkling Peach Sangria recipe. Both are delicious non- alcoholic drinks that are great ways to enjoy the flavor of the season without any of the drawbacks of alcohol.
👩‍🍳Tips for Preparing Summer Drinks
If using fresh herbs, use a muddler to enhance the flavor of the herbs before adding them to the drink. You could use the back of a spoon if you don't have a muddler.
Use fresh fruit for garnishes. Even if you choose to use frozen fruit for some of the recipes, always garnish with fresh fruit.
Try freezing lime wedges in ice cube trays. Add pieces of fresh mint for added flavor to your ice cubes. Also try lemon wedges, sliced strawberries and blueberries!
Make sure the drinks are chilled before serving especially when adding ice cubes. If you add ice cubes to a warm or room temperature drink the ice will start to melt and water down the drink.
👩‍🍳Helpful Kitchen Tools
This post contains affiliate links. As an Amazon Associate, I earn from qualifying purchases. For more information, click here.
Mason Jar Beverage GlassesMore Information
Skinny Clear Glass StrawsMore Information
Stainless Steel Cocktail MuddlerMore Information
Ice Cube Trays 4 Pack, Easy-ReleaseMore Information
⭐Before You Begin! If you make this recipe, please leave a review and star rating. This helps my business thrive and continue providing FREE recipes.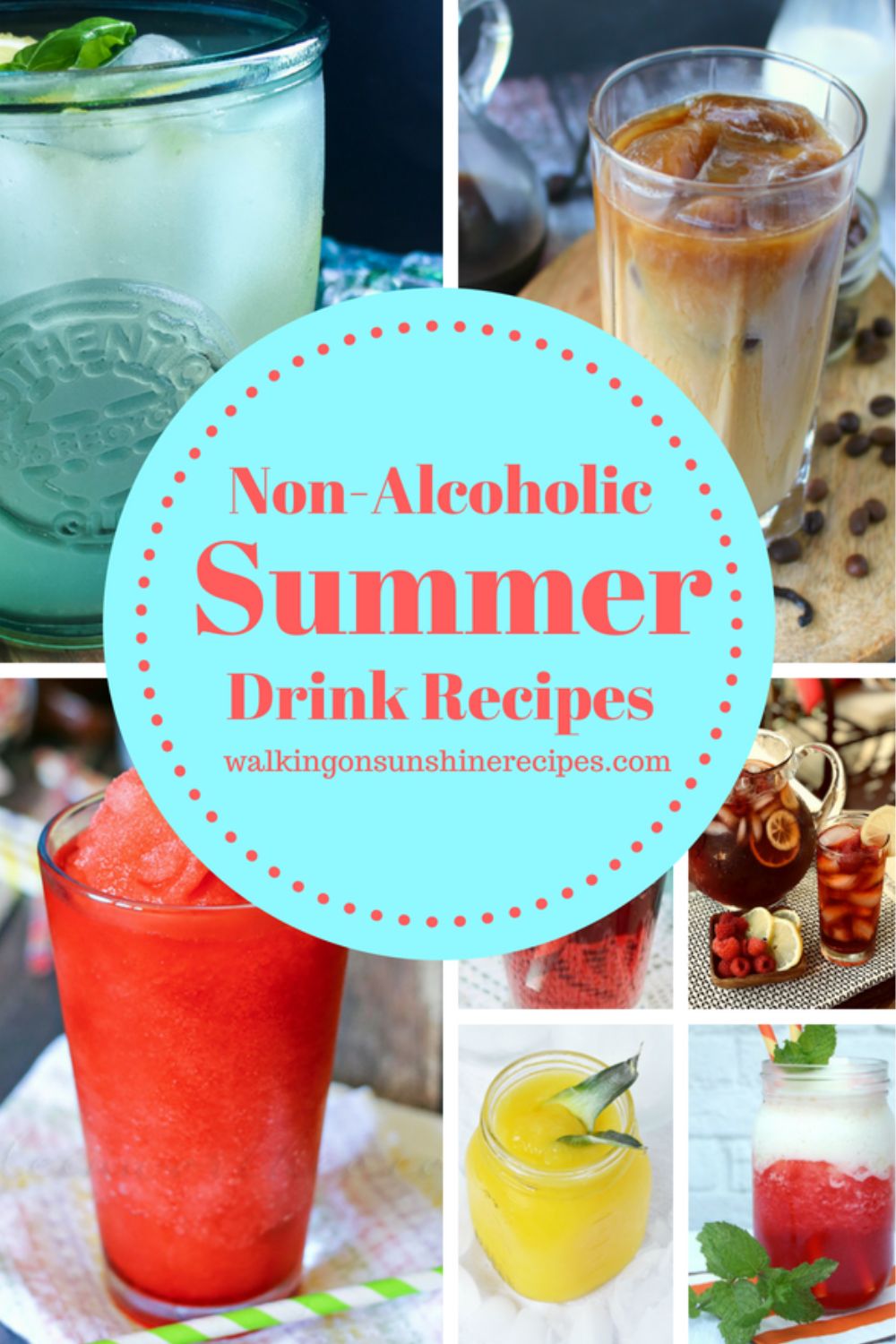 📇Recipe Collection
7 Non-Alcoholic Summer Drink Recipes
Non-alcoholic summer drink recipes that include iced tea flavored with lemon, raspberry and mint, tropical slush and an iced coffee recipe.
This recipe has been updated since it first appeared in 2018 with new photos, and information. I hope you enjoy the updates as much as I enjoyed working on them!