The prefect cheese board appetizer in the shape of a Christmas tree to use this holiday season!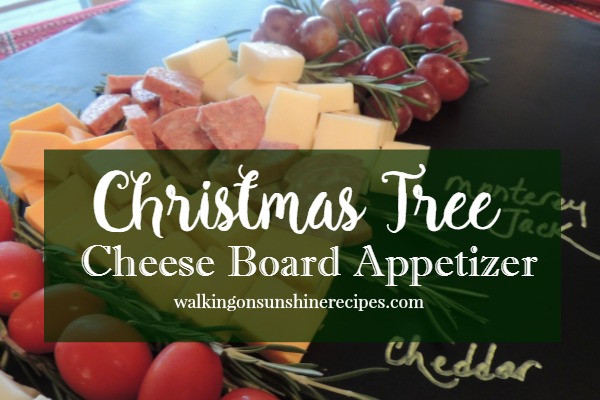 Are you entertaining this Christmas Season?
Even if you're only having a few people over at some point this holiday season, I have a fun and easy appetizer for you to prepare. I prepared this Christmas Tree Cheese Board Appetizer Platter last year for our family's Christmas celebration and it really came out pretty.
I was able to get a few photos before everyone arrived and I've been waiting almost a year to share them with you!
This post contains affiliate links. Your cost is the same, but I earn a commission when you shop through them. Your purchase helps support this site and the fun things I share. For more information, click
here
.
This is such an easy idea for your cheese board platter. It's also very festive. Try to choose cheeses that are different flavors and colors. I also used fresh rosemary to separate the different items and to give the tree definition. I made the star out of the summer sausage with a small cookie cutter. You can make the star out of cheese too.
I didn't add any olives to my Christmas tree cheese board appetizer but you can add green and black olives. There are so many ideas that you can build on to create your own cheese board. Think about what your family likes and start building.
Christmas Tree Cheese Board Platter
I like to cut the summer sausage and cheeses up the day before. I also had a plan in my head as to how I was going to arrange everything. This made assembling everything so easy and I was able to put the tree together right before everyone was due to arrive at our house.

And don't forget the crackers! I had a small try of assorted crackers for my guests to enjoy with the cheese as well.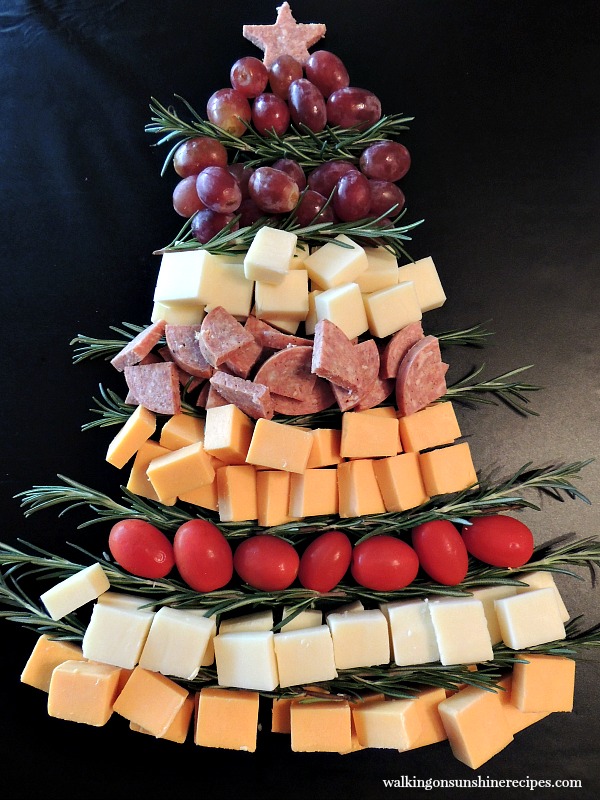 I had my hubby cover a piece of plywood with chalkboard vinyl so I could label everything. How fun does this look? You can use chalk or chalk markers.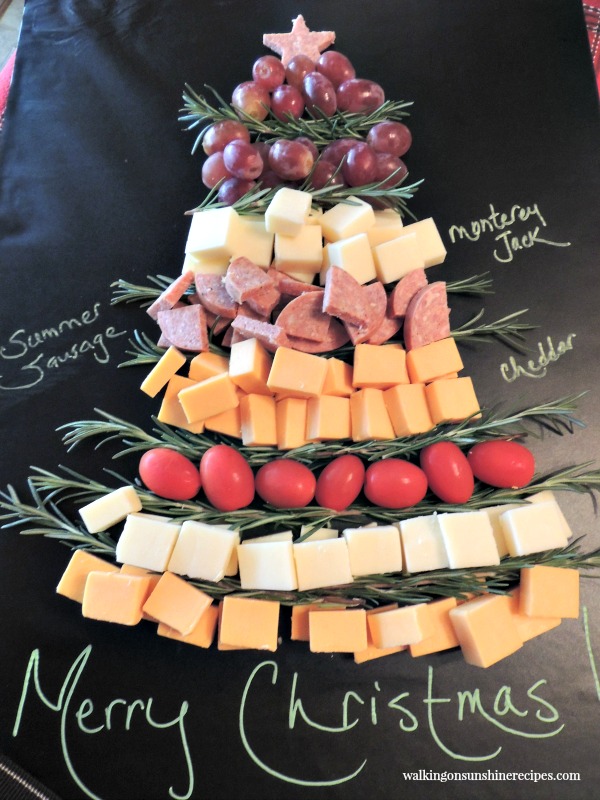 Don't forget to write Merry Christmas!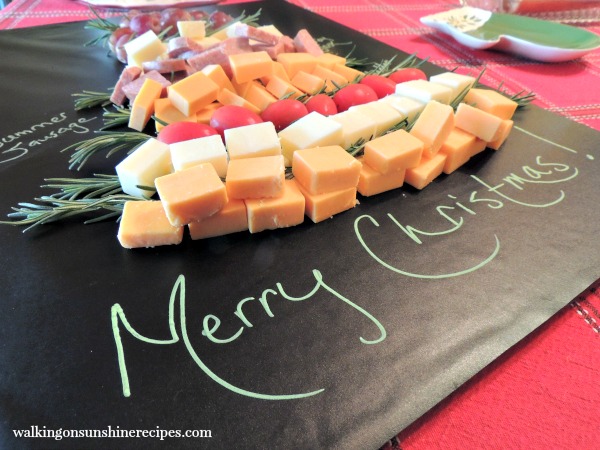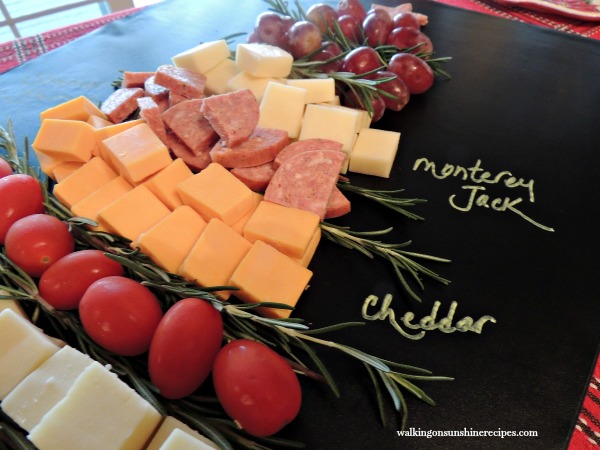 Supplies Needed for the Perfect Appetizer Platter Board
This is the chalkboard vinyl that I used to cover a piece of plywood. Well my hubby did it for me!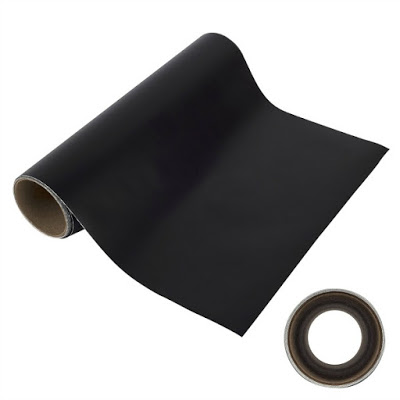 Tips to putting together your own cheese board:
With a cheese board, it's always best to keep things simple. Narrow your choices down to two or three items, Try a few of the items listed below for your party platter.
Cheese – mozzarella, provolone, Parmesan, cheddar are a few of our favorites. We love to use fresh mozzarella that's been marinated as well.
Thinly sliced ham, Genoa salami or pepperoni.
Canned marinated artichokes.
Olives – look for an assortment. Our local supermarket has an olive bar that I love to use when putting together an antipasto platter or salad.
Peppers – marinated or just freshly sliced. Look for an assortment of colored peppers as well.
Fruit – keep it simple. Seedless grapes are usually the best.
Bread or Crackers – try not to have too much if you're serving your antipasto platter before the main meal. You don't want your guests filling up too much so they're no longer hunger for the main meal.
If you are serving bread, you can also offer a fruit or olive spread to use. Don't forget to keep your platter pretty. Use fresh basil leaves or rosemary to help bring the colors together for a beautiful platter.
There is no "correct" way of putting an antipasto platter together. Just remember to select what you and your family enjoy and make it pretty. Lay everything out on a large cutting board or serving platter. You can place the marinated items in small bowls directly on the cutting board or platter. Try to have small forks and plates for your guests to use as well.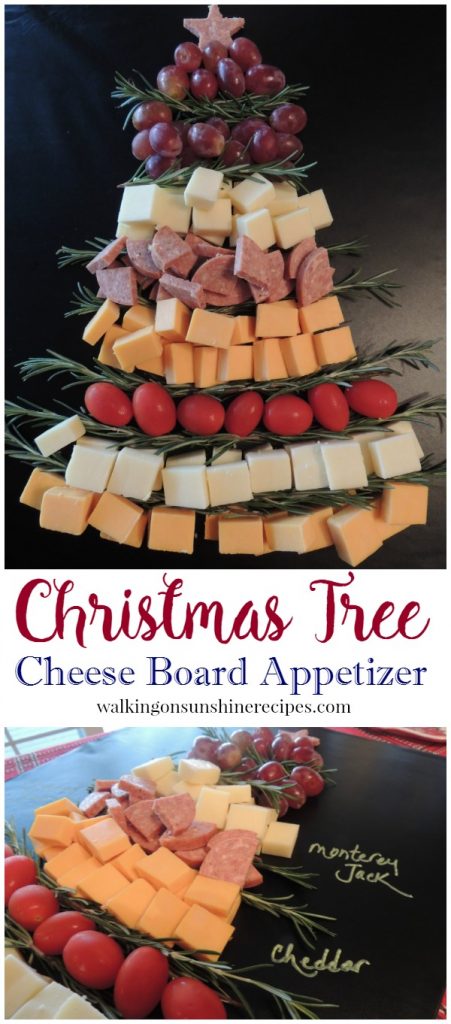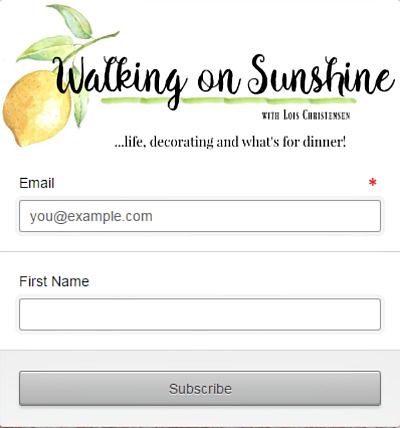 Don't forget to check out my hubby's blog, Manning the Wall.