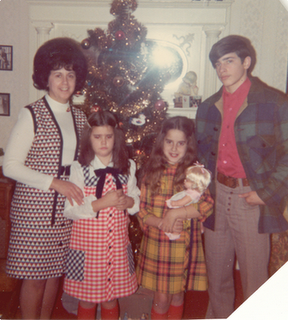 The above is a picture of my family a LONG time ago. 
I'm the one holding the doll. 
Don't worry, my sister is only upset because she couldn't get her doll for the picture! 
Growing up we always opened our gifts Christmas Eve. 
It was always a fun time in our household. 
Most of our "work" was done. 
My mom directed the Youth Choir in which my sister and I sang. 
My mom also sang in the Adult Choir and by Christmas Eve both musicals were over and the only thing for my father to worry about was Christmas Day service. 
My father would begin delivering the Christmas presents to the 
various people who worked in the church in the morning. 
A few times he would take me with him. 
I never really enjoyed going with him. 
I wanted to be home to smell the wonderful cooking. 
My mom would be working away in the kitchen getting ready 
for our big Christmas Eve dinner that night. 
It was always just the 5 of us, which made it special.
During the afternoon she would have cookies and eggnog set up 
for people who would drop by to wish us "Merry Christmas." 
And there was always someone dropping by!  
After dinner we would get to open our presents. 
But first we had to put the Yule Log on TV. 
Watching the fireplace from Gracie Mansion, the home of the 
New York City mayor, was a tradition in our house! 
The music was always so beautiful.  
It seemed it would take us hours to open our presents, 
no rushing, no ripping through the packages.  
Everything was done slowly and we all had to "watch" each other open their gifts. 
When we were first married and started our own family, 
the Colonel and I always opened presents on Christmas Morning. 
However, we found we were rushing through it too often. 
I was always trying to either get a dinner together for company 
or get us in the car to make the long drive to someone's house. 
We decided two years ago enough was enough. 
We were opening presents on Christmas Eve. 
And it was so nice. 
We went to Christmas Eve service and then came home 
and spent as much time as we needed to open our gifts. 
Then, the next morning, the kids slept in and 
I didn't worry about having to get a house cleaned up before our company came! 
The only difference between now and when I was growing up is that 
the fireplace we watch is now in our house…not on TV!
This year will be quite sad because my dad won't be with us.
I still can't get use to that! 
We are going to my mom's house for dinner and then to Christmas Eve service and then home to open gifts with Olivia and Michael.
I'm especially thankful that the Colonel will be home.  
There's already quite a few presents under the tree.  
I'm excited!
Whether you open gifts Christmas Eve or Christmas morning, 
I pray that you will take time to remember the greatest gift given to us…
the gift of Jesus, our Savior…I know I will! 
Merry Christmas!