Here are 12 recipes for Cute Halloween Brownies that are delicious and even just a little bit scary to make for your family. These would really be cute for school parties too!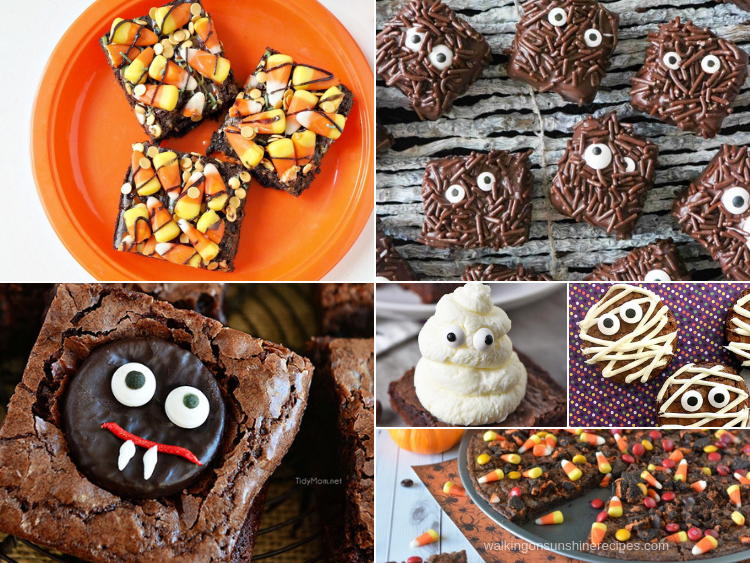 Cute Halloween Brownies
One of the easiest dessert recipes to make is brownies. Especially if you need to bake something for school parties or bake sales. Today I'm sharing with you 12 Cute Halloween Brownies that are so adorable but even more importantly, they're delicious!
My son's favorite dessert is brownies. I have made a lot of brownies over the years for him, but usually they're just plain ordinary brownies. Michael doesn't like anything in his brownies. Which is why I had so much fun putting this list together!
If you're planning on giving these as gifts, make sure you check out the free Halloween Gift Tags I published a few days ago. These cute Halloween brownies will make great gifts for school parties, teachers or even neighbors!
Tips for Making Delicious Brownies
Have your eggs at room temperature before adding them to the brownie batter. The whites and yolks of eggs will combine more easily during whisking when they're at room temperature.
Always line your baking tray with parchment paper. It's so much easier to just "lift" the brownies as a whole out of the pan and then cut.
Use a plastic knife to slice the brownies. Plastic knives have a nonstick coating, which will help give you a clean cut.
Cute Halloween Brownies
To see the recipe, click on the recipe title. EASY!
Mummy Brownies - Adventures of Mel
Minty Fudge Vampire Brownies - Tidy Mom
Halloween Mummy Brownies - Dancing Through the Rain
Halloween Ghost Brownies - Mom Foodie
Whipped Cream Ghost Halloween Brownies - Adventures of Mel
High Hat Brownies - Pint Sized Baker
Halloween Oreo Brownie Pizza - This Mama Loves
Ghost Brownies - Conserva Mom
Halloween Brownies with Monster Eyes- The Anthony Kitchen
Candy Corn Halloween Brownies - Let's Talk Mommy
Halloween Sprinkle Brownies - Savory Experiments
Ghost Peeps Brownies - Betty Crocker

Make sure you pin these Cute Halloween Brownies so you have them saved for later!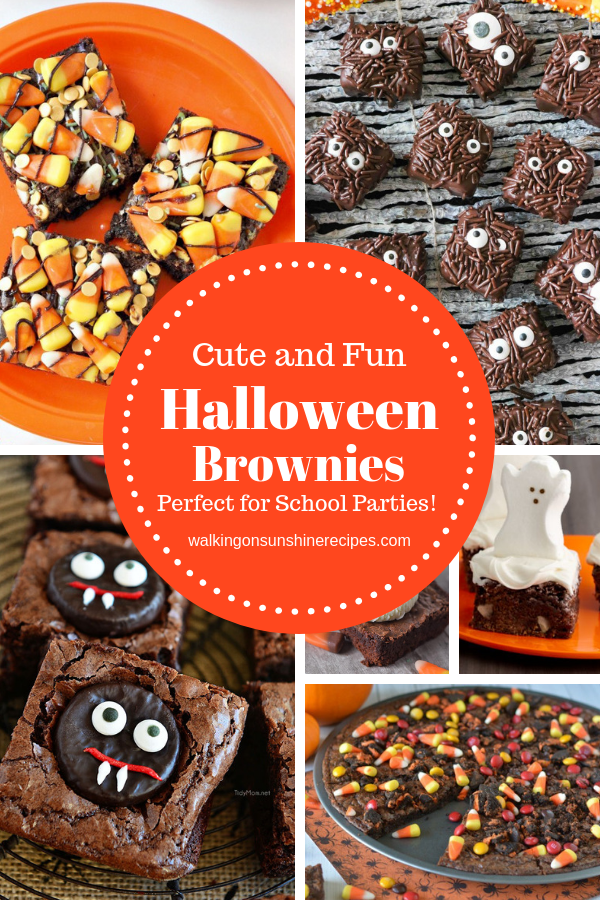 A Few More Cute and Fun Halloween Recipes: