If you're looking for a new cookie recipe to make during the holidays, look no further than these Easy Italian Christmas Cookies!
Just one bite of these festive cookies will have you wishing it was already Christmas! Made with butter, flour, sugar, eggs, and almond extract, they're sure to be a hit at your next gathering.
The best part? They're easy to customize with various shapes, sizes, and decorations!
Let me show you another Christmas Cookie Recipe you need to bake this holiday season.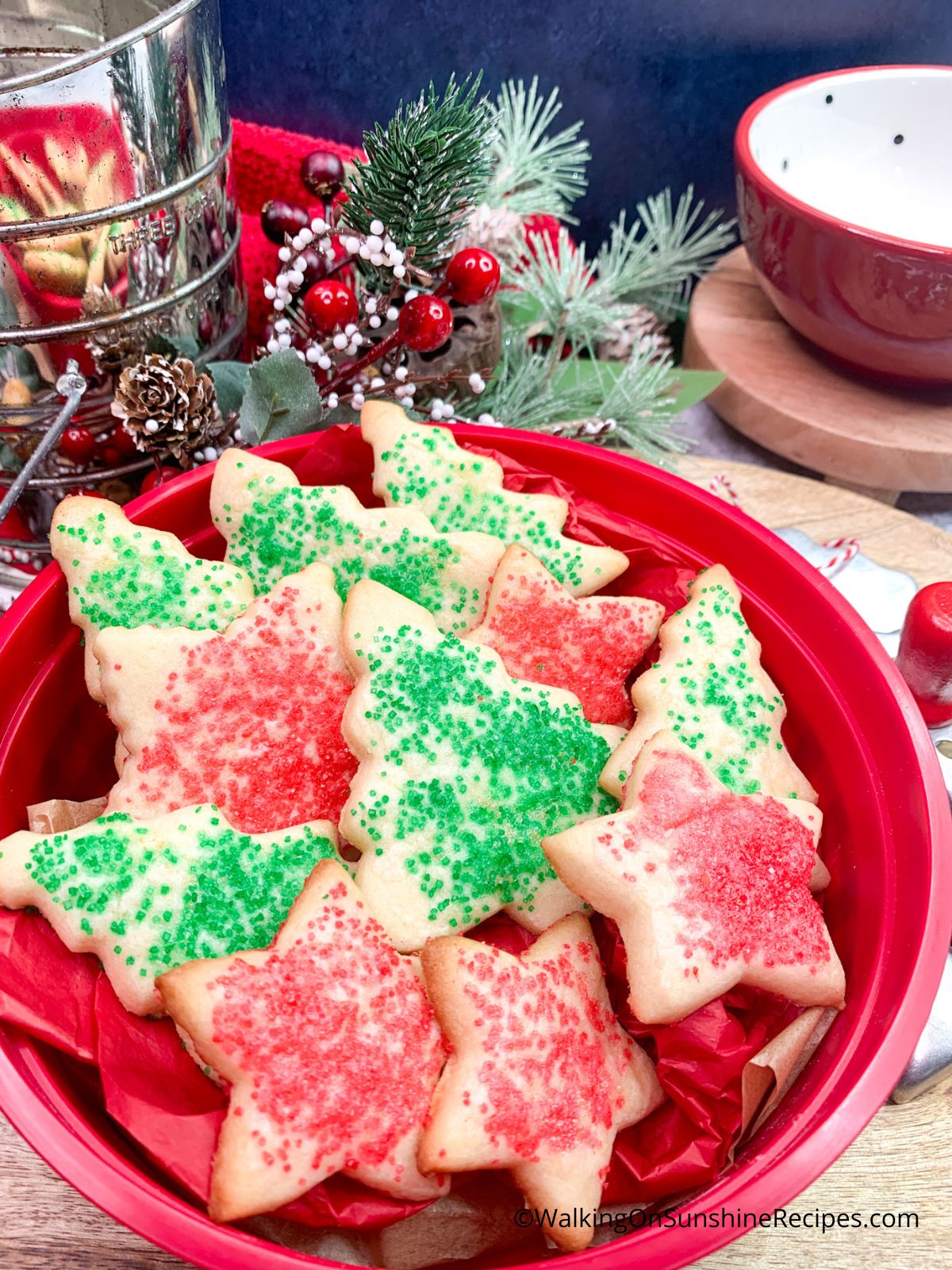 Making your own Christmas cookies is a fun way to get into the holiday spirit! These easy Italian sugar Christmas cutout cookies are simple to make, and they taste delicious. Plus, they're a great way to show off your baking skills.
This recipe was inspired by Italian Christmas Tree Cookies recipe that I shared with you last year.
They're simple to make and taste delicious. Plus, they're perfect for any Christmas party, holiday cookie exchanges or family gathering. These cookies like my other easy cookie recipes will disappear fast!
So get your baking supplies ready and give this recipe a try! You won't be disappointed.
Table of Contents
Looking for more Easy Desserts and Christmas Cookies? Try my Chocolate Christmas Cookies, Reindeer Desserts or my Christmas Refrigerator Cookies.
💭What kind of Christmas cookies freeze well?
There are a lot of factors to consider when choosing which Christmas cookies to freeze.
First, you need to think about what kind of texture you're going for. Do you want a cookie that will stay soft and chewy, or one that will be more crisp?
Second, you need to consider the ingredients. Some cookies, like sugar cookies, are more likely to freeze well than others, like gingerbread cookies.
Finally, you need to think about how you're going to store the cookies. If you're planning on freezing a large batch, you'll need to make sure you have enough space in your freezer.
With all of these factors in mind, here are a few of the best Christmas cookies to freeze, just be sure to wrap them tightly in plastic wrap or aluminum foil before freezing to prevent them from drying out:
Sugar cookies are perfect for freezing because they maintain their texture and shape well.
Shortbread cookies are also a good choice because they freeze well and taste great straight from the freezer.
No-bake cookies are a great option if you're short on time or don't want to deal with the hassle of baking.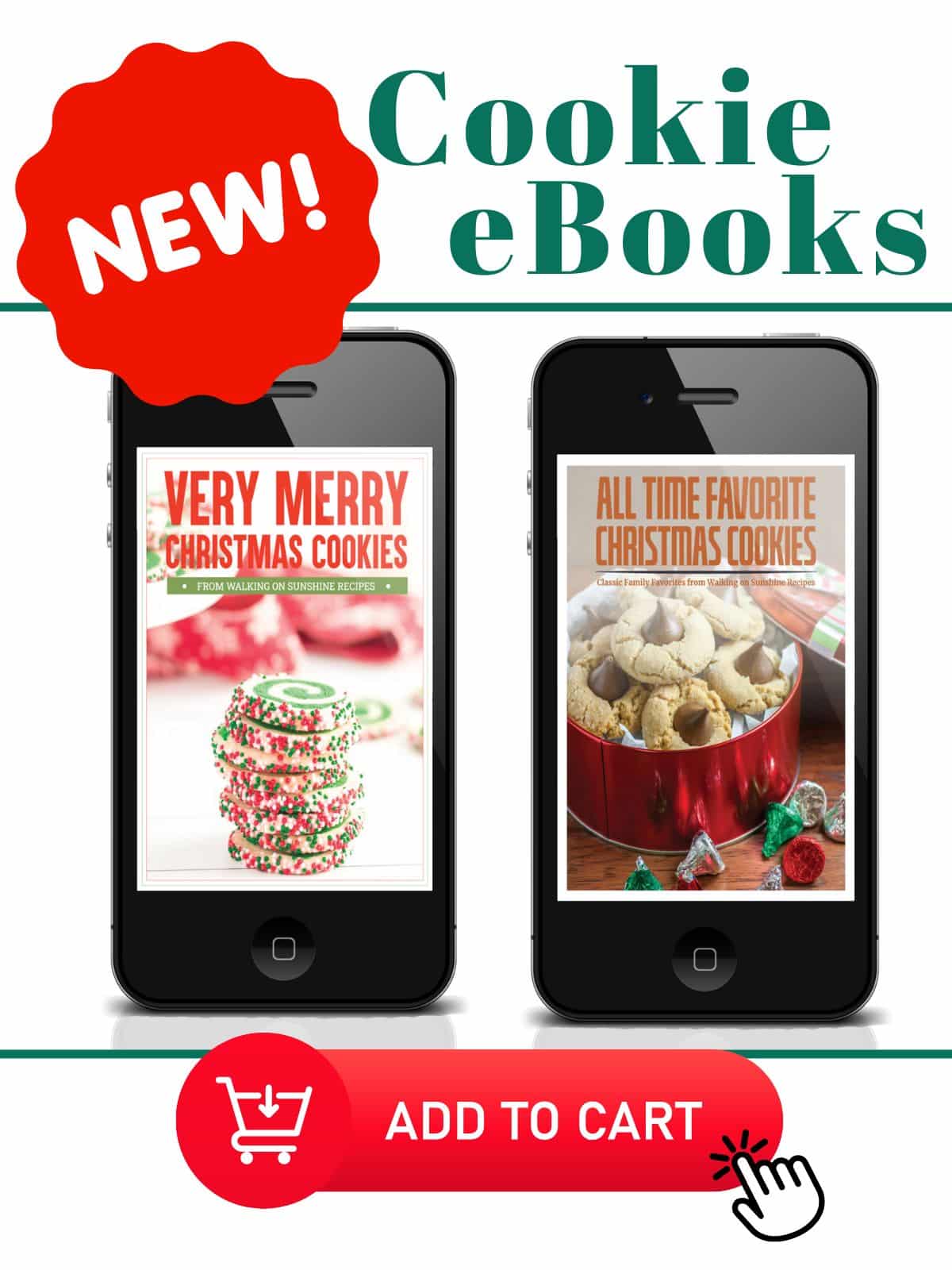 💭Traditional Italian Christmas cookies
Baking Christmas cookies are a tradition in most Italian families. With Christmas just around the corner, now is the perfect time to whip up a batch of these delectable treats.
Traditional Italian Christmas cookies, like my Best Italian Cookies, are typically made with a type of shortbread dough that is flavored with lemon, almond or anise. The cookies are often shaped into various forms, such as crescent moons, stars, or shells.
They may also be decorated with icing, nuts, or candied fruit. While the specific ingredients and shapes vary from region to region, traditional Italian Christmas cookies are typically baked in advance of the holiday and stored in airtight containers.
On Christmas Eve, the cookies are then served as part of a dessert course or alongside a cup of coffee or tea. In some families, it is also customary to leave a plate of cookies out for Santa Claus.
Check out my grandmother's Ricotta Cookies.
🛒Helpful Kitchen Tools
This post contains affiliate links. That means that if you make a purchase after clicking on a link I may earn a small commission at no extra cost to you. For more information, click here.
Farberware Classic Wood Rolling Pin
Wilton Holiday Cookie Cutters, Set of 4
Natural Colored Sanding Sugar Crystals (Red Sugar)
Green Sparkling Sugar
📋Main Ingredients Needed
This is an overview of the ingredients and instructions. Be sure to see the recipe card below for exact quantities, detailed instructions and special notes.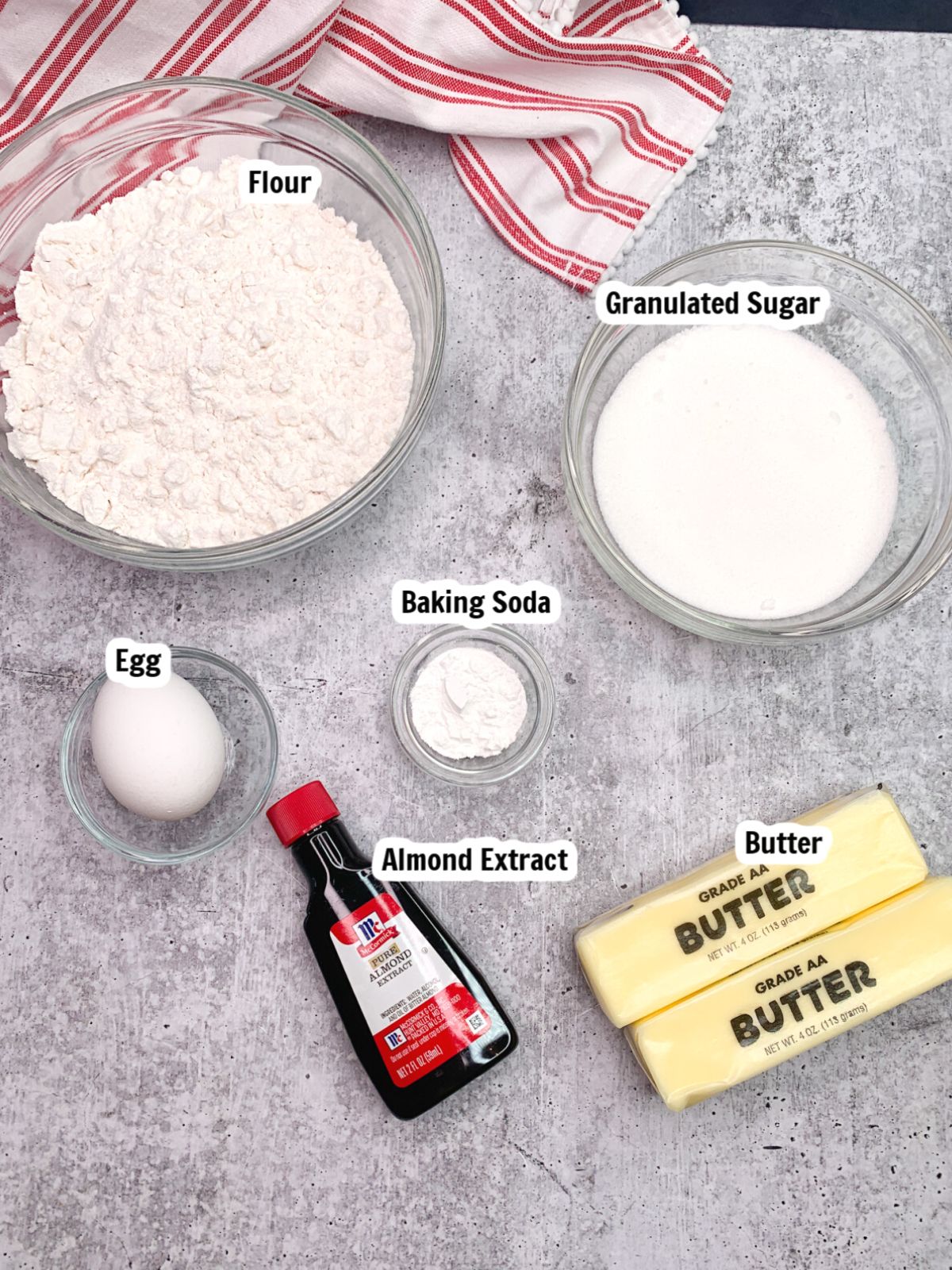 🔪Step-by-Step Instructions
Step 1 | Combine the Ingredients
Using an electric mixer, combine together the butter and sugar.
Add in the egg and almond extract.
Then stir in the flour that's been combined with the baking powder.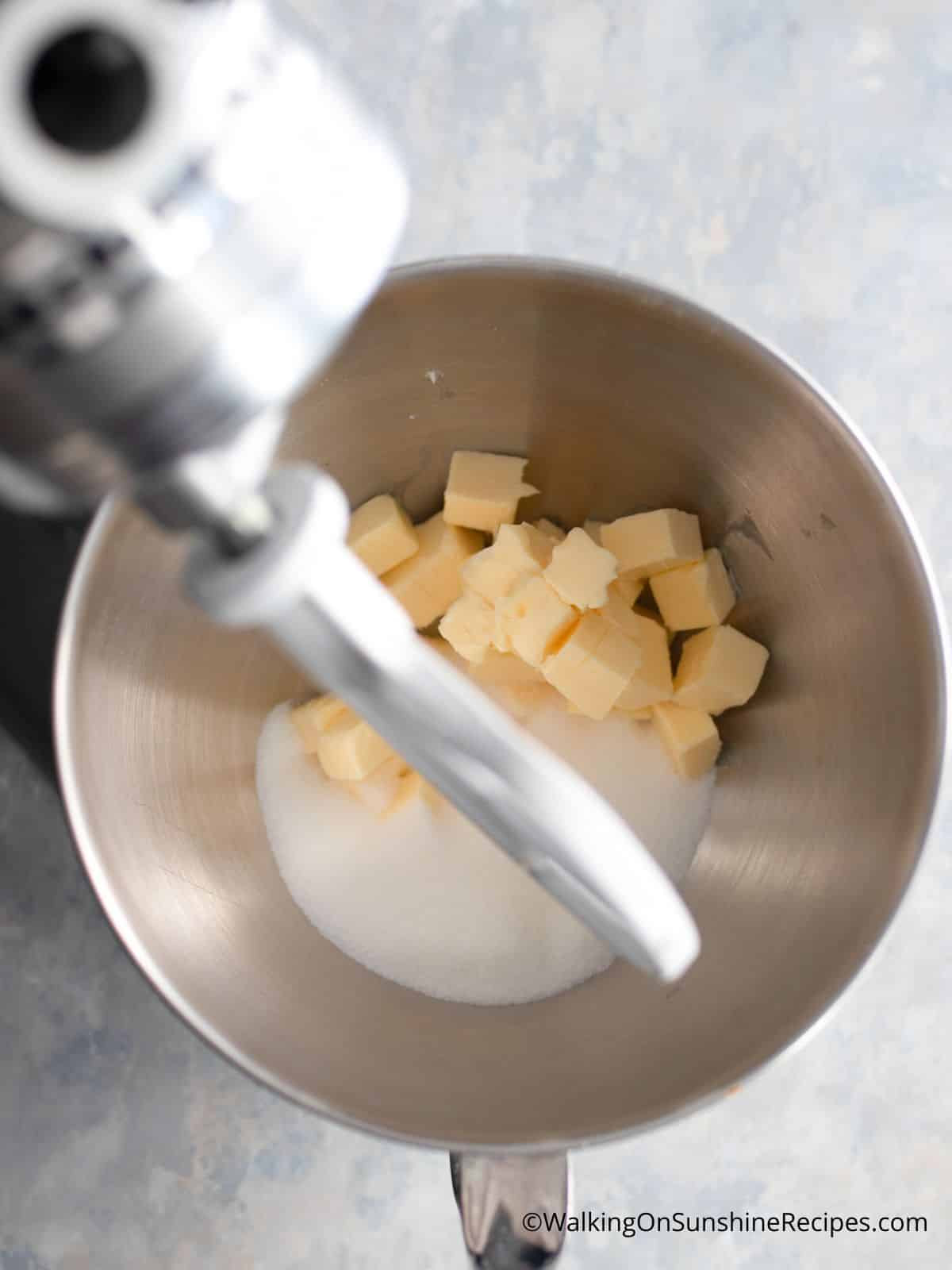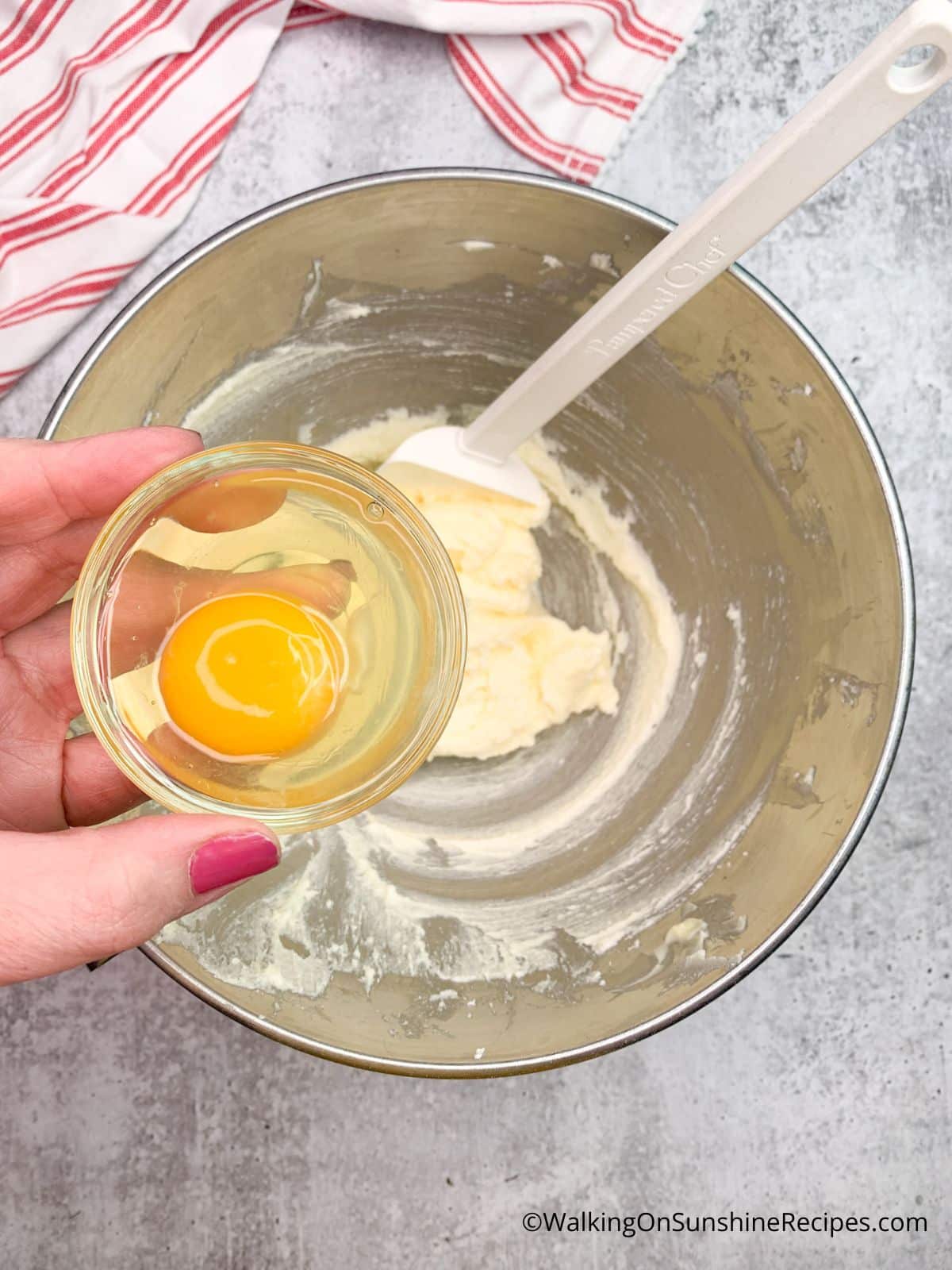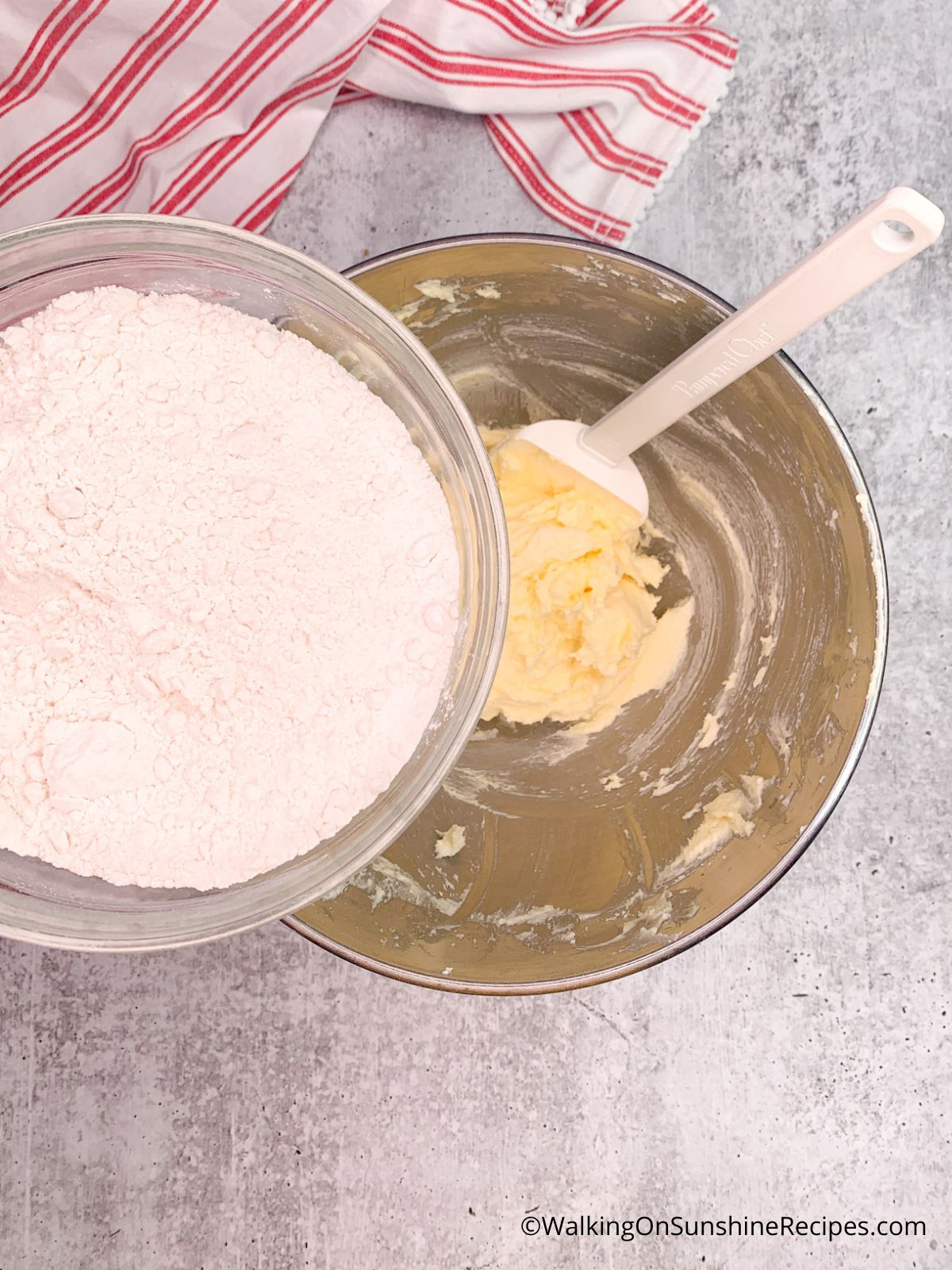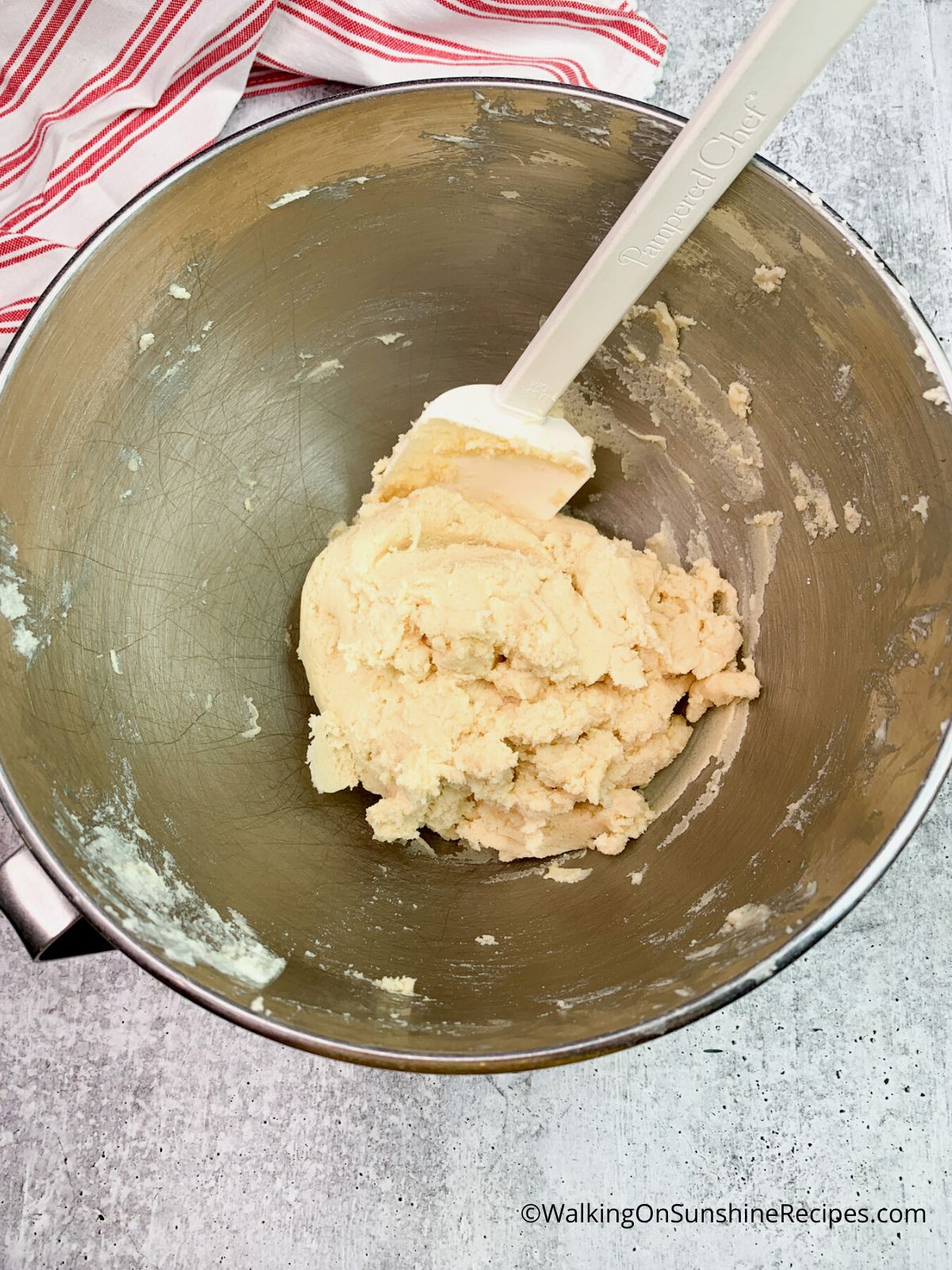 Baking Tip: Almond extract is a food flavoring made from the oil of roasted almonds. It is used in a variety of baking recipes, as well as in some savory dishes.
Step 2 | Chill the Cookie Dough
Once the dough comes together, remove it from the mixing bowl and shape into a disc.
Wrap in plastic wrap and chill in the refrigerator for an hour.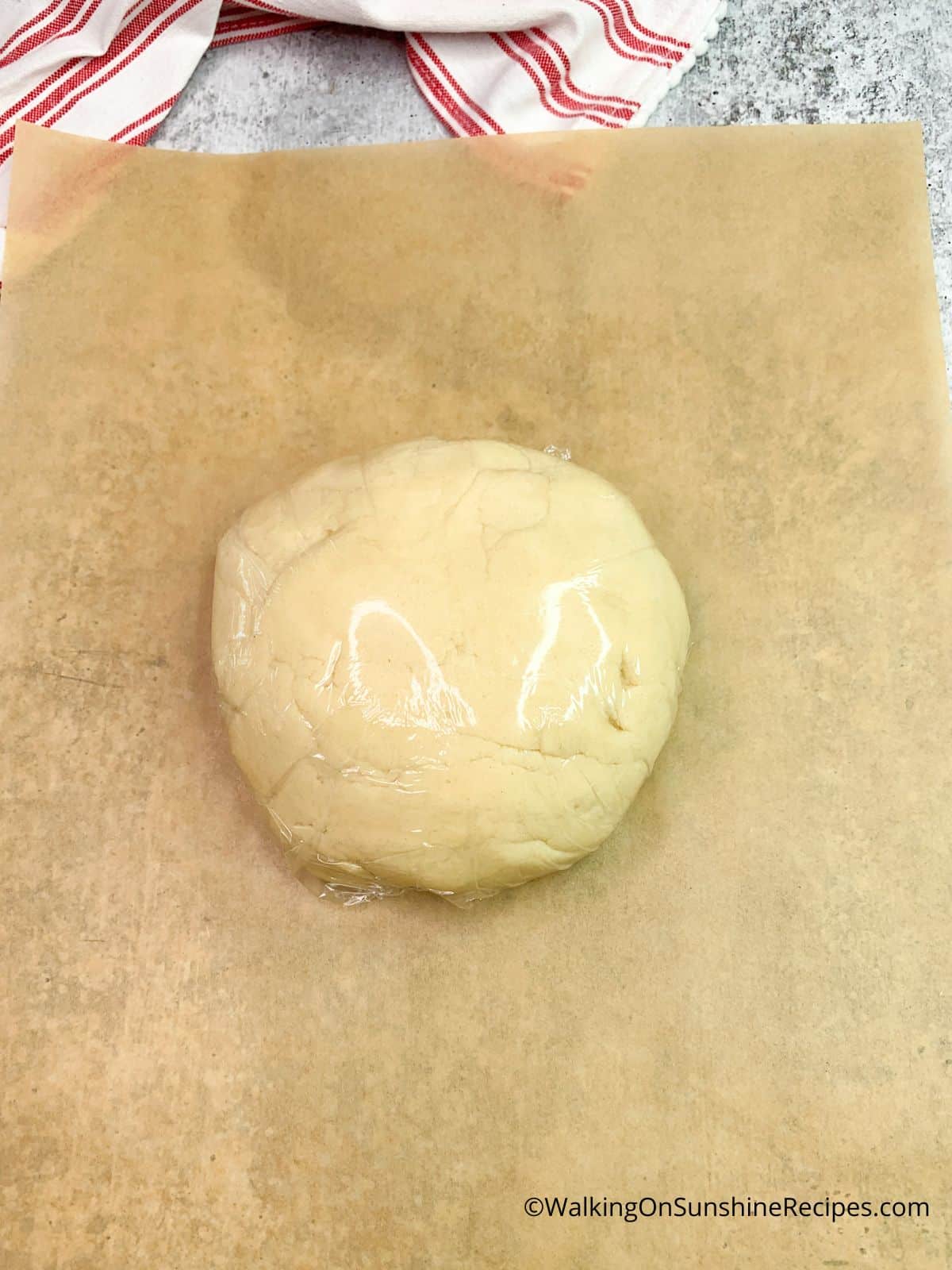 Baking Tip: Chilling the dough helps to firm up the butter, which in turn prevents the cookies from spreading too much during baking. It also gives the flour a chance to absorb moisture, resulting in a more tender cookie.
Step 3 | Roll out the Cookie Dough
Roll out the cookie dough on a lightly floured surface.
Begin cutting out shapes using your favorite cookie cutters.
Place the cookie shapes on a parchment lined baking sheet.
Brush each cookie with the egg white and then decorate with red and green sanding sugar.
Bake in a preheated 350°F oven for about 10 to 12 minutes or until the edges are slightly golden.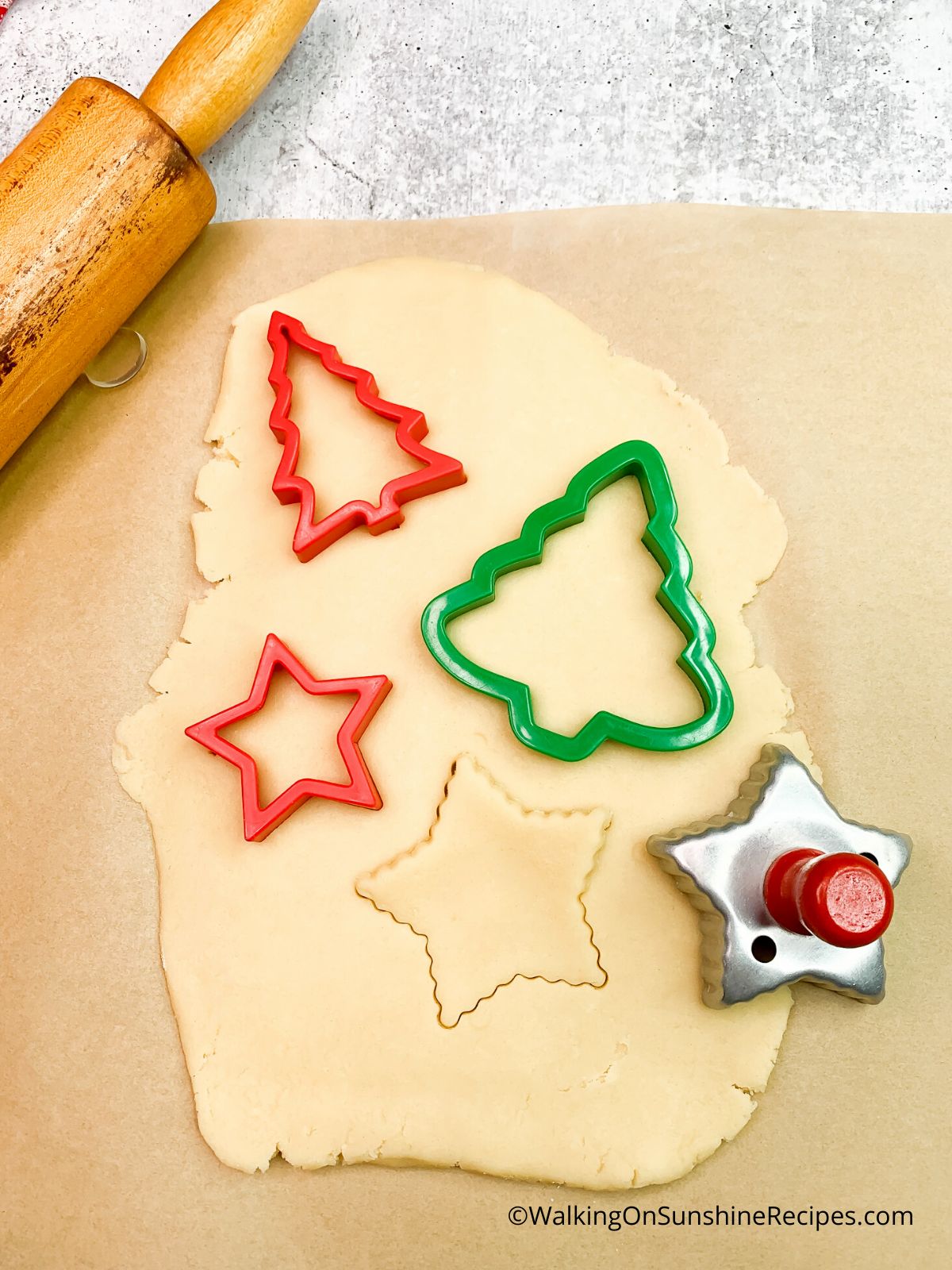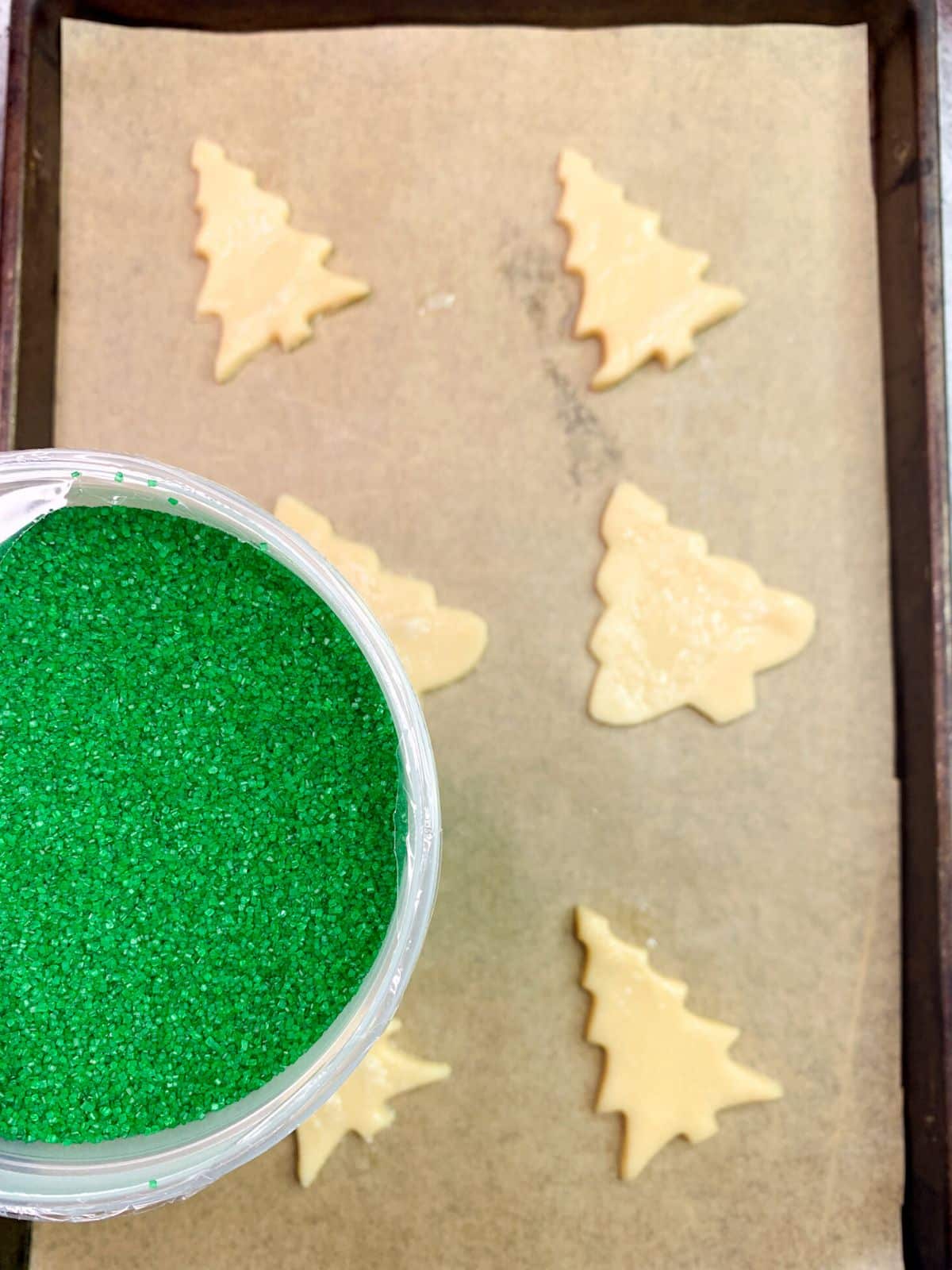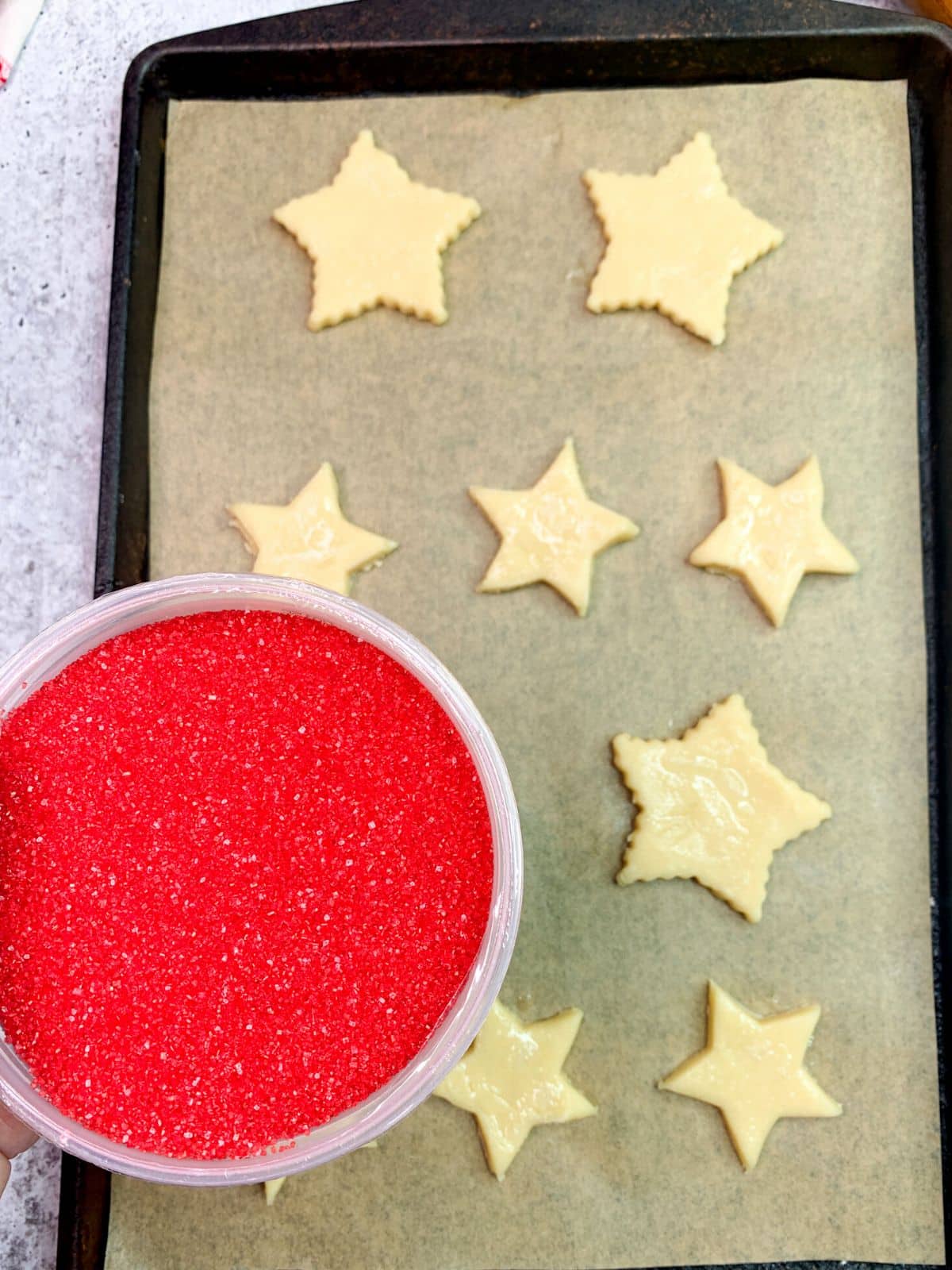 ⭐Before You Begin! If you make this recipe, please leave a review and star rating. This helps my business thrive and continue providing FREE recipes.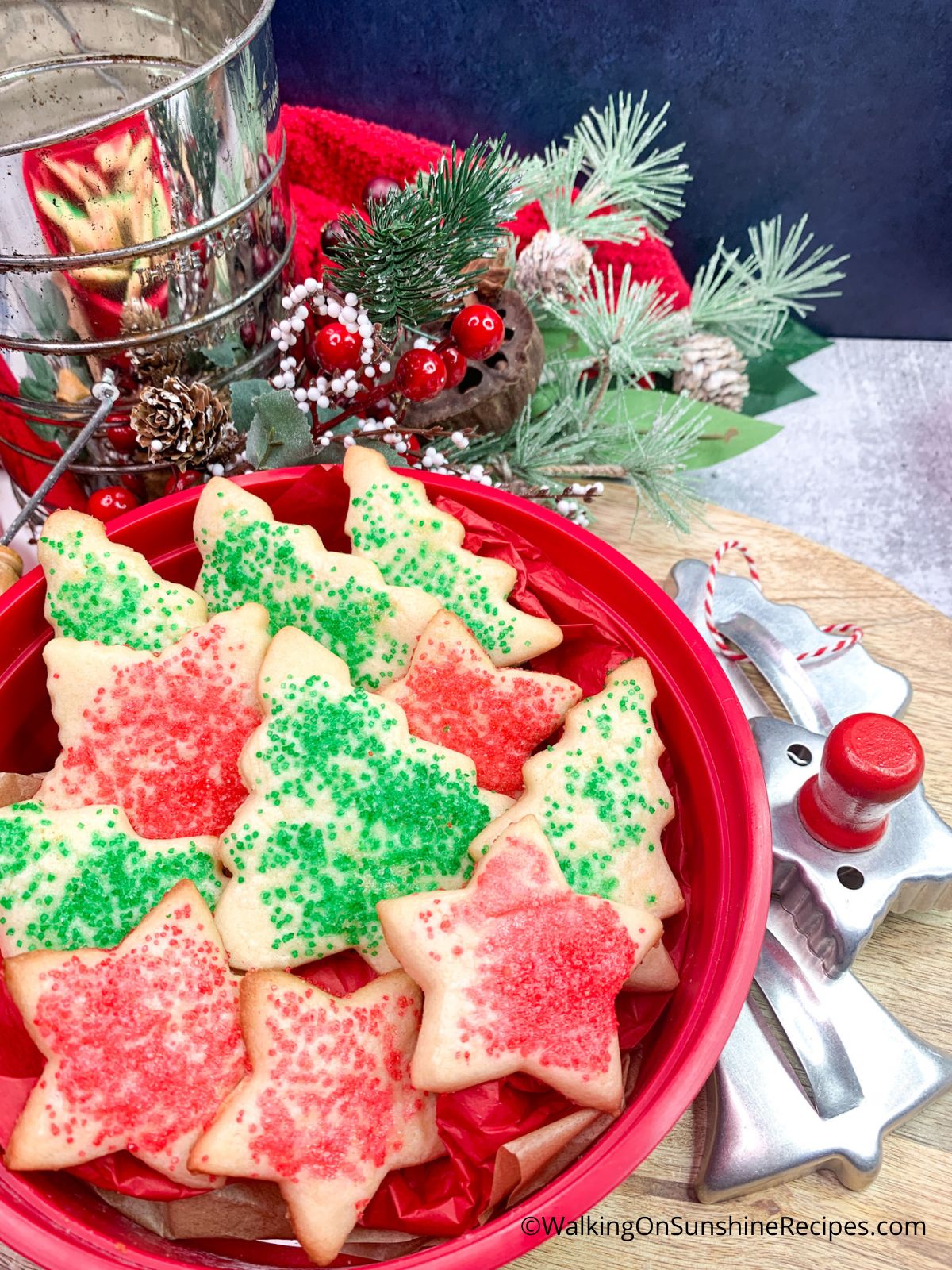 🍽Make it a Meal
Especially now during the holidays, meal planning helps us all get dinner on the table.
Check out the Weekly Meal Plans available here on the site. And while you're looking through the plans, make sure you head on over to Eat at Home for their subscription service where you can save 25% off any plan with the code WOS25.
Save 25% off any plan with the code WOS25
💭Recipe Variations
You can use this recipe all year long for different holidays. Simply change the shape of cookie cutter.
You can prepare a simple powdered sugar glaze to spread on the cookies if you want them to be a little fancier.
Check out my other recipe for Sugar Christmas Cookies for the glaze used that would be a fun way to change this recipe.
💭How to store Christmas cookies
Store the baked cookies in an airtight container in a dark cool place.
You don't have to worry about the cookies sticking together while in the container. Although I still like to separate the layers with a piece of parchment paper.
They should stay fresh for about 7 days.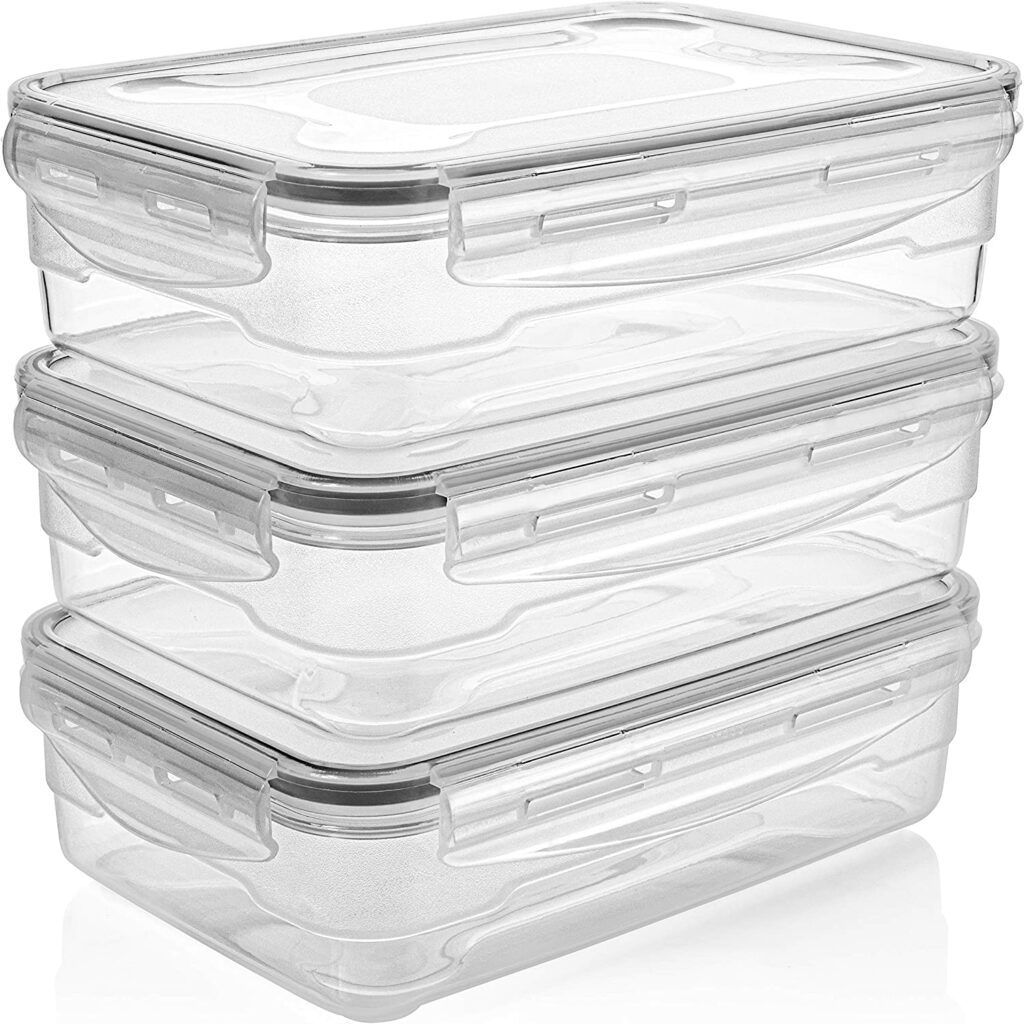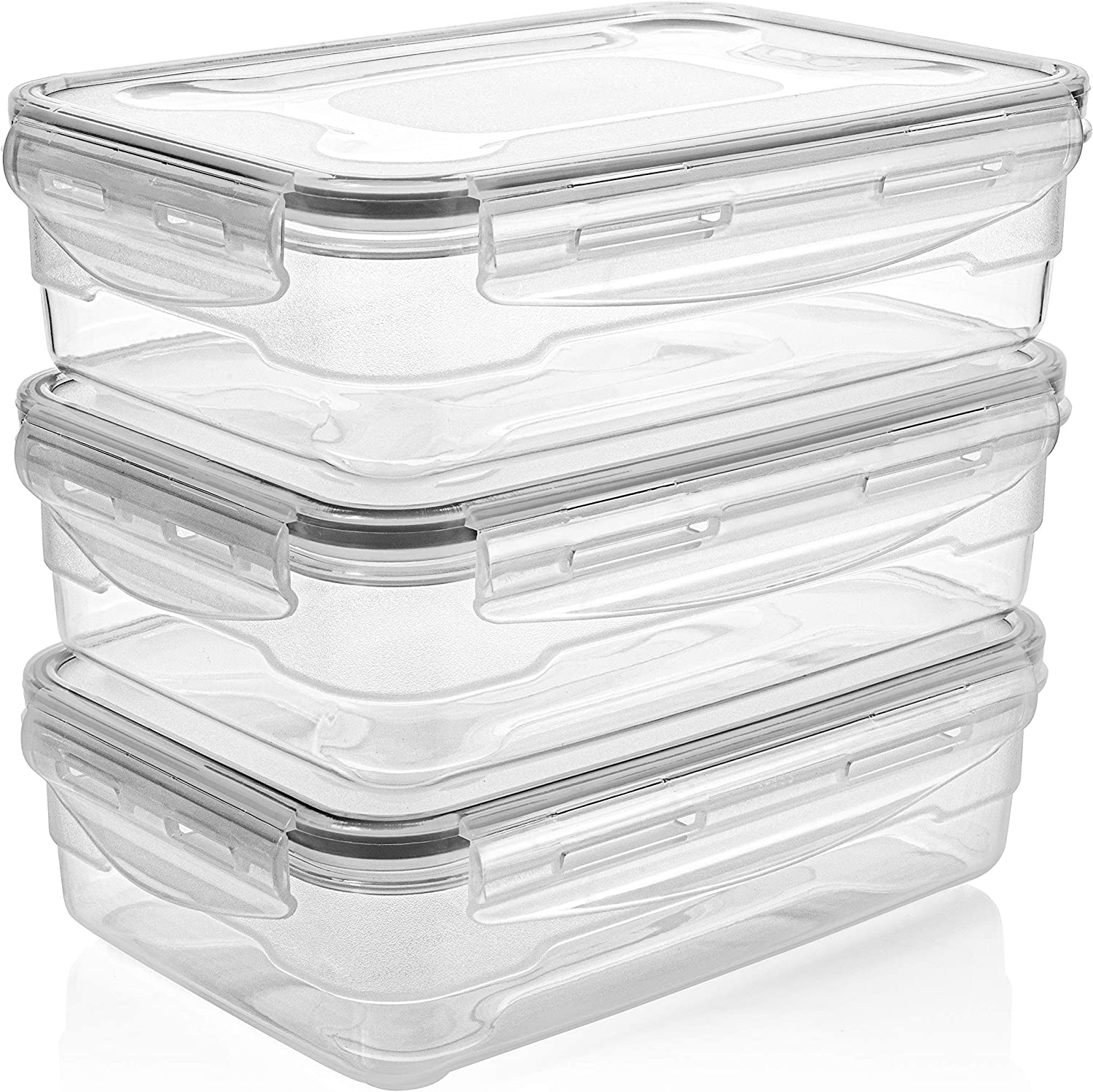 Air-Tight Storage Containers: these air-tight storage containers that help keep food fresh for longer. Use them to store fresh baked goods, cookies, fruit and vegetables, left overs, and more. The silicone lids lock to close to ensure an air tight seal. The stackable, multi-size design makes these containers easy to store. They're perfectly sized for the fridge, freezer, or cupboard.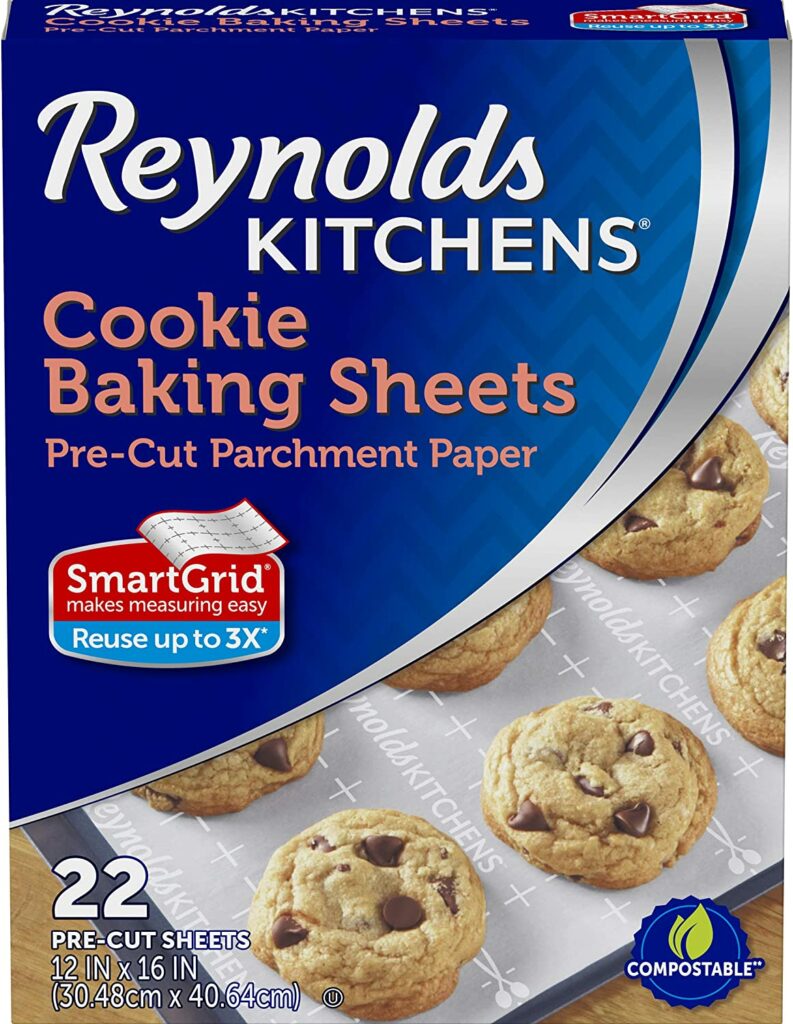 Parchment Baking Sheets: Ensure your cookies are precisely spaced and bake evenly without sticking or breaking. Pre-cut to 12" x 16" sheets, they make your prep, baking and clean-up a breeze. Use them to roll-out dough, line baking sheets, decorate cookies and even wrap your finished creations for a beautiful gift.
Yield: 35 cookies
Easy Italian Christmas Cookies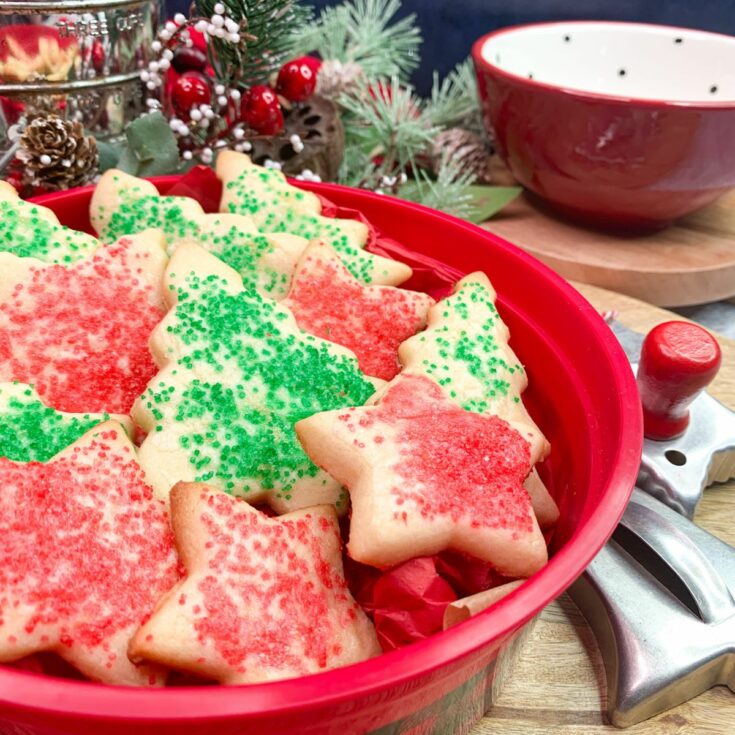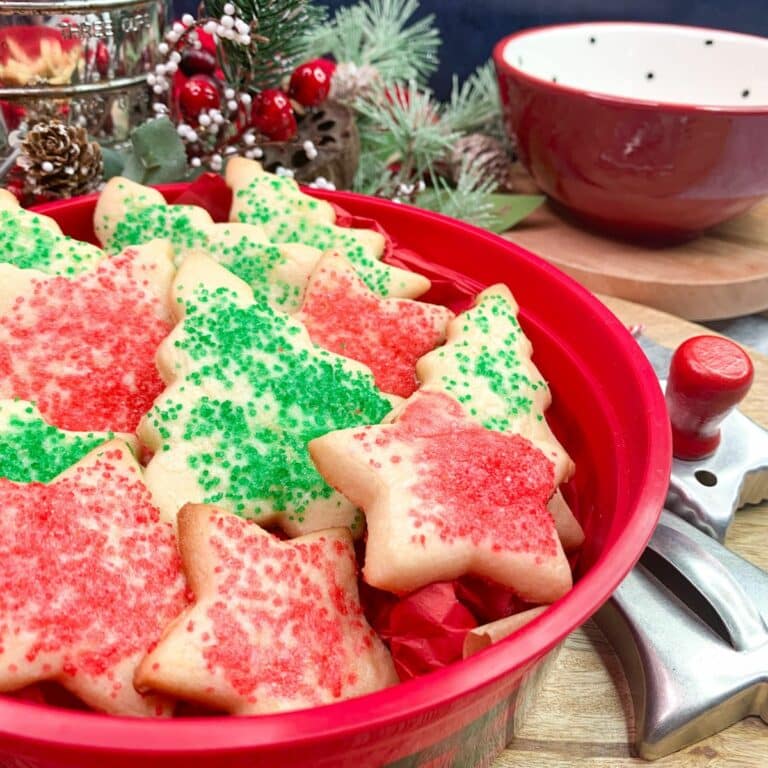 Made with butter, flour, sugar, eggs, and almond extract, this recipe for Easy Italian Christmas Cookies are fun to customize with cookie cutters & decorations!
Total Time
1 hour
20 minutes
Ingredients
2 cups all purpose flour
1 ½ teaspoons baking powder
1 cup butter, softened
¾ cup sugar
1 egg
½ teaspoon almond extract
To Decorate the Cookies:
1 egg white
red and green sanding sugar
Instructions
In a large bowl on medium speed, beat the butter and sugar together until creamy.
Beat in the egg and almond extract.
Slowly add the sifted flour and baking powder in a little at a time until everything is combined.
Turn the dough out on a cutting board and shape it into a disc.
Wrap the dough in plastic wrap and refrigerate an hour.
On a lightly floured surface, roll out the dough.
Arrange the cookie cutters on top of the dough and cut out the shapes.
Repeat until there is no dough left.
Place the cookies on parchment lined baking sheets.
Brush each cookie with the beaten egg white. Then sprinkle the red and green sanding sugar on top.
Bake in a preheated 350°F oven for about 10 to 12 minutes or until the edges are slightly golden.
Notes
You can substitute 1 teaspoon of vanilla extract for the almond extract if you prefer.
Nutrition Information:
Yield:
35
Serving Size:
1
Amount Per Serving:
Calories:

92
Total Fat:

5g
Saturated Fat:

3g
Trans Fat:

0g
Unsaturated Fat:

2g
Cholesterol:

19mg
Sodium:

66mg
Carbohydrates:

10g
Fiber:

0g
Sugar:

4g
Protein:

1g
The nutrition information is calculated automatically. I cannot guarantee its accuracy. If this data is important to you, please verify with your trusted nutrition calculator.