I received this food vacuum sealer by Vacuvita® Vacuum System for review at no charge and was not monetarily compensated for this review.  All opinions, as always, are my own.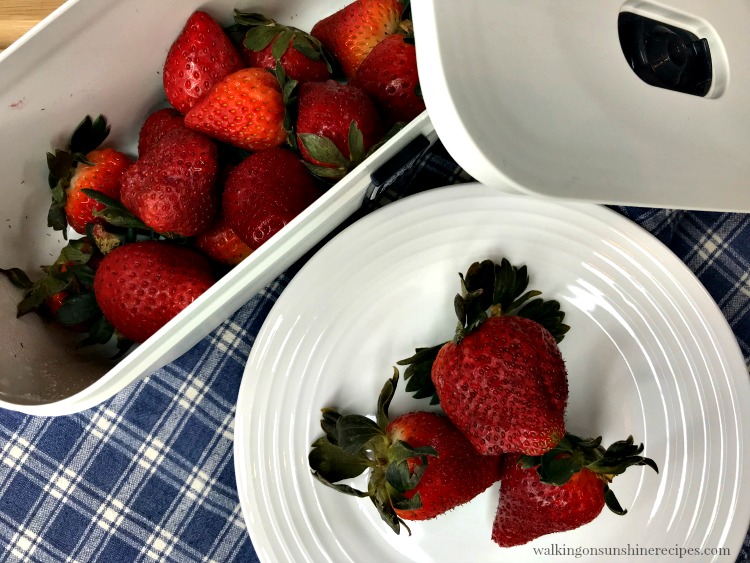 Food Vacuum System
For this week's Kitchen Tip I'm going to share with you how to store food and eliminate waste using a food vacuum sealer with the Vacuvita® Vacuum System.  This vacuum system is amazing and can provide you with everything you need to start storing your food longer and keeping it fresher.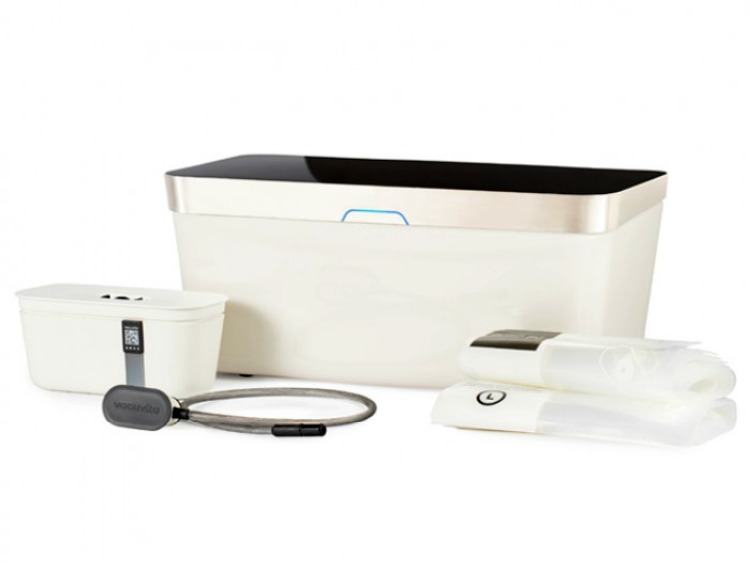 Every week in my kitchen I throw away food...and I'm sure you do the same.  At least once a month or so I notice something I froze to use at a later date didn't freeze well and is no longer edible.
When things like this happen all I can think about is the money I wasted on food that we didn't and couldn't eat.  Did you know that the average household wastes 1300 pounds of food per year  and up to $1500 in waste. But that won't happen any longer now that I've discovered the Vacuvita® Vacuum System.
Enjoy your daily fresh food, stop food wastage and save money. Vacuvita® is a fully-automated and sustainable food vacuum sealer system that keeps food fresh for up to 5 times longer! No more freezer burned meat, dried out vegetables and soggy salad.
Vacuvita One Touch Storage System
Vacuvita® stores food in an eye-catching container, the Home Base, to keep it fresher longer. The Home Base then pairs with an easy-to-use vacuum tube to seal food in coordinating, reusable containers or vacuum seal bags.
That's right, this system utilizes not just vacuum storage bags along with different sizes of food storage containers. The bags comes in two different sizes and are completely resealable with a zipper. Vacuvita bags are BPA and BPS free and made out of a multi-layered plastic that is stronger than what most competitor's use.
The Home Base not only allows you to keep food fresh right on your counter top, but it can also be used to apply vacuum to external containers and bags.  You can use the home base to store loaves of bread, potato chips, crackers...anything that you normally would store in the pantry.
The home base cannot be stored in the refrigerator or freezer because it needs to be plugged in.  It opens easily with the push of the button so you can have access to what's inside.  And once you close the home base again, it automatically reseals to continue keeping everything fresh.
Vacuum Bags and Containers
When you want to seal up bags or containers, you just plug the adapter in and a button will appear on the lid of the home base.  Then you place the adapter on the sealing part of the container or the bag, press the button and in no time at all the vacuum has completely sealed the container or bag.  Easy!
When I was offered the opportunity to review this system, I knew right away this would be the perfect way for me to seal and preserve the fresh vegetables we grow every summer in our garden.  I was also interested in taking advantage of sale items at the grocery store!
Tips for Storing for Ultimate Freshness with using the Vacuvita® Vacuum System
When storing bread products in your Home Base, leave it wrapped in paper or plastic.
Do not store both dry and moist foods in Home Base simultaneously.
Wash, clean and dry fresh fruits and vegetables before vacuum sealing in bags.
Never store bananas or soft cheese in vacuum.
For more information on how to use this system, please visit their website to Vacuvita® Vacuum System.
How to use a Food Vacuum Sealer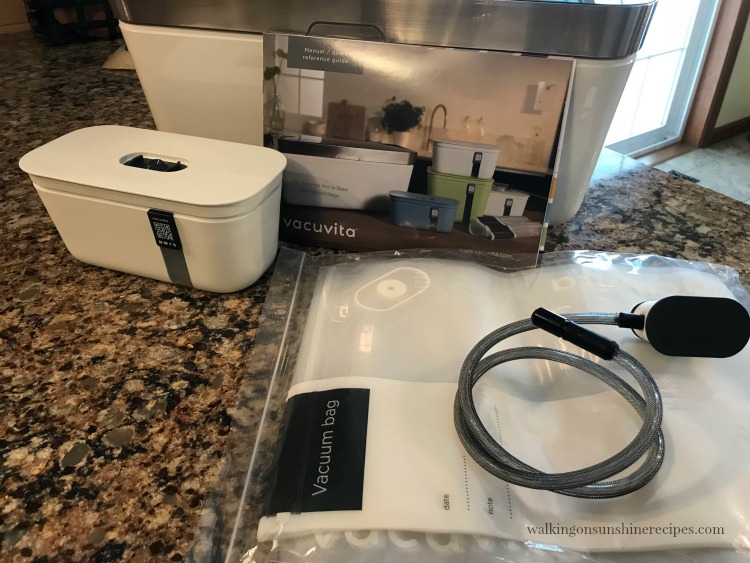 The first thing I wanted to try out was using the reusable containers.  I added the strawberries to the container and hooked it up to the vacuum system.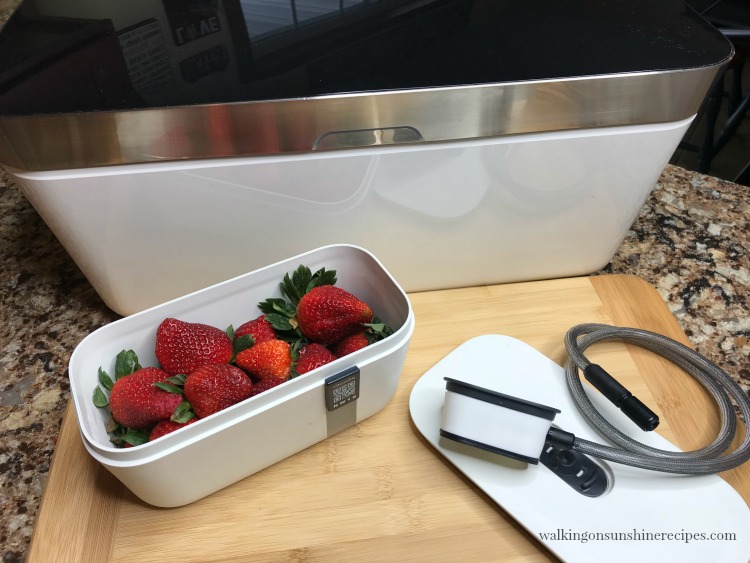 I placed the sealed container in the refrigerator. Three weeks later, opened it and the strawberries were as fresh as the day I vacuumed them!  Yes, the greens on the strawberries were a bit wilted, but all in all this was pretty amazing!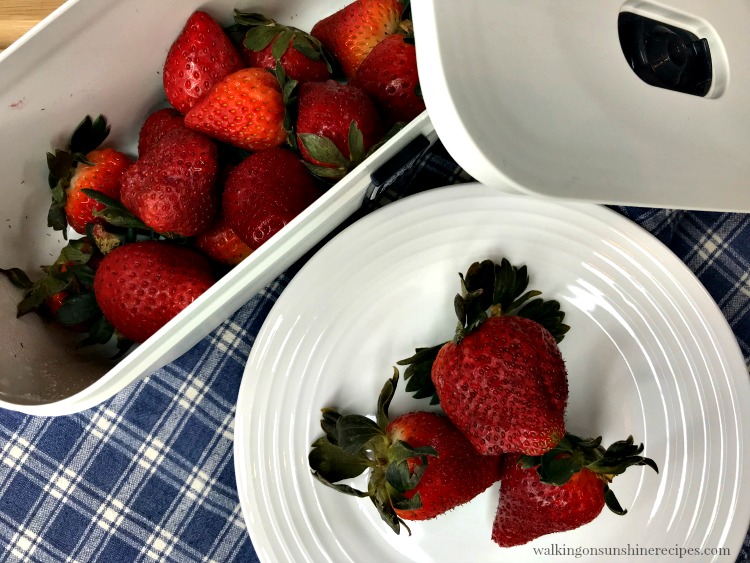 How to Vacuum Seal Vegetables
I love to purchase club size bags of broccoli florets.  I divided the big bag into 3 different resealable bags and labeled them and vacuum sealed them as well.
The nice thing about this system is I can open the bags to take out the amount of broccoli we need for a meal and then quickly seal them again!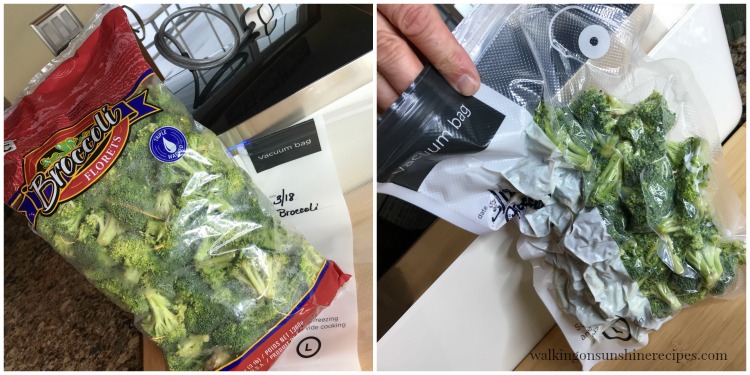 How to Vacuum Seal Meat
Next came chicken.  I broke up a very large size package of bone in chicken breasts and using the vacuum bags, I was able to freeze the chicken until I was ready to use it for my Bacon Wrapped BBQ Chicken recipe.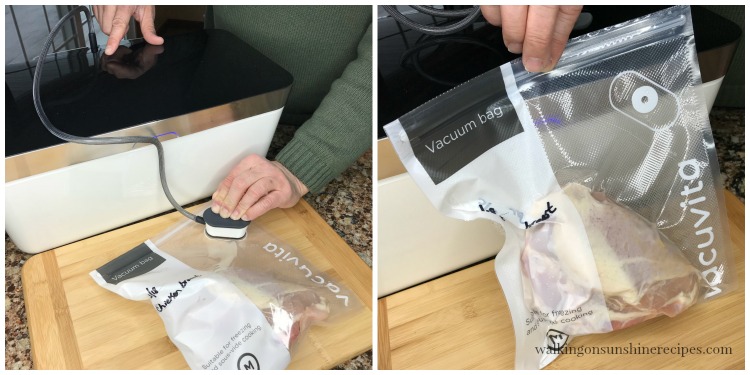 How to Vacuum Seal Fruit
Lastly, I stored a very large container of blueberries.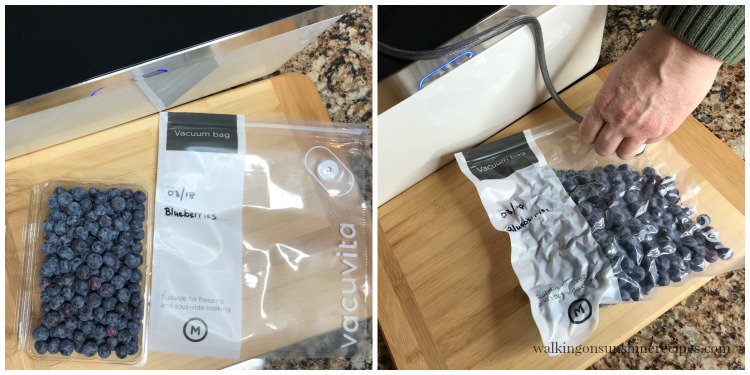 The bag of blueberries went into the freezer until I was ready to bake blueberry muffins earlier this week.  They were just as fresh as when I first sealed them.  And the muffins came out amazing.  Make sure you check out the recipe for Bakery Style Blueberry Muffins HERE.