Are you ready to indulge in some festive Halloween treats that require no baking? Look no further than these spookily delicious Halloween No-Bake Cookies!
Whether you're hosting a Halloween party or simply craving a fun and tasty snack, these holiday no-bake cookies are sure to impress both kids and adults alike.
Check out all the other Halloween Themed Recipes  for more delicious ideas!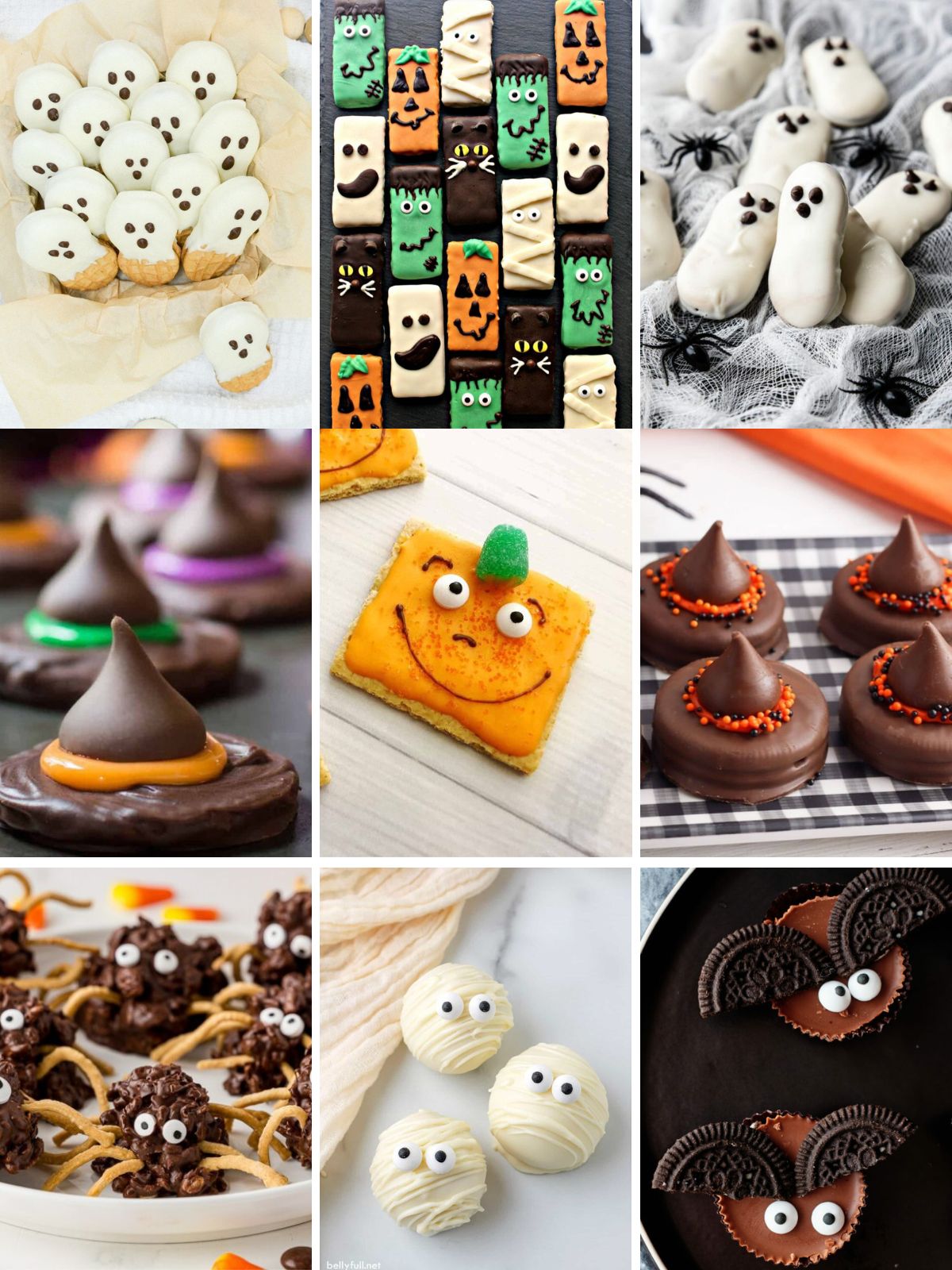 When it comes to Halloween, we all want to spend less time in the kitchen and more time enjoying the festivities. That's why no-bake cookies are a brilliant choice.
They also make a perfect activity to get kids involved in the kitchen. Let them unleash their creativity as they decorate the cookies with googly eyes, colored icing, or creepy candies.
Holiday no bake cookies are simple to make, but they also require minimal ingredients. This means you can whip up a batch of these spooky treats in no time, leaving you with more precious moments to spend trick-or-treating with your family!
Looking for more easy desserts to serve for Halloween? Try my Chocolate Thumbprint Cookies with Googly Eyes, Halloween Cookies with Colorful Candy Pieces or my Nutter Butter Mummy Cookies...yum!
👩‍🍳Melting Chocolate Tips
The process of setting the chocolate usually takes around an hour or so. However, if you notice that the chocolate starts to harden or become thicker over time, don't worry!
Simply place it back in the microwave and heat it up in short 10-20 second intervals until it reaches a more workable consistency again. This will ensure that it is easy to handle and use for your desired purpose.
🔁How to Thin Melting Chocolate?
When it comes to working with melting chocolate, there may be times when you need to thin it out for various purposes such as dipping, drizzling, or using it in a chocolate fountain.
There are several methods you can use to achieve the desired consistency. The easiest way is by adding ingredients with more fat, such as coconut oil, canola oil, or butter.
Adding a small amount of vegetable oil, shortening, or even a few drops of water can also help thin out the chocolate.
Whatever you do, do not add liquid such as water, heavy cream or even milk. When liquid comes in contact with chocolate, it can cause the cocoa particles to clump together and create a thick, grainy texture.
🛒Helpful Kitchen Tools
More Information
More Information
More Information
More Information
Halloween Activity BundleClick HERE for More Information
📇Recipe Collection
⭐Before You Begin! If you make any of these recipes, please leave a review and star rating. This helps my business thrive and continue providing FREE recipes.
Halloween No Bake Cookies
Included in these Halloween No-Bake Cookies are bat, ghost, spider and even mummy cookies! These holiday no-bake cookies are sure to impress both kids and adults alike.