Budget Christmas Table Decorations to help you celebrate the holiday season without spending a ton of money...it can be done!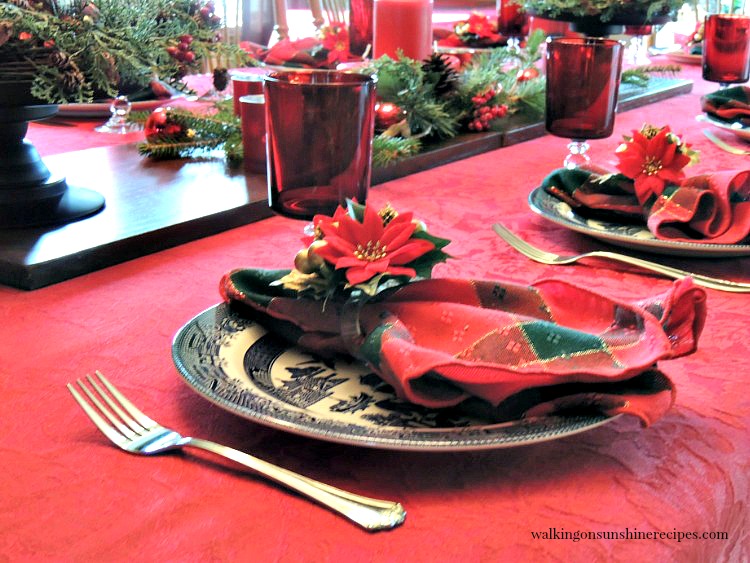 Budget Christmas Table Decorations
Do you love to set a pretty table for the holidays? I'm sure by now you know that I do. I always have. Even when I was a teenager I would have fun helping my mom set the table for the holidays.
Today I'm going to share with you photos of our table from last year's Christmas. I'm sorry. I am not that blogger who sets her table in September to take photos to use for December blog posts.
I think you're going to love seeing how I set a festive table on a budget because paying for college is very expensive these days.
Decorate with a Collection
This post contains affiliate links. Your cost is the same, but I earn a commission when you shop through them. Your purchase helps support this site and the fun things I share. For more information, click here.
Our Christmas is very rustic and very homemade. I love the homemade ornaments our kids have made throughout the years. I even have ornaments on our tree that I made when I was younger. This is a pretty view from the dining room looking into the living room. You can see the mantel decorated with my Buyer's Choice Christmas Carolers; which I love.
More Information
More Information
More Information
More Information
More Information
More Information
Last year was the first year I put the nativity scene on the dining room hutch and I'm kicking myself for not doing it sooner. It's the center of the room! I purchased the nativity set when I was pregnant with our daughter, Olivia, and at the time $49.00 was all the money in the world to me.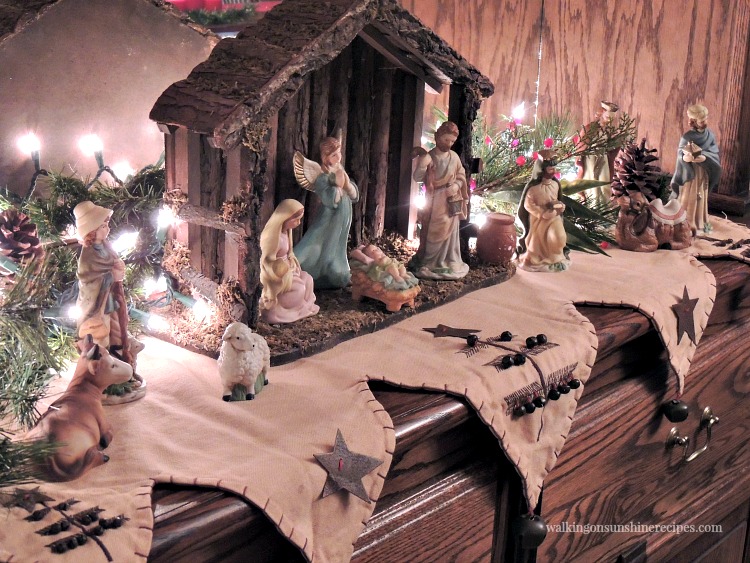 But I wanted our home to have a nativity set. We couldn't afford the stable so my hubby made one with branches and moss from the woods at the end of the road where we lived so many years ago. That stable lasted for ten years until we moved. You can find a great variety of stables on Amazon for all price ranges.
More Information
More Information
More Information
More Information
More Information
How to Set a Festive Table on a Budget
A few years ago I decided to use a few extra shelves from our bookcases to create a wooden runner down the center of our dining room table. I love the look. Our table is extra wide and it's very difficult to find tablecloths to actually fit it!
I need to use two to three tablecloths at a time and because of that I always purchase them inexpensively from Walmart or lately Amazon. I love Amazon because I don't have to leave the house to shop.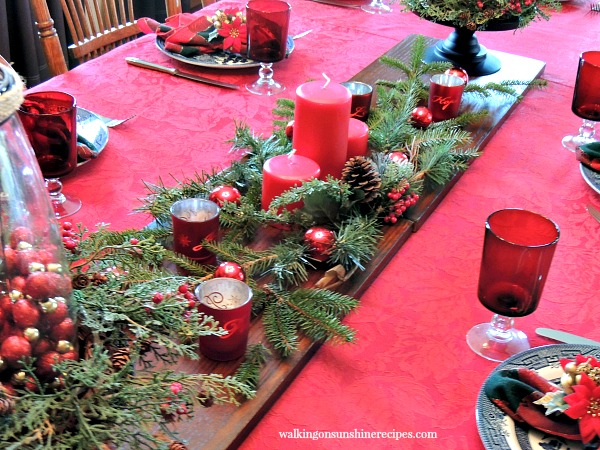 I love to put candles down the center of the wooden runner and then add fresh pine from the trees that line our property. I add red ornaments and pine cones and before you know it, I have a pretty centerpiece that didn't cost much money at all!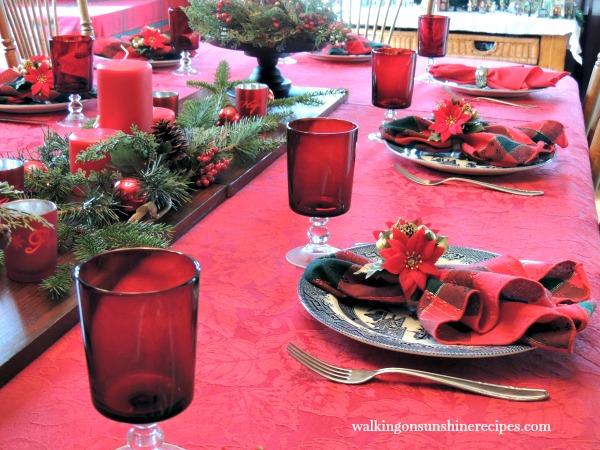 Blue Willow Dishes
Now, on to my dishes. I love these Blue Willow dishes. I've had these for 20 years, if not longer. They were from a local grocery store that allowed you to purchase a set of dishes for $4.95 with every $25.00 you spent. How amazing is that!
The red glasses are actually antique ones that were my mother's and she gave them to me a few years ago. The napkins are simple red plaid that I've had for 20 years as well. They still look amazing but that's because I only use them one or two times a year.
I purchased the napkin ring holders at an after Christmas sale years ago at a really fancy department store that's no longer in business. They're a little dated, but I love them and the memories of when I purchased them. My son was still in a stroller!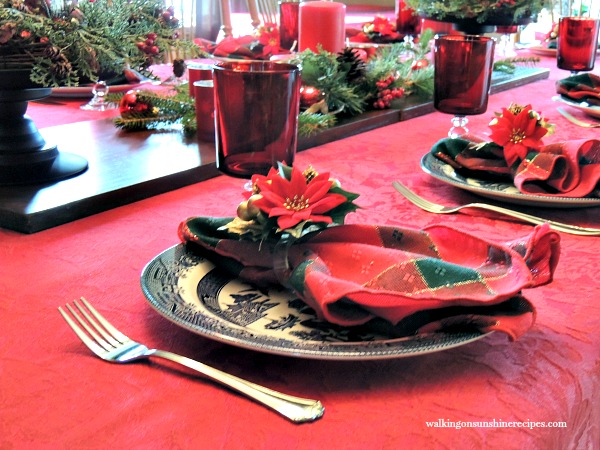 I don't have enough "good" silverware for everyone so I mix and match what I do have. I always make sure though that there is the same fork and knife for one place setting.
Purchasing a full set has been on my wishlist for years, but there's always something more pressing to pay for, our daughter's wedding and now our son's college. And I think that's so much more important right now.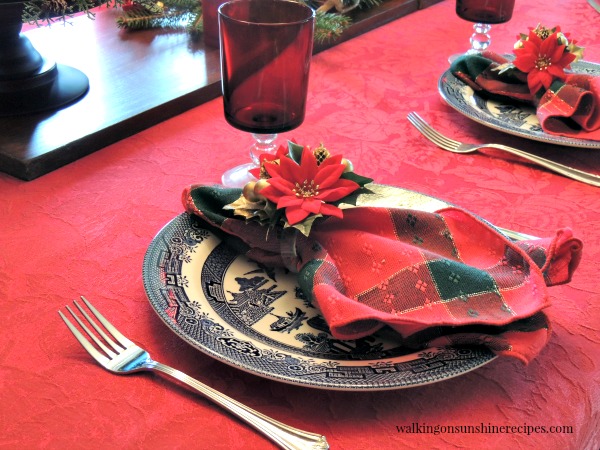 More Information
More Information
More Information
More Information
More Information
So there you have it, my festive table for Christmas done on a budget. It doesn't really take a lot to put a pretty table together; just take your time and do it a day or two before your company arrives. And most importantly, enjoy doing it. I sometimes find myself praying as I set the table. Praying that the Lord will be present around our table and our guests will feel the love we have for them.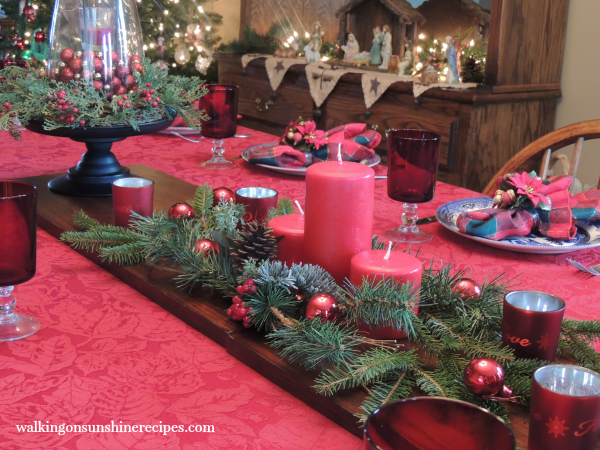 Easy Christmas Ideas you Might Enjoy: