Once the Halloween celebrations are over and the last piece of candy has been eaten, you may be wondering what to do with all of your leftover Halloween candy.
If you're looking for a creative way to use up your extra sweets, here are 15 different recipes that would be a good way to use up the leftovers from trick-or-treating.
Whatever you decide to do with your candy, be sure to enjoy it while it lasts!
Check out all the other Halloween Themed Recipes  for more delicious ideas!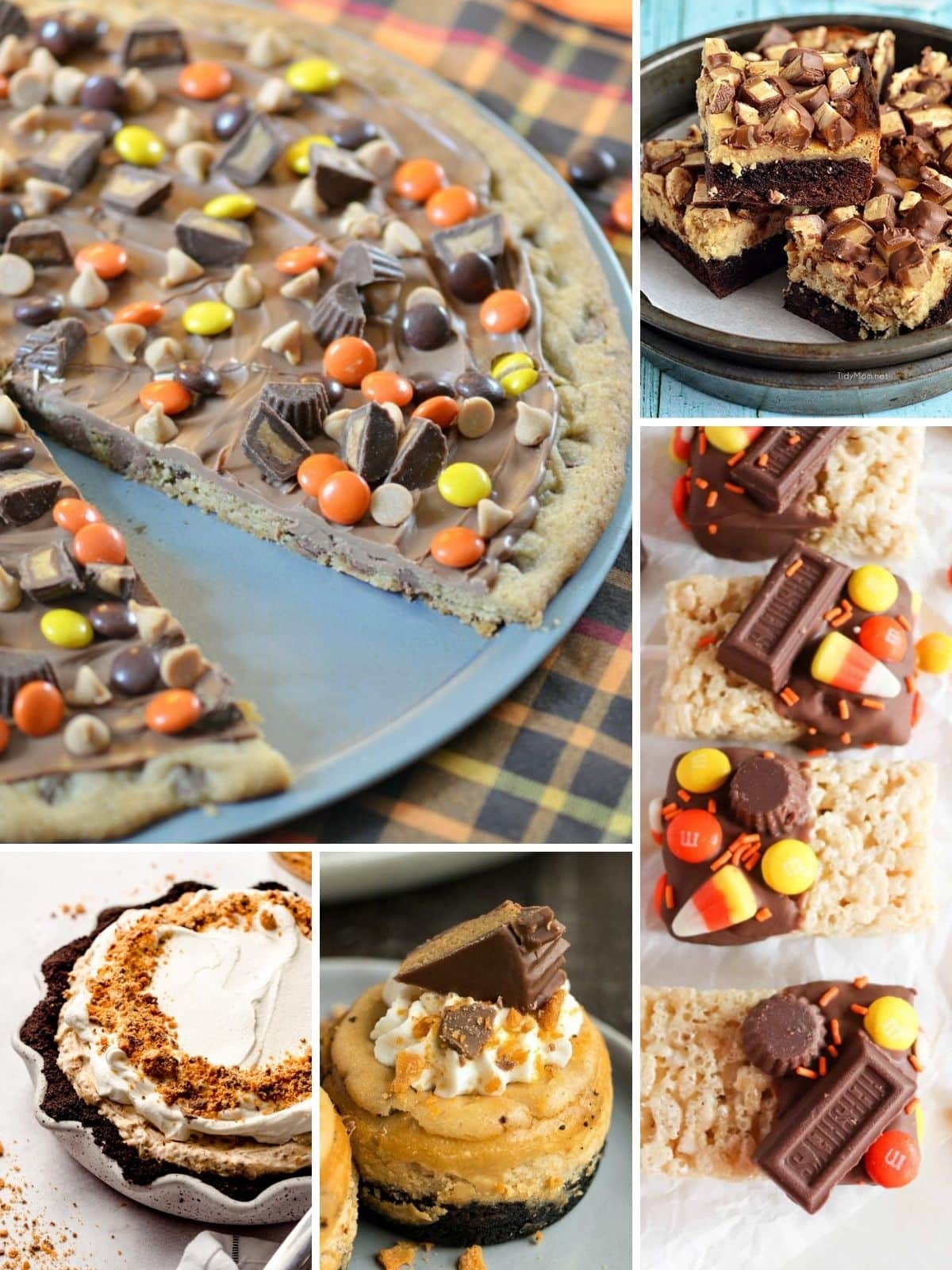 We live in a neighborhood that receives a lot of visitors every year for Halloween.  Our neighborhood is one of a few in our community where you can safely trick-or-treat without a ton of traffic.
But if you don't live in a popular area for trick-or-treaters? Besides the obvious, what do you do with leftover Halloween candy?
Table of Contents
💭Leftover Halloween candy recipes
Most of the time I send any extra candy with my husband to work at the university. The cadets sure do love to stop into the break room and grab something sweet.
A few fun ideas would be turn the candy into another type of dessert. If you're not in the mood for baking any of the recipes below, you can always donate your leftover candy to a local food bank.
💭Halloween candy recipes
Here are a few quick ideas to use leftover candy:
Chop up some of the candy bars and use them as a topping over your favorite flavor of ice cream. 
Mix a few the candy pieces into granola or trail mix. 
The next time you're baking cookies, you can chop up a few candy bars and stir them into the batter. 
Melt down some of the chocolate and use it to dip fresh fruit in as a fun treat. 
How about making a candy bar cake? Simply layer different kinds of candy bars in a cake pan and top with frosting.
💭Can you freeze leftover candy? 
Candy can freeze surprisingly well, so you can save some of your Halloween spoils so they don't, well, spoil.
You want to be sure that any candy you freeze is well wrapped to keep ice from building up inside the package.
Place the wrapped candy inside another freezer safe bag and press to make sure you get all the air out before adding it to the freezer.
You can also store the leftover candy in an air-tight container.
Make sure you label the packaging so you know exactly what's inside.
When you do take the candy out of the freezer, make sure you let it come to room temperature before removing it from the bag and wrappers. This will help prevent moisture from forming on the candy.
Candy can be frozen for up to six months.
🛒Helpful Kitchen Tools
8-Piece Deep Glass Baking Dish Set with lidsMore Information
Stainless Steel Measuring Cups & Spoons SetMore Information
KitchenAid Classic Mixing Bowls, Set of 3, PistachioMore Information
Tried and of these recipes? Let me know in the comments!
📋Featured Recipe Collection
Leftover Halloween Candy Recipes
Here are a few decadent dessert recipes that use leftover Halloween candy. Gather up your favorites and find a recipe you know your family is going to love! 
This recipe has been updated since it first appeared in 2019 with new photos, and information. I hope you enjoy the updates as much as I enjoyed working on them!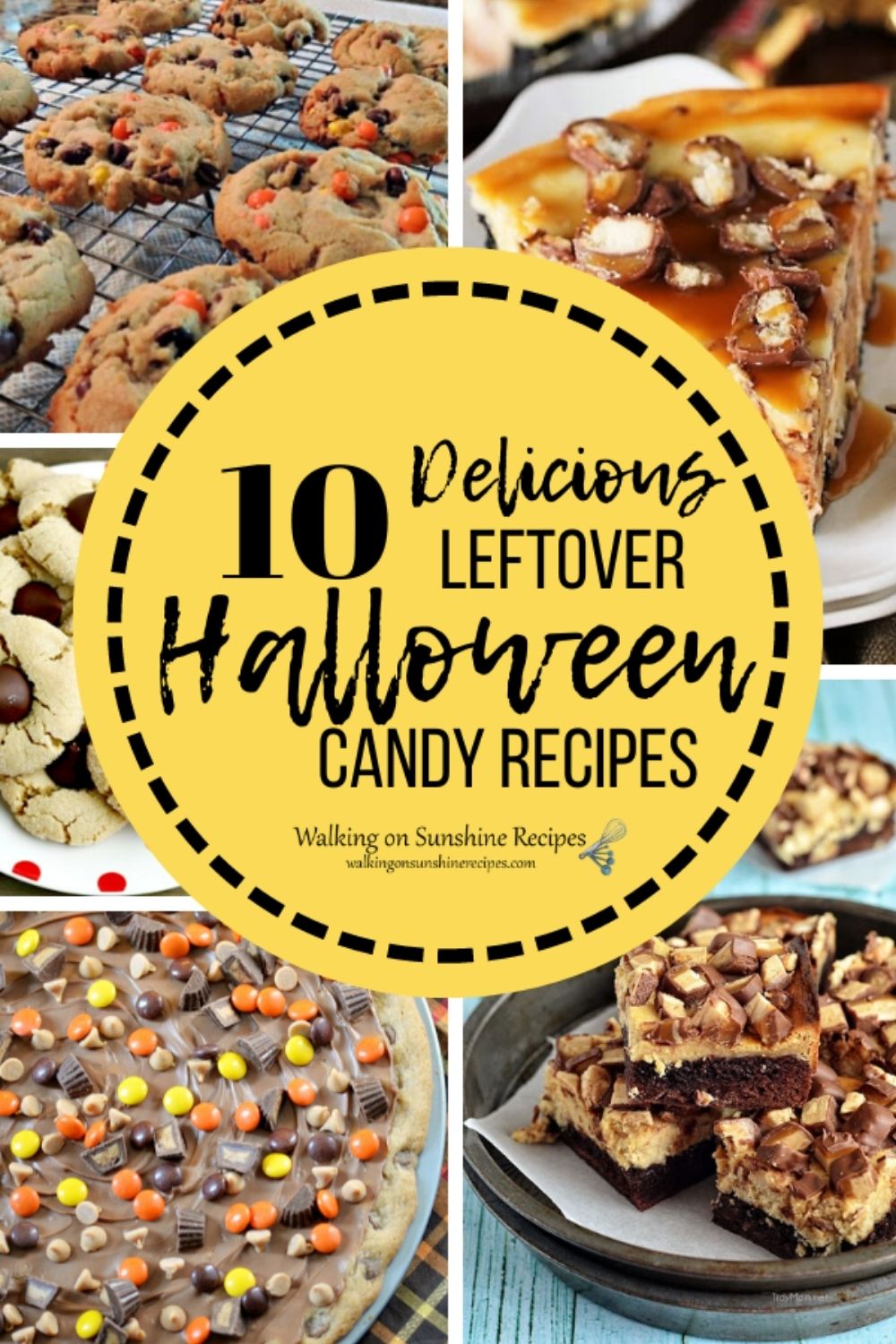 More Information
More Information
More Information
More Information
More Information