Looking for a refreshing drink that still has a touch of sophistication? This lemon basil mocktail is perfect for you. Made with fresh lemons, basil and seltzer water, this is easy to make, and the bright flavors are perfect for summer.
Plus, it's a great way to use up any extra basil from your garden. Give it a try today and then check out all the other delicious Fresh Non-Alcoholic Drinks available for you here!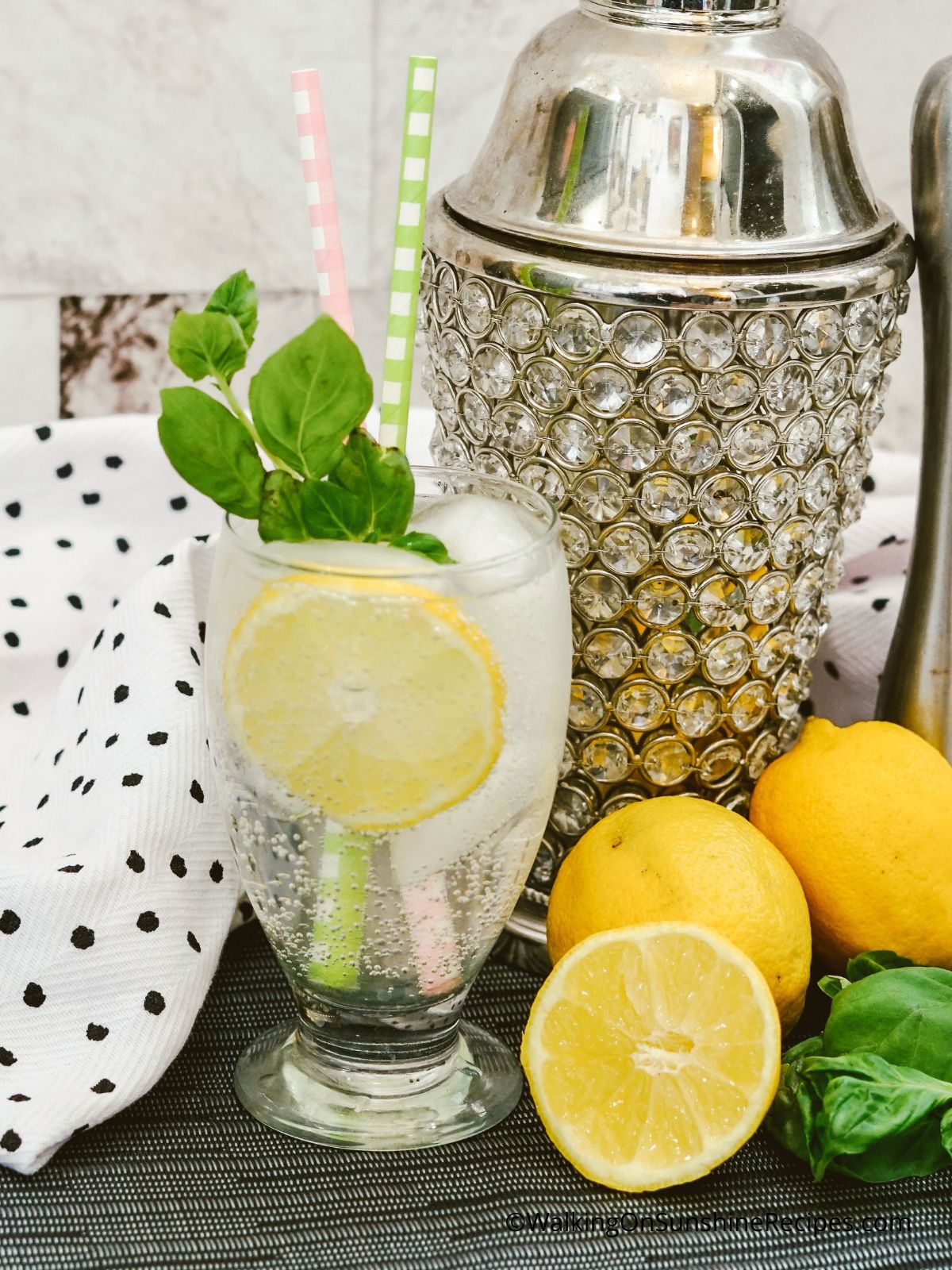 Summer means cookouts, pool parties, and drinks on the patio. If you're looking for something refreshing and light, but don't want to drink alcohol, a lemon basil mocktail is the perfect drink for you!
This drink can be customized to your liking. Want it sweeter? Add more sugar or maybe a little honey. Prefer it tart? Use more lemons or maybe a few slices of lime.
Stop by your local grocery store or farmers market and pick up some fresh basil leaves to complete this tasty drink! If you want to try growing your own basil, read my post on Tips for Growing Basil in your Garden.
Table of Contents
Looking for more Mocktail Summer Recipes? Try my Lemon Flavored Water, Basil Sparkling Water and my Lemon Basil Mint Spritzer.
Making Simple Syrup
Simple syrup is a sugar syrup that is used in a variety of drinks and desserts. For this recipe, I used purchased simple syrup. However, I have made it! It's incredibly easy to make. It is made by dissolving sugar in water, and it can be flavored with a variety of ingredients such as vanilla, lemon, or mint.
My Basil Sparkling Water Recipe uses a simple syrup that is flavored with basil leaves. It is so delicious!
Simple syrup is also used to sweeten tea, coffee, and cocktails. In addition to its uses in beverages, simple syrup can also be used to make frosting, glazes, and fillings for cakes and other desserts. It can also be used to preserve fruit and prevent icing from running off of cakes.
As you can see, simple syrup has a variety of uses beyond just sweetening drinks. So next time you need a little extra sweetness in your life, reach for some simple syrup.
How to make Flavored Water
Making flavored water at home is a great way to stay hydrated without resorting to sugary sodas or artificial juices. The best part is that there are endless flavor combinations to explore, limited only by your imagination.
To get started, simply add your desired fruits, vegetables, and herbs to a pitcher of water and let the mixture steep overnight in the fridge. In the morning, you'll have a refreshing and healthy beverage that's perfect for sipping throughout the day.
If you find that your flavoring is too weak, simply add more of your chosen ingredients. And if you don't have time to let the mixture steep overnight, you can still enjoy flavorful water by adding fresh ingredients to your glass or bottle and letting them infuse for at least 30 minutes.
Helpful Kitchen Tools
This post contains affiliate links. As an Amazon Associate, I earn from qualifying purchases. For more information, click here.
Mason Jar Beverage GlassesMore Information
Skinny Clear Glass StrawsMore Information
Stainless Steel Cocktail MuddlerMore Information
Ice Cube Trays 4 Pack, Easy-ReleaseMore Information
Main Ingredients Needed
This is an overview of the ingredients and instructions. Be sure to see the recipe card below for exact quantities, detailed instructions and special notes.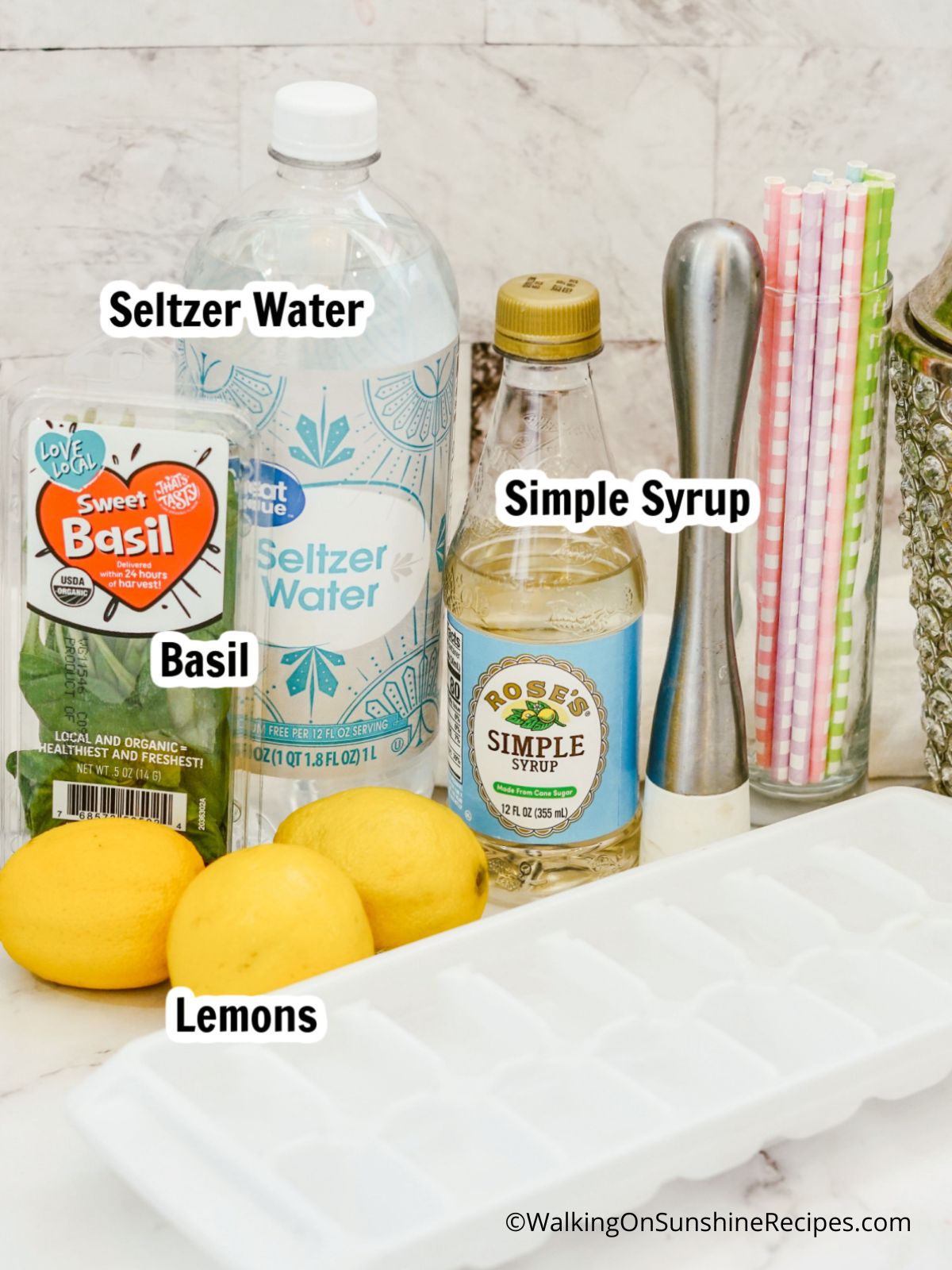 Step-by-Step Instructions
Step 1 | Combine the Ingredients
In a cocktail shaker, add 1 lemon slice, a basil leaf and 1 teaspoon of simple syrup.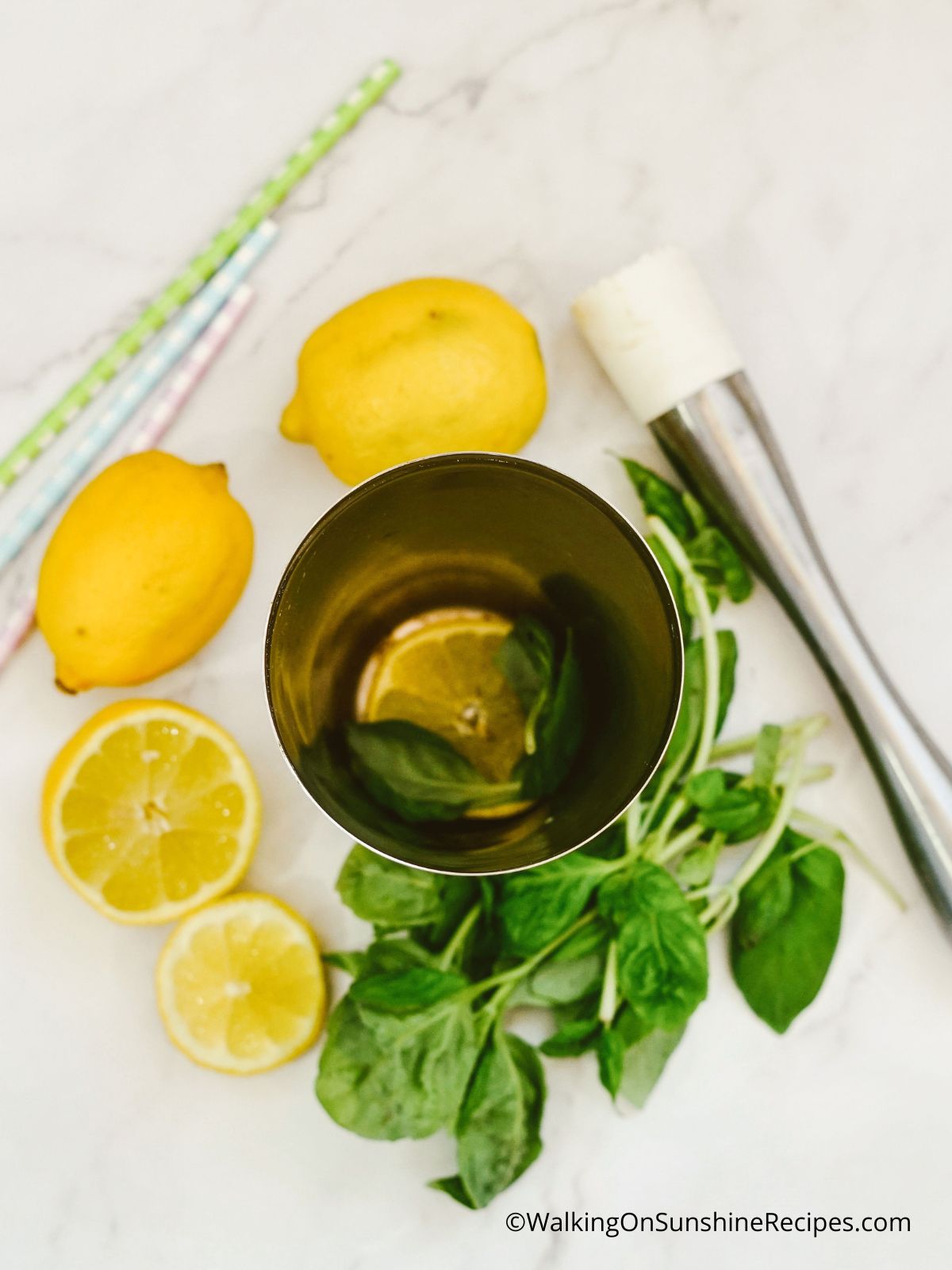 Step 2 | Muddle the Ingredients
Using the muddle or the back of a spoon, crush everything together to release the scent of the basil.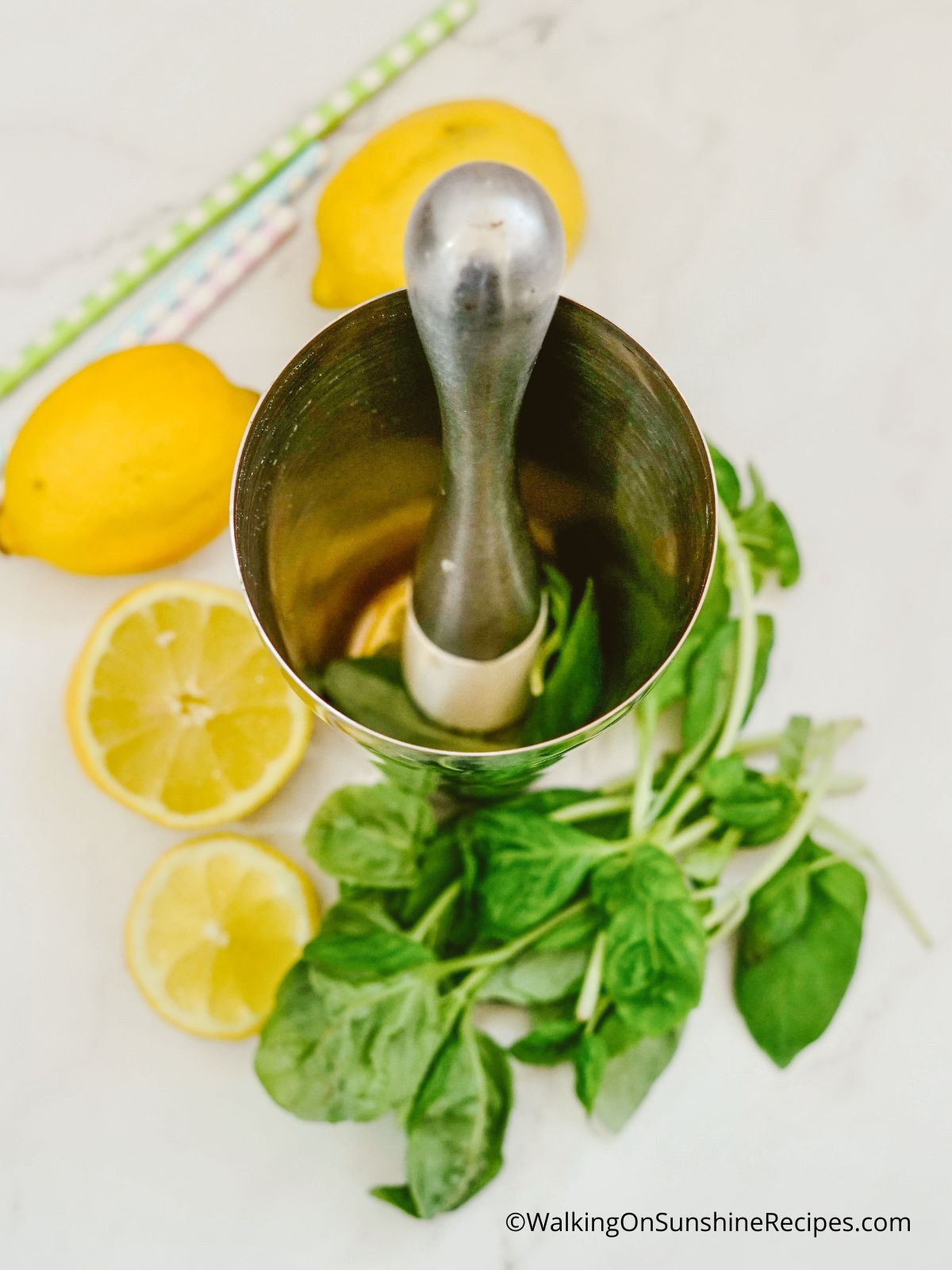 Quick Tip: If you don't have a muddler, make sure you tear or cut the basil leaves. You can also use the back of a spoon. It helps to release the flavor of the basil into the simple syrup.
Step 3 | Add the Seltzer Water
Pour in the seltzer water.
Shake the container well.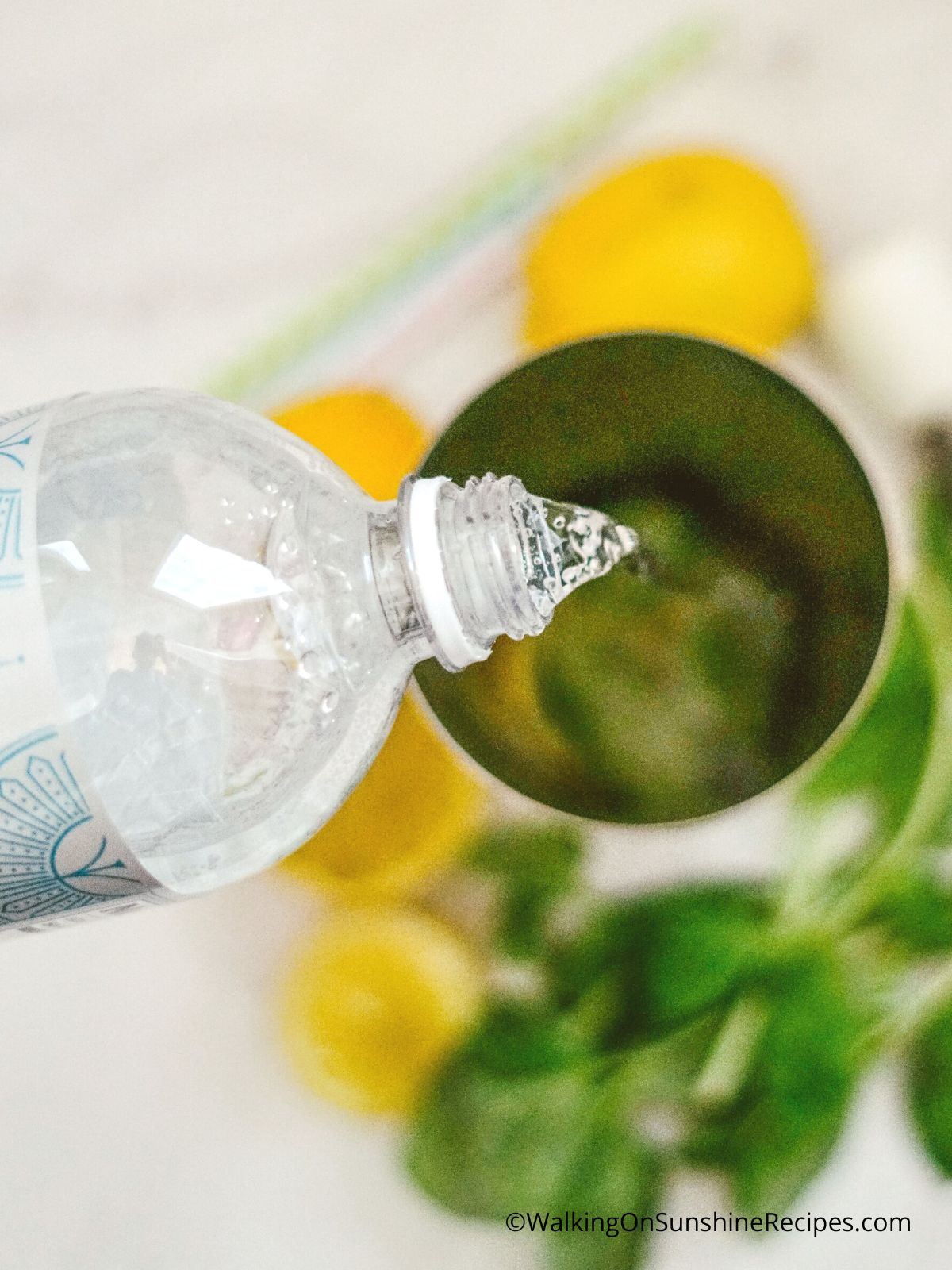 Step 4 | Serving Tips
Add ice to a tall glass.
Pour the mocktail over the ice.
Garnish with more lemon slices and a few basil leaves.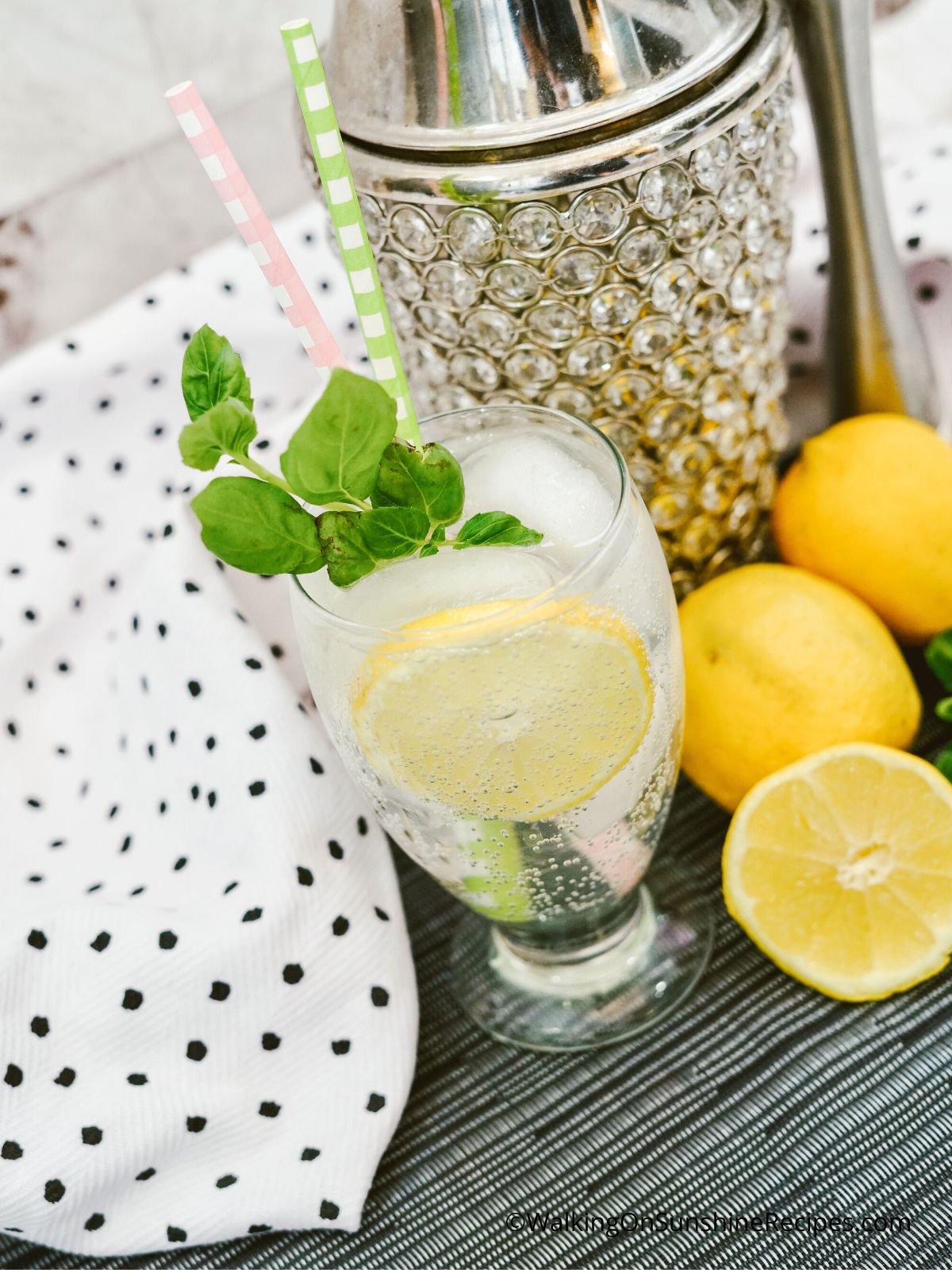 ⭐Before You Begin! If you make this recipe, please leave a review and star rating. This helps my business thrive and continue providing FREE recipes.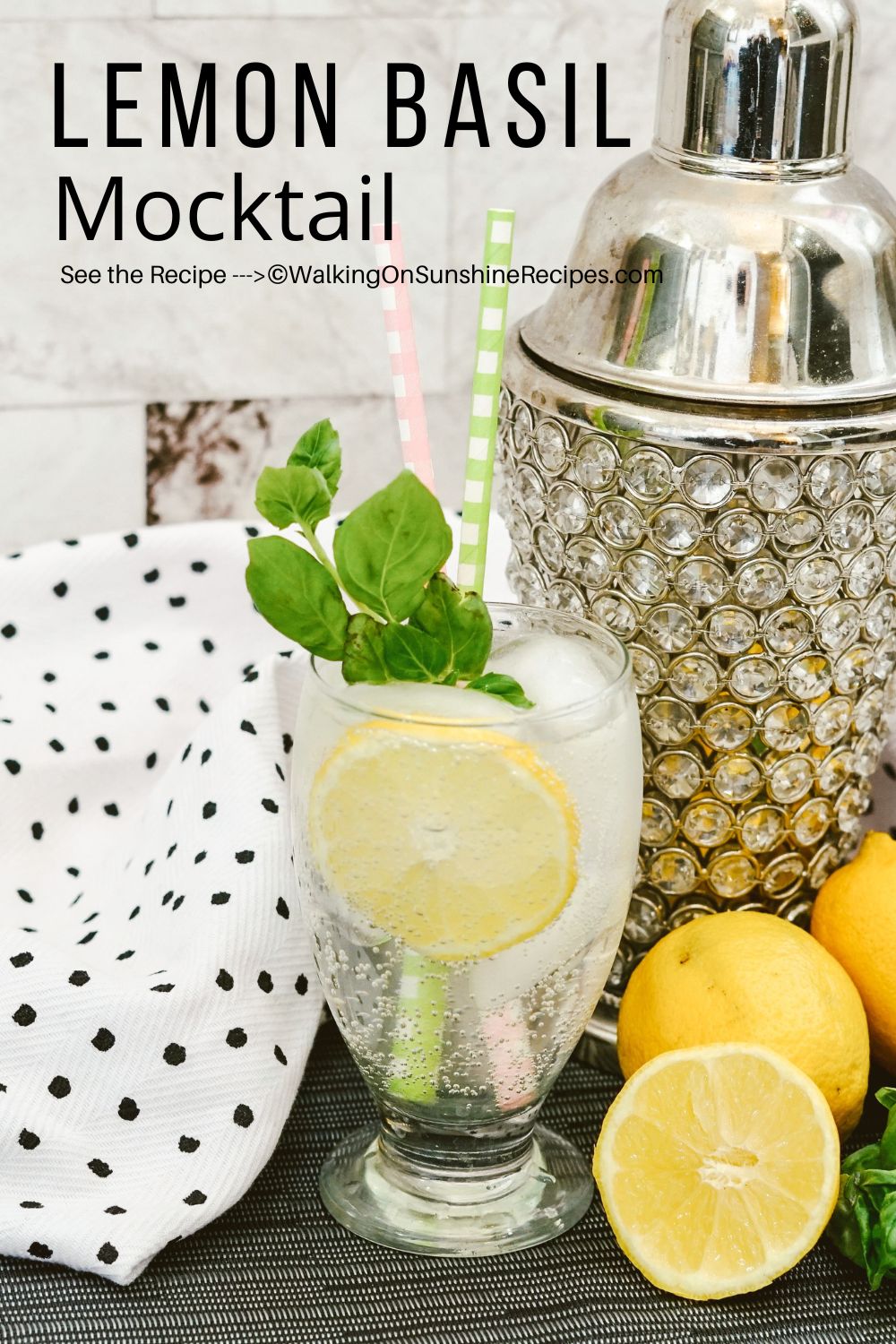 Recipe Variations
Here are a few ideas on how you could make this recipe your own and change a few ingredients to suit what you and your family like best:
You can add different fruit like strawberries, cherries, blueberries or pineapple.
Try different herbs like fresh rosemary, mint or thyme.
And if you wanted to try this recipe with alcohol, try vodka. Make sure you label the beverage that there's alcohol, so little ones don't get into any alcoholic beverages when serving.
Storage Tips
Store the lemon basil mocktail in the refrigerator.
But keep in mind, that when you add citrus fruits to any mocktail or nfused water recipe, you should drink it the day you make it. The rind from any citrus can make the water bitter.
A fun way to store leftover beverages is to freeze any leftovers in ice cube trays! Pop them out and store in a plastic bag to use the next time you prepare a fun drink.
More Information
More Information
More Information
More Information
Yield: 1 serving
Lemon Basil Mocktail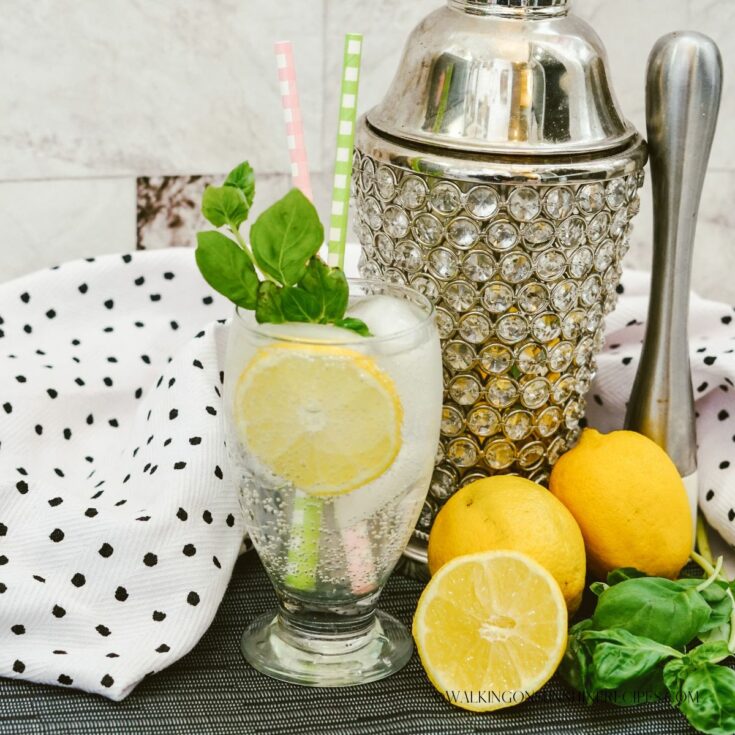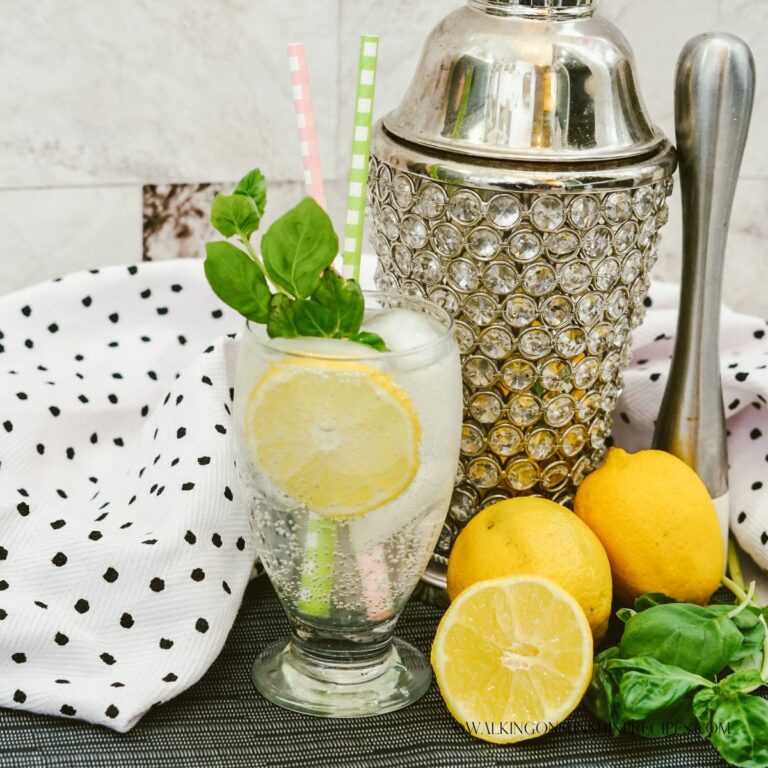 This lemon basil mocktail is made with fresh lemons, basil and seltzer water, Free printable drink combination chart available.
Ingredients
3 lemon slices
1 cup seltzer water
basil leaves
1 teaspoon simple syrup
ice cubes
Instructions
In a cocktail shaker, add 1 lemon slice, a basil leaf and 1 teaspoon of simple syrup.
Muddle everything together to release the scent of the basil.
Pour in 1 cup of seltzer water.
Shake well.
Add ice to a tall glass.
Pour the mocktail over the ice.
Garnish with more lemon slices and a few basil leaves.
Notes
If you wanted to make this an alcohol drink, add a little vodka.
Nutrition Information:
Yield:
1
Serving Size:
1
Amount Per Serving:
Calories:

18
Total Fat:

0g
Saturated Fat:

0g
Trans Fat:

0g
Unsaturated Fat:

0g
Cholesterol:

0mg
Sodium:

4mg
Carbohydrates:

5g
Fiber:

1g
Sugar:

4g
Protein:

0g
The nutrition information is calculated automatically. I cannot guarantee its accuracy. If this data is important to you, please verify with your trusted nutrition calculator.