If you're looking for an adorable holiday treat, try these Oreo Reindeer Cookies. These cute reindeer desserts are Oreo cookies dipped in melted chocolate and then decorated to look like everyone's favorite reindeer this time of year.
Printable gift tags available for you to give these collection of cookies as gifts.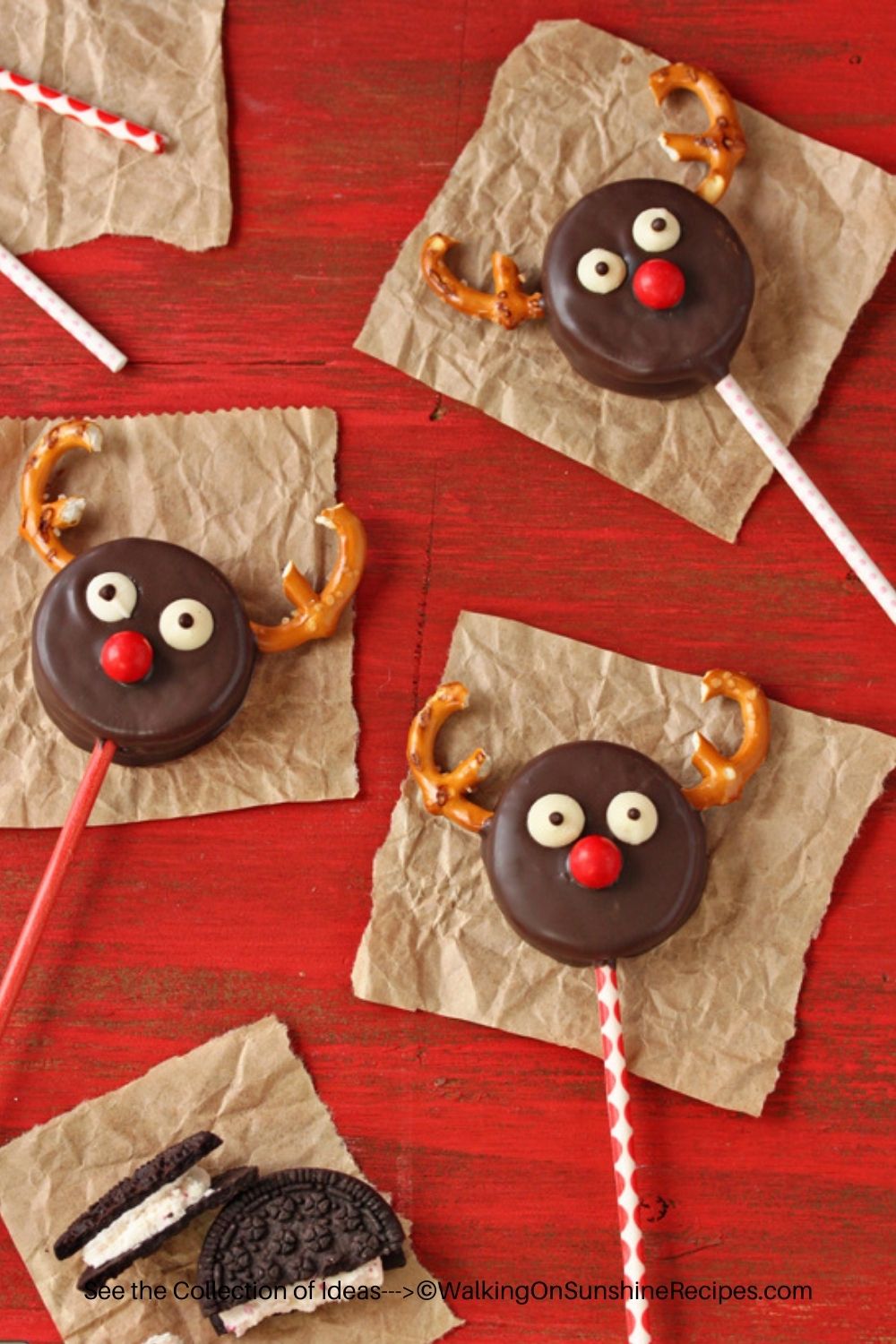 For most people, the holidays mean getting into the kitchen and baking cookies with the family...especially the kids. It's what I did growing up with my mom and what I did with my children when they were little.
Making Reindeer Oreo Cookies are a lot of fun because the kids love to thelp with these cookies. Maybe it's the excitment of watching Rudolph, the Red-Nosed Reindeer on TV every year or just the whole dipping cookies in melted chocolate!
Whatever the reason, take a look at this yummy collection of cookies and spend some time with the kids in the kitchen this season. You'll not only be making something delicious, but you'll be creating memories that will last a lifetime!
Table of Contents
More Reindeer Desserts:
Ingredients
This post contains affiliate links. That means that if you make a purchase after clicking on a link I may earn a small commission at no extra cost to you. For more information, click here.
Most of these Oreo Reindeer Cookies use the same main ingredients:
Oreo Cookies - use either the regular or double stuffed.
Red M&M's, Red Hot Candies, Red Skittles - any brand of a red candy to make Rudolph's nose
Chocolate - to melt and dip the cookies in.
Candy Eyes
Pretzel Twists - to make the antlers.
More Information
More Information
More Information
More Information
More Information
More Information
Recipe Variations
On a Stick - turn the cookies into fun treats by adding lollipop sticks.
Plain Oreo Cookies - if you're pressed for time, you don't have to dip the Oreo cookies in melted chocolate. Add the candy eyes and red nose to the top of a plain Oreo cookie!
Colored Oreo Cookies- instead of the traditional white cream cookies, try the new red colored cookies for a fun surprise when people bite into them.
Mint Flavored Chocolate - add a teaspoon of mint extract to the melted chocolate.
How to Melt Chocolate
Place the candy melts in a microwave-safe bowl and place the bowl in the microwave using the low setting and starting out in 30 seconds intervals.
Remove the bowl from the microwave and stir the chocolate. One of the biggest mistakes people make with using the microwave is, they forget to stir the chocolate after each interval. Chocolate pieces can retain their shape until you stir them.
If you don't stir, you risk burning the chocolate.
Return the chocolate back to the microwave and repeat with another 10 to 15 seconds until the chocolate is completely melted.
In just a few minutes you'll have perfectly beautiful melted chocolate for dipping.
Storage Tips
Store the cookies in an airtight container for up to two weeks in the refrigerator.
You can also freeze the cookies:
Place the Reindeer Oreo Cookies on a baking tray in the freezer to flash freeze them for about 30 minutes.
Once frozen, remove from the baking tray and layer in an airtight container with layers of parchment paper between them.
The cookies should last in the freezer for about 3 months.
When you're ready to enjoy the cookies remove them all from the container and lay them in a single layer flat on a baking tray.
⭐Before You Begin! If you make this recipe, please leave a review and star rating. This helps my business thrive and continue providing FREE recipes.