Let me share with you step-by-step photos of how to peel tomatoes as a way to preserve the fresh taste of summer all year long. Peeling tomatoes for canning or freezing requires little effort, but the results are amazing once you taste them in homemade marinara sauce or one of our recipes for Fall Soups.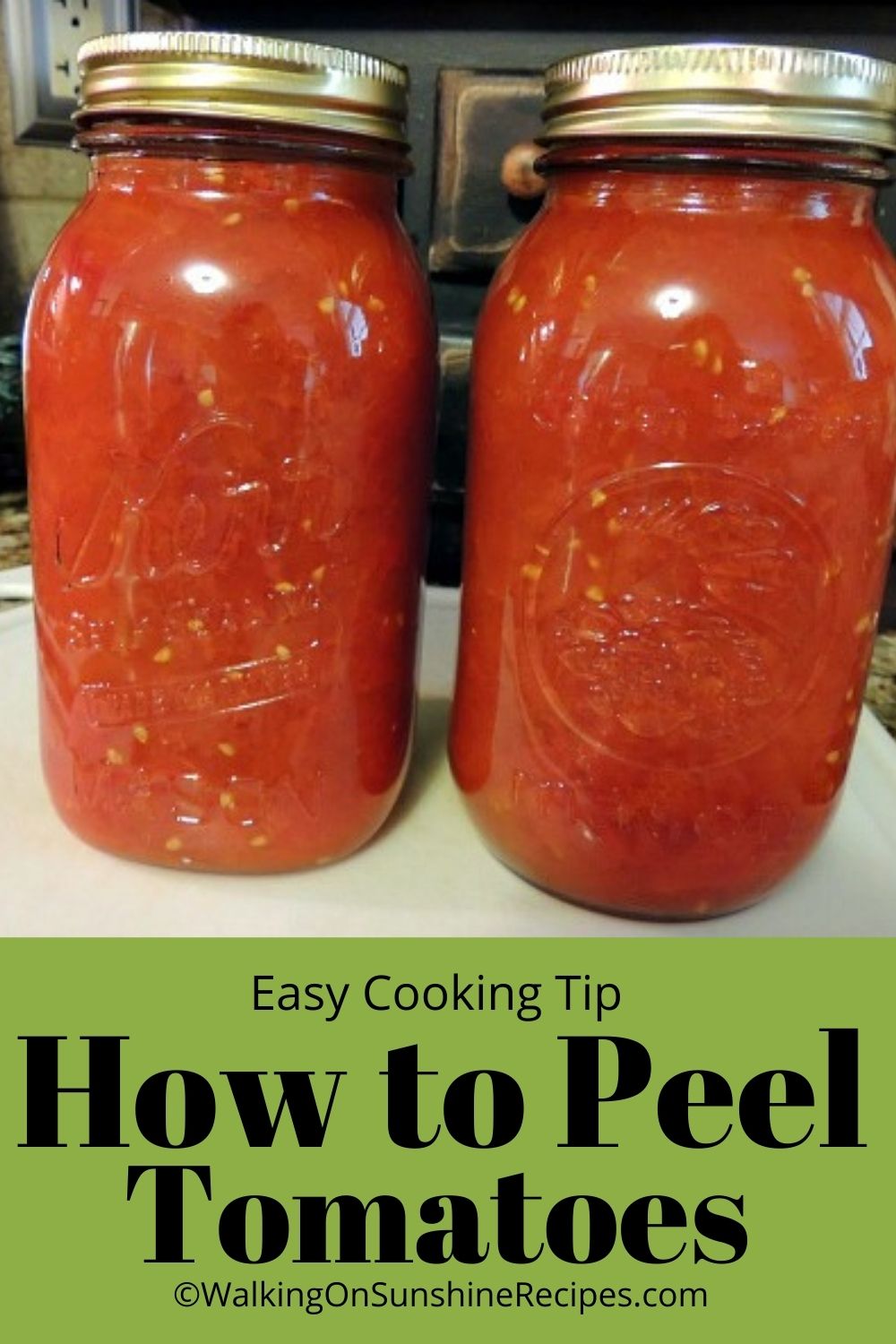 My husband and I have a nice size vegetable garden. One thing we both have developed is a love for growing vegetables.
We had a great tomato harvest this year in our garden. Here is just ONE collection of tomatoes from our garden this year. Yes, I know, it's amazing!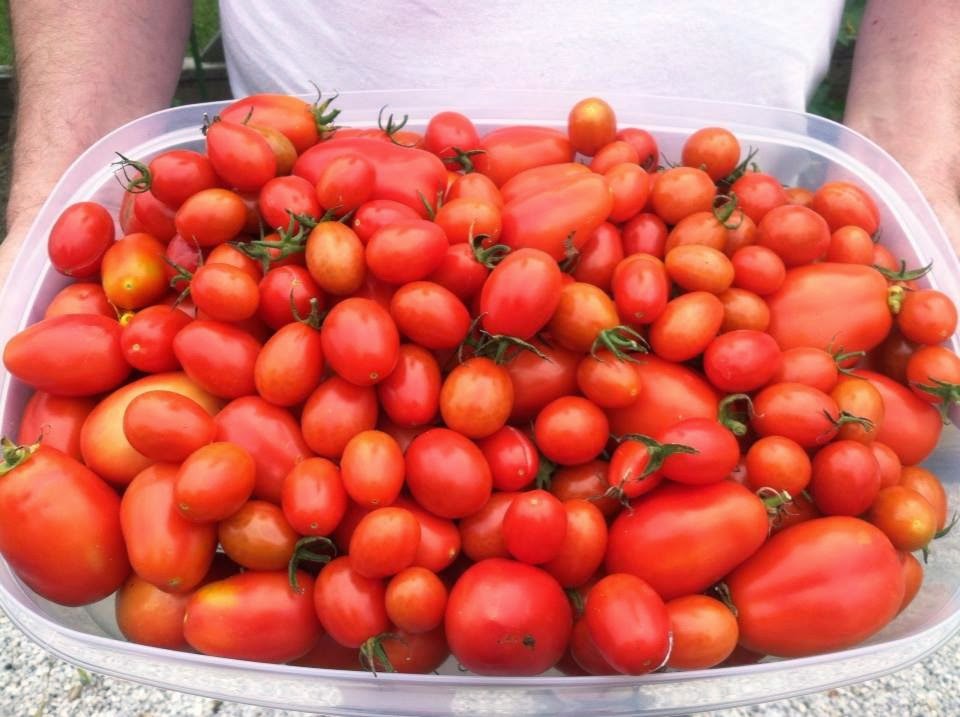 Peeling Tomatoes
The first step in canning tomatoes is learning how to peel a tomato.This is the same method you would use to peel peaches or any other soft skinned fruit or vegetable.
Once the tomatoes are peeled, you can process them or cook them and preserve by either canning or freezing.
Peeling Tomatoes for Canning
This is the way my cousin, Traciene, taught me how to peel tomatoes over 20 years ago. She also taught me how to can the tomatoes in her "Italian kitchen" in the basement.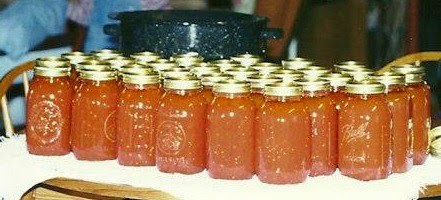 Recipes to use for Peeled Tomatoes
Helpful Kitchen Tools
This post contains affiliate links. That means that if you make a purchase after clicking on a link I may earn a small commission at no extra cost to you. For more information, click here.
More Information
More Information
More Information
Step-by-Step Directions:
Step 1 | Prepare the Tomatoes
Wash the tomatoes.
Bring a large pot of water to boil on the stove top.
Place a small "X" in the bottom of each tomato.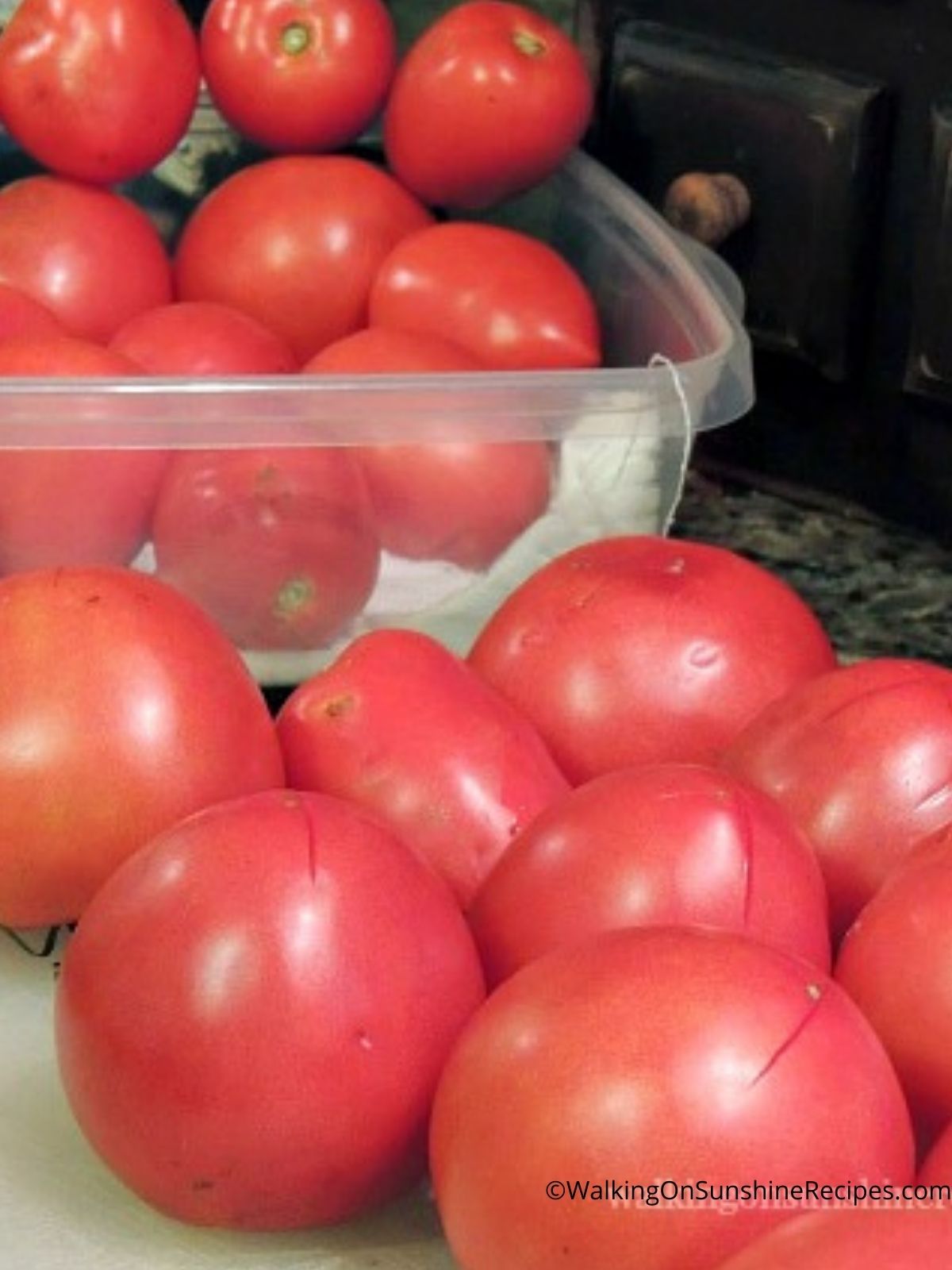 Step 2 | How Long to Boil Tomatoes to Peel
Submerge a few of the tomatoes at a time in the boiling water.
Allow the tomatoes to boil for 30 seconds.
Immediately place the tomatoes in a bowl of ice water.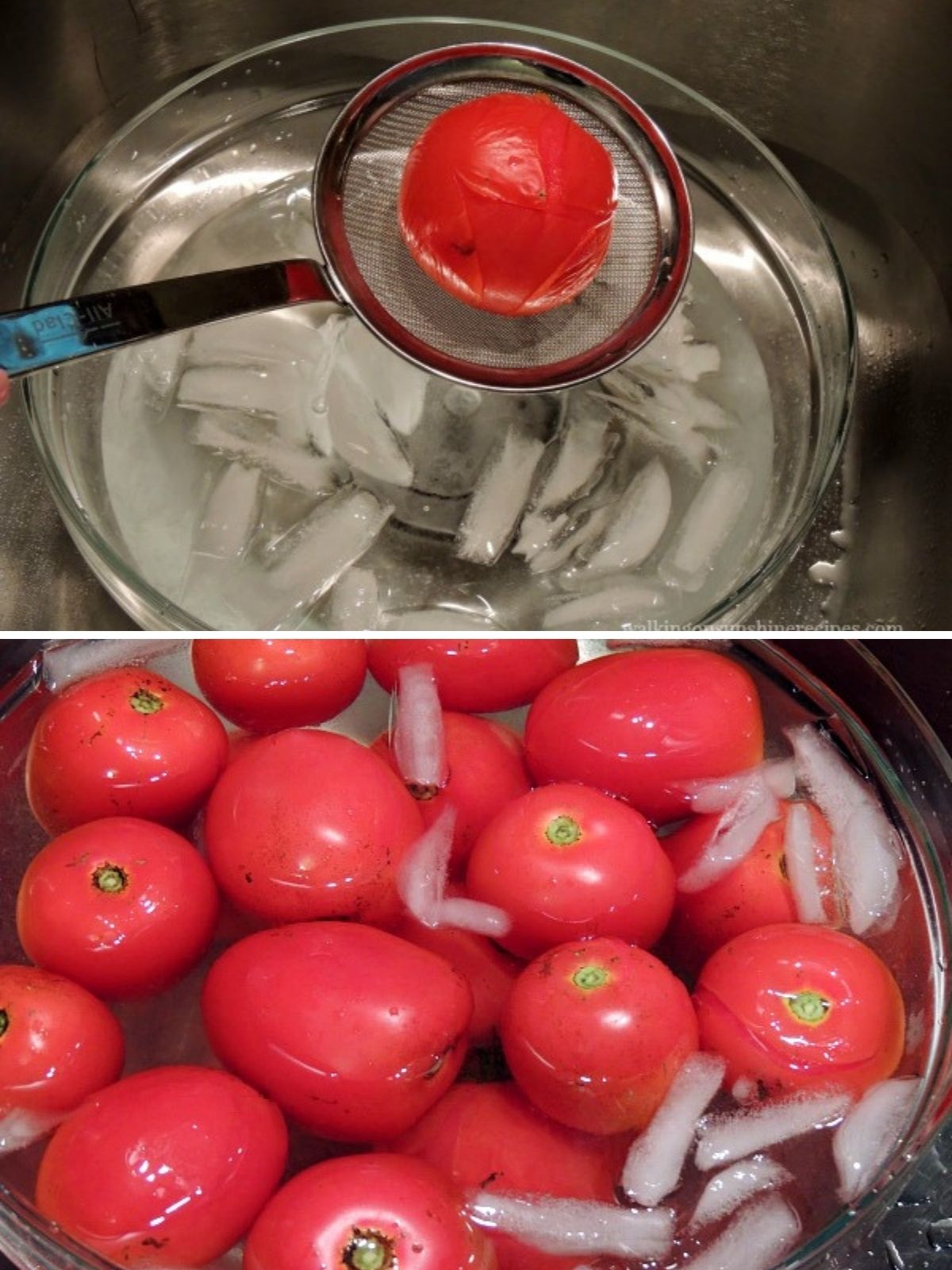 Step 4 | How to Skin Tomatoes
Gently lift the tomato out of the ice water.
Find the "x" and start peeling back the skin.
Look how easy it comes off!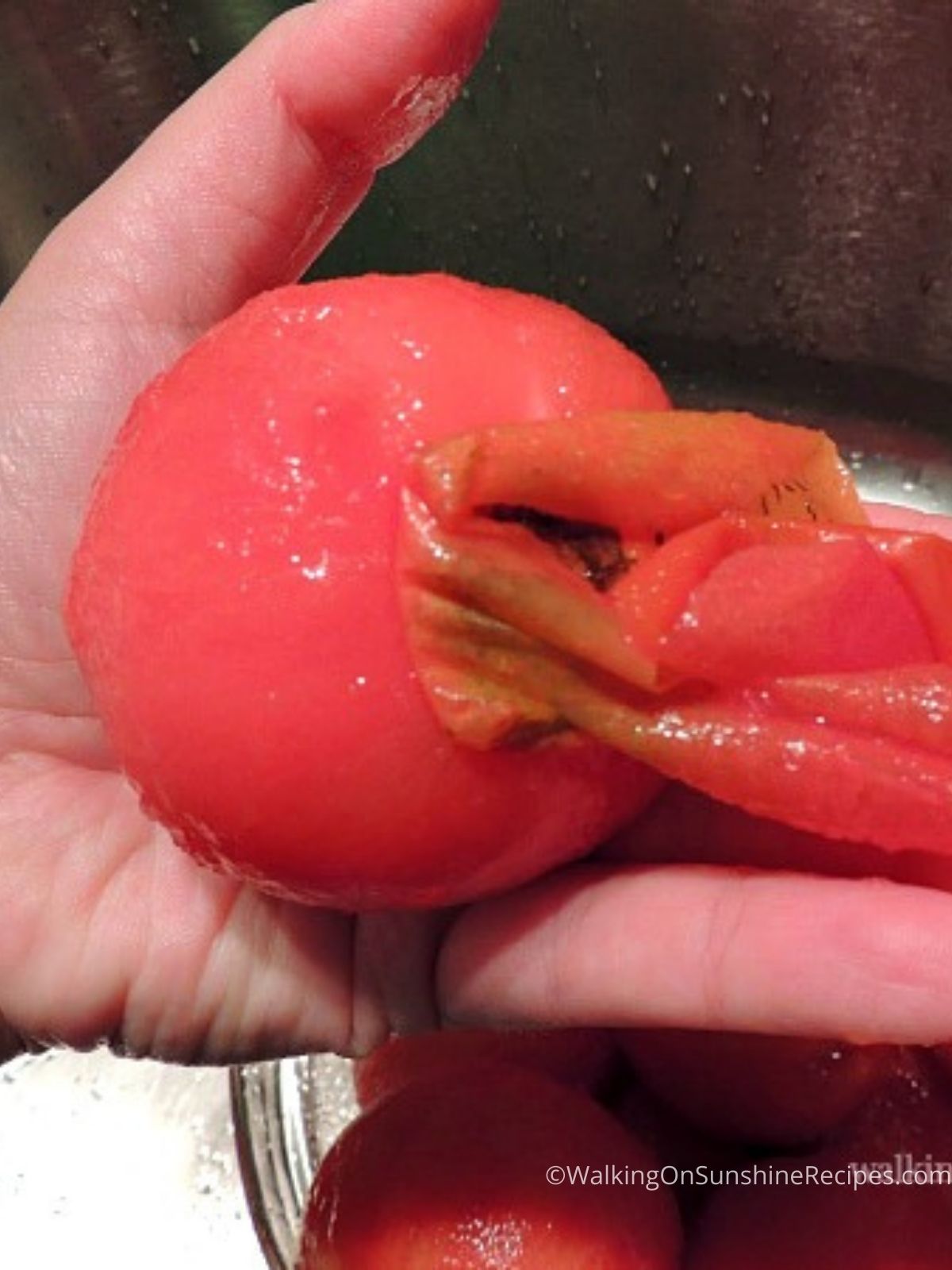 Easiest way to Peel Tomatoes
This is the easiest way to peel tomatoes so you can get them ready to cook down and then preserve for future use:
After the tomatoes have been peeled, I like to cook them before canning or freezing.
Place the peeled tomatoes in a crock pot and cook on high for 4 to 6 hours.
Cook until the tomatoes are falling apart and fork-tender.
At this step, you can either place the tomatoes in mason jars and proceed with the canning process according to the manufacturer's directions.
You can also place the cooked tomatoes in freezer-safe containers.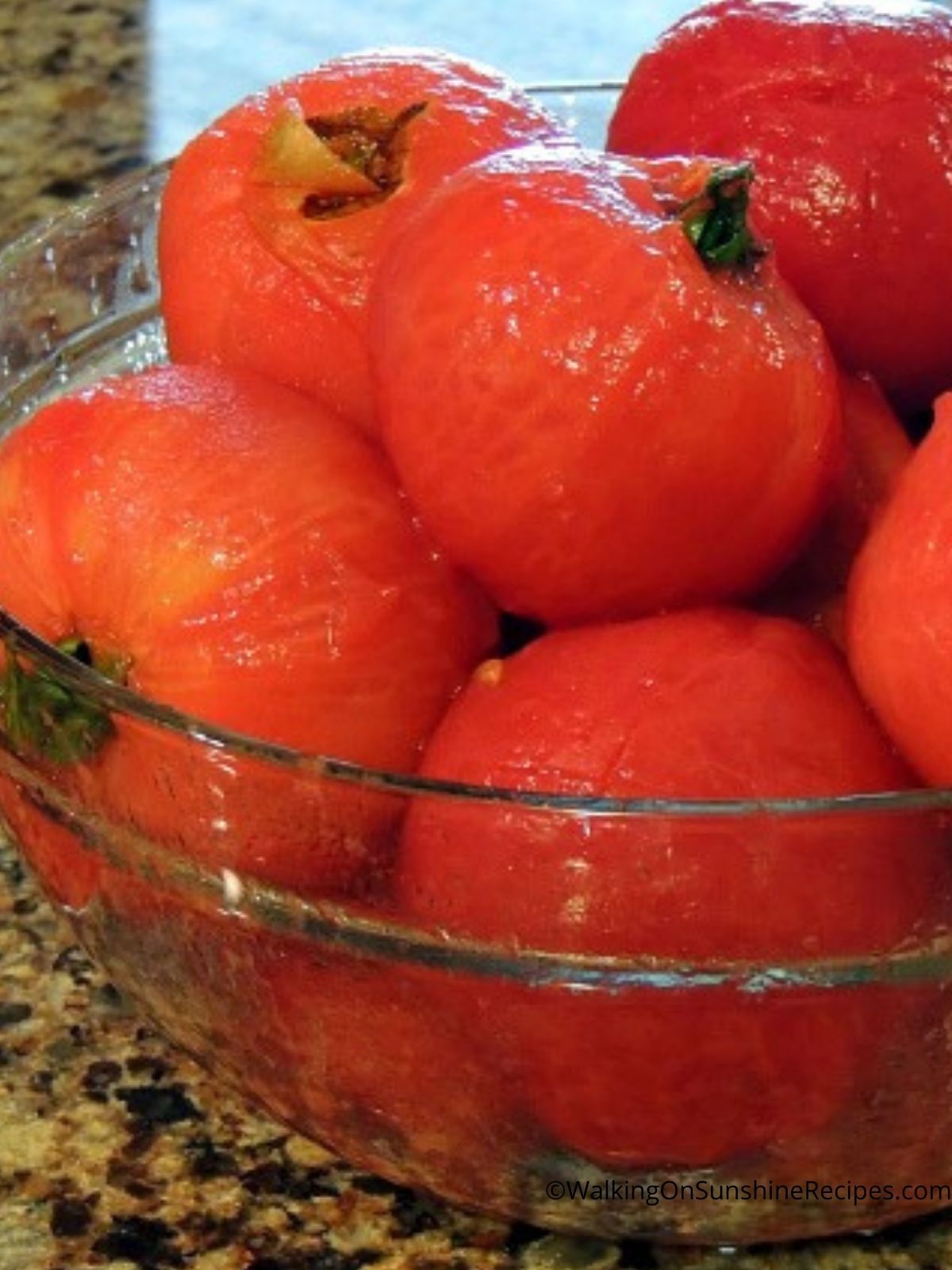 Canning Tomatoes Recipe
If you decide to can the tomatoes, make sure you follow the complete instructions for canning tomatoes using the water bath method.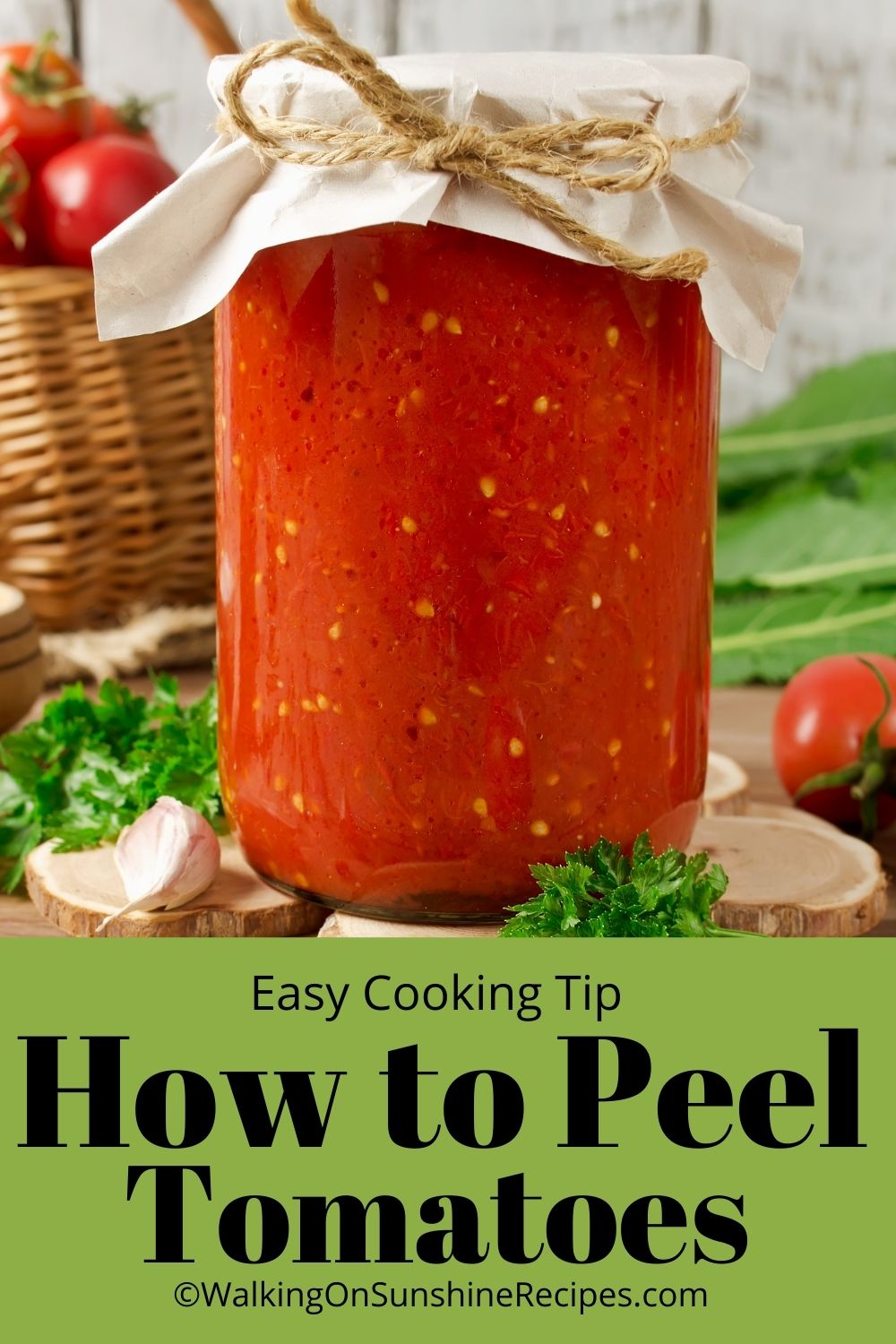 More Information
More Information
More Information
More Information
Yield: 12 peeled tomatoes
How to Peel, Cook and Preserve Fresh Tomatoes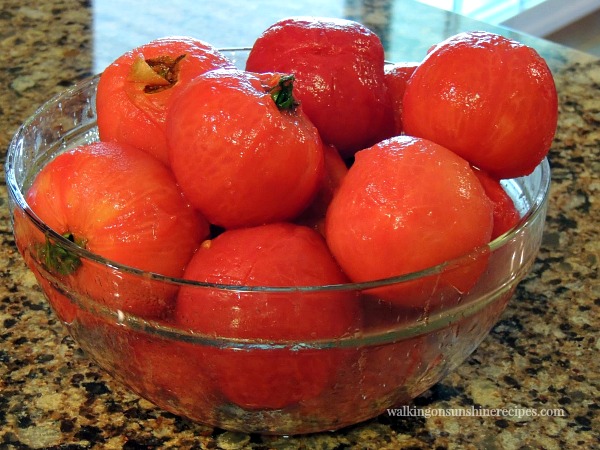 How to peel, cook and preserve fresh tomatoes so you can use them in delicious recipes.
Instructions
How to Peel Tomatoes
Wash the tomatoes.
Bring a large pot of water to boil on the stove top.
Place a small "X" in the bottom of each tomato and submerge in boiling water for 30 seconds.
Immediately remove the tomatoes from the hot water and place in a bowl of ice water.
Carefully pick up a tomato and begin to pull the outer layer of skin off.
The outer layer of skin comes off very easily.
How to Cook the Tomatoes
Place the peeled tomatoes in a blender or food processor.
You can also chop them by hand.
Depending how you like your sauce, you will either blend or process the tomatoes for a few seconds for a chunky, thick sauce or for a few minutes for a smooth, thinner sauce.
Place the processed tomatoes into a slow cooker and cook on low for 4 to 6 hours.
You can also cook them in a large stock pot on top of the stove for up to 2 hours depending again on how thick or thin you like your sauce.
Cooking the tomatoes longer will give you a much thicker sauce.
How to Preserve the Cooked Tomatoes
After the tomatoes have cooked down in the crock pot, you are ready to preserve or can them following the method for hot water bath with sterilized glass jars.
You can also freeze the cooked tomatoes in plastic containers or freezer bags.
How to Make Homemade Marinara Sauce from the Tomatoes
After the tomatoes have cooked down to the consistency you like, you can season them with your favorite seasonings for homemade sauce.
Serve over pasta or in your favorite recipes.


Notes
The prepared marinara sauce can be frozen for up to three months.
Recommended Products
As an Amazon Associate and member of other affiliate programs, I earn from qualifying purchases.
Nutrition Information:
Yield:
12
Serving Size:
1
Amount Per Serving:
Calories:

22
Total Fat:

0g
Saturated Fat:

0g
Trans Fat:

0g
Unsaturated Fat:

0g
Cholesterol:

0mg
Sodium:

6mg
Carbohydrates:

5g
Fiber:

1g
Sugar:

3g
Protein:

1g
The nutrition information is calculated automatically. I cannot guarantee its accuracy. If this data is important to you, please verify with your trusted nutrition calculator.
This recipe has been updated since it first appeared in 2014 with new photos, information and a new printable recipe card that includes nutritional information. I hope you enjoy the updates as much as I enjoyed working on them!