I have been making Pasta Fagioli Soup for a few years now. It is one of my daughter's favorite soups. I love how easy it is and that it can cook in my crock pot all day.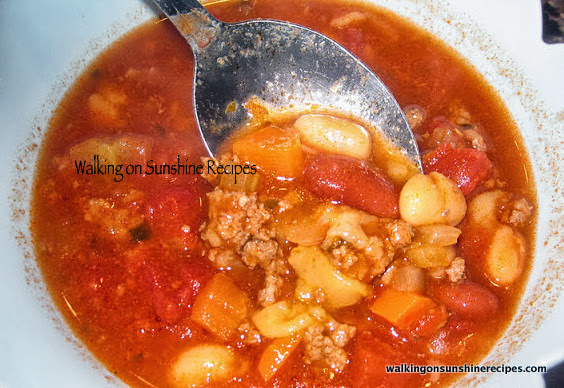 1 pound ground beef that has been browned.
1 small onion, finely diced
2 carrots, finely diced
2 stalks celery, finely diced
1 can diced tomatoes, NOT drained
1 can dark red kidney beans, drained and rinsed
1 can cannellini beans (or white kidney beans), drained and rinsed
1 (26 oz.) container beef stock (I used CHICKEN STOCK)
1 jar (25 oz.) spaghetti sauce (or you can use homemade sauce)
2 tsp. dried oregano
2 teaspoons dried parsley
1 teaspoon ground black pepper
3/4 cup uncooked ditalini pasta (or your favorite small pasta shape)
Salt, to taste
Combine all the above ingredients into your crock pot; except the pasta.
Cook on low for 6 to 8 hours or on high for 4 to 5 hours, THEN add the pasta, stir and continue to cook for another 30 minutes.
Depending on the consistency of the soup, you may need to add more broth to the soup.
Delicious and Easy…
Don't forget to add Parmesan Cheese!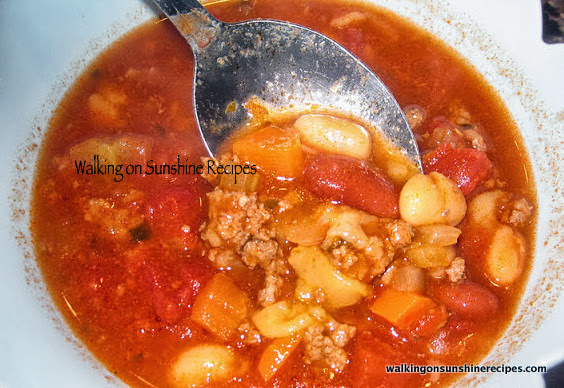 I do all the work, you just sit back and shop!
Find What You Need at Amazon!
Don't forget to check out my hubby's blog, Manning the Wall.