Today I'm sharing with you a great cooking tip for storing strawberries.  You come home from the grocery store or farmer's market with strawberries.  They look amazing.  You've eaten a few, but want to save the rest for a special recipe in a few days.  What's the BEST way to store strawberries?  Let's find out!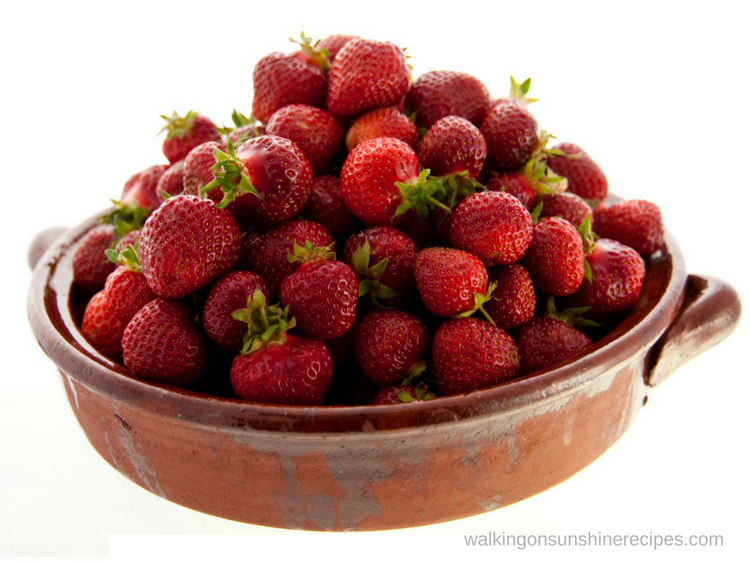 Storing Strawberries
Now that summer is in full swing, let's talk about one of our favorite fruits, strawberries.  But more importantly, let's discuss the best way for storing strawberries to keep them fresh.
Storing strawberries and keeping them fresh is easy if you follow these simple steps as soon as you bring them home from the grocery or farmer's market.
What are some of your favorite ways to enjoy fresh strawberries?  Do you like to use them in family favorite recipes or maybe just enjoy them as they are?  I love to slice them and add them to a bowl of vanilla yogurt for breakfast.
My husband loves when I make my homemade strawberry sauce!  He loves the sauce poured over homemade pancakes or waffles.
How to Properly Store Strawberries
Do not wash the strawberries
Strawberries are like sponges and will soak up all the water causing them to spoil. You can clean the strawberries with a slightly dampened paper towel to remove any dirt.
Check to see if any of the strawberries are moldy
If there are any, remove them immediately and discard them.
Remove the strawberries from their original package
Line a plastic container with a piece of paper towel or napkin and place the strawberries inside the container, only do not crowd the container.  The paper towel will collect any extra moisture that the strawberries have.
Do not cover the container.
Cover the strawberries lightly with another piece of paper towel and place the container in the refrigerator.
Here are a few of my family's favorite Strawberry Recipes:
If you follow these simple steps listed above, your strawberries will remain fresh for a few days until you're ready to enjoy them and use them for some delicious recipes: