Grilling is a summertime tradition, and there's no need to stick to burgers and hot dogs. Check out these recipes for delicious summer grilling recipes that will have your guests asking for seconds. From chicken skewers to pizza, there's something for everyone! So fire up the grill and get cooking!
Check out the full list of 4th of July Foods for more festive appetizers, easy desserts and meal ideas.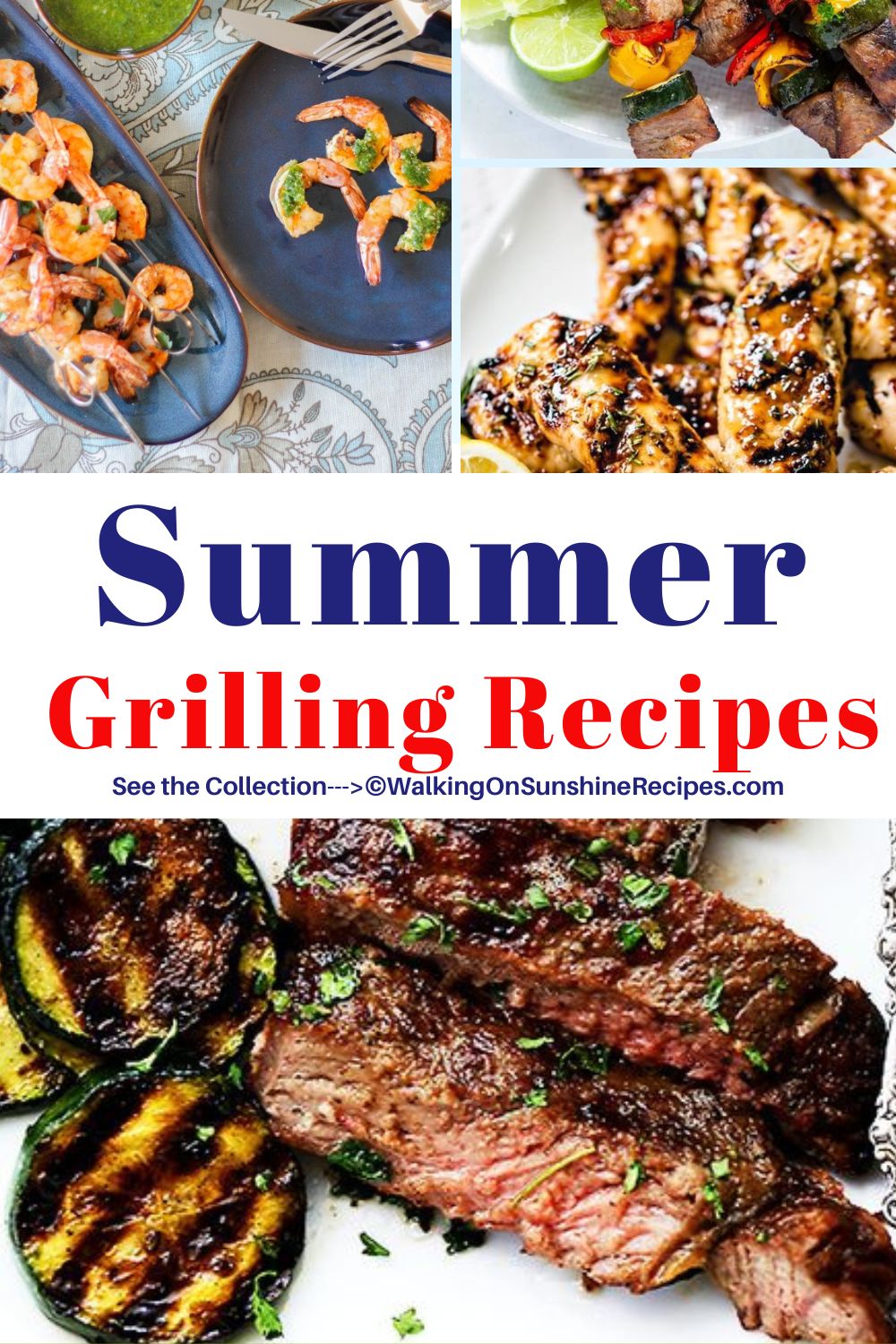 One of the best things about summer is the chance to fire up the grill and enjoy some delicious outdoor cooking. However, deciding what to cook for a summer barbecue can be a tricky task.
You'll want to choose recipes that are summery and seasonal, but also easy to prepare and grill. To help you narrow down your options, here are a few summer grilling recipes everyone is going to love.
LoLooking for more Patriotic Recipes? Try my 4th of July Appetizers, July 4th Side Dishes or my collection.
Table of Contents
4th of July Grilling Ideas
The 4th of July is the perfect time to fire up the grill and enjoy summertime eats! There are so many delicious summer grilling recipes to choose from, so it's easy to find something to please everyone at your cookout.
No 4th of July feast would be complete without some juicy burgers or hot dogs! For a fun twist on traditional hamburgers, try topping them with grilled pineapple or BBQ sauce.
Best Grilling Ideas
Grilling is the perfect summer cooking method - it's quick, easy, and can be done outdoors so you don't have to heat up your kitchen. Plus, there's something about grilled food that just tastes better in the summertime especially if you're throwing a backyard barbecue.
If you're looking for some new grilling recipes to try this summer, here are a few of our favorites to help you feed a crowd:
Grilled Chicken: marinate chicken breasts in your favorite sauce or spice blend, then grill over medium-high heat until cooked through.
Beef Kabobs: Perfect for summer gatherings, these kabobs are made with lean beef, vegetables, and a delicious marinade. Simply thread the beef and veggies onto skewers, grill for 10-15 minutes, and enjoy!
Vegetables: slice vegetables like zucchini, eggplant, and bell peppers into thin strips, then grill for 5-10 minutes until charred. Serve as a side dish or top with grilled chicken or salmon for a complete meal.
Fruit Skewers: thread chunks of fruit onto skewers (try pineapple, watermelon, and mango) and grill for 5-10 minutes. Serve with a dollop of yogurt or honey for a sweet summer treat.
Healthy Summer Grilling Recipes
Summer grilling doesn't have to be unhealthy—with a little creativity, you can enjoy all your favorite foods without sacrificing taste or nutrition. If you're looking for some healthier options, there are plenty of great recipes and ideas available to help you stay on track with your weight loss and/or healthy eating habits:
One option is to grill vegetables instead of meat. Try grilling zucchini, eggplant, or peppers and serve them with a fresh salad.
You can also try grilling fruit such as peaches or pineapple.
Another summer grilling recipe that's both healthy and delicious is grilled salmon. Season the salmon with some lemon juice, pepper, and herbs, then grill it for a few minutes per side. Serve it with a simple side of grilled vegetables or a salad for a complete meal.
Check out my full list of 4th of July Healthy Recipes.
Helpful Kitchen Tools
This post contains affiliate links. That means that if you make a purchase after clicking on a link I may earn a small commission at no extra cost to you. For more information, click here.
Picnic Mat,Picnic Blanket Waterproof Mat,More Information
Tall Pop-Up Mesh Food CoversMore Information
Picnic Plate Napkin and FlatwareMore Information
Wicker Picnic BasketMore Information
⭐Before You Begin! If you make this recipe, please leave a review and star rating. This helps my business thrive and continue providing FREE recipes.
Summer Grilling Recipes
Check out these delicious summer grilling recipes from chicken skewers to pizza, there's something for everyone!
 A drizzle of balsamic glaze to finish would be perfect on top!
Photo Credit: amindfullmom.com
With only a few ingredients and minimal prep work, you can have the best juicy, flavorful homemade burgers thanks to a few key pro-tips.
Photo Credit: www.chefnextdoorblog.com
This crowd pleasing grilled shrimp recipe couldn't be easier to make!
Photo Credit: eatmovemake.com
Grilled ribeyes with beer and brown sugar marinade are guaranteed to be a huge hit this summer.
Photo Credit: www.jugglingactmama.com
You can serve these kabobs right on the skewer or take them off and toss them with pasta in a simple dressing for a grilled pasta salad si.de dish.
Photo Credit: whatagirleats.com
This recipe is low carb, paleo and keto friendly. It makes the most delicious grilled zucchini and grilled asparagus.
Photo Credit: walkingonsunshinerecipes.com
Made with my easy three ingredient homemade barbecue sauce.
Photo Credit: walkingonsunshinerecipes.com
If you don't have access to an outdoor grill, try this easy recipe for oven-grilled barbecue flavored ribs. Easy and delicious!
Photo Credit: diethood.com
New York Strip Steaks marinated in one of the most delicious marinades.
Photo Credit: www.agoudalife.com
Step by step instructions for how to make grilled pizza.
Photo Credit: kristineskitchenblog.com
This kabob recipe features grilled steak and veggies with the best beef kabob marinade.
Photo Credit: www.goodlifeeats.com
These chicken tenderloins are marinated in a sweet and savory honey mustard sauce with sprigs of fresh rosemary and lemon juice.
This recipe has been updated since it first appeared in 2017 with new photos, information and information. I hope you enjoy the updates as much as I enjoyed working on them!