Make room in your recipe box for my list of Top 10 Italian Cookies that are perfect for the holidays and all year long. These are easy cookie recipes and a few difficult recipes, but they're all delicious and uniquely Italian.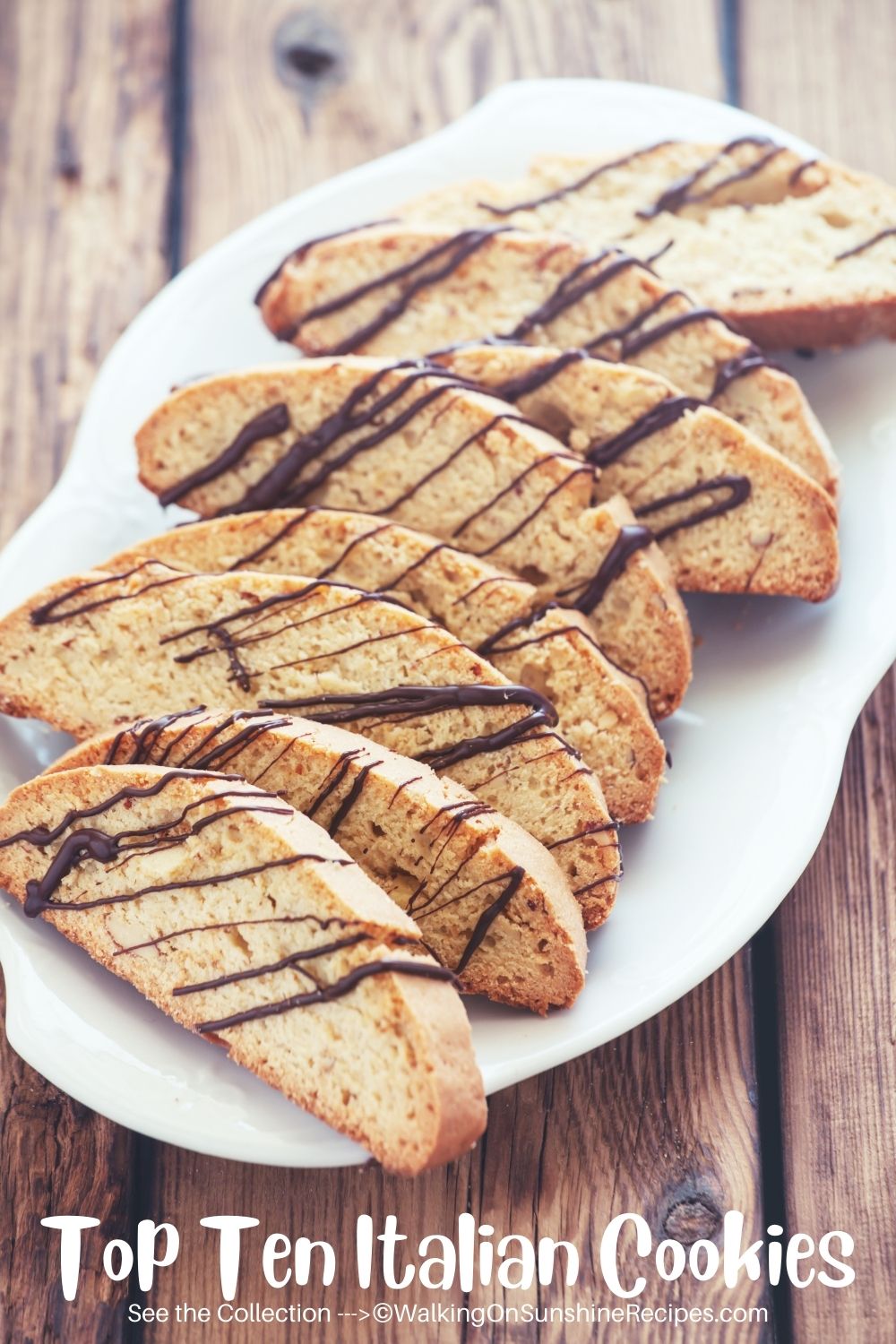 Walk into any Italian bakery and your eye is immediately drawn to the assortment of cookies lined up behind the glass cases. And the smell. There's also something about the smell inside an Italian bakery that doesn't exist in a regular bakery.
Italians have been baking cookies for centuries. And most of these recipes have been handed down through the generations.
In my own family, we still make a few of the recipes my grandmother, living in Ohio, would bake and pack up to ship to our family living in Queens, NY. I still remember that big box arriving and the excitement of opening the box to find the cookies my grandmother so lovingly prepared.
Jump to:
Popular Italian Christmas Cookies
A few of the cookies that my grandmother would send to us over the holidays are Pizzelle cookies, Wand cookies and S Shaped Cookies.
When I was younger, my mother would make Rosette Cookies that used a special iron dipped into batter and then fried. As soon as they came out of the oil, they were dusted with powdered sugar. They were so delicious!
Struffoli is another popular cookie made for Christmas. As kids we called them "honey balls" because they're little pieces of dough fried and then drizzled with honey and nonpareils.
Traditional Italian Cookies
Many cookie Italian cookie recipes can be traced back when spice trading routes existed. That's when Italians were first introduced to cinnamon, ginger and other spices that became part of their cooking and baking.
Italians love to use fruit and nuts in their cookie recipes. As well as almond flavoring and almond paste.
A lot of these were added to recipes to show prosperity because they were expensive to purchase. Serving cookies with fruit and nuts are popular for new year celebrations to wish your guests a prosperous year.
Helpful Kitchen Tools
This post contains affiliate links. That means that if you make a purchase after clicking on a link I may earn a small commission at no extra cost to you. For more information, click here.
More Information
More Information
More Information
More Information
Storage Tips
Proper storage can ensure your cookies stay fresher longer.
When storing cookies, you want to make sure you store them properly so they stay fresh longer. Layer the cookies between pieces of parchment or waxed paper so the cookies don't stick together.
Store cookies in an airtight container for up to 5 days either in the refrigerator or on the counter. If it's warm in the house, cookies should be store in the refrigerator.
Most cookies can be frozen for up to 3 months.
Tried any of my recipes? Let me know in the comments!