Here are the best herbs to grow for all your favorite recipes. They make a great addition to any vegetable garden whether big or small.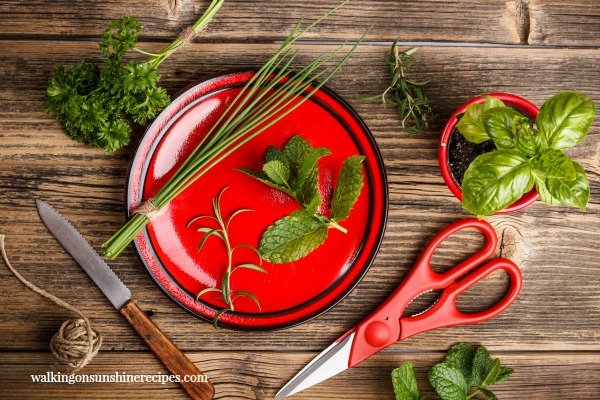 Best Herbs to Grow for Cooking
Today I'm sharing a gardening tip with you on the best herbs to grow for cooking.  Herbs  are easy to grow and are a great addition to any vegetable garden and you don't really need a lot of space either.
You can start with a few pots on the back deck or add a few plants in a flowering bed.  Herbs are a magnet for bees and butterflies which is what every garden needs to flourish.
The main reason people grow herbs at home is for the taste.  Fresh herbs make recipes taste better and are great to have on hand for soups, stews, salads and marinades.  Here are five of my favorite herbs to grow every season that I love to use in my recipes when cooking.
Tips for Growing Herbs
Before we get started with this list, here's a tip to help you with growing herbs.  Keep in mind that they need a good four to six hours of sun daily.  So walk around your garden or back yard and see where the sunniest place is…that's where you want your herbs to grow.
I went looking for a photo of my herbs from last year but of course I didn't take any.  Here's a photo from a few years ago.  My hubby built my garden shed awhile ago and then he added this pull down shelf on the side for us to use when we're grilling or for when I'm planting.
I sort of took over the shelf and put all my potted herbs here.  The herbs get the perfect amount of sunlight in this spot which is really important for having a successful herb garden.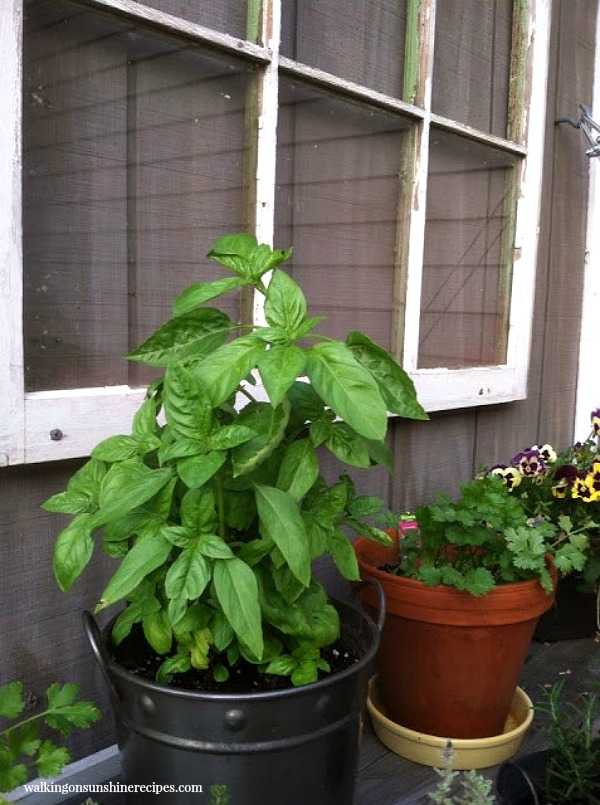 Best Herbs to Grow for Cooking
Basil
Basil is one of the most popular herbs to grow in gardens.  You can start the seeds indoors by a sunny window and then transplant into the garden when it's warm enough.  Most people associate basil with tomato based recipes but it's also great for soups, salads, omelets, meats, poultry, fish and of course the all popular pesto.  Check out my recipe for Homemade Pesto with easy freezing tips below!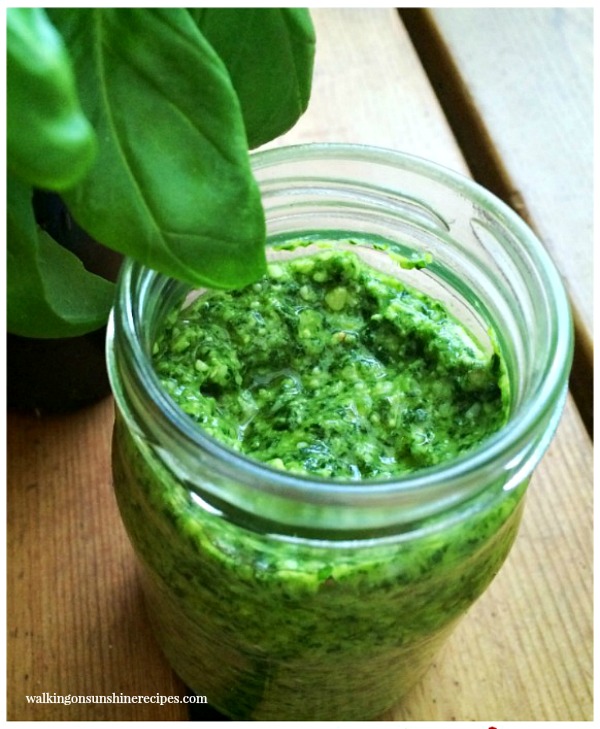 Chives
One of my favorite herbs to grow and to use in cooking is chives!  I love to add chopped chives to omelets and scrambled eggs.  Plant the seeds in the spring directly into the ground and in no time you'll have a beautiful bunch of chives to use for salads, eggs, mashed potatoes, sandwich spreads, sauces and of course sour cream to top baked potatoes.
The best thing about planting chives is you only have to plant them once as they come back every year.  In the spring they'll produce beautiful purple flowers that are edible as well!
Parsley
When growing parsley, you need to keep the soil moist and try not to let any mulch touch the stems to prevent rot from forming on the herb.  There are two types of parsley, flat leaf and curly.   Flat leaf parsley has a more vibrant flavor and often used in Italian recipes.
Both flat leaf and curly parsley are great in soups, salads, stews, casseroles and omelets.  You can also use it as a garnish.  I keep a mason jar with dried parsley by my stove and use it all the time as a garnish when I'm cooking.
Rosemary
Rosemary is another great herb to grow and use for cooking.  It's also great to grow in rock gardens! Make sure you give the plants enough room though as it can grow to four feet tall and spread that much as well.
I like to grow rosemary in a large pot on my back porch.  It's also a very fragrant herb!  It's been said that the scent of rosemary can be used to help clear the mind and reduce stress.  For cooking, use it in poultry, lamb, stews and soups recipes.  I like to chop rosemary and add to marinades too!
Mint
Mint is a favorite herb to use for cooking, only some people are not too happy to grow it in their gardens…especially if you're not careful as it can take over your entire garden.  I know, because this happened to us!  We finally dug up our mint six years ago and transplanted it into a bucket and then planted the bucket in the ground.  You can check out the post I wrote on how to grow mint for further instructions.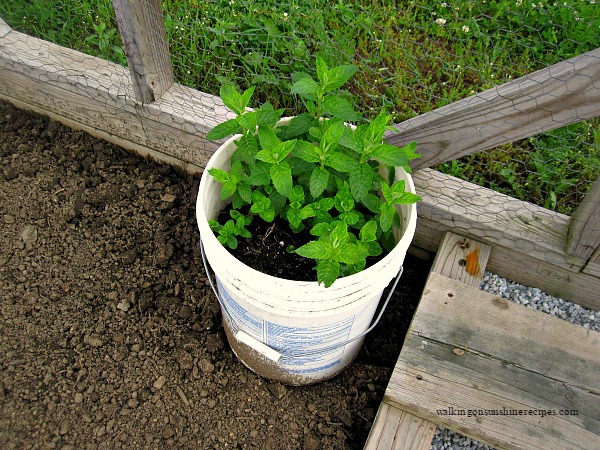 Mint is great in both savory and sweet recipes.  We like it best in a glass of refreshing iced tea or lemonade all summer long.  You can even pinch off the leaves and add it to ice cube trays and then fill the trays with water.  Use the frozen ice cubes in drinks when you're entertaining.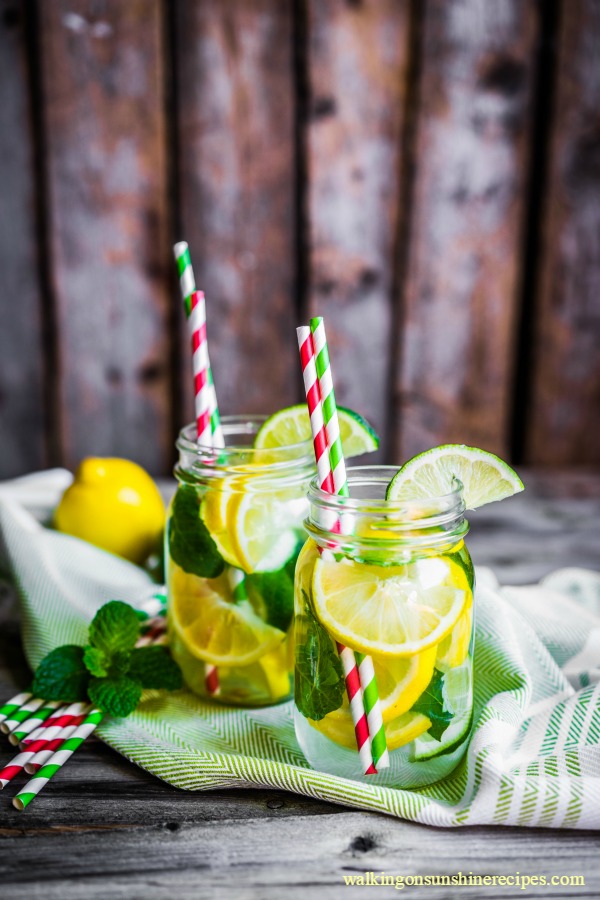 So there are my favorite herbs to grow that I love to use for cooking all summer long.  Next week I'm going to share with you a fun way to plant the herbs in clay pots.  I hope you'll come back!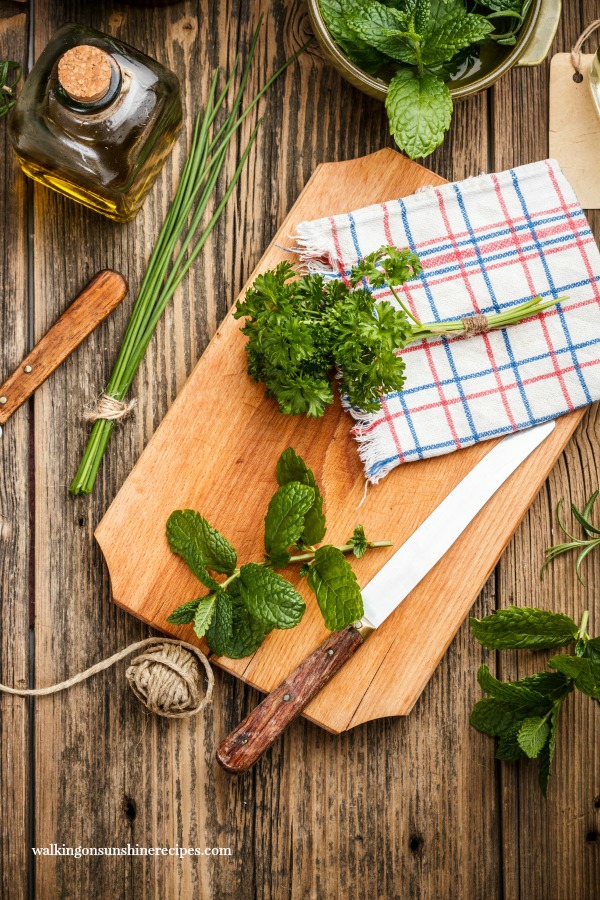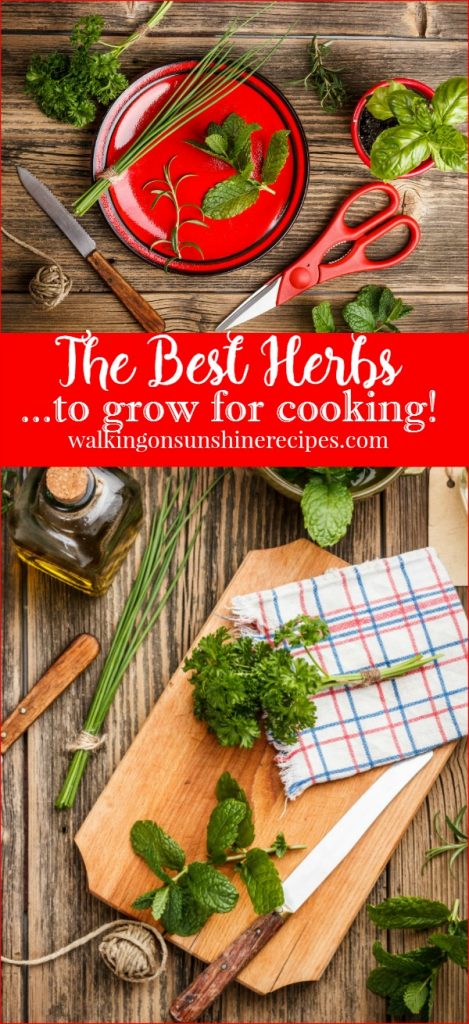 How to Build your First Garden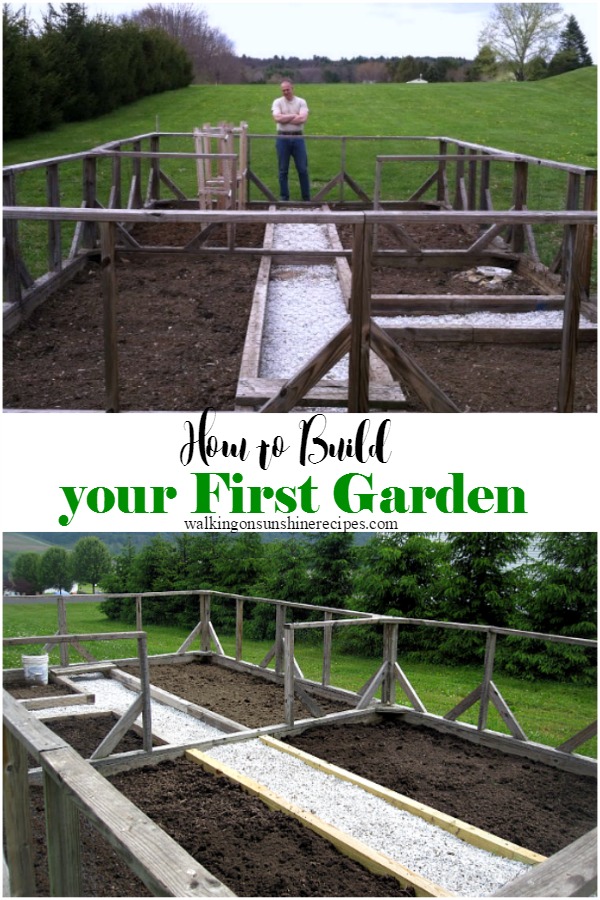 Tips on Growing Amazing Tomatoes