What better way to celebrate the patriotic holiday than with a collection of crock pot 4th of July recipes that will wow your guests and make entertaining a breeze?
From mouth-watering pulled pork sandwiches to savory baked beans, these dishes are sure to be a hit with everyone at your party.
Check out all the other 4th of July Foods for even more delicious recipes this summer.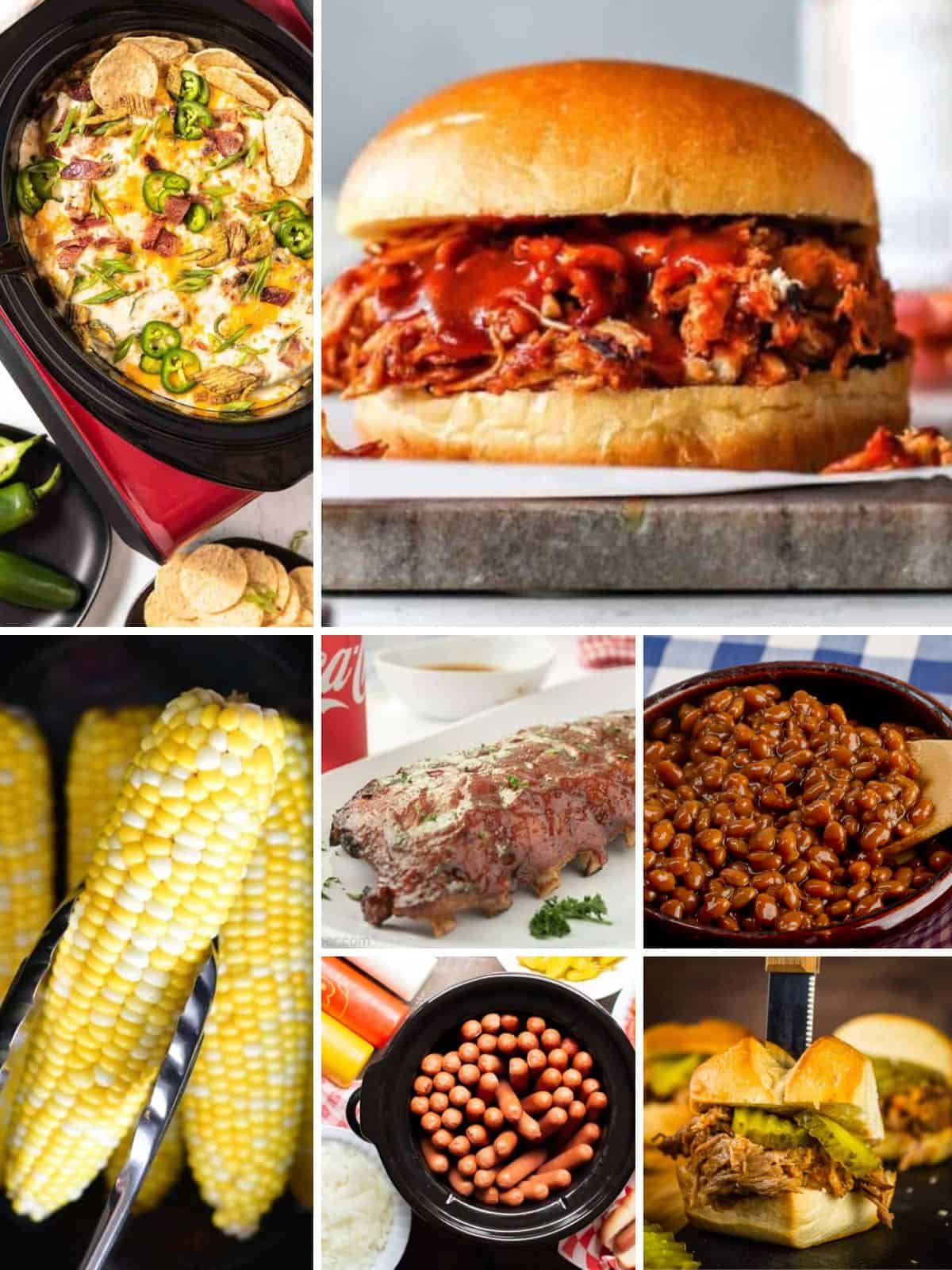 If you're already planning your menu for July 4th, consider a few of these slow cooker recipes to help make things easier!
With a crock pot, you can cook up a range of tasty dishes easily, leaving you more time to enjoy the festivities with family and friends.
Whether you're hosting a backyard BBQ or an indoor party, these crock pot recipes are perfect for those who want to enjoy delicious home-cooked meals without spending hours in the kitchen.
And yes...you can even make desserts in the crock pot!
Looking for more Patriotic Recipes to serve this summer? Try my collection of 4th of July Healthy Food Ideas or my Dinner Ideas for the 4th of July.
Table of Contents
👩‍🍳Recipe Notes
Check out these easy tips for helping you prepare Crock pot 4th of July Recipes:
Plan Ahead - read through the list below and make a list of the dishes you want to prepare. This will help you save time on the day of the event.
Make Cleanup Easy - if you want to make your crock pot cleanup quick and easy, use disposable liners! Not only do they stop food from sticking to your pot, but they make cleanup a breeze.
Cook the Food Slow - Prevent the food from drying out or even burning by cooking the food slow.
Refrigerator Cinnamon Rolls eBookClick HERE for More Information
📌Quick Tip: If you're serving multiple crock pot dishes, label each one so your guests know what they're eating. This will help avoid confusion and ensure that everyone gets to try all of the different dishes.
💡Recipe FAQ
Simply click the plus sign to read more about the questions you see below.
If YOU have a question regarding this recipe, please let me know in the comment section!
Can you prep crock pot night before and put in fridge?
Store the meat separately from the other ingredients, and then in the morning toss everything together in the crock pot cover it and keep it in the fridge overnight.
Can you leave raw chicken in slow cooker overnight?
Leaving raw chicken in the slow cooker overnight can increase the risk of bacterial growth and foodborne illness. To be safe, it is best to cook chicken in the slow cooker during the day when you are able to monitor it and ensure that it is cooked properly.
Air Fryer Recipes for BeginnersMore Information
🛒Helpful Kitchen Tools
Crock-Pot 6 Quart Cook & Carry Programmable Slow Cooker with Digital Timer, Stainless Steel (SCCPVL610-S-A)
Reynolds Kitchens Slow Cooker Liners, Regular (Fits 3-8 Quarts), 20 Count
100Pcs Patriotic Napkins
Meat Thermometer Digital,
📇Recipe Collection
⭐Before You Begin! If you make any of these recipes, please leave a review and star rating. This helps my business thrive and continue providing FREE recipes.
Crockpot 4th of July Recipes
From mouth-watering pulled pork sandwiches to savory baked beans, these crock pot 4th of July recipes are sure to be a hit!