Why not doing something different for Easter this year and create a Grass Centerpiece filled with colorful eggs and bunnies that your friends and family will love!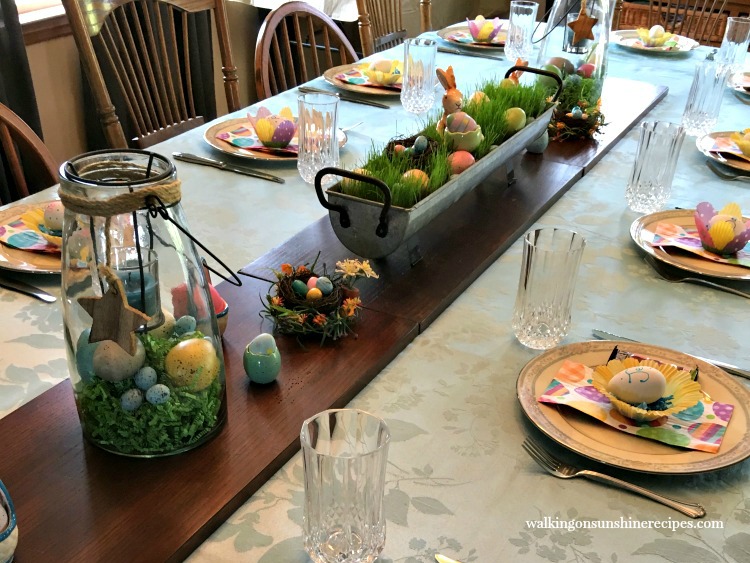 Spring and Easter Grass Centerpiece
Last year a few weeks before Easter I went to Hobby Lobby looking for something different to use as my centerpiece for our Easter table. I found a few ideas but they all involved fake grass mats.
I showed them to my husband and told him that I like the idea of using grass for the centerpiece but didn't like the fake grass idea. I asked him if he thought we could plant real grass in a container and then I could decorate around it?
I mean we already were planting our Resurrection Garden again this year with grass seeds, why not work on another project?
I already had this great galvanized trough that I usually fill with seasonal items so he suggested we just fill it with dirt and plant grass seeds! It was the best idea and I loved how pretty our grass centerpiece looked with the table set for Easter last year.
A few other Fun Easter Projects:
How to Plant a Grass Centerpiece
There's really not much you need to put this together. Find a container that you want to use as the centerpiece. I already had this amazing galvanized trough so it was perfect for our project. Make sure you check out my Shopping List at the end of this post to purchase the same galvanized trough.
Galvanized Trough
Heavy duty plastic bag – to line the container you're using
Potting soil
Grass Seed
Popsicle sticks
Plastic Wrap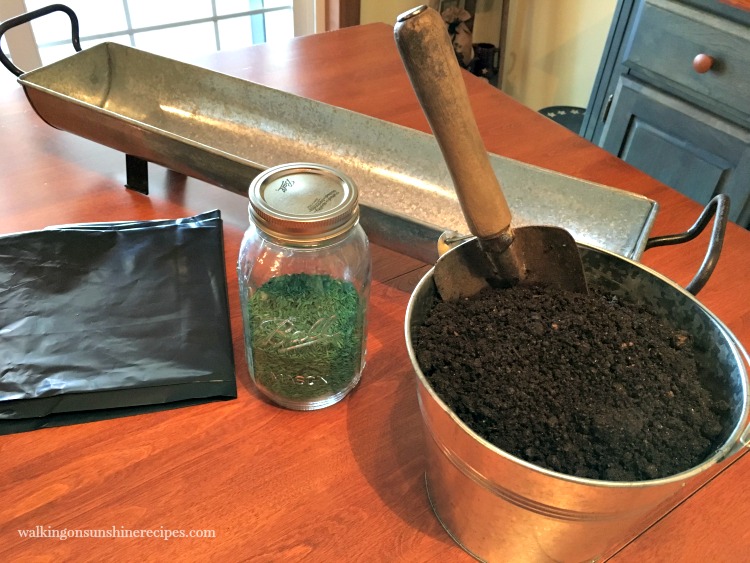 You want to make sure that whichever container you choose to use that it's waterproof. You don't want water dripping all over the place as you water your grass seed every day. We chose to cut a heavy duty garbage bag to fit inside the galvanized container.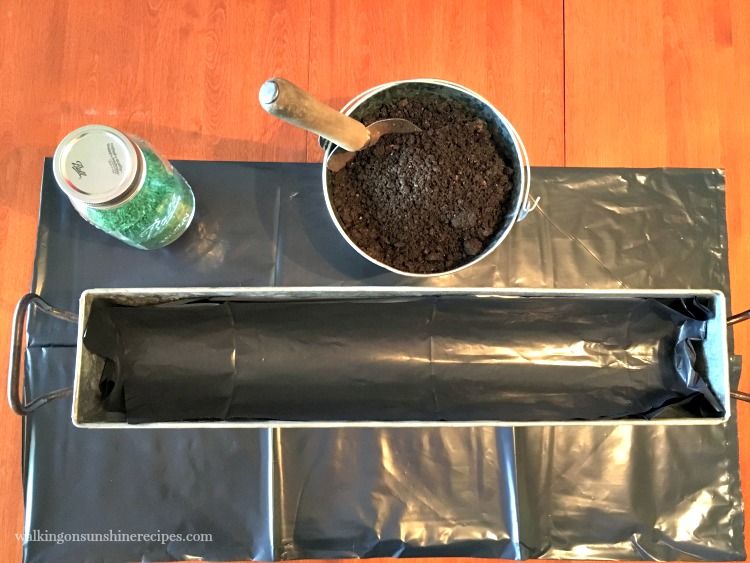 Add the dirt. We used just regular potting soil.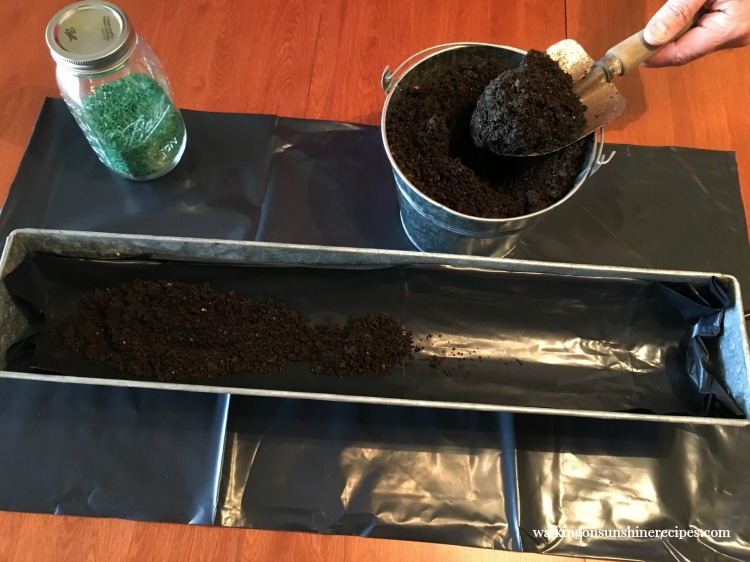 The sprinkle the grass seed on top. We used Kentucky Bluegrass Seed because I wanted a pretty grass. We planted a lot of seed too…I wanted the container to be thick with grass.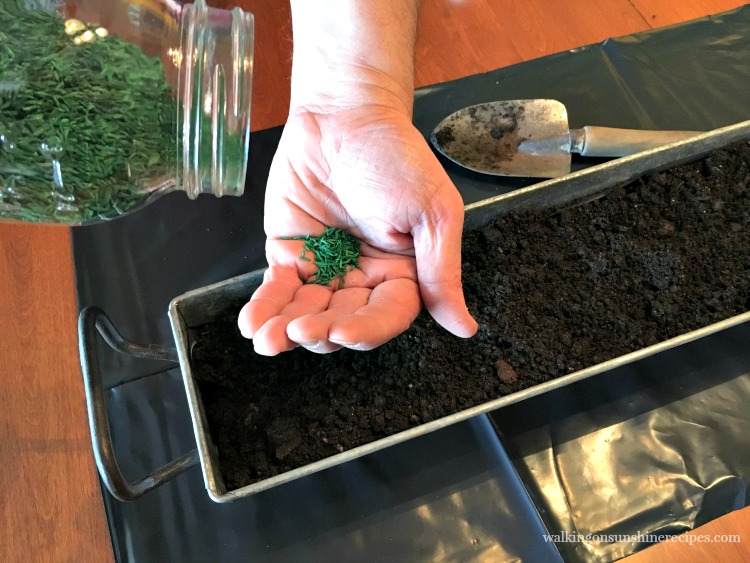 Using a spray bottle, lightly spray the grass seed and dirt. Then place a few popsicle sticks down the center of the container. Then add a piece of plastic wrap on top. You're creating a greenhouse effect.
Place the container in front of a window that gets a ton of sunlight. You want the grass to grow quickly! Lift up the plastic wrap daily to spritz everything with water, then cover again until you see grass starting to grow. You can remove the popsicle sticks and plastic wrap at that point.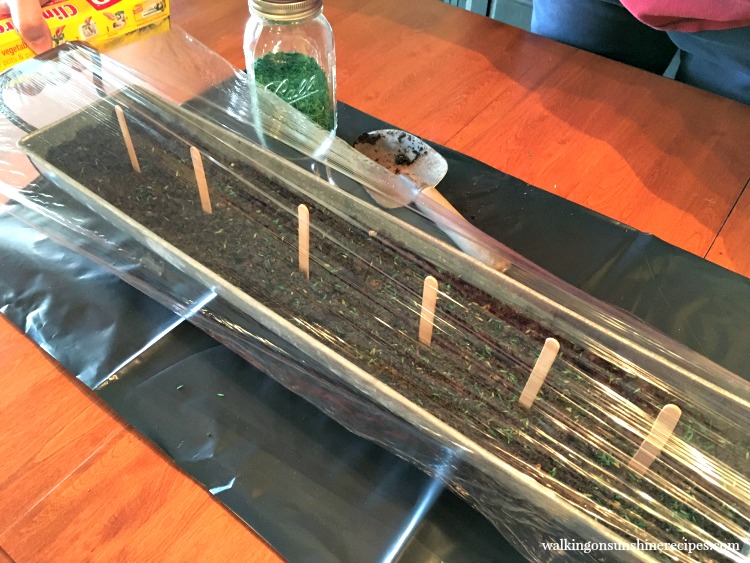 Here's our container filled with beautiful grass. You can use it just as is for your centerpiece or you can trim it, which is what I did. You're going to want to trim it just a few days before Easter though because it will continue to grow!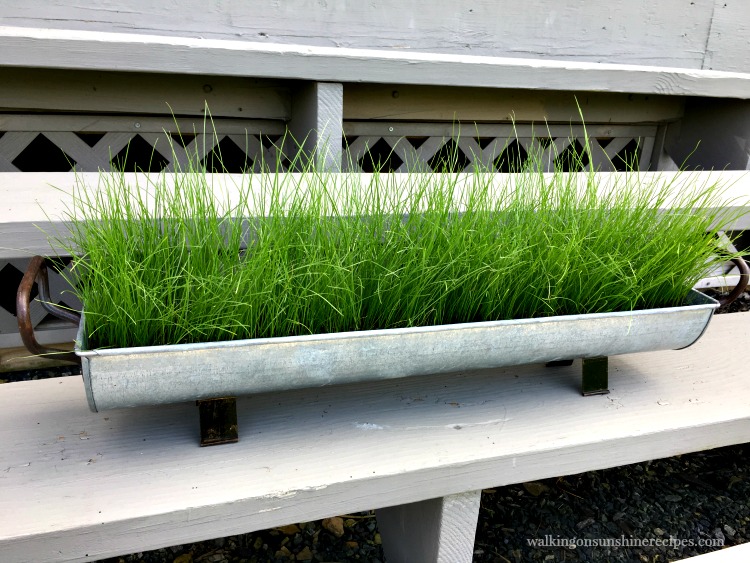 How to Decorate with the Grass Centerpiece
Now comes the fun part…decorating! I chose to use speckled wooden eggs and my ceramic bunny. If you have young children at home, you can even dye eggs and place them directly in the grass centerpiece. I think I'm going to do that this year!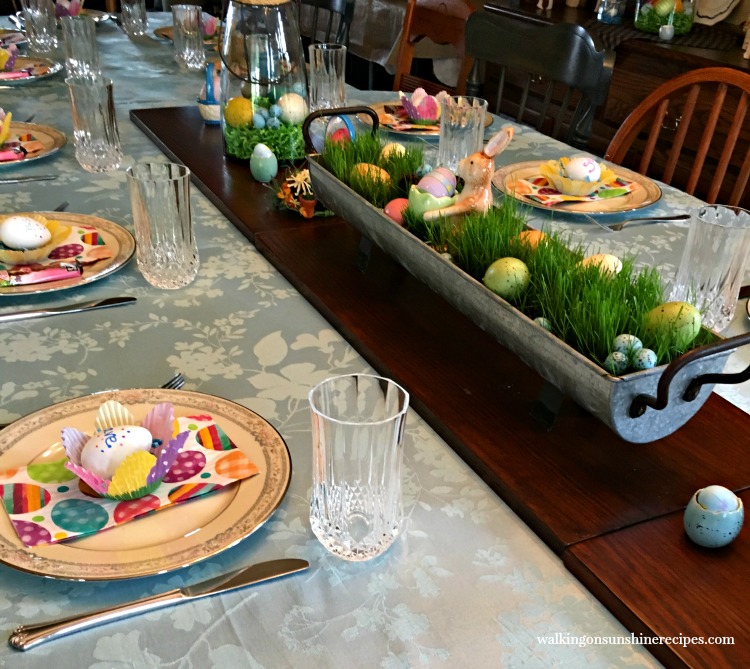 I also found some cute grapevine wreaths with eggs to look like nests.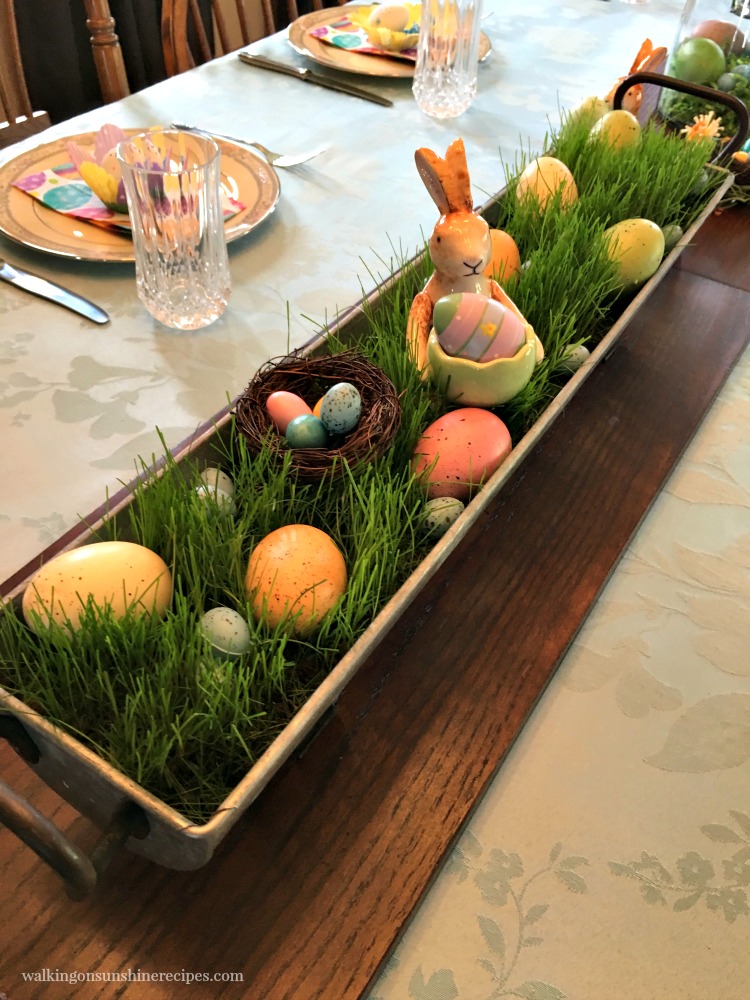 Here's a fun overhead photo for you to see the grass with the bunny and eggs.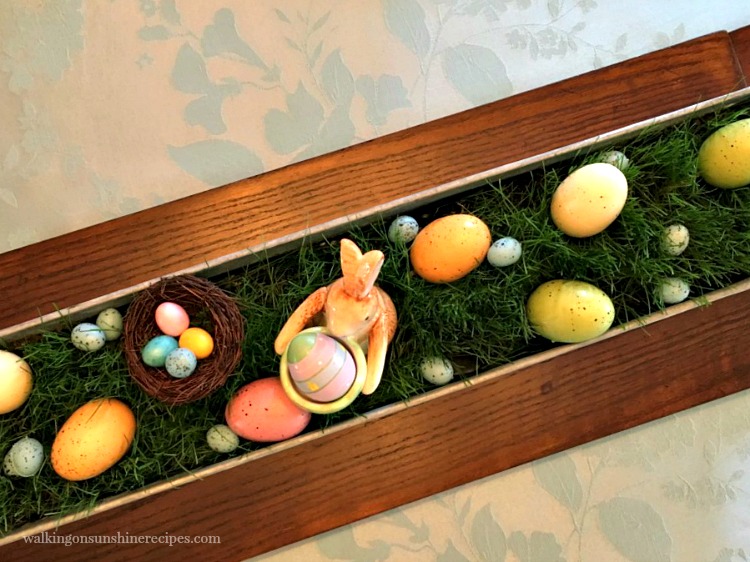 How to Set the Table with the Grass Centerpiece
Here's another view of the table completely set on Easter Morning. I filled my glass containers with colored paper and more of the speckled wooden eggs. I also used fun colorful paper napkins with cupcake liners on top that held the egg place card holders I created. You can find instructions on making those here. I placed candy marshmallow bunnies on top of the kid's plates as a little treat for them.
I think this is one of my favorite centerpieces and I can't wait to see how this year's grass grows…yes, it's already planted!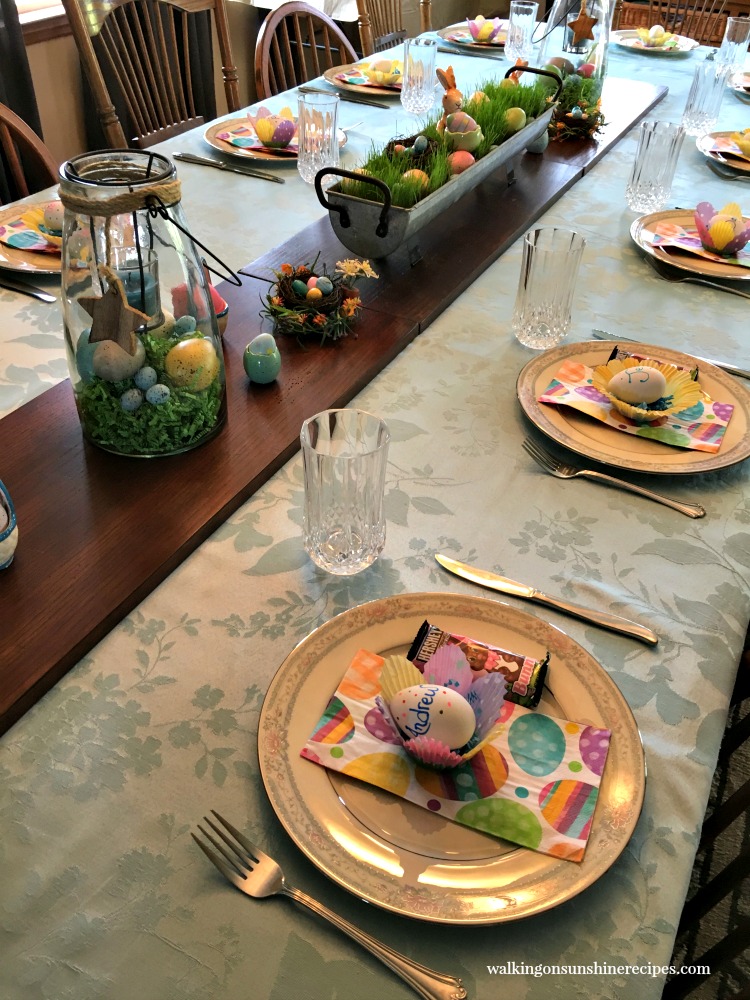 This post contains affiliate links. Your cost is the same, but I earn a commission when you shop through them. For more information, click here.
More Information
More Information
More Information
More Information
More Information