Last week on
Facebook
I mentioned that I was making homemade biscuits
for dinner and a friend asked for the recipe.
Ingredients:
1 3/4 cups flour
2 1/2 teaspoons baking powder
1 teaspoon salt
6 tablespoons butter (COLD, cut into small pieces)
3/4 cup COLD milk
Begin by combining the flour, baking powder and salt together.
Cut the butter into the flour mixture until it resembles a coarse meal.
Slowly add the milk.
Once everything is combined, turn the dough out onto
a floured surface and knead it a few times to bring the dough together and then
with a rolling pin, roll out the dough to 3/4 inch thickness.
Using a biscuit cutter or a sturdy glass, cut about 12 biscuits,
re-rolling the dough if necessary…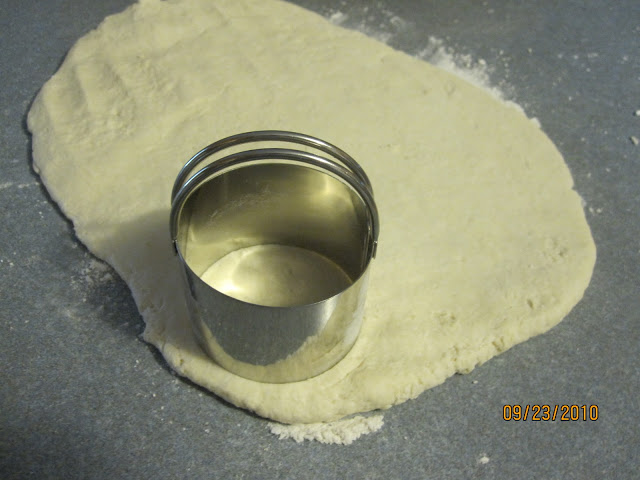 Place on a lined baking sheet.
Brush the tops with melted butter and bake in a 450 degree oven for 13 to 15 minutes.

Here's a few helpful hints:
Sometimes getting homemade biscuits together can be a little
stressful while you're fixing the rest of dinner.
Or at least in our house it gets STRESSFUL!
You can prepare these biscuits and cut them out,
place them on the baking tray and put the baking tray in the FREEZER.
Once the biscuits have frozen, remove them from the tray
and place in a plastic bag, returning the bag to the freezer…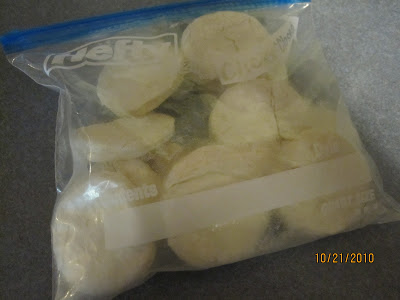 The next time you want homemade biscuits, just pull the amount you need out
of the freezer and bake at 450.
You may need to add a few minutes to the baking time, but trust me they
TASTE DELICIOUS!