Are you looking for some delicious Fourth of July Themed Appetizers to serve at your 4th of July barbecue? Look no further! These recipes are all perfect for celebrating America's birthday.
They're easy to make and sure to please a crowd. So get creative and add some festive flair to your Independence Day celebration with these tasty treats!
Check out the full list of 4th of July Foods for more festive appetizers, easy desserts and meal ideas.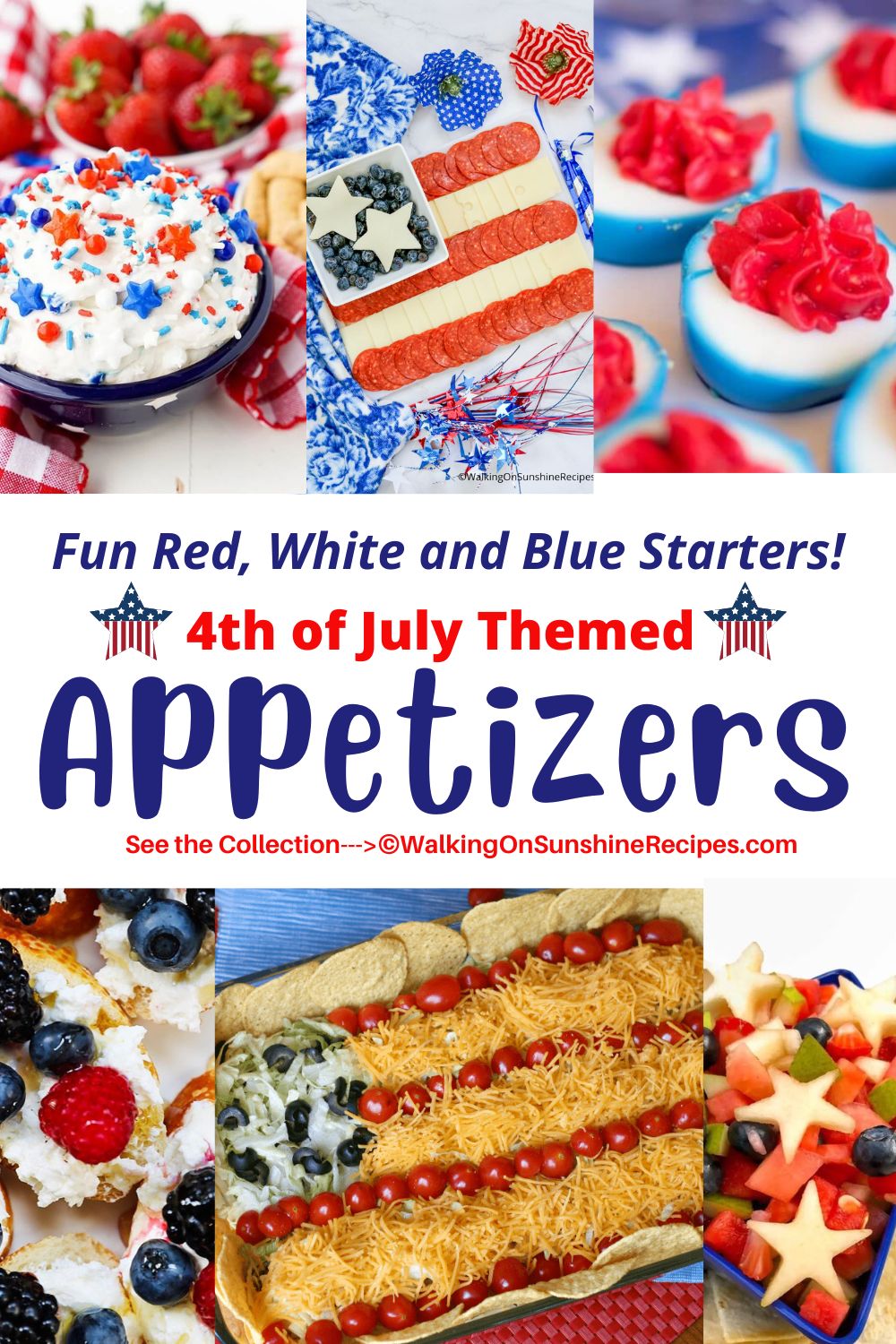 Summertime is the perfect opportunity to take advantage of seasonal produce and throw the perfect backyard party. When planning your menu, be sure to include some festive Fourth of July themed appetizers.
It won't be hard for you to get your creative juices flowing once you take a look at this collection I put together for you today. Guests will love these fun and festive summer party food options.
Looking for more Patriotic Recipes? Try my 4th of July Appetizers, July 4th Side Dishes or my 4th of July Healthy Recipes collection.
Table of Contents
Easy 4th of July Appetizers
When summer rolls around, Americans start to get excited for Independence Day. The Fourth of July is a time to celebrate our nation's birthday with parades, barbecues, and fireworks.
It's also a time to enjoy some delicious summer party food. Besides opening a bag of chips and a can of dip, you can put together a few other appetizers that are easy that your guest will enjoy while the hamburgers and hot dogs are on the grill.
Here are a few very easy appetizer ideas:
Fill celery boats with cream cheese and top them with small American flags.
Mini hot dogs wrapped in pre-made croissant dough and baked until golden brown. Serve them with ketchup and mustard for dipping.
Cut star shapes out of different flavors of cheese to serve with crackers.
Another option is to stuff cherry tomatoes with mozzarella and pesto.
For something a little more patriotic, try making a red, white, and blue fruit salad served with cinnamon and sugar crackers.
No matter what you serve, your guests are sure to enjoy these Fourth of July themed appetizers.
Make Ahead Appetizers to Freeze
Planning for a party can sometimes be overwhelming. You could ask for help and have guests bring an appetizer or dessert. But what if you really want to do the cooking yourself?
Try prepping ahead and freezing some of the recipes. Here are a few things to keep in mind when freezing appetizers:
First, make sure that the appetizers are fully cooked before freezing. This will help to prevent them from drying out or becoming overcooked.
Second, use freezer-safe containers to store the appetizers. This will help to keep them fresh and minimize freezer burn.
Finally, label the containers with the date and contents. This will help you to keep track of what you have on hand and make sure that you're using the freshest ingredients.
Helpful Kitchen Tools
This post contains affiliate links. As an Amazon Associate, I earn from qualifying purchases. For more information, click here.
Picnic Mat,Picnic Blanket Waterproof Mat,More Information
Tall Pop-Up Mesh Food CoversMore Information
Picnic Plate Napkin and FlatwareMore Information
Wicker Picnic BasketMore Information
⭐Before You Begin! If you make this recipe, please leave a review and star rating. This helps my business thrive and continue providing FREE recipes.
Fourth of July Themed Appetizers
Photo Credit: www.familyfreshmeals.com
This Taco Salad Flag will be the star at any summer party!
Photo Credit: thegardeningcook.com
A fruity start to any party you're hosting this summer.
Photo Credit: www.diprecipecreations.com
Decorated with patriotic colors and a shimmering star, this dip is an easy dessert recipe for the 4th of July.
Photo Credit: walkingonsunshinerecipes.com
One of the easiest charcuterie boards you'll make!
Photo Credit: urbanblisslife.com
Sweet, crunchy, and creamy easy-to-make appetizer that is perfect for any summer gathering!
Photo Credit: onmykidsplate.com
This salsa is a mix of some of the freshest flavors of summer and is a great addition to any Fourth of July party!
Photo Credit: www.courtneyssweets.com
 Red white and blue nachos uses real food colors for a fun festive snack.
Photo Credit: www.sugarandsoul.co
Made with 4 ingredients, this could either be an appetizer or a fun dessert.
Photo Credit: singingthroughtherain.net
Here's a fun way to serve a family favorite for summer!
Photo Credit: thekittchen.com
No cooking is involved, you just need to mix up the whipped feta and assemble the ingredients to form a flag.
Photo Credit: www.thisolemom.com
A fun and delicious treat perfect for celebrating any patriotic holiday.
Photo Credit: hustlemomrepeat.com
This recipe would make a great kid meal option as well as an appetizer!
Photo Credit: walkingonsunshinerecipes.com
Tomato and Mozzarella Puff Pastry Bites are filled with ricotta, mozzarella cheese, marinated tomatoes and herbs. Ready in 20 minutes!
Photo Credit: momfoodie.com
Homemade cheese crackers made in the shapes of stars for summer.
Photo Credit: mommyevolution.com
A traditional trail/snack mix only made with red, white and blue treats for the summer holiday.