Looking for a refreshing drink to enjoy on a hot summer day? Look no further than our delicious recipe for fresh lime water! Made with limes, cucumbers and fresh mint, this drink is perfect for quenching your thirst and cooling you down.
Plus, it's packed with Vitamin C, making it a a healthy drink as well. So go ahead, make a pitcher (or two!) of this infused water recipe to enjoy all summer long.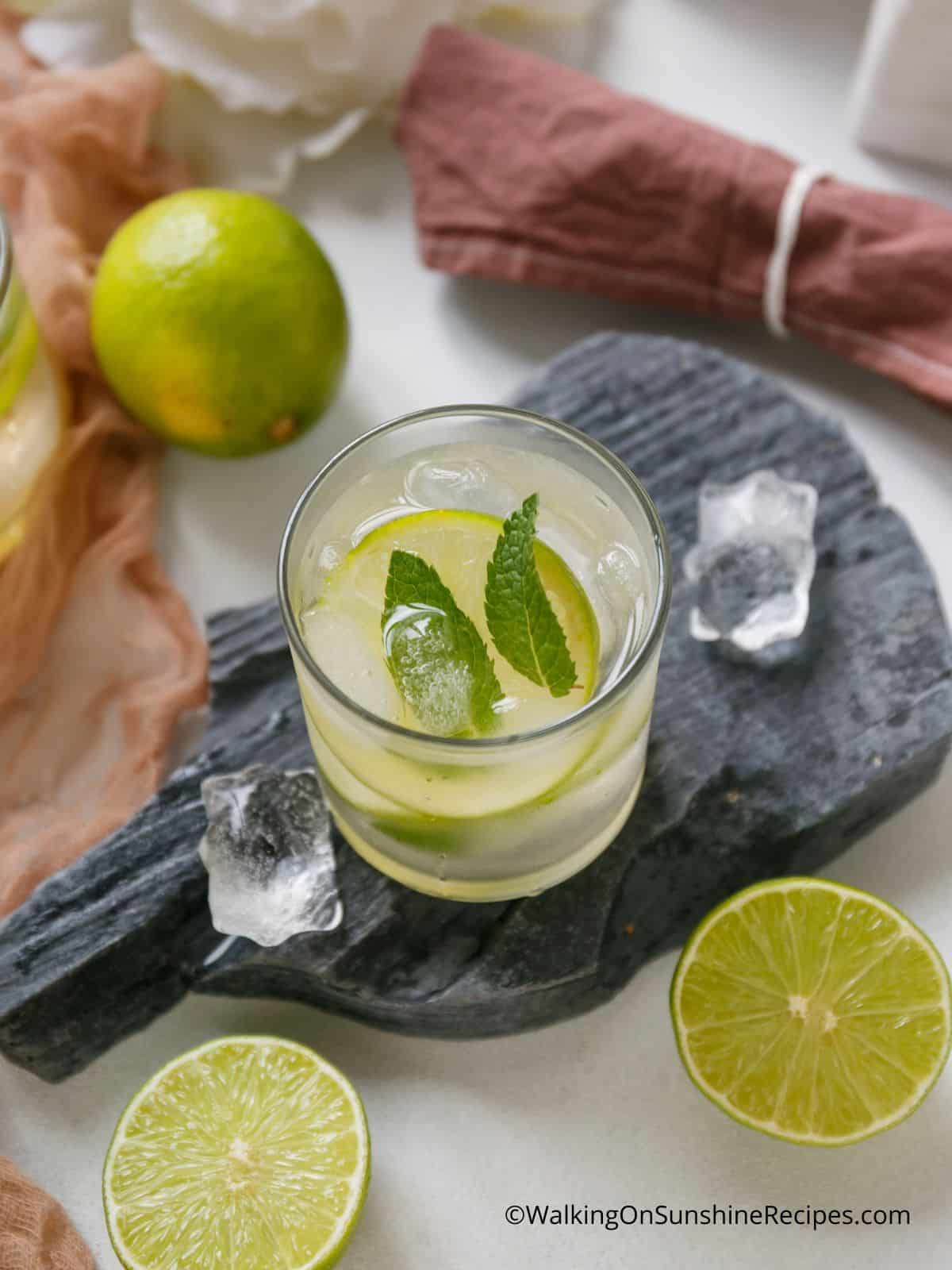 This delicious recipe for fresh lime water made with limes, cucumbers and fresh mint is the perfect way to stay hydrated and refreshed, and it's easy to make!
Simply combine water, cucumber and a few sprigs of mint in a pitcher or jar. Let it sit for a few minutes to allow the flavors to infuse, then add to the fresh squeezed lime juice. This refreshing drink is sure to become a summertime favorite.
Stop by your local grocery store or farmers market and pick up some fresh mint to try my latest non-alcoholic drink. And if you want to try growing your own mint, read my post on How to Grow Mint for tips and tricks.
Table of Contents
Looking for more Mocktail Summer Recipes? Try my Lemon Flavored Water, Basil Sparkling Water and my Lemon Basil Mint Spritzer.
What are the benefits of drinking lime water?
There are many benefits associated with drinking fresh lime water. For one, lime is a good source of vitamin C, which is essential for boosting the immune system and preventing illnesses such as the common cold.
Furthermore, the citric acid in lime can help to improve digestion and prevent stomach upsets. Additionally, lime water can help to flush out toxins from the body and promote healthy skin.
Finally, drinking fresh lime water can help to promote weight loss by increasing metabolism and suppressing appetite. Therefore, it is clear that there are numerous benefits to be gained from drinking this refreshing beverage.
What's better, lemon or lime water?
When it comes to tart and tangy citrus flavor, it's hard to beat lemon and lime. These two fruits are often used interchangeably in recipes, but they also make a refreshing and healthy addition to water. So, which is better? Lemon or lime water?
Lemon water is a popular choice for those looking to improve their health. Lemons are rich in vitamin C, an essential nutrient that helps to boost the immune system.
Lime water is also a good source of vitamin C, but it also contains more citric acid than lemon water. This means that lime water may be more effective at cleansing the body and preventing kidney stones. Lime water is also thought to aid in digestion and help to reduce inflammation. However, because lime juice is more acidic than lemon juice, it's important to dilute it with water before drinking.
So, which is better? Lemon or lime water? Both are excellent sources of vitamin C and offer unique health benefits. Ultimately, the best choice depends on personal preference. Try experimenting with different waters until you find a flavor that you love!
Helpful Kitchen Tools
This post contains affiliate links. That means that if you make a purchase after clicking on a link I may earn a small commission at no extra cost to you. For more information, click here.
More Information
More Information
More Information
More Information
Main Ingredients Needed
This is an overview of the ingredients and instructions. Be sure to see the recipe card below for exact quantities, detailed instructions and special notes.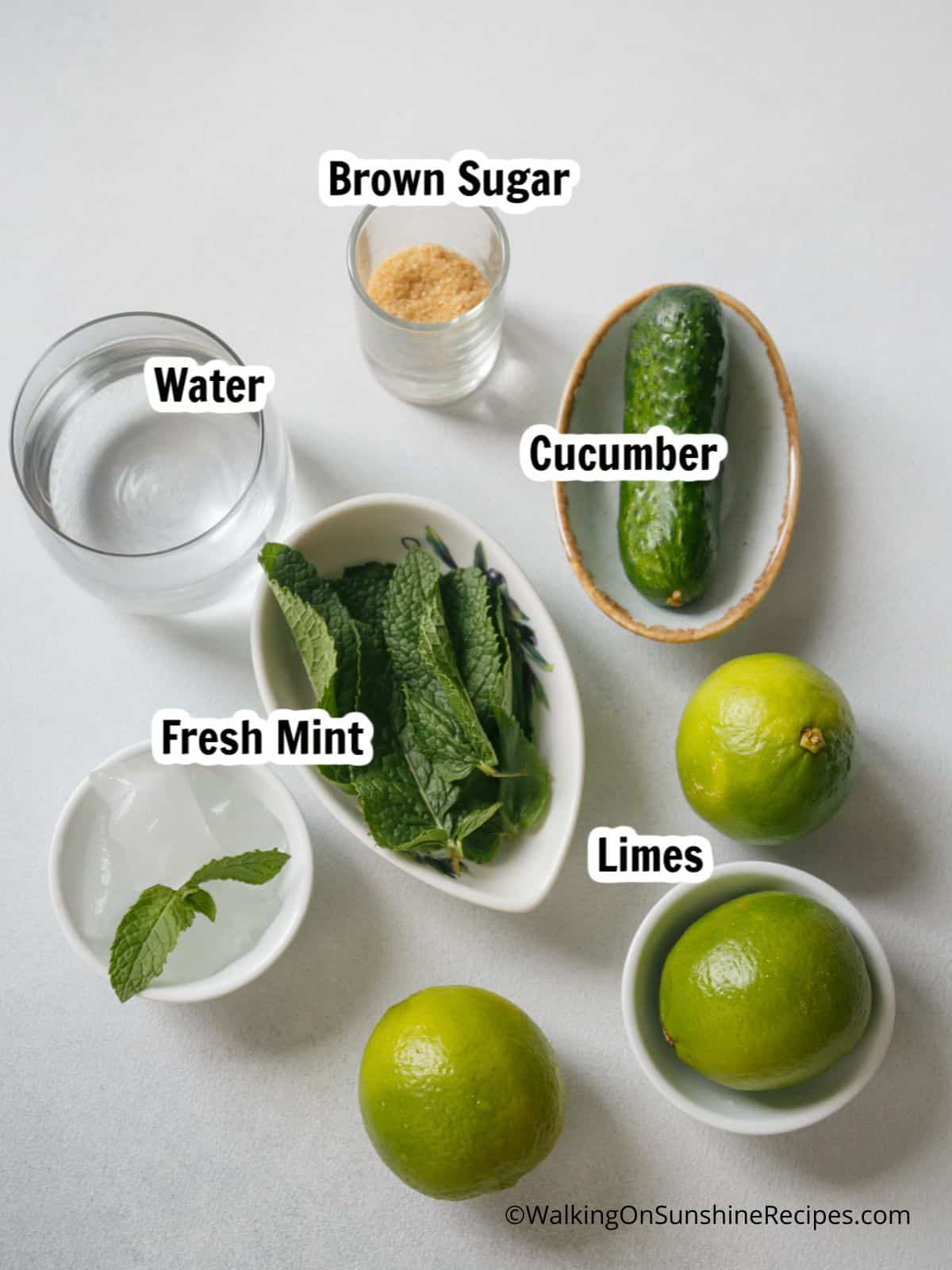 Step-by-Step Instructions
Step 1 | Combine the Ingredients
Wash the mint and chop it finely.
Peel the cucumber and cut it into small pieces.
Slice one lime into circles.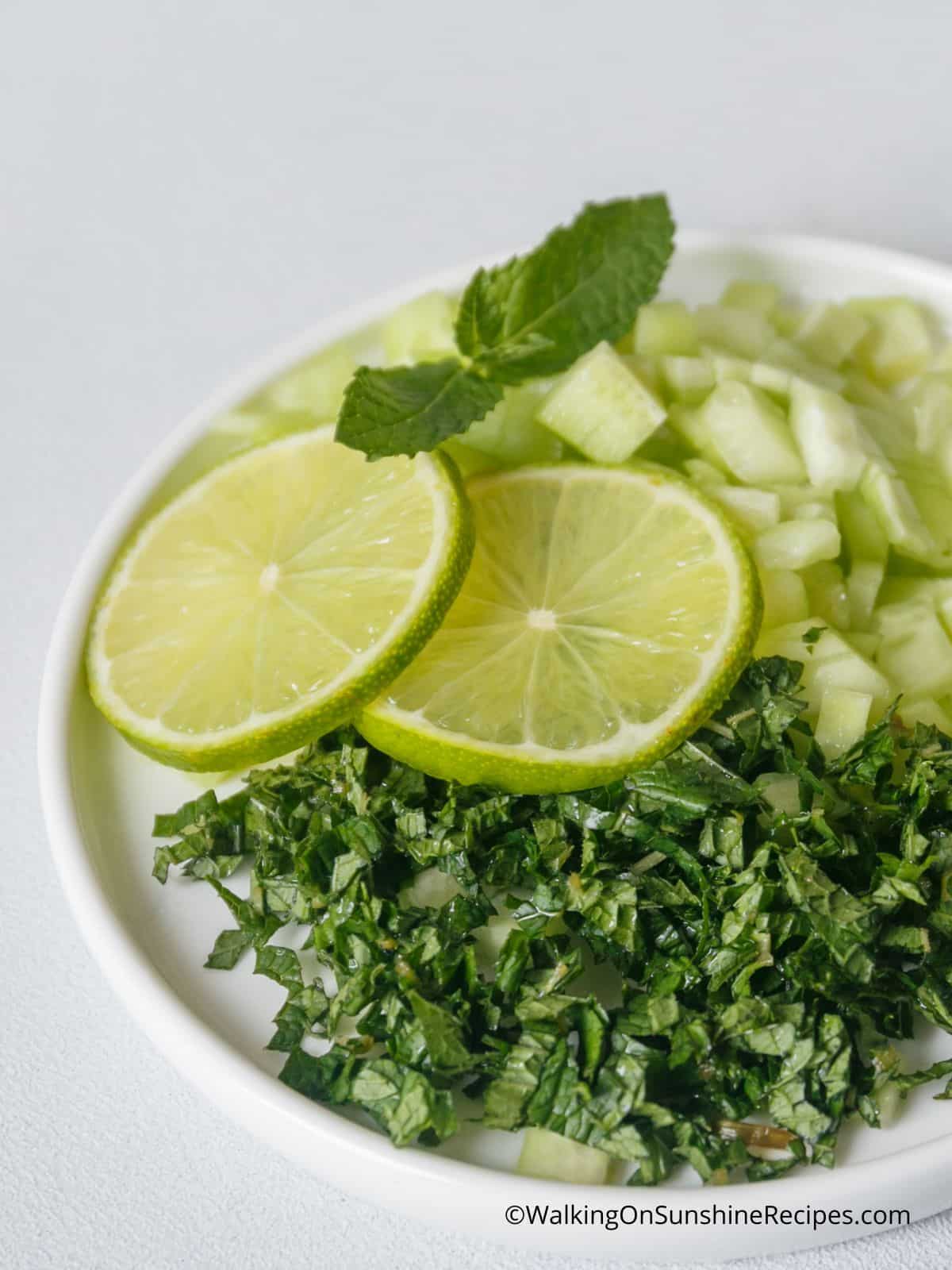 Step 2 | Infuse the Herbs
Pour the chopped mint and cucumber into a glass pitcher with water.
Allow the mixture to infuse for 15 - 20 minutes.
Quick Tip: The longer the lime, cucumber and mint sit in the water, the stronger the flavors will be.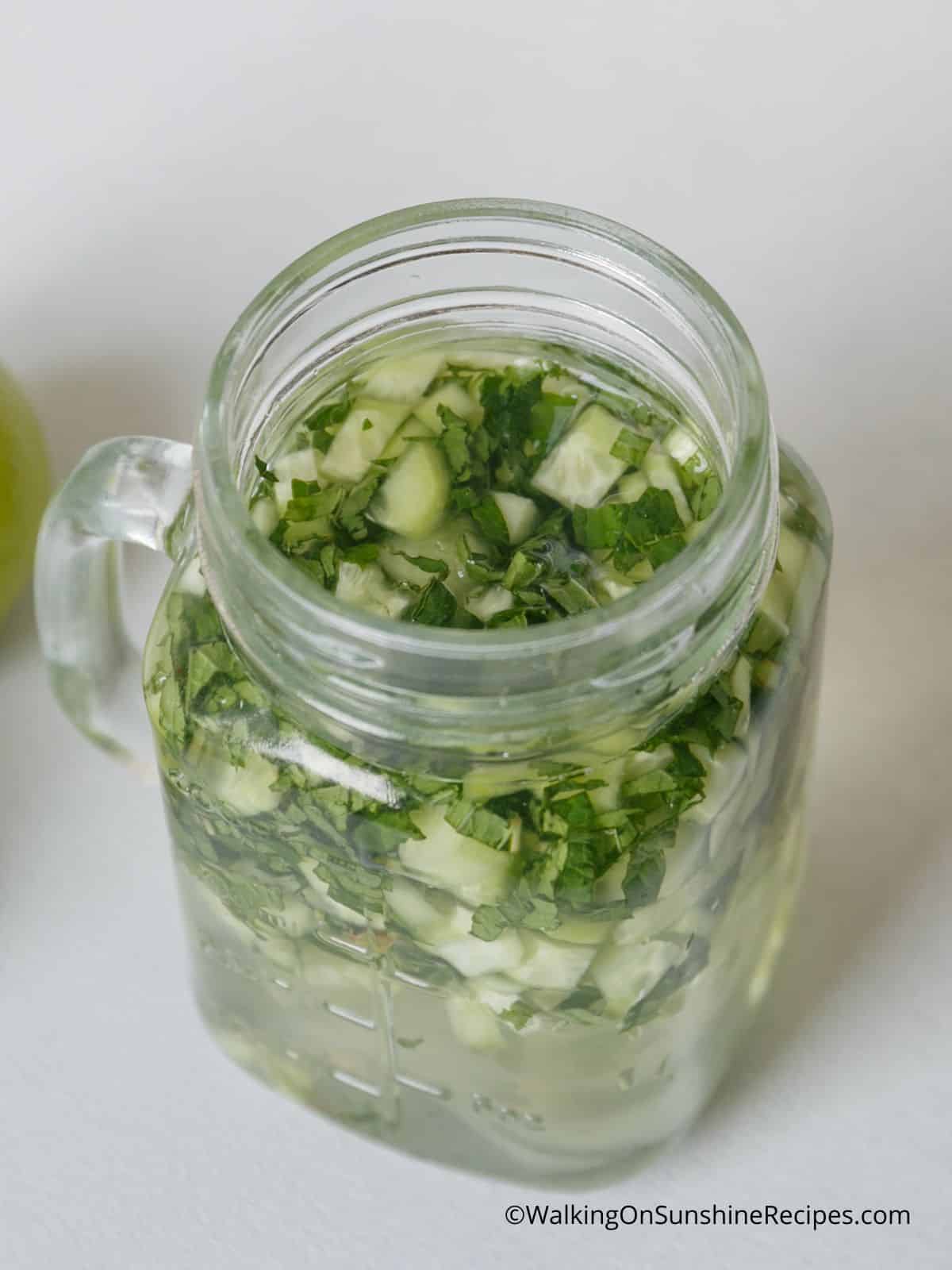 Step 3 | Squeeze the Limes
Squeeze the juice from the limes into a glass.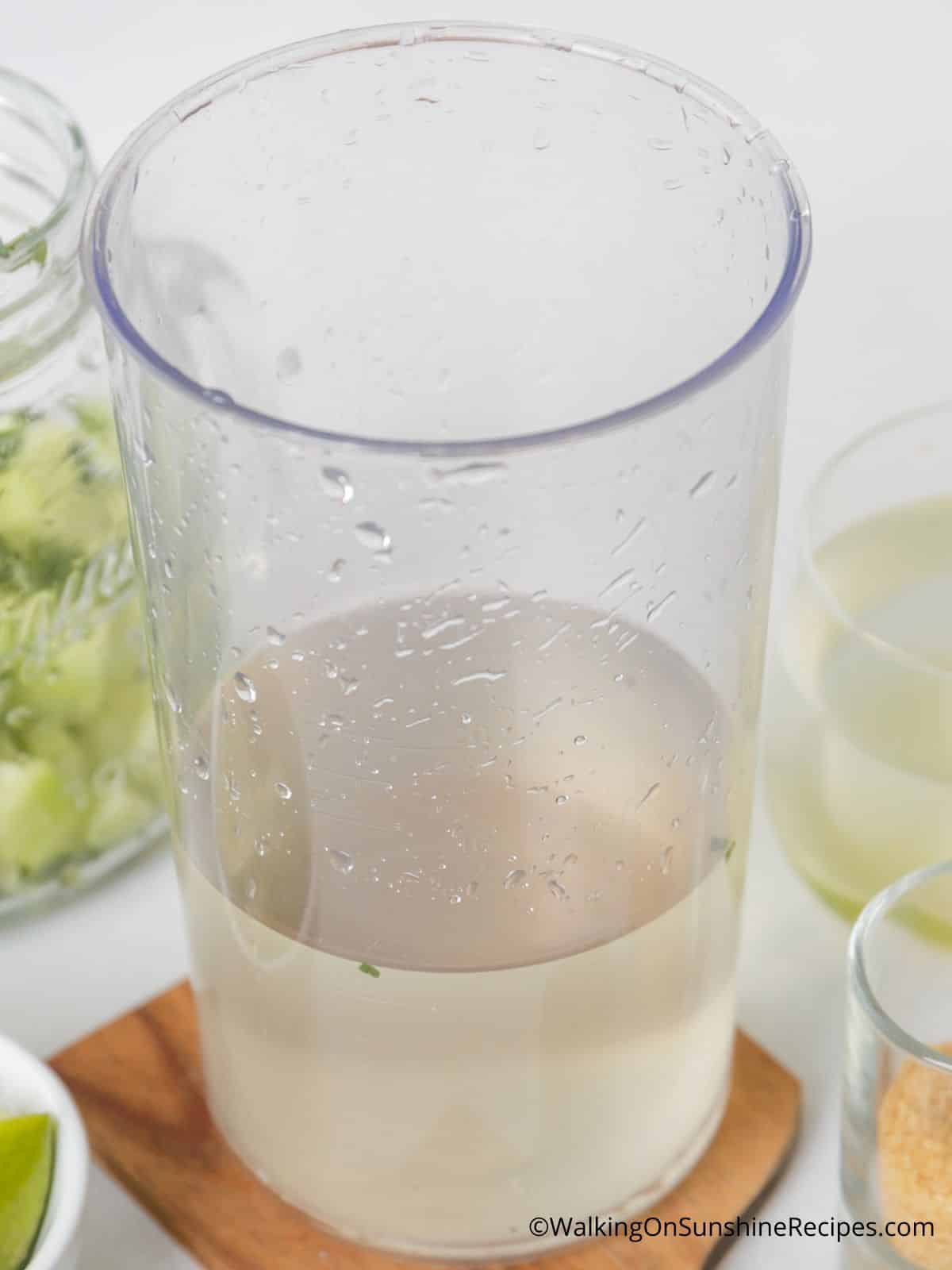 Step 4 | How to make Lime Water
Strain the infused mint and cucumber water through a sieve and add the water to the lime juice water.
Add the brown sugar and taste for sweetness.
Garnish with a few extra lime slices and mint slices.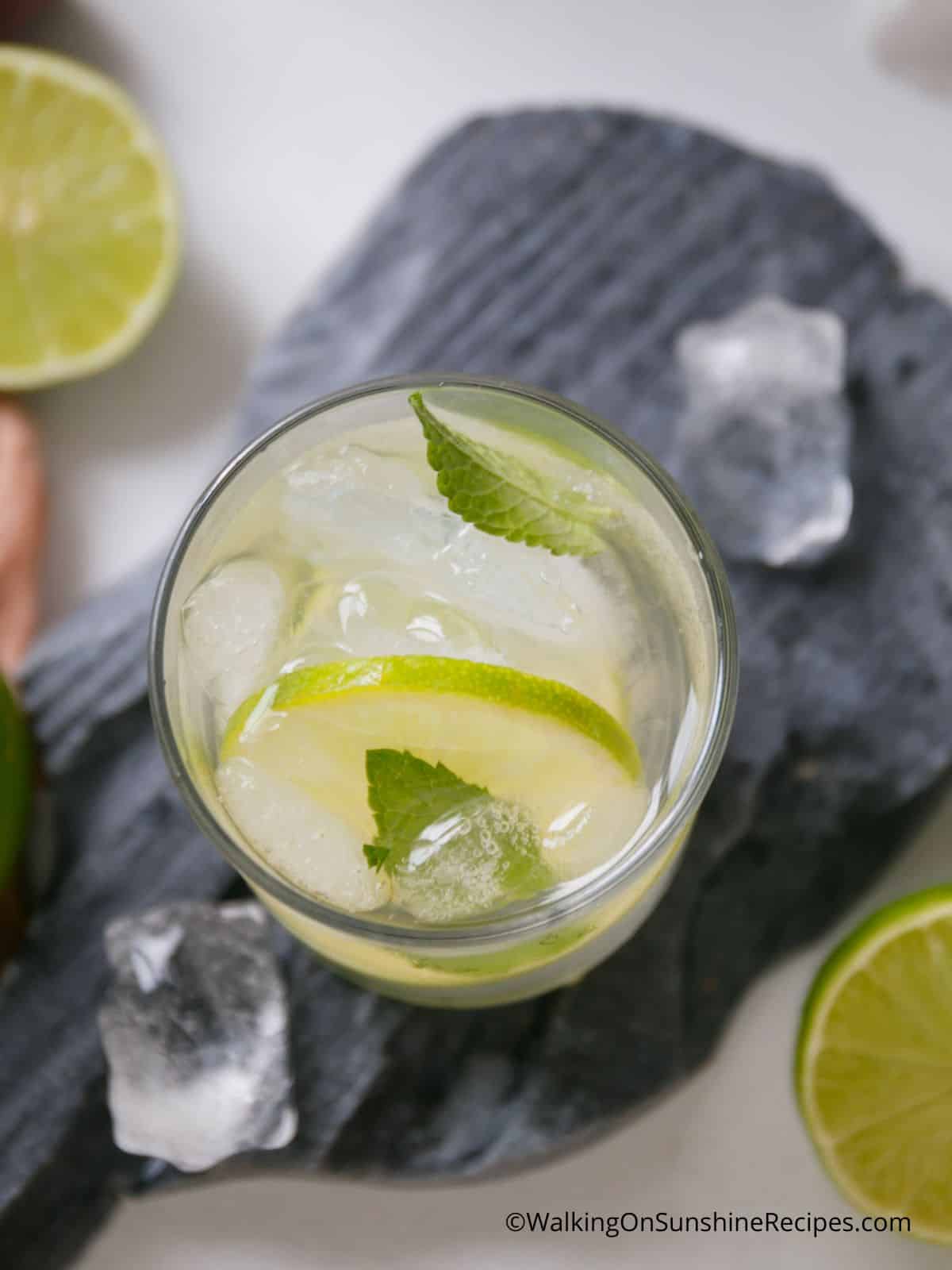 ⭐Before You Begin! If you make this recipe, please leave a review and star rating. This helps my business thrive and continue providing FREE recipes.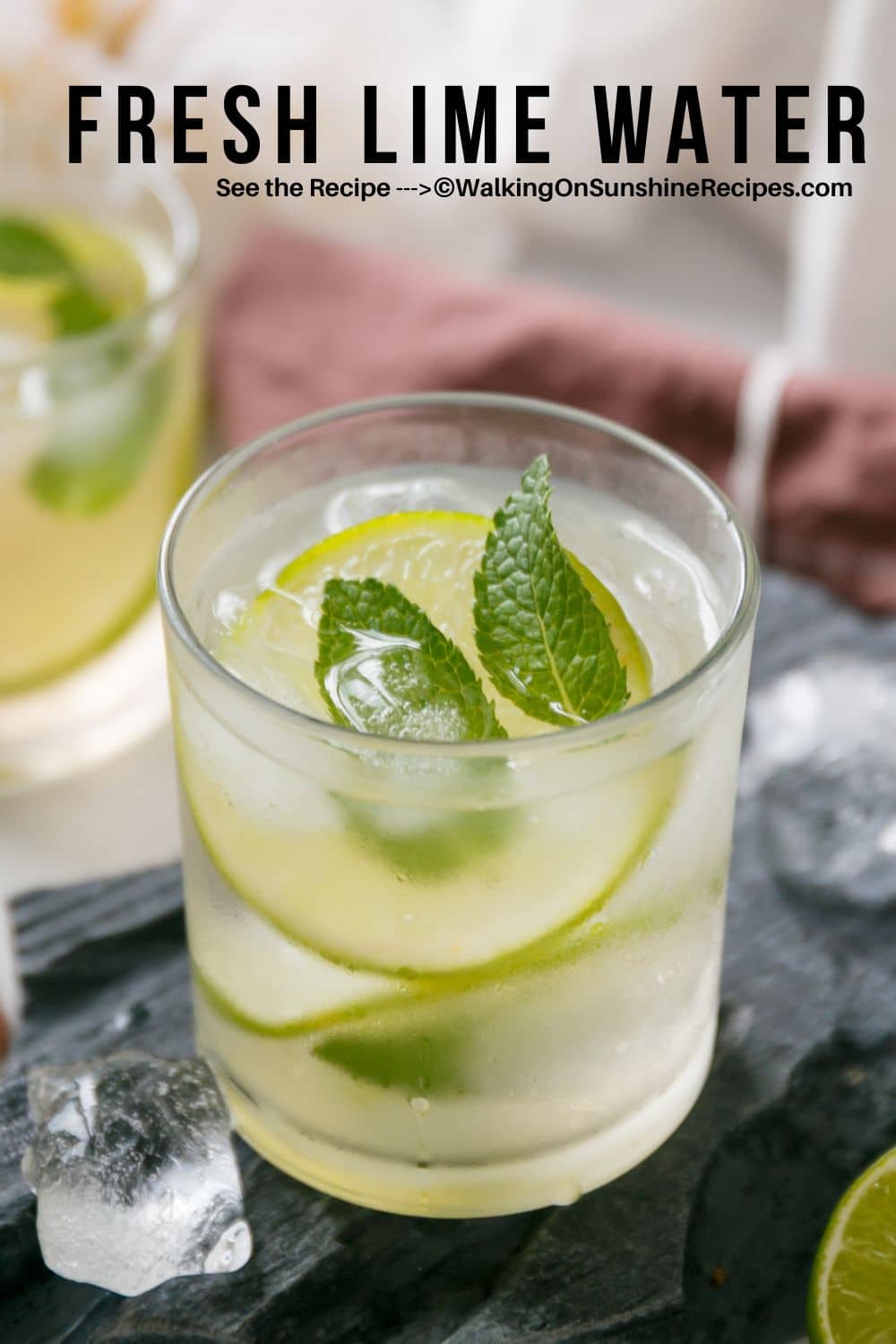 Recipe Variations
You can add different fruit like strawberries, cherries, blueberries or pineapple.
Try different herbs like fresh rosemary, basil or thyme.
And if you wanted to try this recipe with alcohol, try vodka. Make sure you label the beverage that there's alcohol, so little ones don't get into any alcoholic beverages when serving.
Storage Tips
Store any leftover fresh lime water in the refrigerator.
But keep in mind, that when you add citrus fruits to any infused water recipe, you should drink it the day you make it. The rind from any citrus can make the water bitter.
A fun way to store leftover beverages is to freeze any leftovers in ice cube trays! Pop them out and store in a plastic bag to use the next time you prepare a fun drink.
More Information
More Information
More Information
More Information
Yield: 2 servings
Fresh Lime Water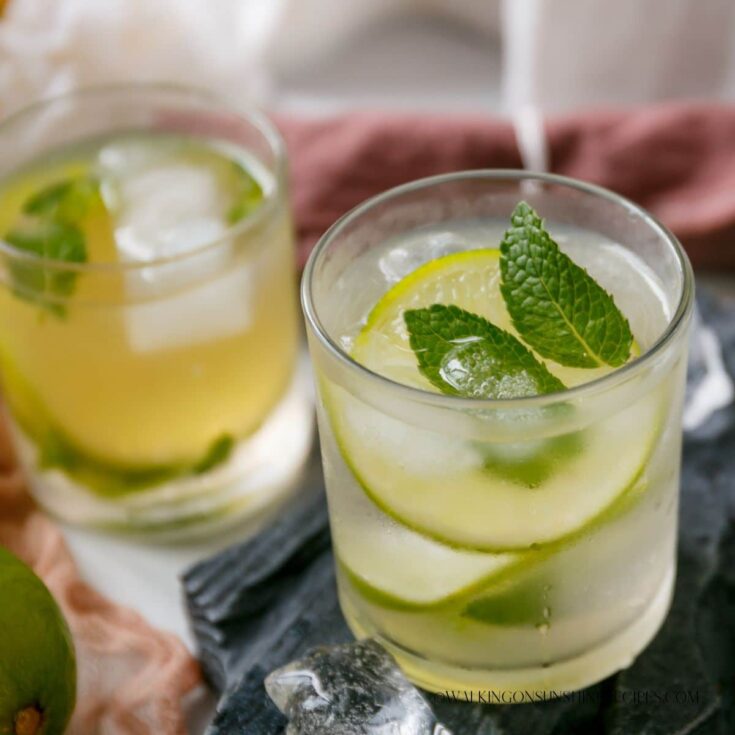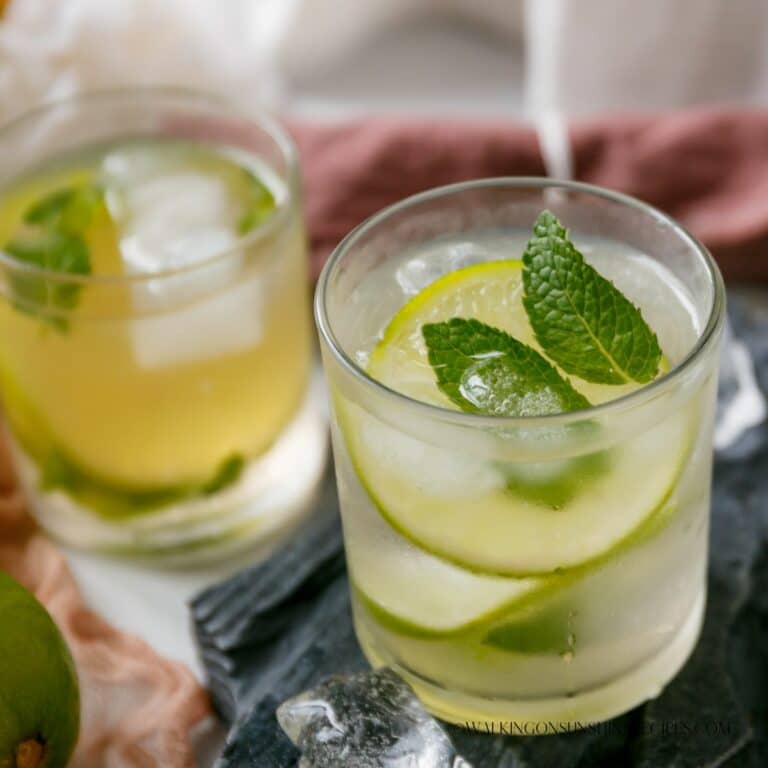 Made with limes, cucumbers and fresh mint, this fresh lime water recipe is perfect for quenching your thirst and cooling you down.
Ingredients
¼ cup fresh mint
4 limes
½ cup peeled and chopped cucumber
2 cups of water
1 tablespoon brown sugar
1 cup of ice
Instructions
Wash and chop the mint leaves.
Peel the cucumber and cut into small cubes.
Slice one of the limes and set aside to use as a garnish.
Add the cucumber and mint leaves to the 2 cups of water in a pitcher. Allow to infuse for 20 minutes.
Meanwhile, squeeze the other 3 limes into another pitcher.
Strain the infused mint-cucumber water mixture through a sieve. Add the water to the lime juice pitcher.
Add the brown sugar and stir until the sugar dissolves.
Pour into two glasses over ice cubes.
Garnish with fresh lime slices and fresh mint leaves.
Notes
You can use any type of sweetener you prefer.
Nutrition Information:
Yield:
2
Serving Size:
1
Amount Per Serving:
Calories:

66
Total Fat:

0g
Saturated Fat:

0g
Trans Fat:

0g
Unsaturated Fat:

0g
Cholesterol:

0mg
Sodium:

20mg
Carbohydrates:

21g
Fiber:

4g
Sugar:

8g
Protein:

1g
The nutrition information is calculated automatically. I cannot guarantee its accuracy. If this data is important to you, please verify with your trusted nutrition calculator.