A delicious way to enjoy non-alcoholic drinks is to create Infused Water Recipes to enjoy in place of a glass of plain water. You don't need to look any further than the recipes listed here on this page to find something fresh and delicious to quench your thirst!
Make sure you grab the FREE printable included below to give you five different flavor combinations to help you create your own water recipes at home.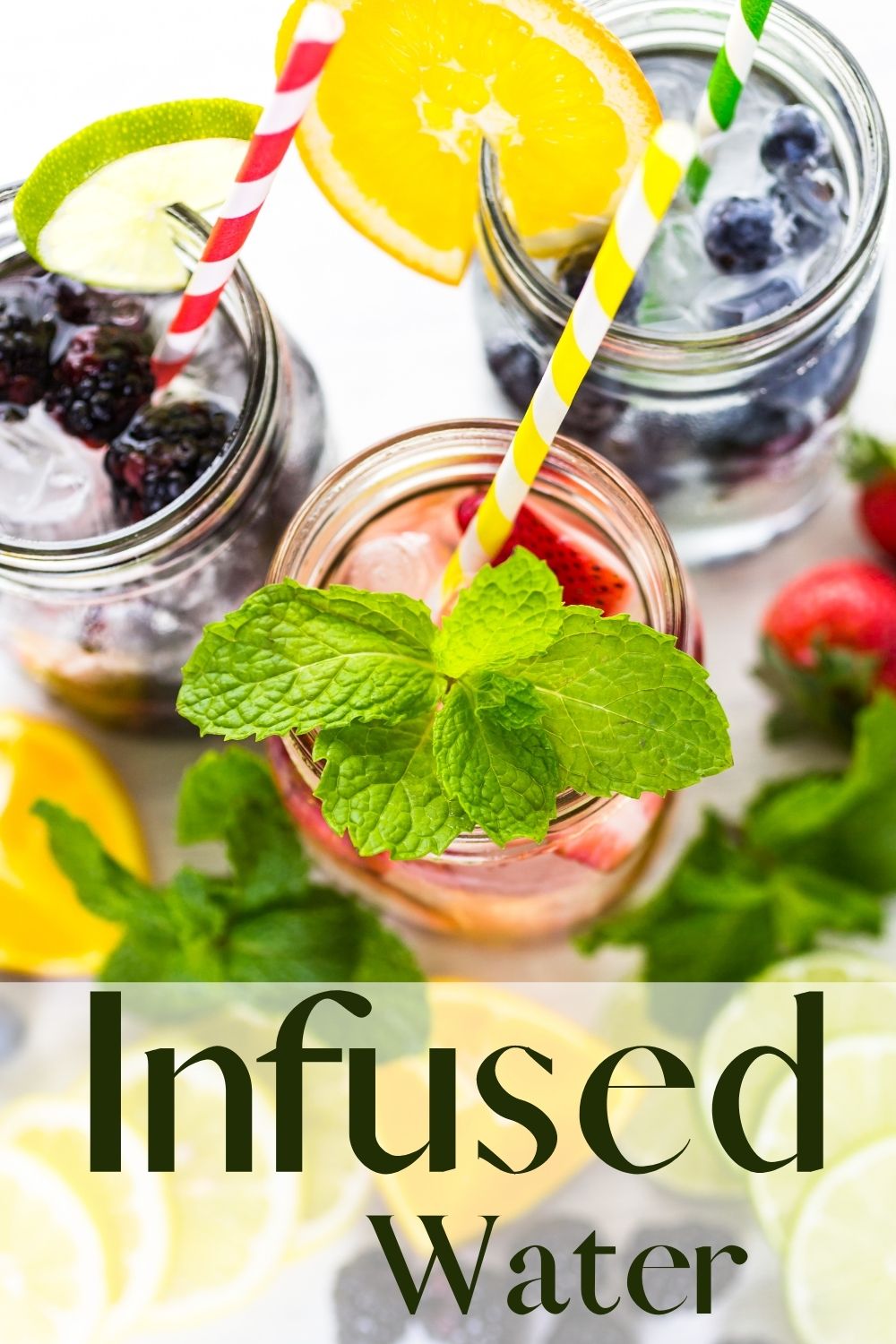 For some people, drinking 8 glasses a water every day is a chore. Especially if you don't enjoy the taste of plain water.
According to Carespot, "In addition to increasing your vitamin intake, infused water can also increase your natural water consumption. Water helps to speed up your body's metabolism, boost energy levels, prevent cramping, and many other important benefits."
If you normally reach for soda or juice to drink, you now have a much more healthier option! Start by creating and drinking water infused with fruits, vegetables and herbs.
Flavored Water Combinations
Make sure you grab the FREE Printable above with flavored water combinations. Here are a few flavored water or infused water combinations. They will help you get eight glasses of water in every day!
Water Recipes Infused with Fruit
📌 Quick Tip: Try freezing lemon wedges in ice cube trays. Add pieces of fresh mint or fresh basil for added flavor to your ice cubes. Also try lime wedges, sliced strawberries and blueberries!
Flavored Water Recipes with Lemon
Other Beverages
Helpful Kitchen Tools
This post contains affiliate links. As an Amazon Associate, I earn from qualifying purchases. For more information, click here.
Glass Fruit Infuser Water PitcherMore Information
Ninja Personal BlenderMore Information
KitchenAid BlenderMore Information
Stainless Steel StrainersMore Information
Mason Jar Mugs with LidsMore Information
Lemon ZesterMore Information
Gallon Glass Mason Jar DrinkMore Information
10 Inch Stainless Steel MuddlerMore Information
Stainless Steel Mortar and PestleMore Information
What Is Infused Water?
Infused water is simply a combination of fruits, vegetables and herbs that have been soaked in a pitcher of cold water.
Is infused water good for you?
Most of the time infused water has no calories so it can help you lose weight when you substitute this flavored water for other sugary drinks such as fruit juice or soda.
How long can you use fruit in infused water?
If infused water is left at room temperature, you can enjoy it up to 6 hours. After that time you should refrigerate the water and it's fresh for up to three days.