One of my favorite herbs to grow in our garden is mint.  But if you're not careful, mint can slowly take over your entire garden.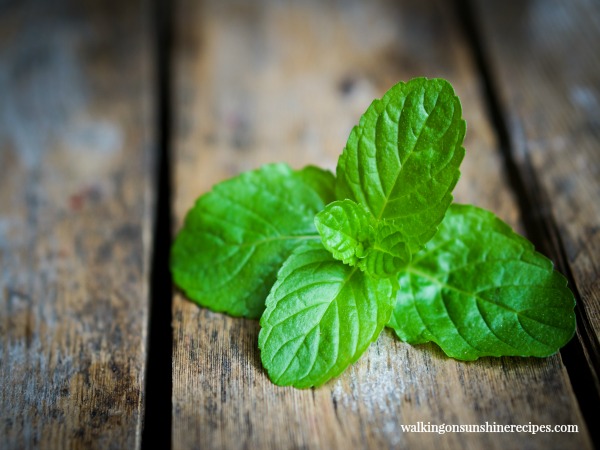 Here are 5 easy tips for growing mint in your garden without it spreading!  It is possible…trust me!
Do you love fresh mint in your iced tea? We do.  And on top of fresh fruit or summer desserts. Mint is a wonderful herb to use in many different recipes to enhance the flavor and it's also pretty easy to grow mint in your garden.
Actually it's VERY easy to grow mint in your garden.  This week I'm sharing five tips on  growing mint in your garden, but more importantly, how to not let mint take over your garden
Five Tips for Growing Mint in your Garden
How to Grow Mint
Mint comes in many different varieties and is very easy to grow.  Your mint plant can last for many years if cared for properly. Mint enjoys soil that is well drained and nutrient rich.  It can grow in full sun as well as in part sun.  You will find mint to be a very hardy plant to grow.
However, the plant is very invasive and will compete with surrounding plants if allowed to grow without restriction.  The roots are called "runner" and grow very quickly. They sprout new leaves and new plants as they go and will take over a flower bed or a vegetable garden in no time if you're not careful.
Plant Mint in a Container
The best way to grow mint is to contain it.  That could be in a planter on your back porch or a planter in your vegetable garden.  By restricting the growth of the plant's roots, you also restrict the mint from spreading or really over-taking your garden if you're not careful.
This happened to us the first summer we planted mint in our garden.  Before long, it was everywhere.  It was in our lettuce and in our green beans before we knew it and even though we tried our best to cut it back, it kept growing.
The next year we planted dug up our mint plant and planted it in a 5 gallon bucket and then planted the bucket in our vegetable garden.  Yes, we had to get rid of most of the original plant, but that's okay, our mint is still alive.  Make sure the container you use does NOT have a crack.  Or the mint will spread and grow through the cracks.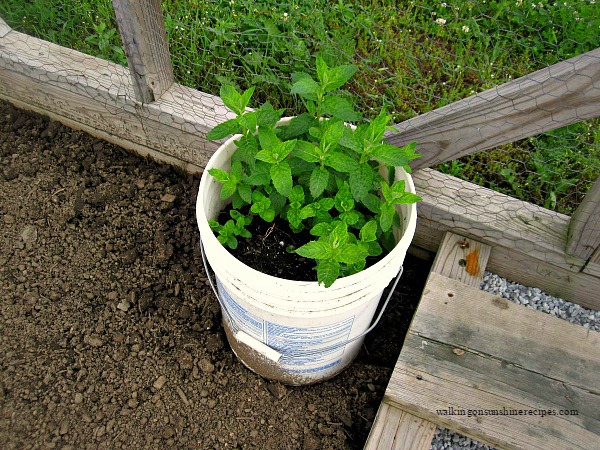 Plant the Container
One you have the mint planted in a 5 gallon bucket, take the bucket and submerge it into the ground in your garden.  This will make sure the roots are not able to spread and grow new shoots to take over your garden and your other vegetables.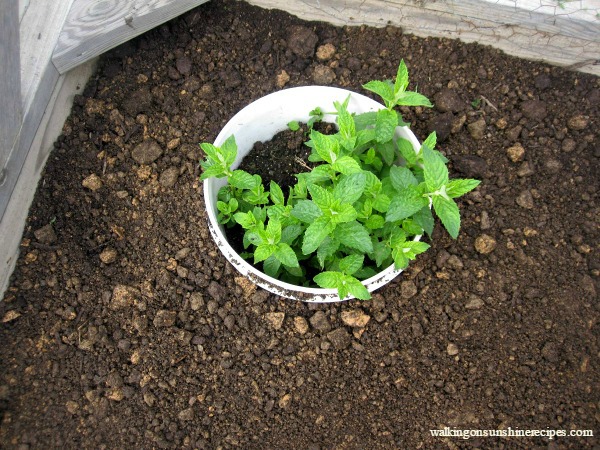 Make it Pretty
I know it's not that pretty, but you get the idea.  We live out in the country, well the country for this Queen's girl, and our garden is pretty rustic.  Put some stones around the bucket so you can't see the bucket.  Once the other vegetables grow in in front of the mint you'll never know the mint is planted in a bucket in the ground.  And the best part, the mint stays contained in the bucket and still grows beautifully.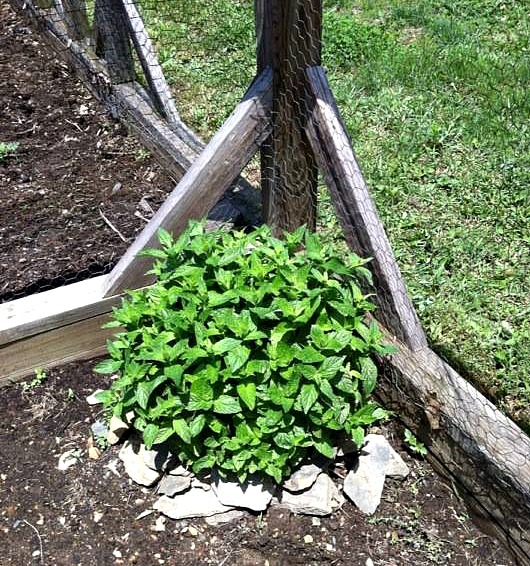 Water the Mint
Water the mint frequently the first year.  Keep the soil damp but don't soak it.  If your mint is in the direct sun, you'll want to water it more directly.  Try to harvest the mint before the flowers appear. That's what everyone says, be we enjoy our mint all summer long.  We just pick around the flowers.
Enjoy the Mint!
Enjoy the mint leaves in your favorite recipes.  Mint is great in iced tea, lemonade, salads, ice cream…the list goes on!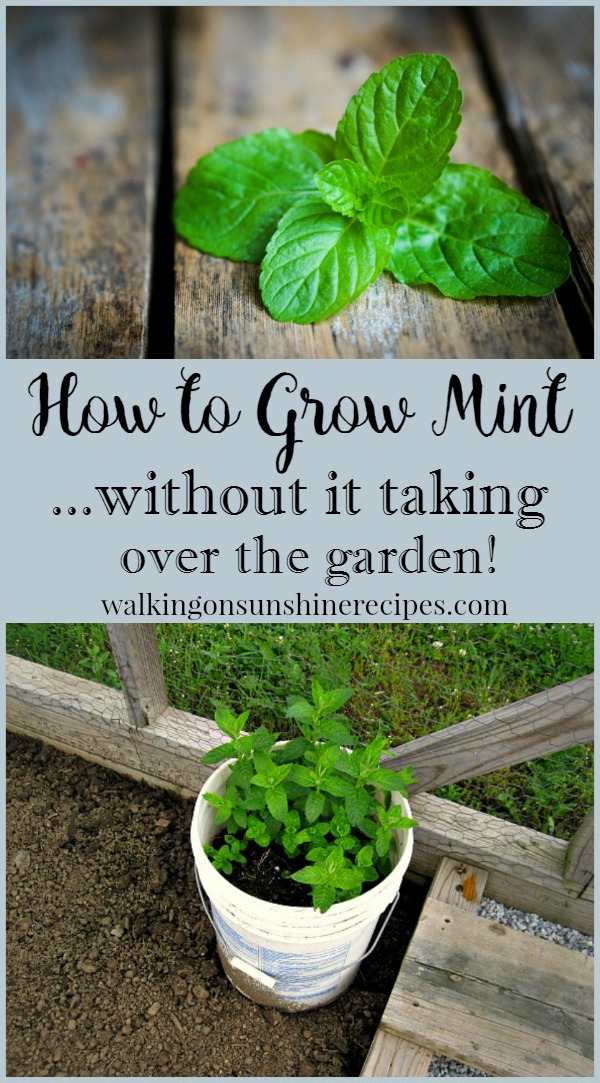 The Best Herbs to Grow in your Garden for Cooking