Grilled Steak with Zucchini Veggie Spirals with homemade chimichurri sauce are definitely on the menu for dinner this week! When it comes to easy zucchini recipes, I've got you covered. 
These zucchini veggie spirals are the perfect side dish addition to your family's weekly meal plan.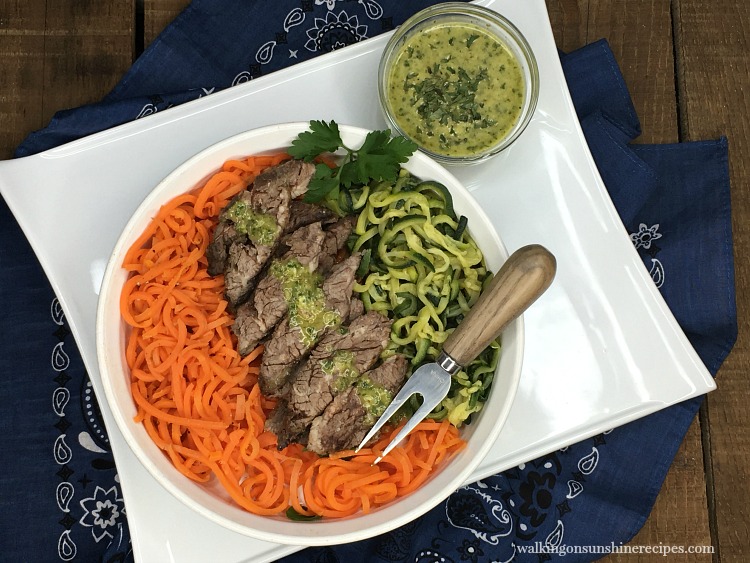 Grilled Steak with Zucchini Veggie Spirals
This week on the menu is this easy recipe for Grilled Steak with Zucchini Veggie Spirals and Homemade Chimichurri Sauce Recipe. Zucchini and Carrot Veggie Spirals are the perfect swap-in for recipes where I would normally use pasta or potatoes as a side dish.
This post was sponsored by Green Giant as part of an Influencer Activation for Influence Central and all opinions expressed in my post are my own.
How are you doing with your New Year's resolutions to eat healthier and prepare more meals at home?  Things are going pretty good for me.  I'm using the Weekly Meal Plans I post here every Monday to plan out dinner for my family AND I've been making wiser choices with eating healthier...especially with these Green Giant® Veggie Spirals.
Zucchini Veggie Spirals
Made with 100% vegetables, new Green Giant® Veggie Spirals have up to 90% fewer calories than pasta, making them the perfect swap-in when you're trying to watch your caloric intake. 
Veggie Spirals are gluten free and come without sauce or seasoning so you can prepare them just the way you like.  Which makes them perfect to serve as a side dish with grilled steak and homemade chimichurri sauce!
For this recipe I chose to use both the Zucchini and Carrot Veggie Spirals to serve as a side dish for one of my family's favorite grilled steak recipes.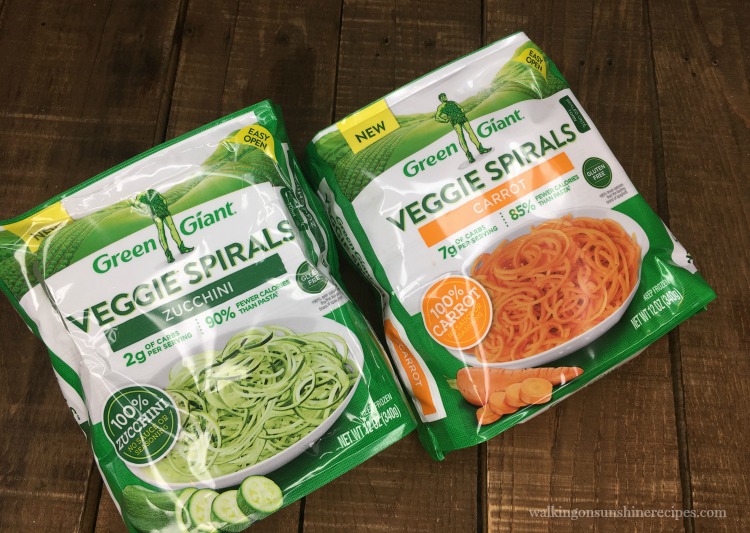 How to Prepare Zucchini Veggie Spirals
Preparing the Veggie Spirals was easy:
Cook frozen veggie spirals on the stove top or microwave directly in the packaging.
Drain the veggie spirals well in a colander to get rid of excess water … just like you would with regular pasta!
I chose to microwave both packages following the easy directions provided on the back of each package. In just a few minutes they were done.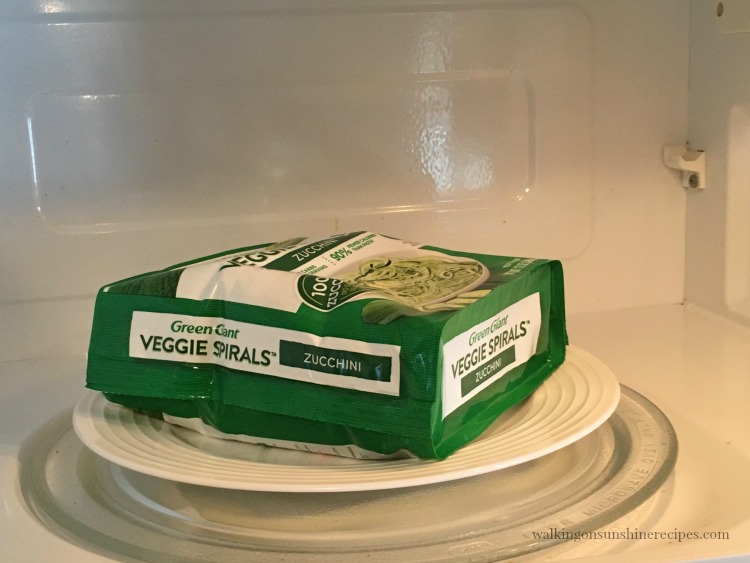 The Carrot Veggie Spirals didn't need to be drained at all. So once they were cooked in the microwave again, I set them aside while the steak finished cooking.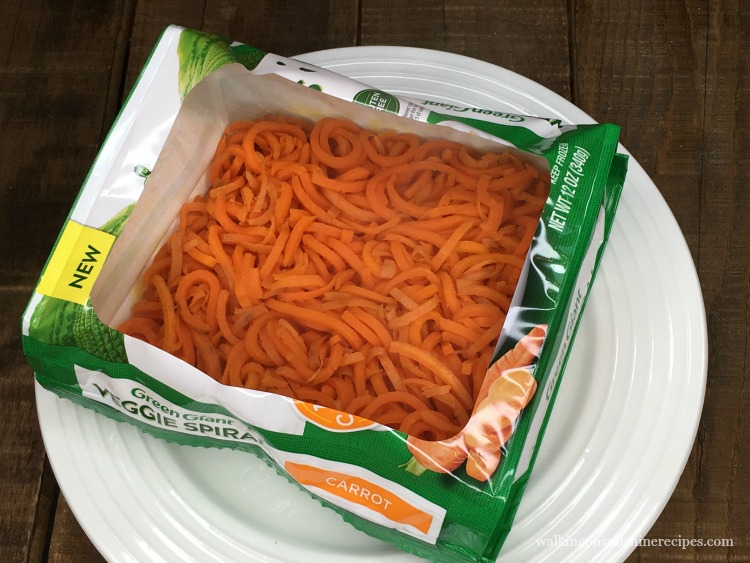 How to make Homemade Chimichurri Sauce
This is a really easy recipe to put together and gives so much flavor to the steak.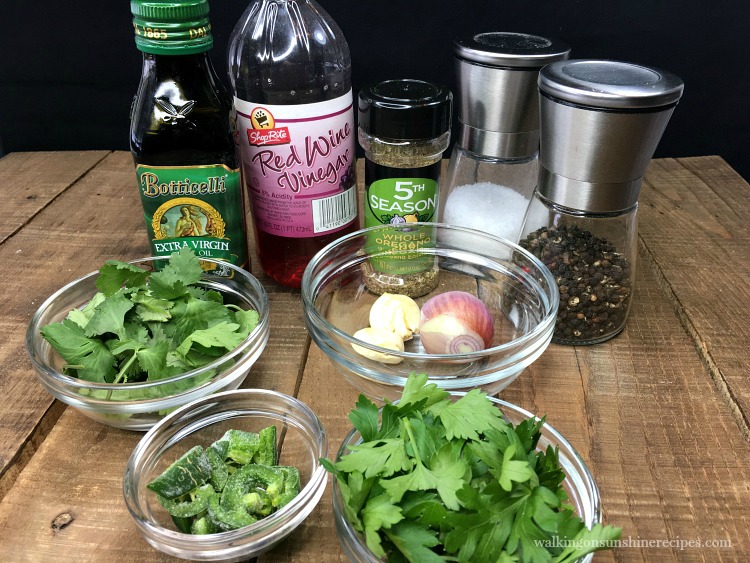 Quickly blend the ingredients together using a blender and set the sauce aside until the steak is finished cooking and you're ready to assemble the steak and veggie spirals.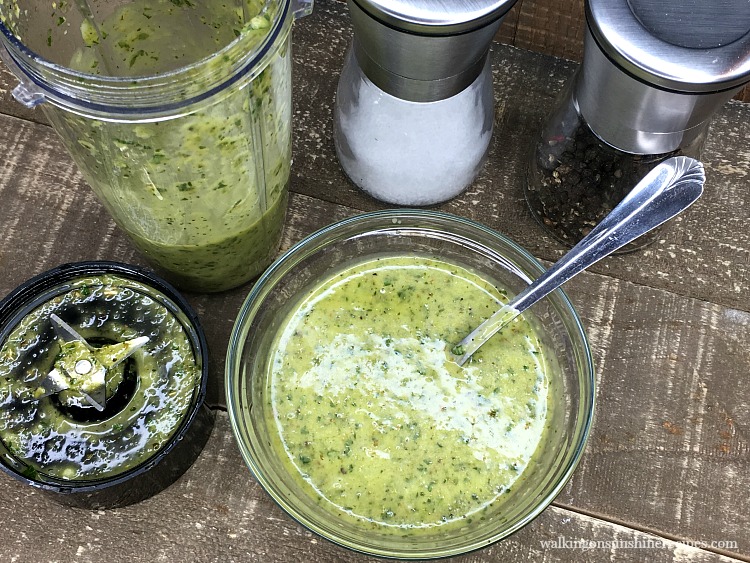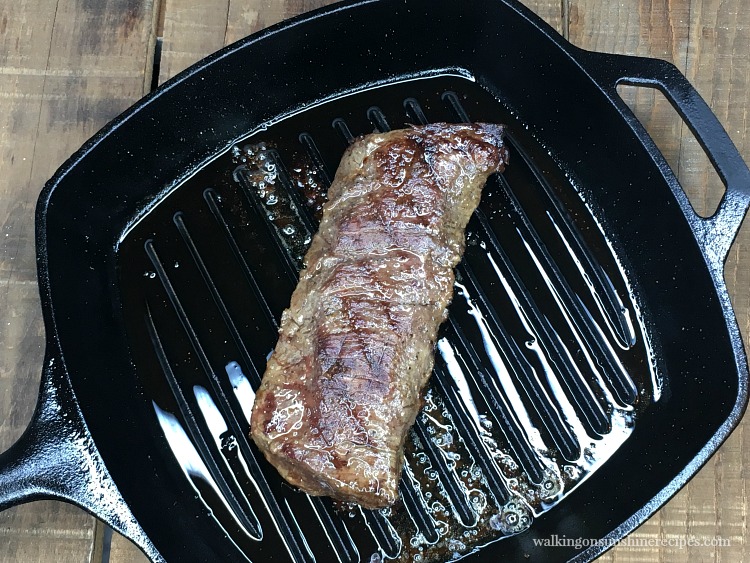 I love to cook my steak in my cast iron grill pan. I only seasoned the skirt steak with my House Seasoning that I love to create and keep in a mason jar by my stove. Once the steak is done, slice it thin against the grain.
How to Serve Grilled Steak with Zucchini Veggie Spirals
For this recipe, I decided to serve everything in one platter...sort of like a bowl recipe. I layered the Carrot Veggie Spirals on one side and then the Zucchini Veggie Spirals on the other side.
Then I laid the sliced skirt steak down the middle. Finally I drizzled the Homemade Chimichurri Sauce over the steak and served the extra sauce in a small bowl alongside for dipping.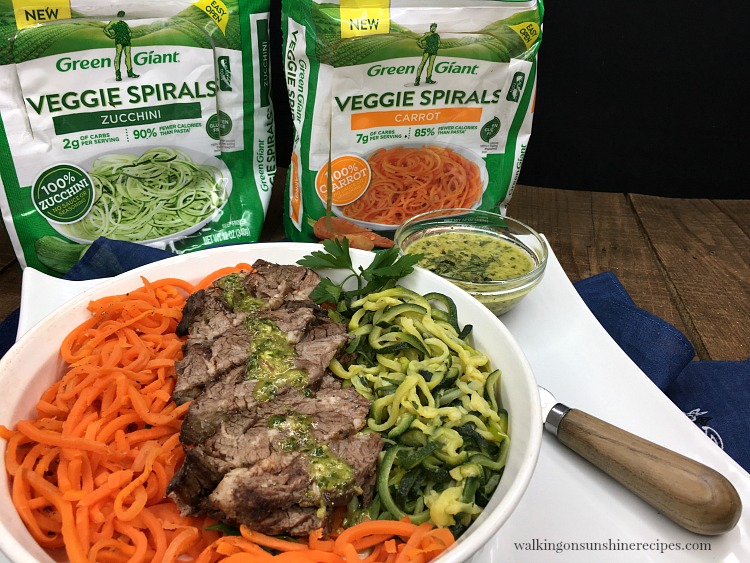 Here's a closeup of our dinner. It was delicious! I loved having the Veggie Spirals in place of pasta.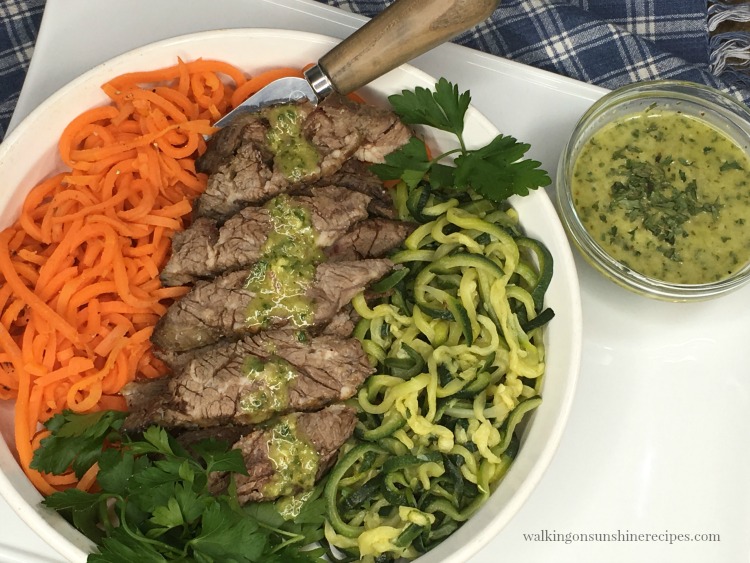 More Easy Dinner Recipes:

Yield: 2 cups
Chimichurri Sauce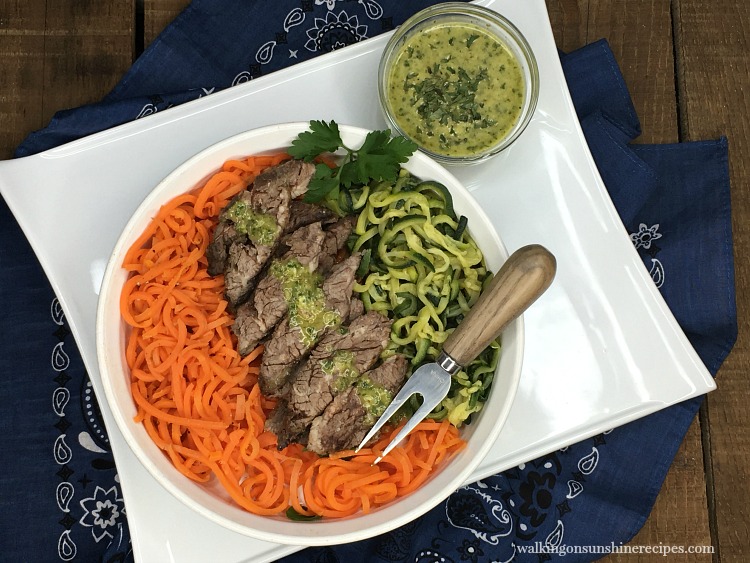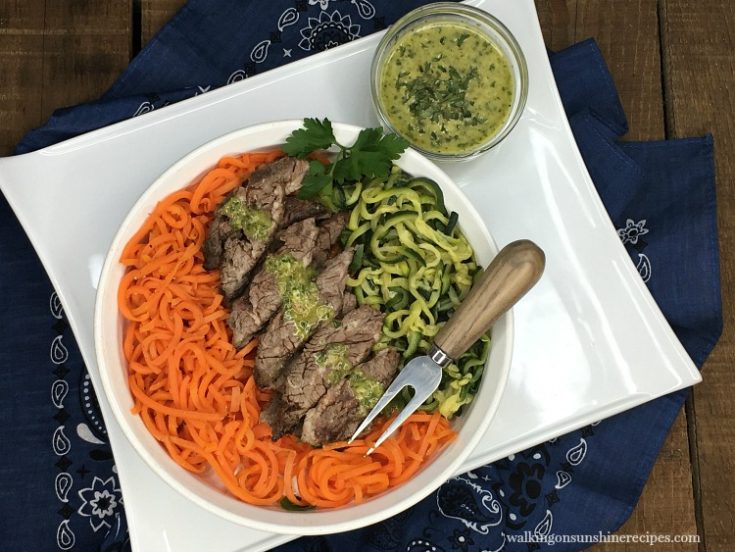 Garlic and spices combined to make a tangy sauce to serve on top of grilled meat...and yes, it's green! 
Ingredients
½ cup red wine vinegar
1 teaspoon salt
3 garlic cloves
1 shallot
1 jalapeno pepper
½ cup fresh cilantro
½ cup fresh parsley
1 tablespoon dried oregano
¾ cup olive oil
Instructions
Combine the garlic cloves, shallot, and jalapeño pepper in a blender or food processor and blend for a minute.
Add the cilantro and parsley, oregano, and salt. Blend for another minute.
Add the vinegar and oil. Blend until everything is completely combined.
Spoon sauce over grilled meat.
Notes
Store unused sauce in an airtight container one to two weeks in the refrigerator.
Nutrition Information:
Yield:
32
Serving Size:
1 tablespoon
Amount Per Serving:
Calories:

48
Total Fat:

5g
Saturated Fat:

1g
Trans Fat:

0g
Unsaturated Fat:

4g
Cholesterol:

0mg
Sodium:

67mg
Carbohydrates:

1g
Fiber:

0g
Sugar:

0g
Protein:

0g
The nutrition information is calculated automatically. I cannot guarantee its accuracy. If this data is important to you, please verify with your trusted nutrition calculator.