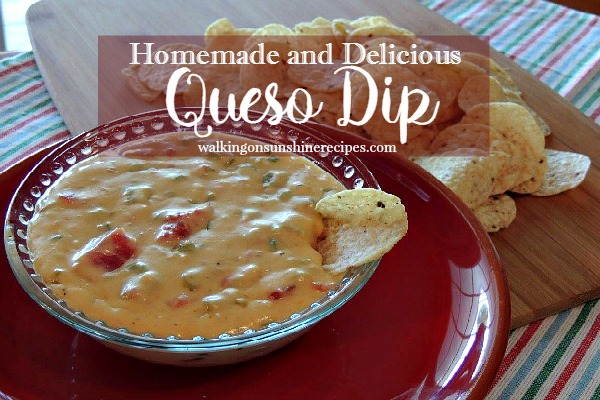 Do you love appetizers as much as I do? I'm always looking for new ones to make to serve for my family and friends. One of my favorites is serving dip and chips for an appetizer. I love
queso dip
, but I'm not in love with fake cheese.
Sorry to all you lovers of fake cheese, but it doesn't always sit well in my tummy. My son loves the jar version of queso dip, but I knew I could make a homemade queso dip that would taste so much better and I think I did!
I promise to never buy the jar or fake cheese again. And you will too once you taste how delicious this recipe is!
Homemade Queso Dip Recipe
My son said the dip wasn't "hot" enough which is probably because I only used one jalapeno without any seeds or ribs. BUT…my daughter said it was perfect! So I guess it's up to YOU on how much heat you want.
This recipe was so easy and can be made the day before your party or gathering. Just heat in the microwave or put the mixture in your crock pot to get it warm and bubbly again.

Homemade Queso Dip
A delicious and easy recipe for Homemade Queso Dip. Your family will love this dip recipe and you will love knowing there's no fake cheese!
INGREDIENTS:
1 tablespoon butter
1 tablespoon flour
1 to 2 Jalapenos, seeds removed and diced
1 can of green chillies, chopped
2 cloves of garlic, chopped
1/2 cup milk or half and half
1 can Rotel tomatoes, mild or whatever strength you desire
3 cups shredded cheese, I used a combination of cheddar and pepper jack
1/4 cup Greek yogurt or sour cream
salt and pepper to taste
INSTRUCTIONS:
In a heavy saucepan, melt the butter and then add the flour.
Let the flour cook for a few minutes until slightly browned.
Add the jalapeno, garlic and green chillies and cook for a few minutes.
Then add the 1/2 cup of milk and stir until slightly thickened.
Add the can of tomatoes and continue to cook for a few minutes, until everything is combined.
Turn the heat down and start adding your cheese; a little at a time until the cheese is melted and combined. Remove from the heat and add the yogurt or sour cream.
Taste and adjust the seasonings by adding salt and/or pepper.
Note:
Depending on how spicy you like your queso dip, you may want to add more jalapenos or add the ribs and seeds!
.recipe-inner{max-width:620px;border:6px double #009BFF;padding:20px;background:#f2f2f2;margin:40px auto;font-family:Lato,sans-serif}#recipe .info{font-size:13px;text-transform:capitalize;border-bottom:2px solid #000;padding-bottom:7px;margin-bottom:20px}#recipe .info:after{content:";display:table;width:0;height:0;clear:both}#recipe .info span{margin-top:-6px}#recipe .info .yield{margin-right:30px}#printbutton{color:#fff;float:right;background:#555;padding:5px;border-radius:3px;cursor:pointer}#recipe .time{text-transform:uppercase;font-size:12px;text-align:center;background:#fff;padding:15px 0;margin:20px 0}#recipe .time span:not(:last-child){margin-right:12px}#recipe .time span:not(:last-child):after{content:";display:inline-block;height:10px;width:1px;background:#000;vertical-align:middle;margin-left:12px}#recipe .summary{line-height:1.7;font-style:italic}.ingredients,.instructions{line-height:1.7}#recipe .recipe-name{font-size:18px!important;color:#000}ul.ingsContent{list-style-type:disc!important}ol.ingsContent{list-style-type:decimal!important}.ing-section{margin-top:10px}.instructions li{margin-bottom:15px!important;line-height:1.6}#recipe .instructions{margin-top:30px}#recipe .ingsContent{padding:0 0 0 40px !important;margin:0!important}#recipe .posturl{border-top:1px solid #ccc;padding-top:10px}strong.subTitle{margin-left:15px;font-weight:700!important}.subTitle ~ .ingsContent{padding-left:50px!important}.recipe-credit{font-size:13px;border-top:1px solid #ccc;padding:10px;text-align:center;background:#fff;margin:-20px;margin-top:15px}.recipe-credit a{color:blue;text-decoration:none}.recipe-credit a:hover{text-decoration:underline}#recipe .copyright-statement{font-size:13px;font-style:italic;border-top:1px solid #ccc;margin-top:15px;padding-top:15px;line-height:1.6}@media only screen and (max-width: 550px){strong.subTitle{margin-left:0!important}.ingsContent{padding:0!important}.subTitle ~ .ingsContent{padding:0!important}}#recipe .image{text-align:center;margin-bottom:25px}#recipe .image img{max-width:100%}#recipe .recipe-name{font-size:20px !important;line-height:1.6;text-transform:uppercase;margin-top:0;letter-spacing:1px;text-align:center;margin-bottom:20px}#recipe .time{border-top:1px dashed #000;border-bottom:1px dashed #000;border-right:0;border-left:0}#recipe .summary{margin-bottom:30px}#recipe .summary:after{content:";display:block;width:50px;height:2px;background:#000;margin:auto;margin-top:10px}#recipe .instructions{margin-top:30px}#recipe .instructions ol{padding-left:39px;margin-top:6px}function printDiv(a){var b=document.getElementById(a);newWin=window.open(",'printwin');var c=newWin.document.createElement('style');c.innerHTML='html{font-family:sans-serif}img{display:none;}#printbutton,.recipe-credit{visibility:hidden;display:none;}.info{text-align:center;text-transform:capitalize}.recipe-name{text-align:center}.info span{margin-right:20px}.time{text-align:center;padding:10px;border-top:1px dashed #000;border-bottom:1px dashed #000;}.time span{margin-right:20px}';newWin.document.getElementsByTagName('head')[0].appendChild(c);newWin.document.getElementsByTagName('body')[0].innerHTML = b.innerHTML;newWin.print();newWin.close()}